Toronto's burgeoning East Bayfront community could soon get a brand new public space that would significantly enhance the area's connectivity with the lake. Yesterday, Waterfront Toronto announced plans for a public space at Queens Quay East and Parliament Street that aims to become a destination for swimming, kayaking, boating, entertainment, and dining, attracting visitors from the neighbourhood and beyond. The design for the proposed Parliament Slip is by the team of West 8 & DTAH, who have collaborated together to design previous Waterfront Toronto projects including the iconic WaveDecks which have inspired an ambitious counterpart here.
In the design concept, the Parliament slip would be traversed by a new pedestrian bridge and would also include a waterfront amphitheatre, a floating pier housing a restaurant, canoe/kayak launch point, water transportation hub, and a dock with concessions. At the north end of the slip along the site's Queen's Quay East frontage and adjacent to the amphitheatre, a public swimming pool would be nested within a variation on the WaveDecks seen elsewhere on the waterfront.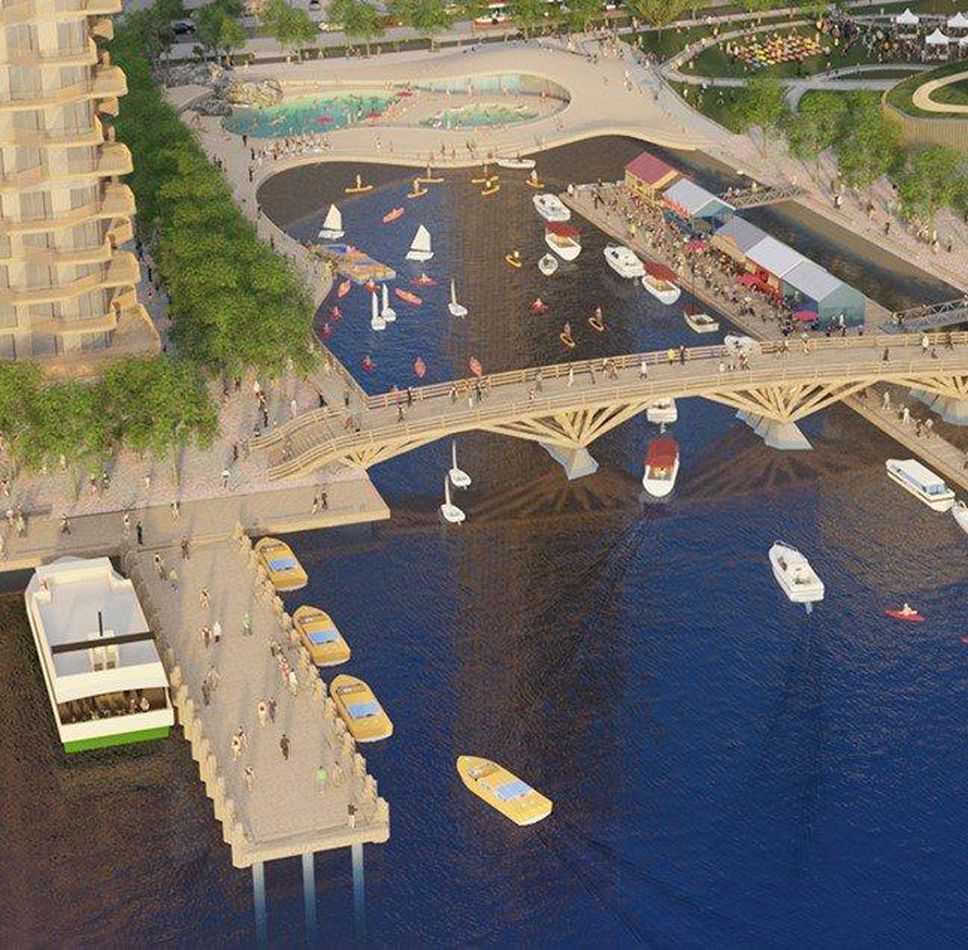 Looking northeast over Parliament Slip, image courtesy of West 8 + DTAH
The water-related uses are an important step in the return of recreational uses to the once heavily-industrialized east harbour. "Parliament Slip is our chance to create an exciting experience on the water for all types of marine activity. Our plan promises to deliver new amenities for people to enjoy views of the harbour activity," reads a statement by Waterfront Toronto CEO George Zegarac. "Toronto was born on the waterfront but industry forced it to turn its back from the lake. With today's announcement we are fulfilling our promise to reorient the city back to the water."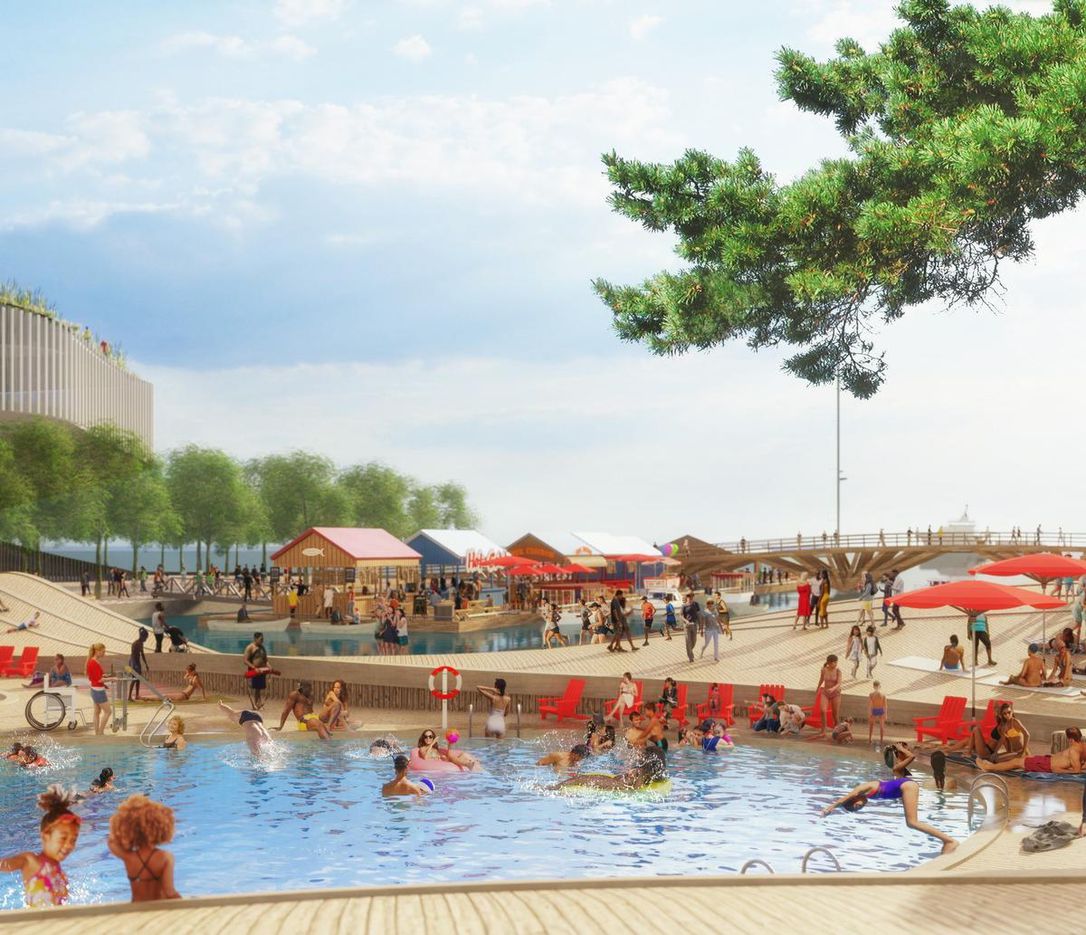 Swimming pool at Parliament Slip, image courtesy of West 8 + DTAH
The project would continue a legacy of landmark public pools on the waterfront, which includes the 1922-built Beaux-Arts-style Sunnyside Bathing Pavilion to the west and the Brutalist-style, 1963-built Donald D. Summerville Olympic Pools to the east. "Great waterfronts around the world have distinct defining features. Memorable design, welcoming public spaces, the ability to serve recreational and transportation needs, waterfront dining and retail options, and cultural attractions," reads a statement by Chris Glaisek, Chief Planning and Design Officer for Waterfront Toronto.
Additional information and images can be found in our Database file for the project, linked below. If you'd like, you can get involved in the discussion in the associated Forum thread.
* * *
UrbanToronto has a new way you can track projects through the planning process on a daily basis. Sign up for a free trial of our New Development Insider here.