An ongoing project by Larco Investments is breaking up the bunker-like wall of the Hudson's Bay Centre complex on Bloor Street in the heart of Toronto. The developer is modernizing the shuttered Bloor Yorkville Marriott Hotel, planning to reopen it this Spring as the city's first W Hotel. Bringing some articulation to the 1974-built block's monumental concrete expanse, a new textured facade, exterior elevator, and a bar/restaurant designed by architectsAlliance is being added to give the new hotel more presence and make it a destination. Inside, the hotel is also getting a major makeover.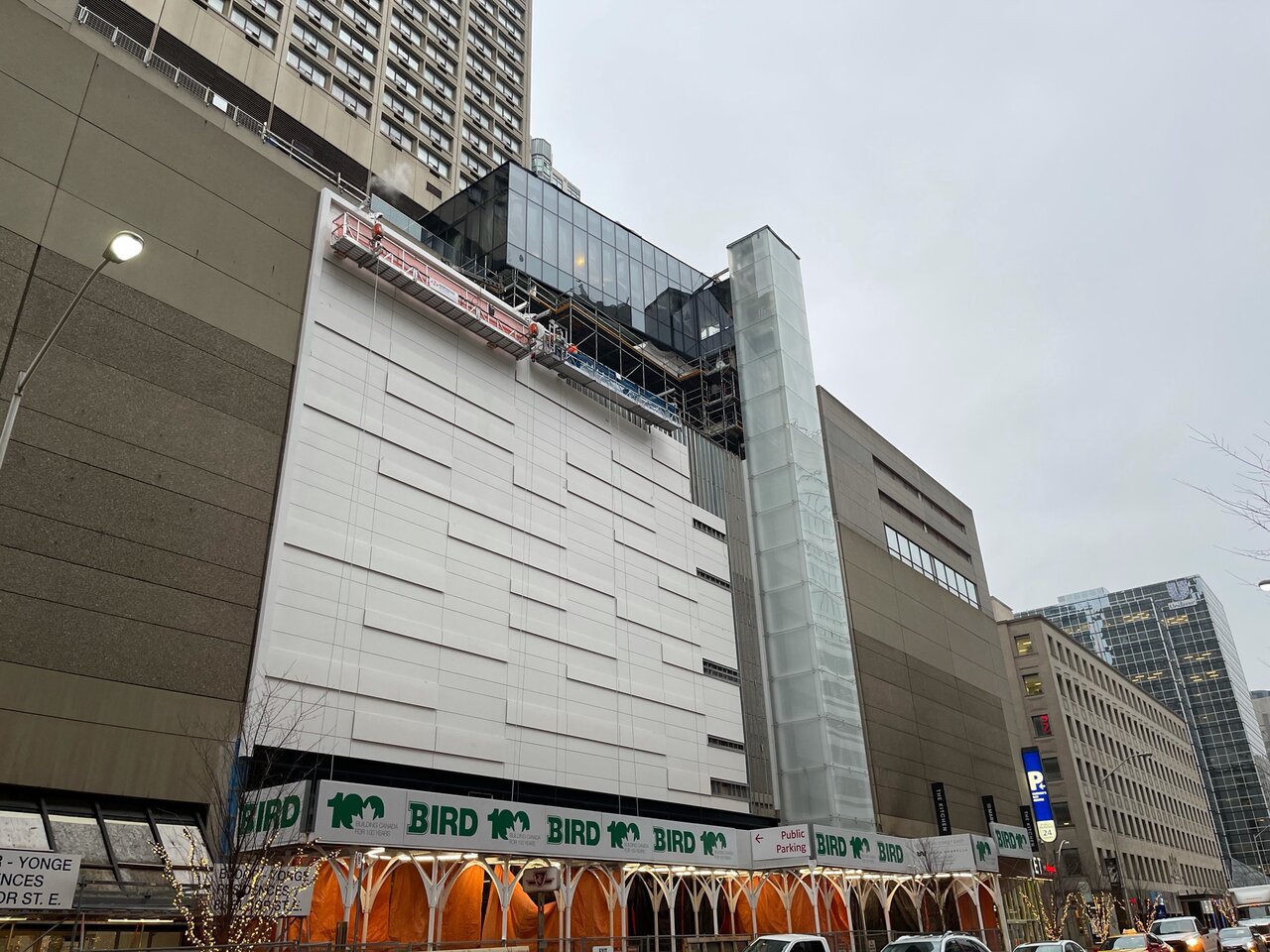 Looking northeast across Bloor Street to W Hotel Toronto, image by Forum contributor Benito
We last checked in on the project roughly a year ago, when the steel structure of the addition to the 6th floor was taking still shape atop the Hudson's Bay department store which takes up the bulk of the podium. The structure was completed in February, 2019 and glazing installation has since enclosed it.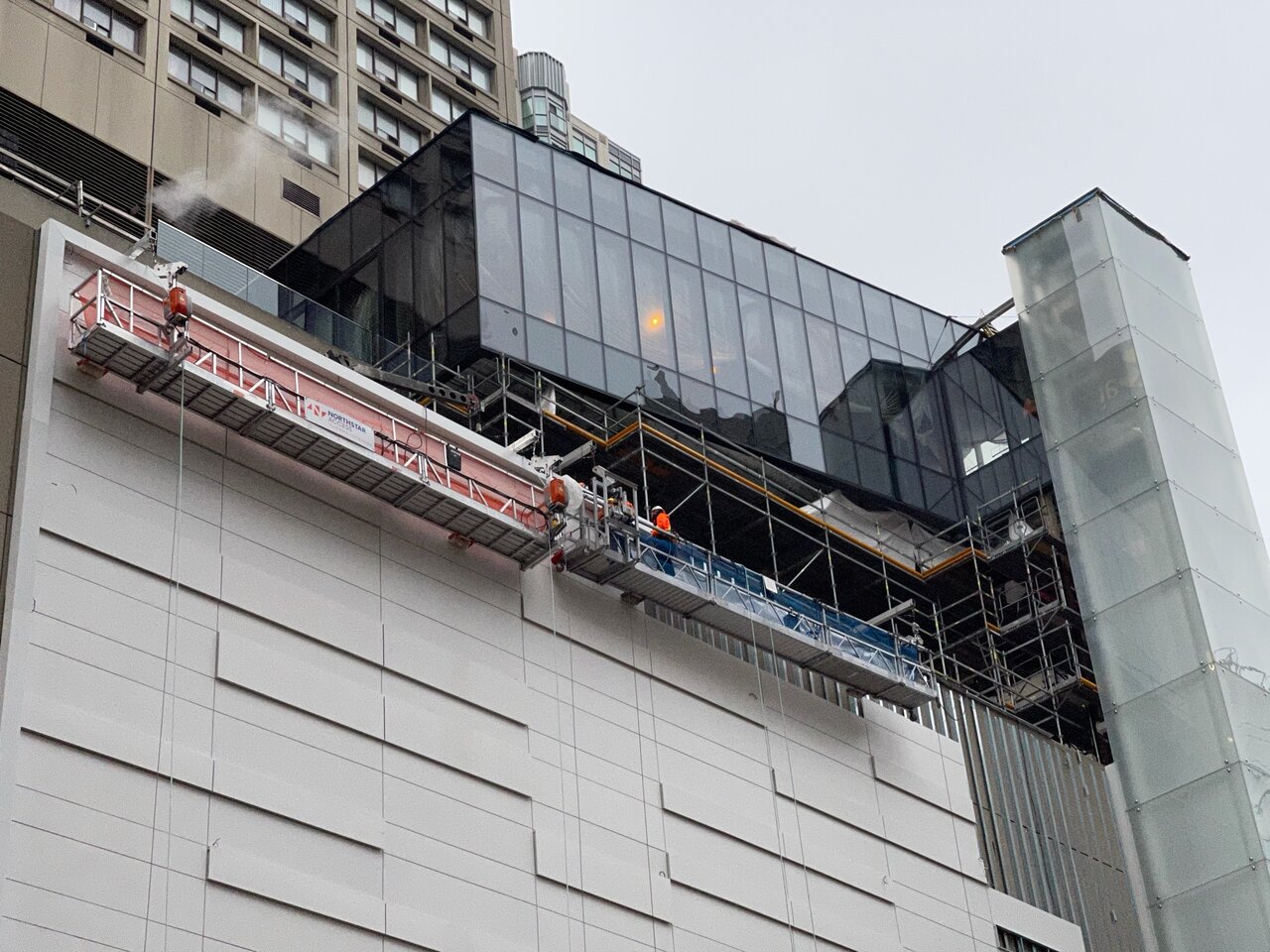 Glazed addition at W Hotel Toronto, image by Forum contributor Benito
Also last February, the steel structure of the addition's exterior elevator had started to take shape, and had been fully installed by April. Installation of translucent glazing on the elevator shaft began in September, and it is also now fully enclosed.
Installation of the textured facade commenced in July with metal brackets being fixed to the concrete. The first opaque white panels were put in place the following month, and are now close to being completed. While they will seem to indicate the hotel is behind the new facade, other than the lobby, the rest of the hotel is above department store.
Originally scheduled to open in June, 2020, the COVID-19 pandemic's associated construction slowdowns and critical hit to the tourism industry resulted in the projected opening being delayed. Most recently, a revised opening target sometime in April, 2021 was announced.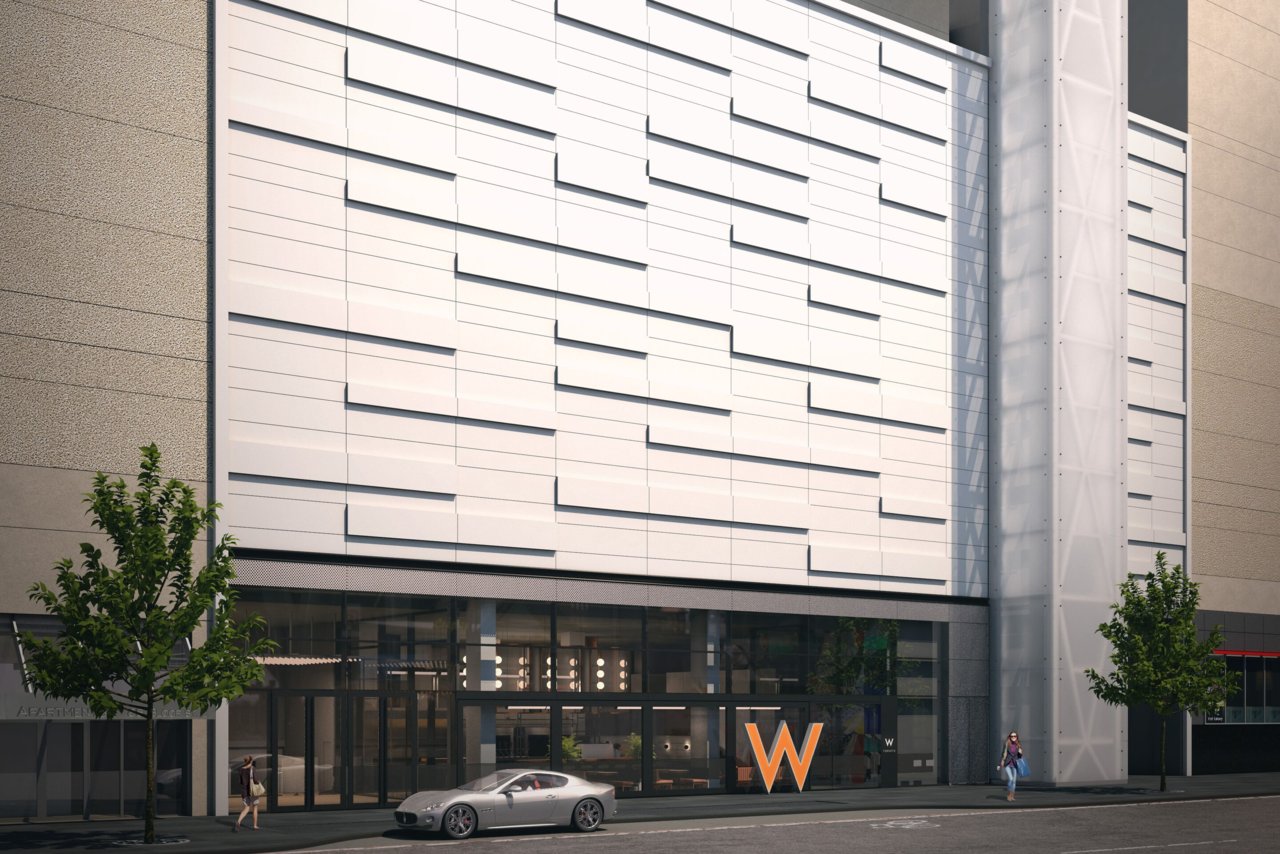 Rendering of W Hotel Toronto, image via Marriott
Once complete, the $40 million renovation will result in a 255 room hotel to include features such as a 3,300 ft² fitness facility and 4,800 ft² of meeting spaces for social and corporate events.
You can learn more from our Database file for the project, linked below. If you'd like to, you can join in on the conversation in the associated Project Forum thread, or leave a comment in the space provided on this page.
* * *
UrbanToronto has a new way you can track projects through the planning process on a daily basis. Sign up for a free trial of our New Development Insider here.