It's that time of year again! Rounding up another 365 days of city building, we are returning with our seventh annual UrbanToronto Year-End Readers' Poll, giving you the chance to vote on your favourite new buildings completed over the last 12 months. There are 39 newly completed projects spread across the city to vote on, and this year we are including only projects that we have photographic confirmation of having been completed.
The candidates are grouped into height ranges, so we are asking for your favourite in each these categories:
6 to 9 storeys
10 to 19 storeys
20 to 29 storeys
30 to 39 storeys
40 storeys and above
At the bottom of this article, you will find a link to the poll, but first, we'll take a quick look at this year's qualifying buildings by group, presenting thumbnail images. Links to each project's Database file and Project Forum thread will bring you to where you can learn more about each building, if you are not familiar enough with them.
6 to 9 storeys:
Our first category covers mid-rise buildings. This year's crop of candidates includes an affordable rental building known as Madison View, condo developments Scoop Condos, Cabin, and Leaside Manors, commercial buildings at West Block and 99 Atlantic, and a pair of institutional buildings with the CAMH Crisis & Critical Care Building & CAMH McCain Complex Care & Recovery Building.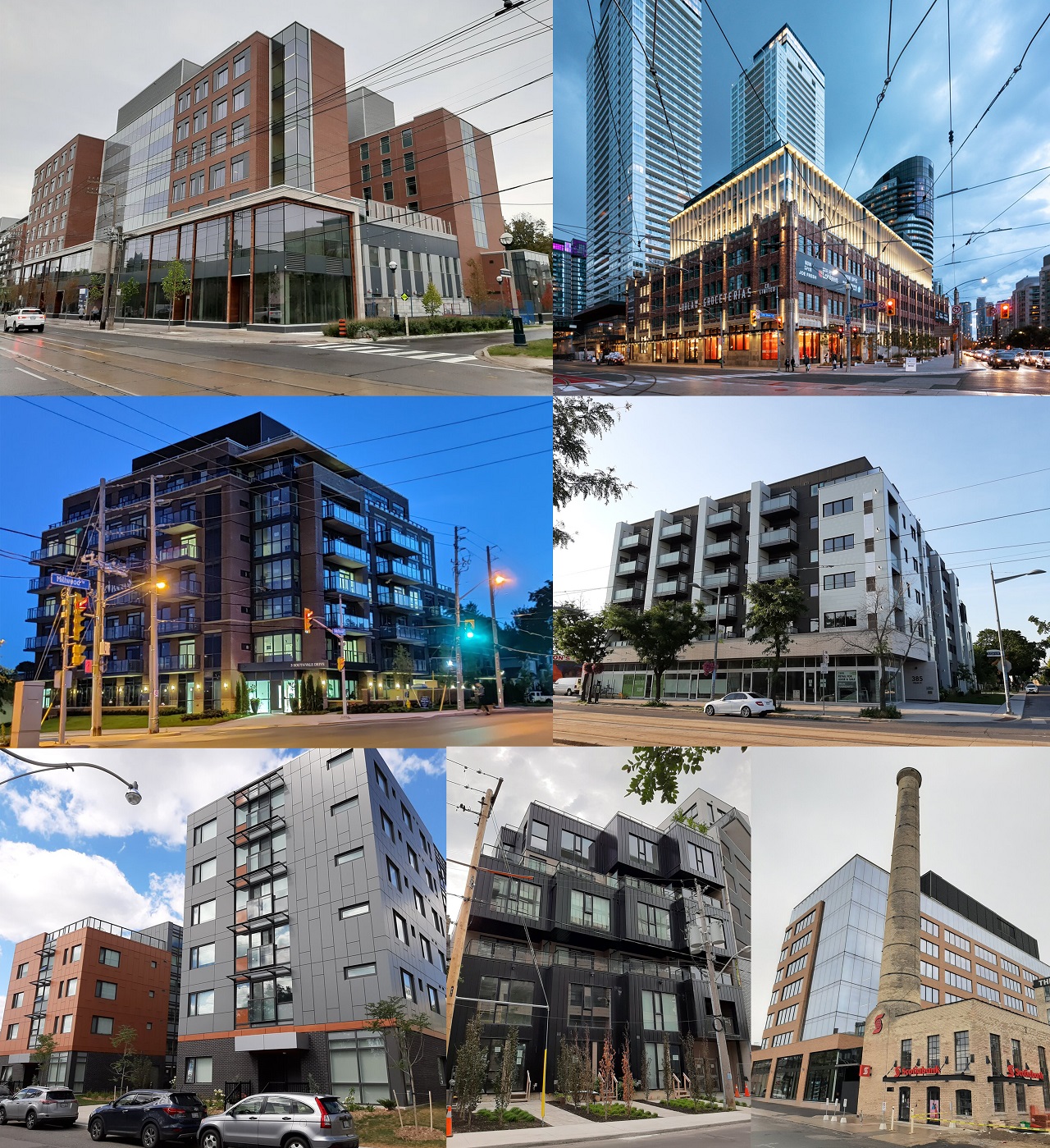 6 to 9 storeys category
10 to 19 storeys:
Our next category highlights the taller mid-rise and low high-rise buildings that fall between 10 and 19 storeys. This category includes primarily residential developments, including The Plant, Avenue 151, Canary Block Condos, Vintage Garden, Form Condos, SQ2, Southside Residences at Gramercy Park, Distinction Condos, Design Haus, and 609 Avenue Road. The single outlier in this category is the expansion and heritage restoration of the 85 Richmond West building at the Richmond Adelaide Centre commercial complex.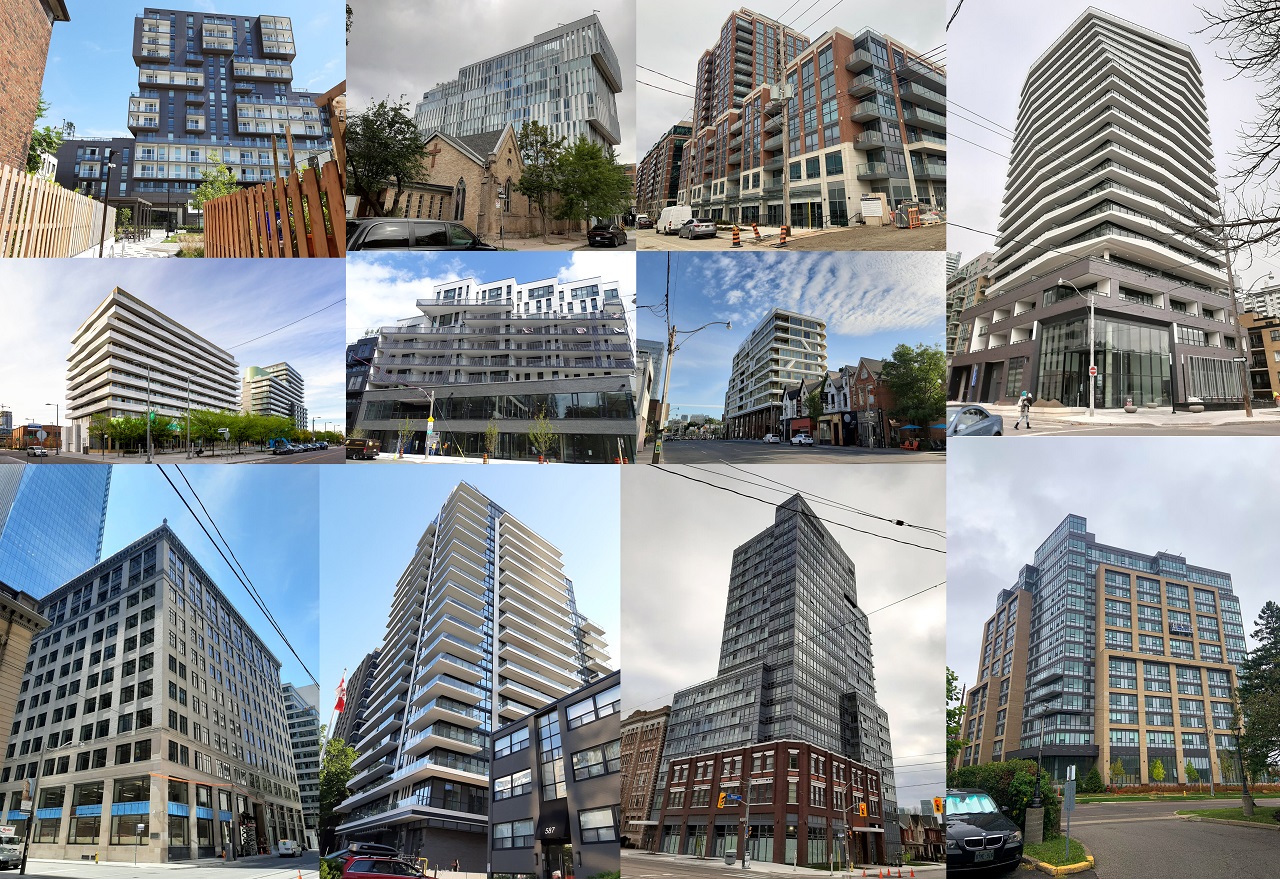 10-19 storeys category
20 to 29 storeys:
Our category for buildings in the 20s features strictly condo towers, with this year's candidates including East FiftyFive, East United Condos, Minto Yorkville Park, 88 North, 330 Richmond, and Art Shoppe Condos.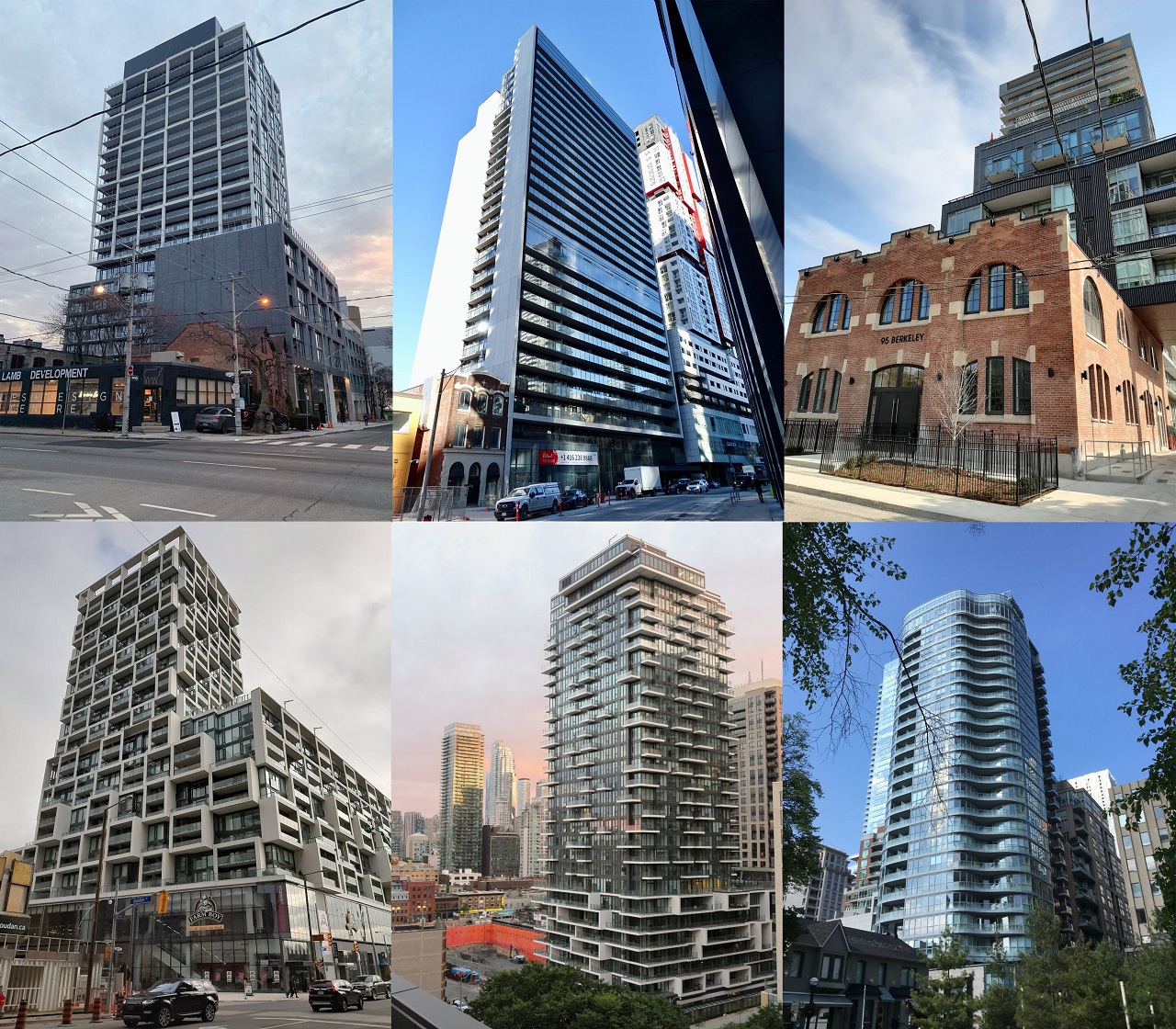 20-29 storeys category
30 to 39 storeys:
Our second-tallest category this year includes a mix of project types, including new-build condo towers at ZEN King West, Lighthouse Tower East, Tower at Pier 27, and Max Condos. This category also includes office properties, with new-build office tower 16 York and the 120 & 130 Adelaide West Recladding project within the Richmond Adelaide Centre complex. A new tower addition at the west end of the pre-existing 700 Bay is also included in this year's selection of candidates.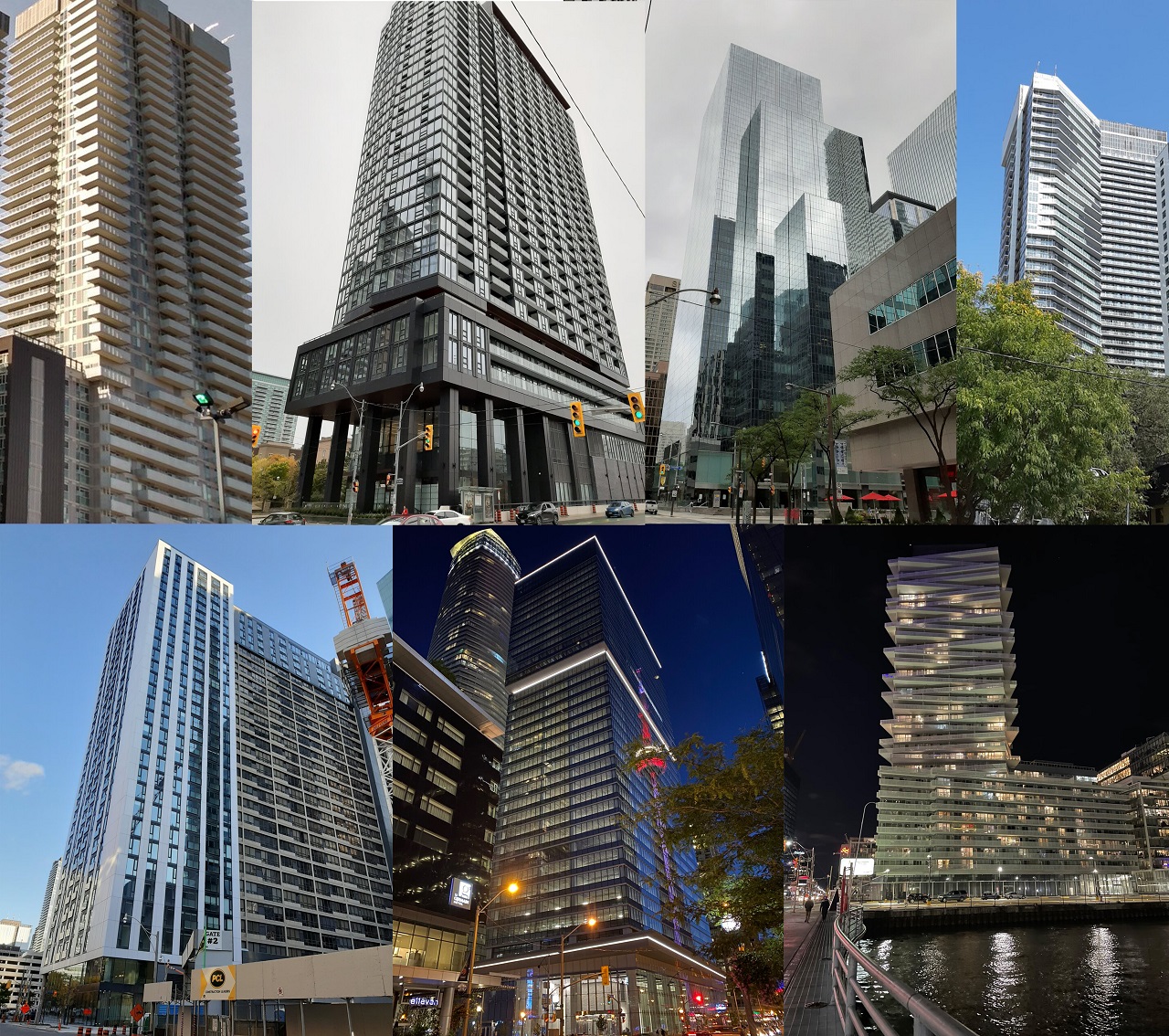 30-39 storeys category
40 storeys and above:
Our tallest category this year includes exclusively condominium towers, mostly new builds concentrated in and around Downtown Toronto including Stanley Condominiums, The LakeShore and The LakeFront, Lighthouse Tower West, King Blue Condos and Wellesley on the Park. Another notable Downtown project is The Residences of 488 University Avenue, which added 37 new condo levels atop an existing 18-storey office tower. Two entries in this category are located far outside of the city centre in Etobicoke, with the new Islington Terrace and Eau du Soleil Condos complexes.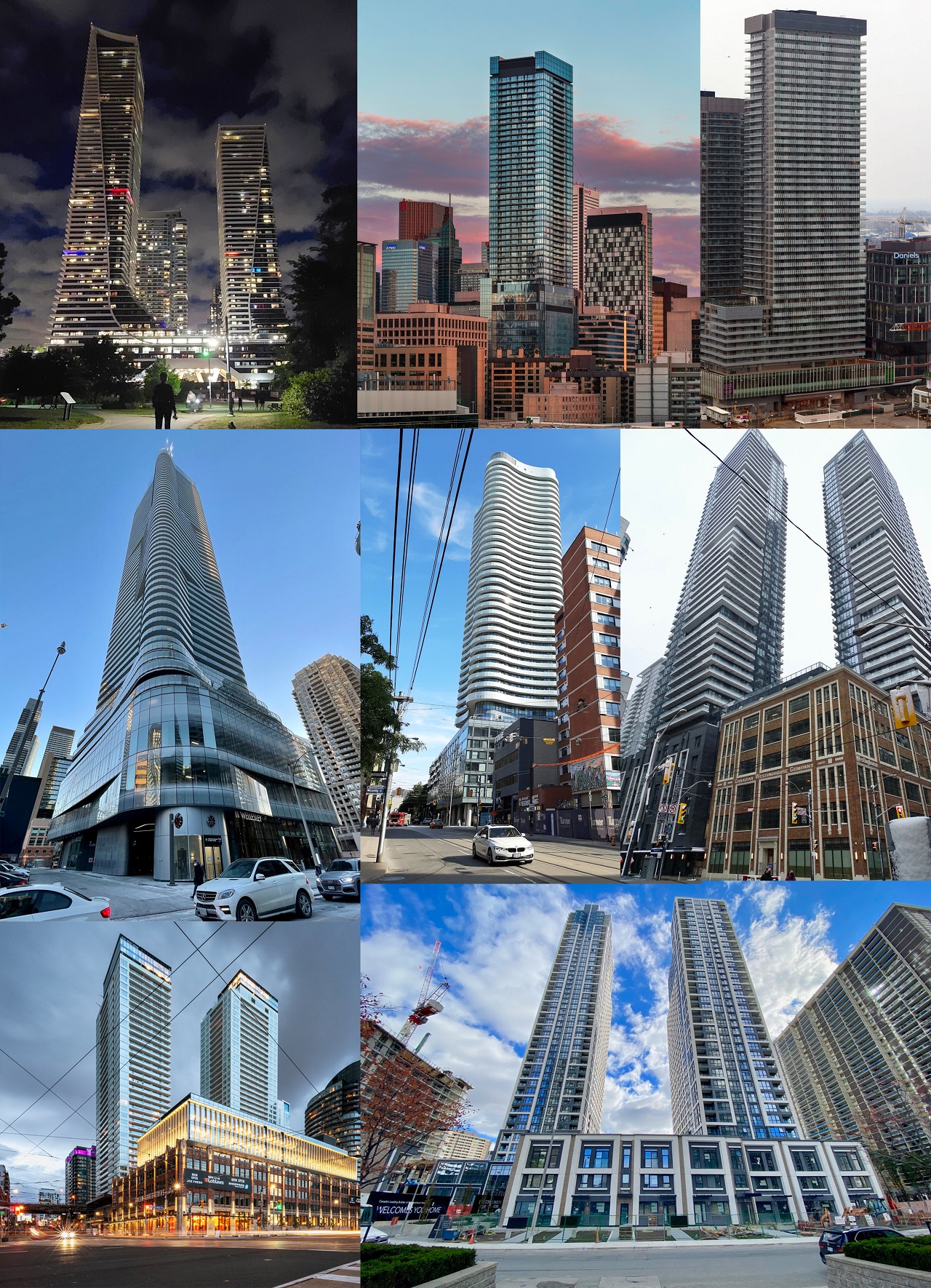 40 storeys and up category
You can vote up until 11:59 PM on New Year's Day, January 1, 2021. We will announce the winners later that week.
In the meantime, spread the word! The more votes, the better the poll reflects Torontonians' feelings about the way the city is developing. You do not need to be an UrbanToronto member to vote. Voice your opinions on this year's candidates and share the poll on social media using the hashtag, #UrbanTorontoPoll. Click this link to go to the survey now… and have fun!
* * *
UrbanToronto now has a new way you can track projects through the planning process on a daily basis. Sign up for a free trial of our New Development Insider here.