IKEA is set to open an urban format store in Downtown Toronto in the podium of Aura, one of the city's tallest buildings, located on the northwest corner of Yonge and Gerrard streets. The announcement today from IKEA Canada (part of the Ingka Group) comes after the Bed, Bath and Beyond store on the second floor shuttered on March 14, and Sircorp's three ground floor restaurants—Scaddabush, Red's Midtown, and Duke's Refresher—closed on February 9.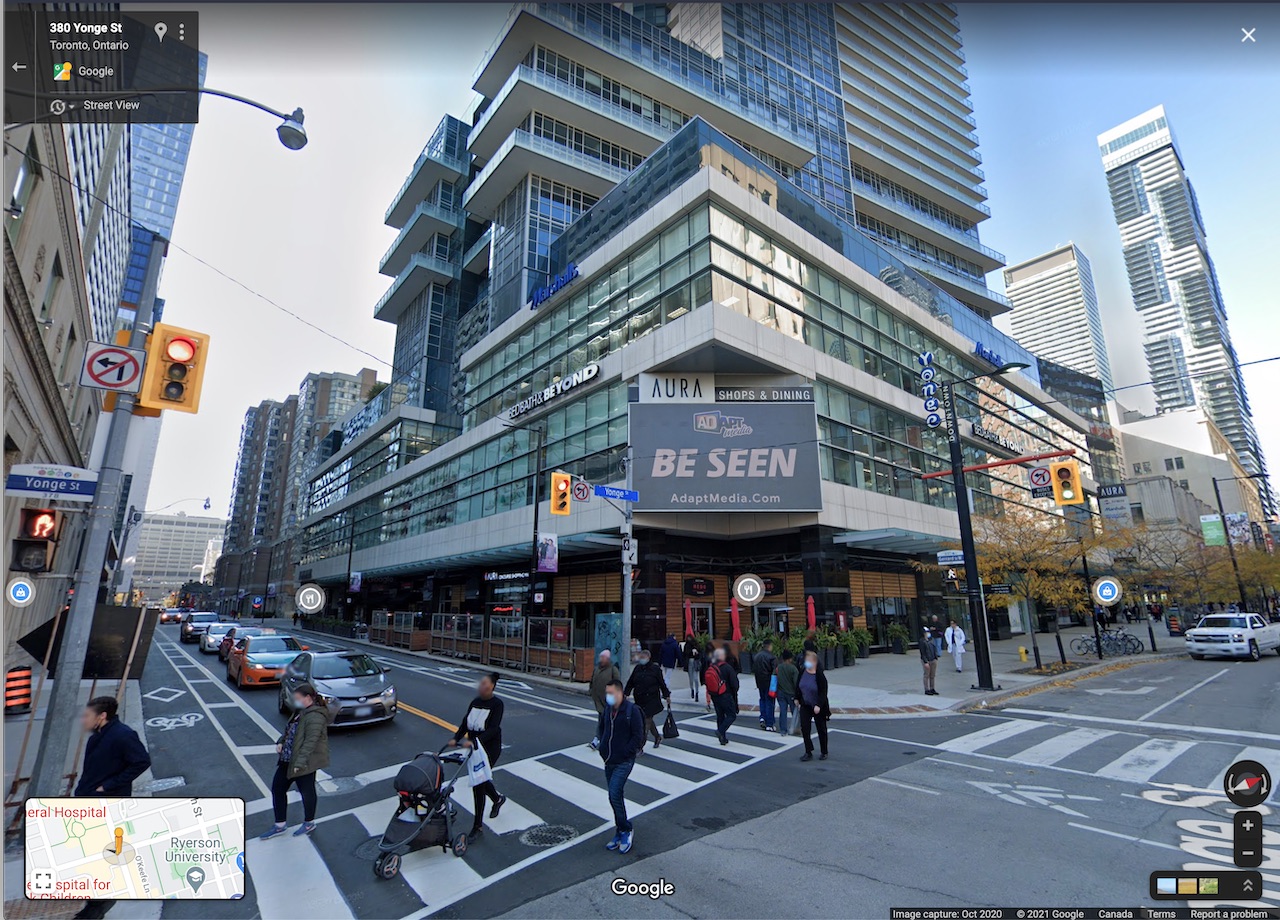 Looking northwest to Aura at College Park, where IKEA will opening a store, image retrieved from Google Street View
The Ingka Centre at Aura—purchased from KingSett Capital—will be 12,270 m²/132,070 ft² in area, of which the IKEA will take 6,148 m²/66,175 ft² on the ground and second floors. Typical IKEAs in Canada are in the 25,000 to 35,000 m²/269,000 to 377,00 ft² range; this would be the first urban format store in Canada, of which the company now has 10 across the world in cities such as Paris, New York, and Moscow. IKEA Canada aims to open this store by the end of 2021 or in early 2022.
Cindy Andersen, Ingka Centres Managing Director is quoted in a press release accompanying the announcement saying "The acquisition of the Aura Retail Podium marks our entry into the Canadian market. Downtown Toronto is a super connected and dynamic place where people live, work, study and come to meet and have fun. It is in line with our strategic vision to invest in urban locations and to be closer to our customers. We're delighted to create a vibrant retail-led destination and bring IKEA closer for many people of Toronto".
This store will be the fifth IKEA in the GTA, following stores in North York, Etobicoke, Burlington, and Vaughan. (Recently, IKEA also began offering pick-up of online orders at Penguin Pickup locations.) The IKEA Toronto Downtown Store will offer over 2,000 of the company's products for immediate takeaway, but there will be no self-service warehouse onsite for larger items. They will be on display but be shipped to homes from other GTA stores. The company says it will offer a new food concept and "an array of services to support a seamless shopping experience."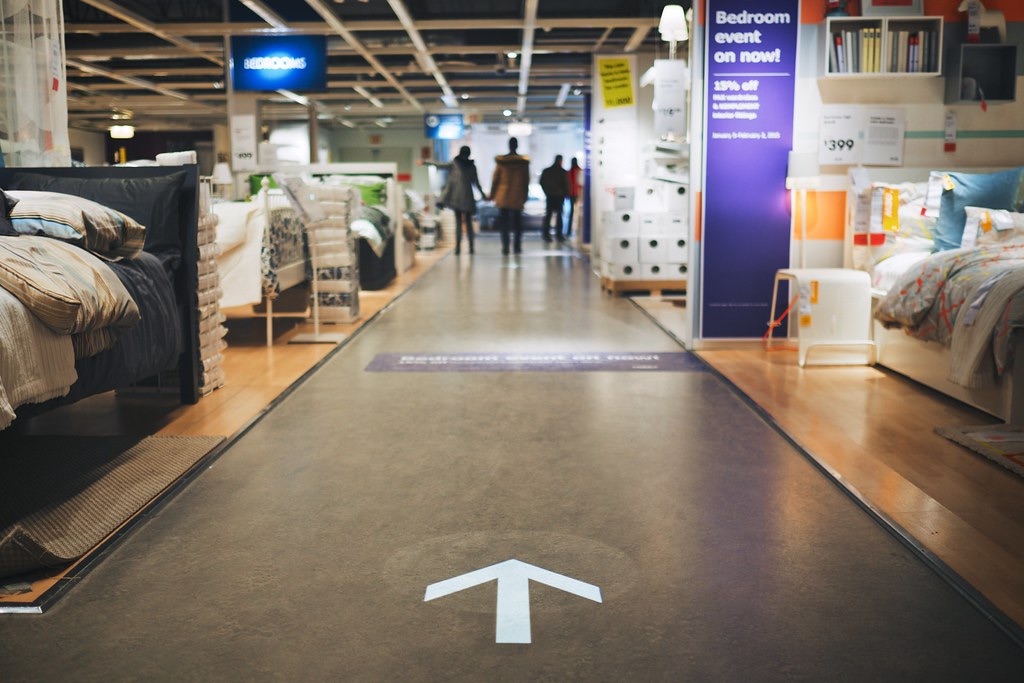 Interior of a GTA IKEA store, by Jason Cook, ©cookedphotos, via UrbanToronto's Flickr Pool.
Aura is 78 storeys tall, with condo suites and amenities that start on the fifth floor. The retail podium was finished ahead of the condos, with a temporary metal canopy having been put in place to protect passersby as work continued above. The retail began opening in 2012, condo suites as high as the 55th floor began occupancy in 2013, and the tower was topped out in 2014.
The total square footage of the three podium retail levels is about 16,700 m²/180,000 ft². The ground floor includes two banks—RBC and BMO—that face Yonge Street, while a coffee shop faces College Park to the north. A Marshalls store continues to operate on the third level, while the 3,900 m²/42,000 ft² Crunch Fitness on the fourth floor—originally Madonna's Hard Candy Fitness—closed on August 6, 2020.
The PATH level at The Shops At Aura—which has an underground pedestrian connection to The Shops at College Park and onwards to College subway station—consists of about 130 small retail condo units which have typically struggled to stay afloat, never having attracted the types of crowds seen in similar centres in the GTA like Pacific Mall in Markham. The total area of the PATH level, which includes a food court, is about 4,740 m²/51,000 ft² while the average square footage of the retail condos is about 24 m²/260 ft². They originally sold for about $400,000 each. There is no word yet as to whether the Ingka purchase will affect these units.
Additional information and images can be found in our Database file for the project, linked below. Want to get involved in the discussion? Check out the associated Forum thread, or leave a comment in the space provided on this page.
* * *
UrbanToronto has a new way you can track projects through the planning process on a daily basis. Sign up for a free trial of our New Development Insider here.