In December 2020, 820 Church GP Inc. submitted a proposal to the City of Toronto for a 32-storey hotel to be built at 820 Church Street in the Bloor-Yorkville area where a single-storey restaurant now sits. 820 Church GP Inc. has extensive hotel experience, including development of the Cosmopolitan Hotel at 8 Colborne Street, the Pantages Hotel at 200 Victoria Street, and redevelopment of the King Edward Hotel at 37 King Street East.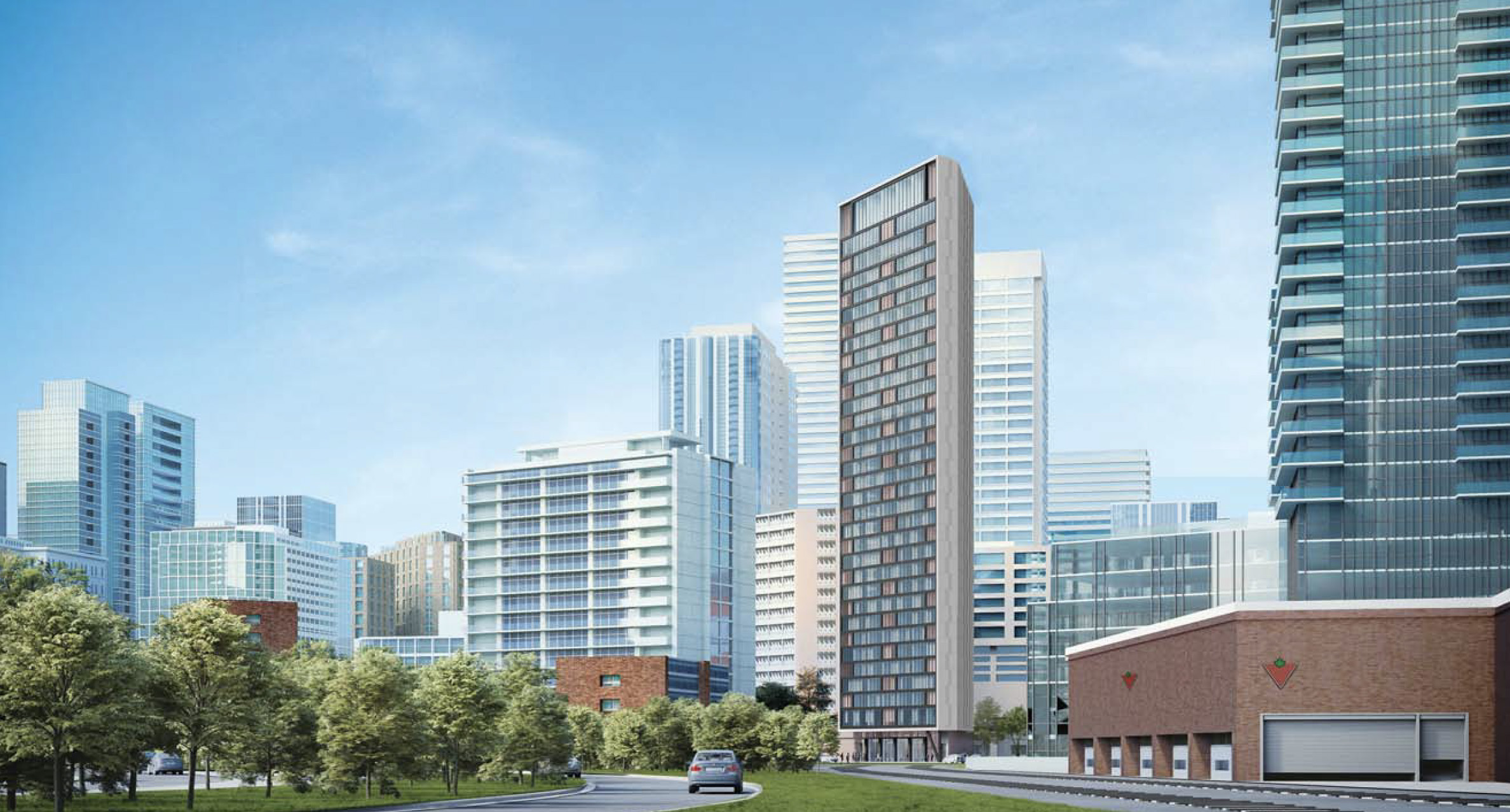 Rendering of the proposed development. Image courtesy of IBI Group.
The triangular site is located on the southwest side of Church Street, east of the Toronto Reference Library and across from Collier Street. It is currently occupied by a one-storey restaurant. The site is separated from the library by TTC land with a car wash up top, and a subway tunnel below. There is a 4.7m laneway that separates it from a TTC sub-station. 820 Church GP Inc. is proposing to demolish the car wash building and construct a landscaped park area as a Section 37 benefit for this redevelopment.
Bird's Eye View. Image courtesy of Goldberg Group.
Designed by IBI Group, the proposal is for a limited-service hotel, providing 168 high quality rooms, limited food service, and on-site amenities. The redevelopment includes 10,943 m² of total non-residential gross floor area (GFA) and a Floor Space Index (FSI) of 23 times the area of the lot.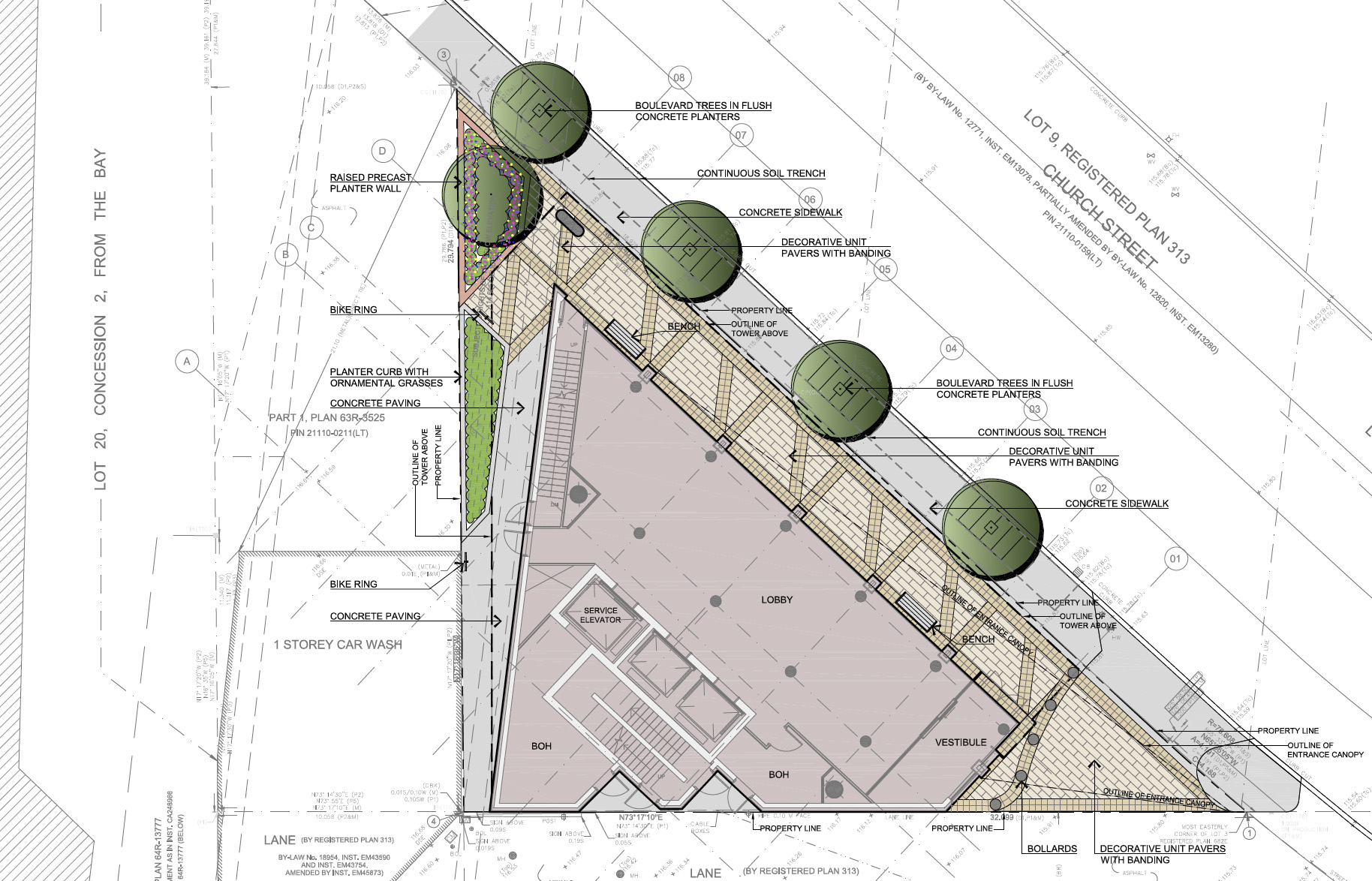 Preliminary Landscape Concept Plan. The building's ground floor plan encompasses an entrance vestibule, lobby, back-of-house space and circulation core. The subject site has an area of 467m2. Image courtesy of Strybos Barron King Landscape Architecture.
The tower is aligned with, and parallel to Church Street. The lobby entrance canopy projects beyond the front façade, extending on an angle across the building. Due to site constraints, no on-site loading space is proposed, though trucks would have a laneway south of the hotel to park in beside doors to the back-of-house area. The building has no functional windows on the east wall facing the apartment at 40 Asquith Avenue, between which there would be a separation distance of approximately 10 metres.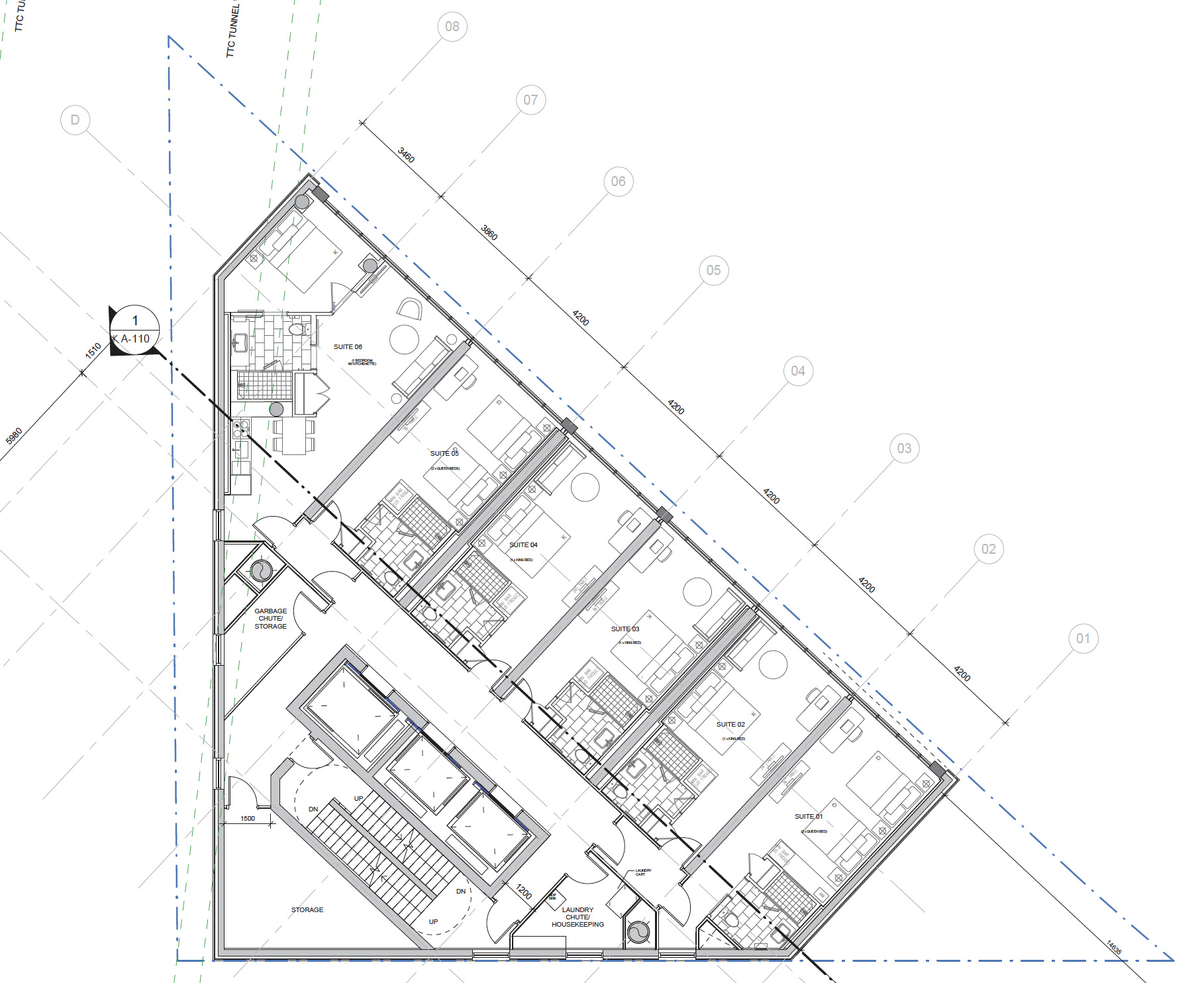 Typical Floor Plan (floors 4-31). The size of the tower floorplate is small at 335.3 sq. m, considerably less than a typical tall building floor plate of approximately 750 sq. m. Image courtesy of IBI Group.
The typical floor plan includes six suites across the front of the building with windows facing Church Street. Breakfast room and fitness facilities are provided on the 2nd and 3rd storeys, while a 338 m² bar and lounge would be found on the 32nd floor.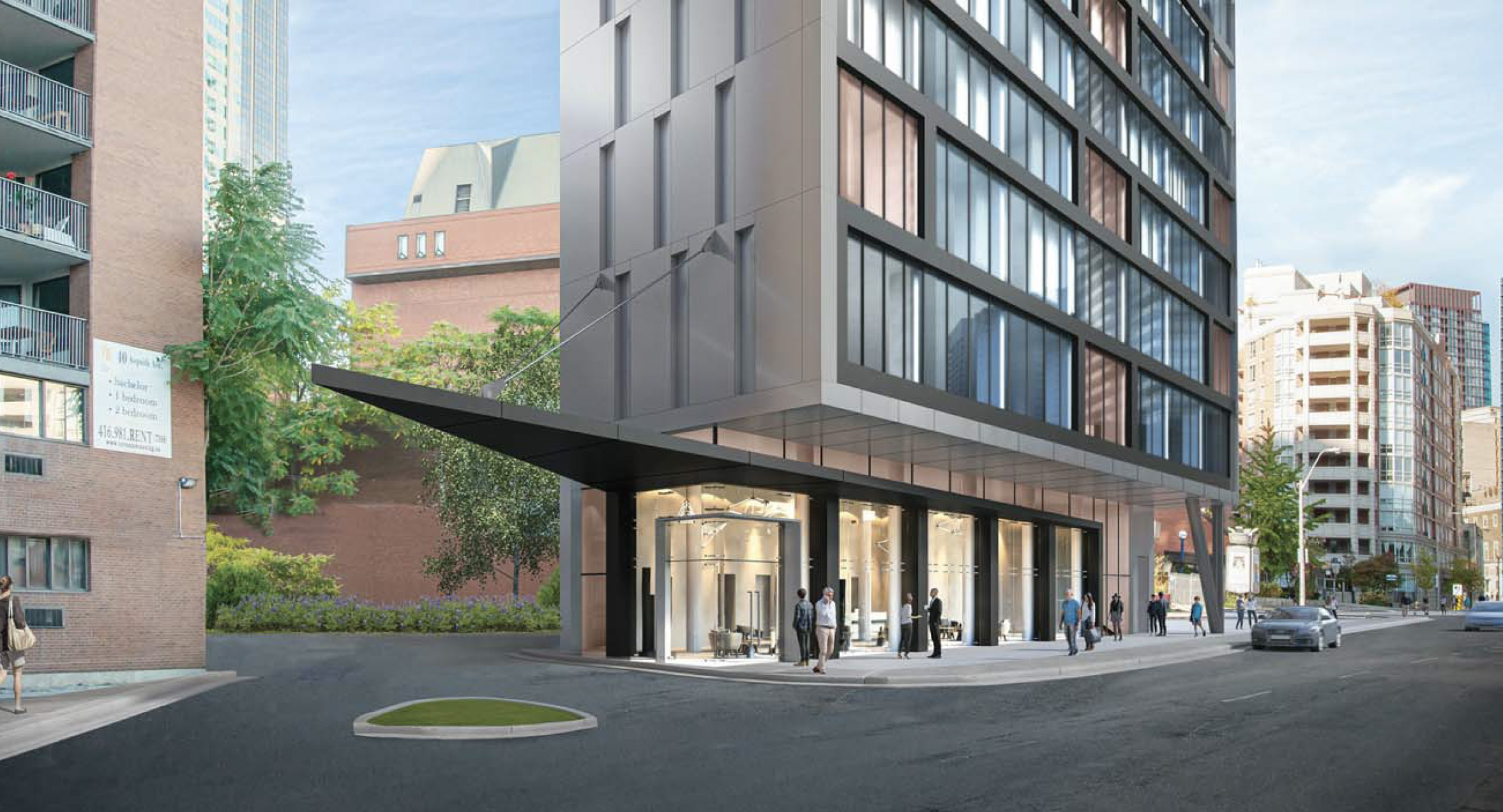 Rendering of the proposed development. There is a driveway entrance from Church Street that connects to the laneway and provides a turning circle for vehicles dropping off and picking up hotel guests and employees. Image courtesy of IBI Group.
The north elevation facing Church Street would feature a combination of silver and copper coloured glass divided horizontally and vertically by dark grey metal panels, framed by silver metal panels around the perimeter of the elevation, and further articulated with vertical silver panels. The south and west elevations are comprised of concrete panels divided up by vertical silver metal panels and narrow vertical windows. The east elevation, which is the short wall facing toward the neighbouring building, has similar articulation but no windows.
There is no on-site parking provided as it is intended that hotel guests and employees will walk, cycle, take public transit or private transportation service such as taxi, Uber and Lyft to access the hotel. Two underground levels accommodate back-of-house services (laundry, garbage, storage, etc.)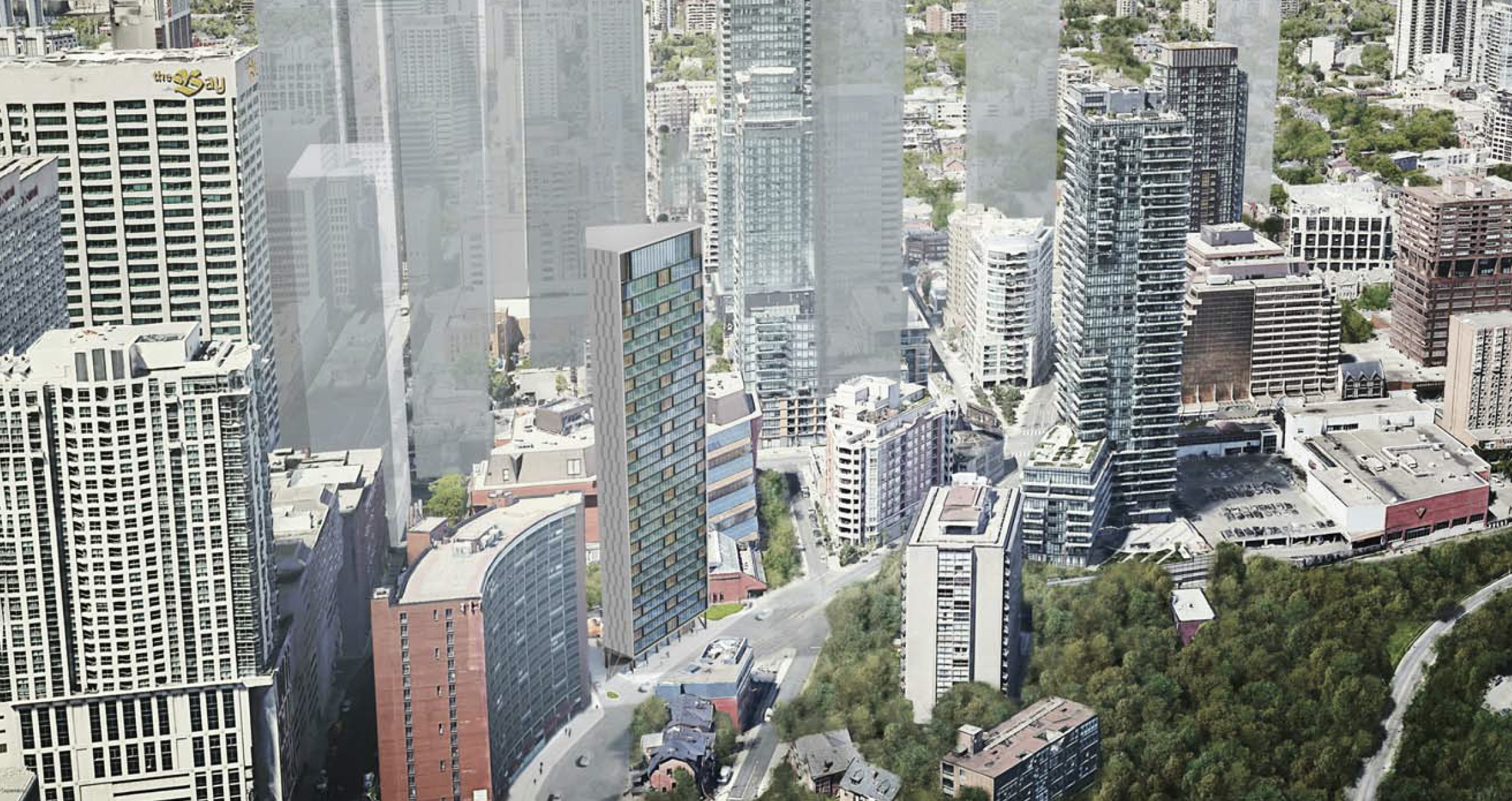 View of the proposed development in context, looking West. Image courtesy of IBI Group.
You can learn more from our Database file for the project, linked below. If you'd like to, you can join in on the conversation in the associated Project Forum thread, or leave a comment in the space provided on this page.
* * *
UrbanToronto has a new way you can track projects through the planning process on a daily basis. Sign up for a free trial of our New Development Insider here.