Menkes Developments' densification of the LCBO lands on Toronto's waterfront presses on at the mixed-use Sugar Wharf site—named in a nod to the Redpath sugar refinery across Queens Quay—to bring 4.6 million ft² of commercial and residential space upon completion. The initial phases of the community are well under construction, with an office tower at 100 Queens Quay East and the first pair of condos, dubbed Sugar Wharf Condos Phase 1.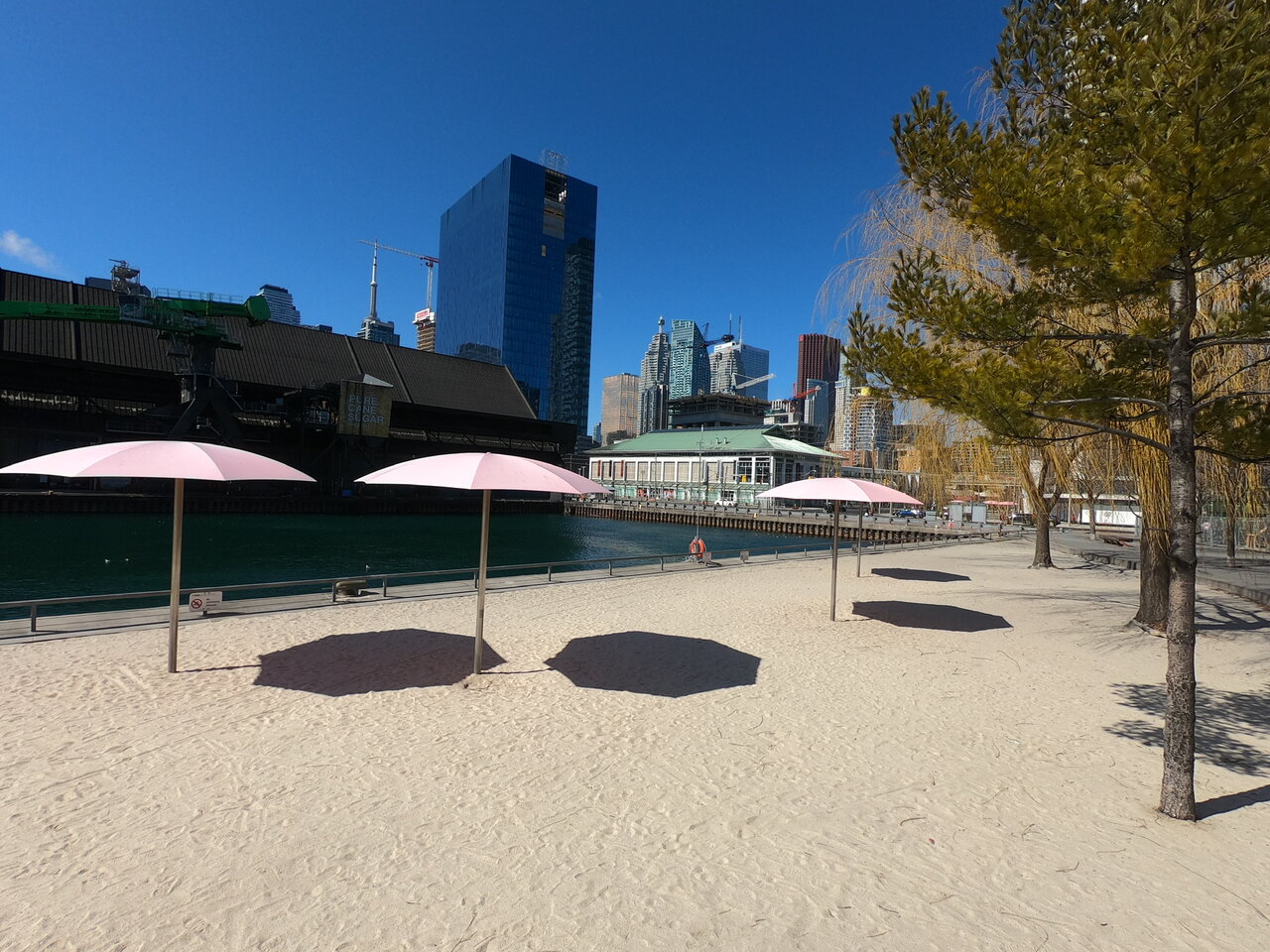 100 Queens Quay and Sugar Wharf Condos viewed from Sugar Beach, image by Forum contributor mburrrr
The 25-storey, B+H Architects-designed office tower is much further along, having started construction at the end of 2017, several months before the condos. The building reached its final height of 117.34 metres last summer, and in the time since, much of its dark curtainwall glazing exterior has been installed. The last sections of cladding are quickly enclosing space formerly occupied by construction hoists. Most recently, the office tower surpassed another milestone with the mid-February removal of its tower crane. This will be among the final milestones for the office building before tenants begin to move in later this year.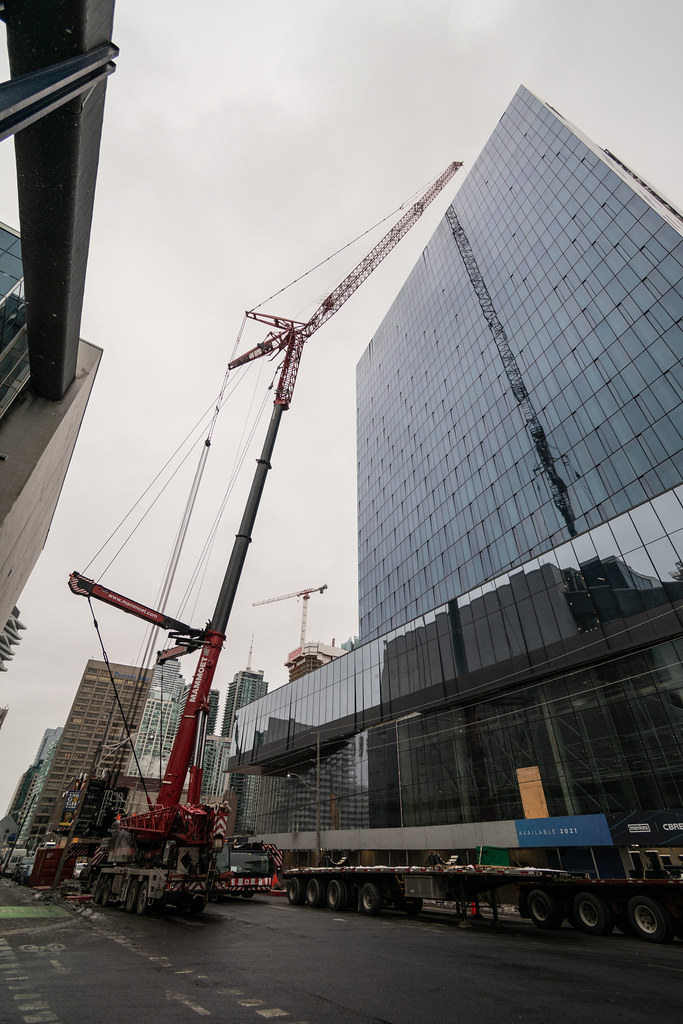 100 Queens Quay crane removal, image by Marc Mitanis
Menkes' webpage for the project notes that 100 Queens Quay's 675,000 ft² of space is now approximately 65% pre-leased—a 10% increase since last month—with approximately 223,000 ft² of office space and 45,000 ft² of retail space available. The building is already signed on to host anchor tenant LCBO's new headquarters, along with 90,000 ft² of space for The Toronto Region Board of Trade and its trade services arm, the World Trade Centre Toronto (WTC-T).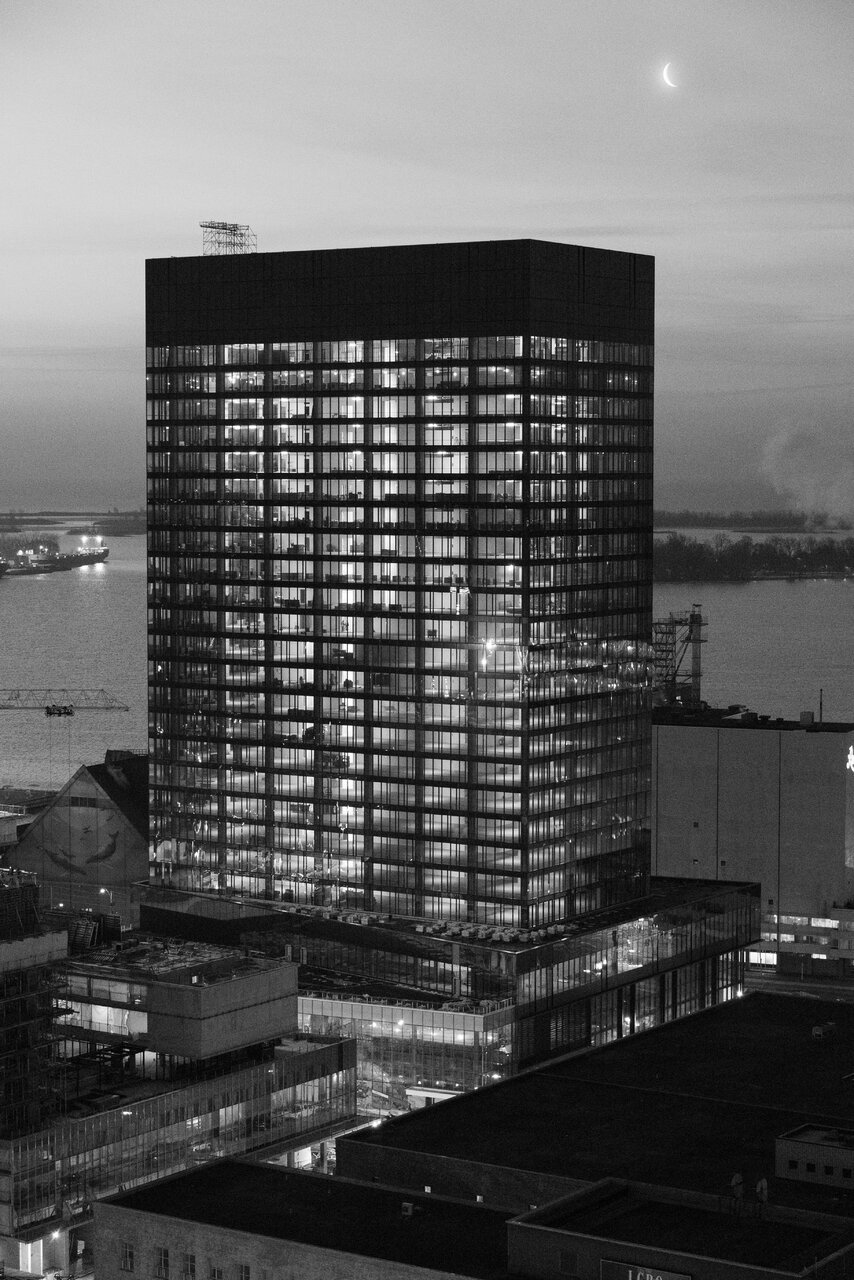 100 Queens Quay, image by Forum contributor mburrrr
North of the office tower, the complex's first pair of condominium towers are soon to become a prominent addition to the Toronto skyline. Designed by architects—Alliance, the 64- and 70-storey towers are now rising clear of the colossal podium. Cladding installation has progressed as high as the eighth floor, revealing more of the condo complex's minimally ornamented Modernist design.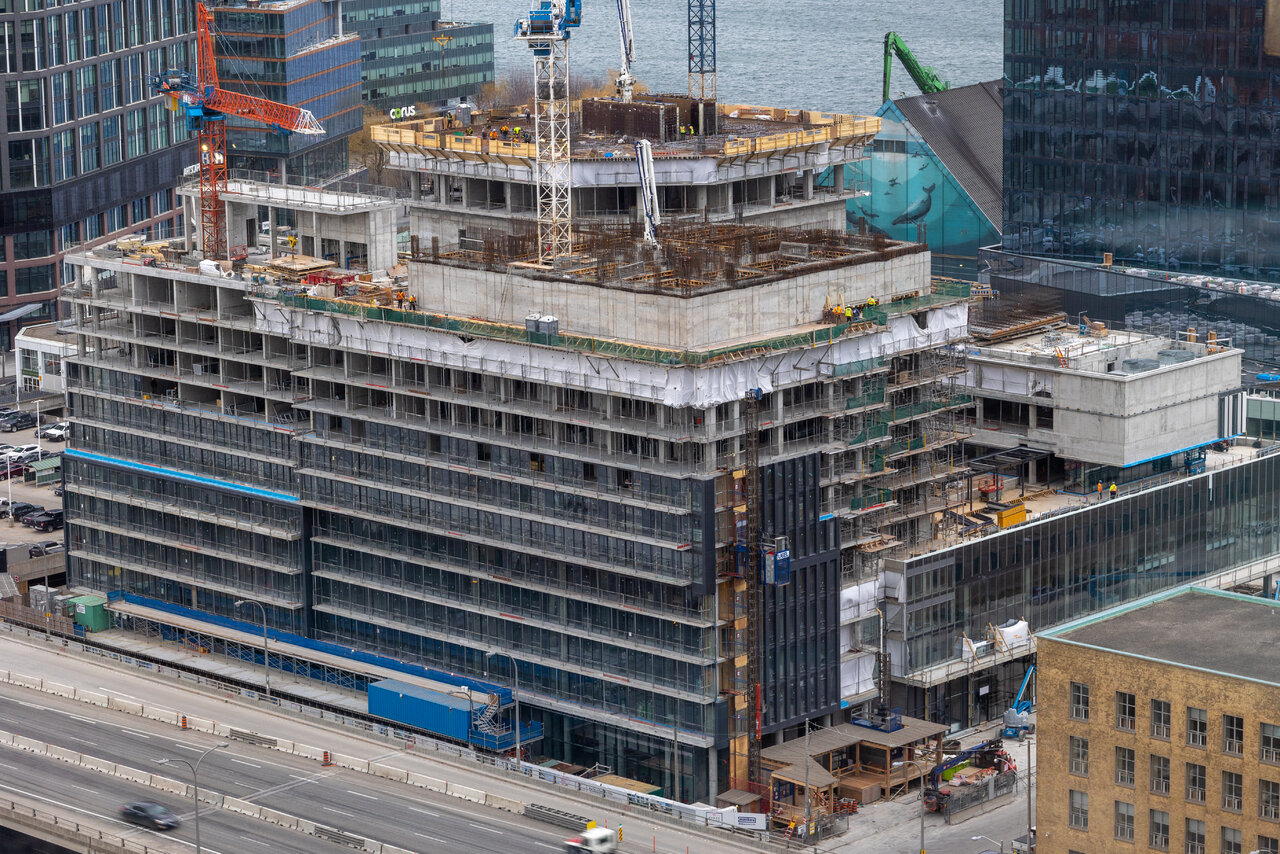 Looking southeast to Sugar Wharf Condos, image by Forum contributor mburrrr
A close-up of a podium-top mechanical room shows a patterned cladding beginning to be applied to blank concrete surfaces: reflective panels that will appear as darkly tinted windows are separated by a rhythm of bright vertical fins.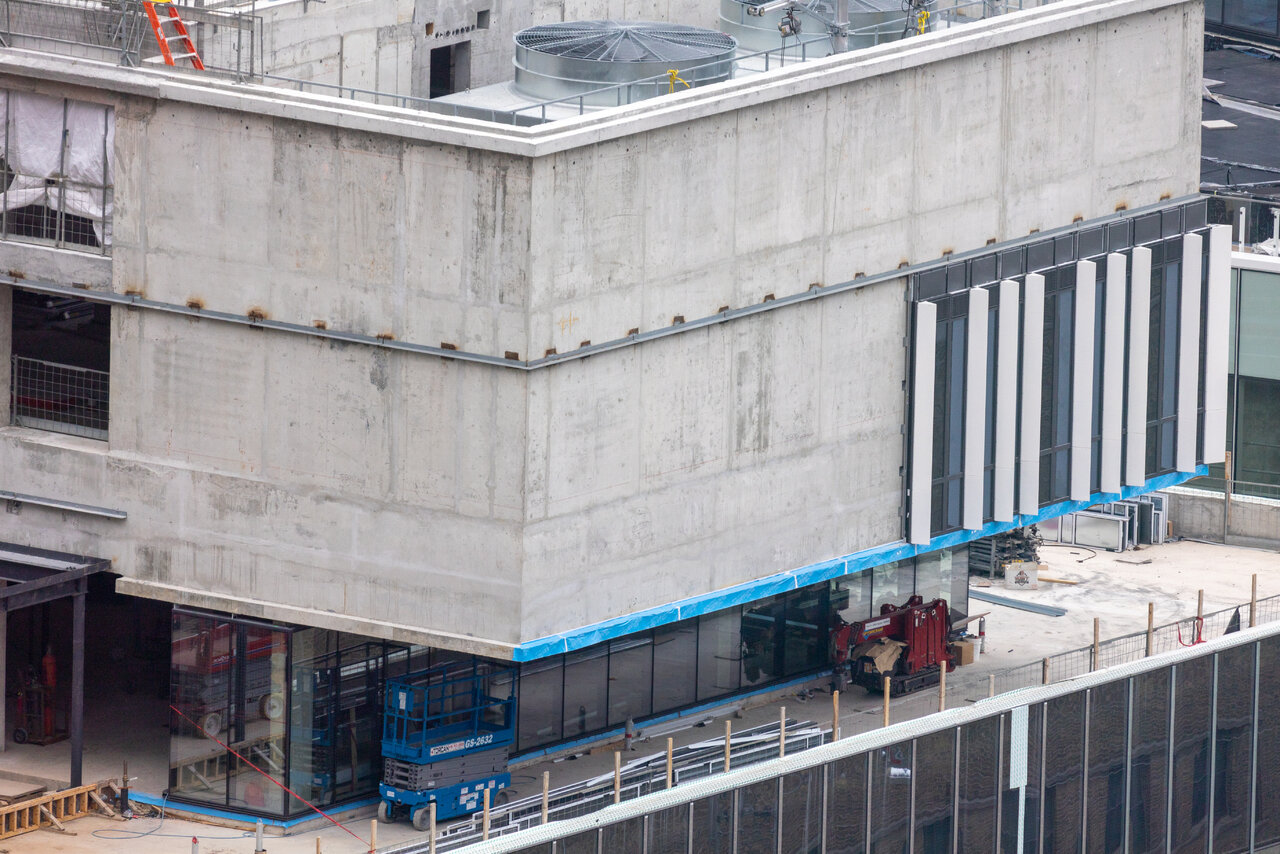 Podium-top mechanical cladding at Sugar Wharf Condos, image by Forum contributor mburrrr
The southeast tower's first few floors now rise above a 4.5 metre-thick level that will transfer the weight of the tower down through columns in the podium and to the foundations below. Over the last several weeks, another enormous 4.5 metre-thick transfer level has taken shape above the podium for the 12th floor of the northwest tower. A closeup shows rebar protruding where columns and walls will be formed for the first of the residential tower floorplates that will we built above.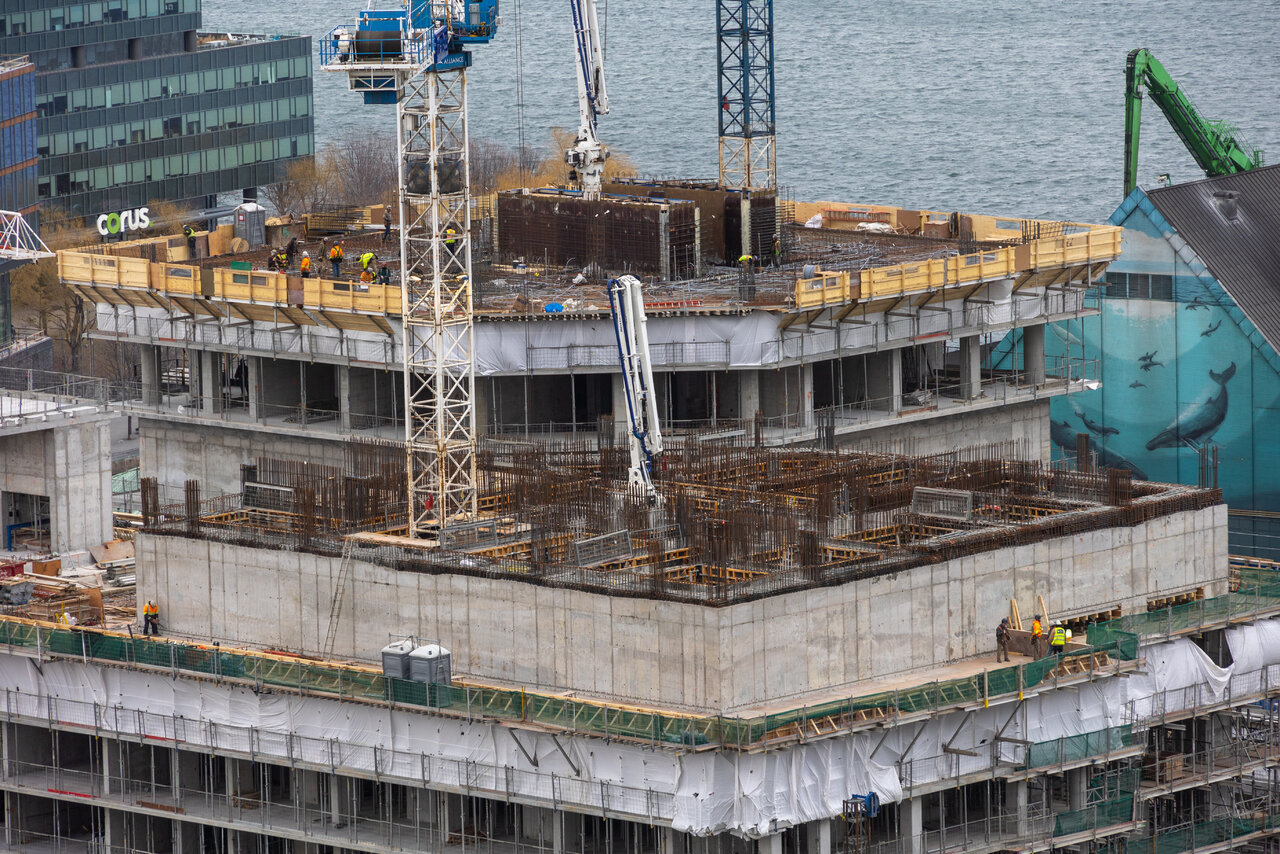 Transfer slab at Sugar Wharf Condos, image by Forum contributor mburrrr
Forming activity will now be concentrated on the pair of tower footprints, and with this reduced forming area, the towers should rise at about a floor per week in the coming months. Both towers are likely to be visible from several skyline viewpoints later this year as they continue their march towards heights of 218 and 230 metres.
You can learn more from our Database files for the projects, linked below. If you'd like to, you can join in on the conversation in the associated Project Forum threads, or leave a comment in the space provided on this page.
* * *
UrbanToronto has a new way you can track projects through the planning process on a daily basis. Sign up for a free trial of our New Development Insider here.