A whole new stretch of Lake Ontario waterfront is soon to be unlocked in Mississauga's Port Credit area, with the 72-acre master-planned Brightwater community in the works on the former Imperial Oil Lands at Lakeshore Road West and Mississauga Road. The new community from Port Credit West Village Partners—a joint venture of DiamondCorp, Dream Unlimited, FRAM + Slokker, and the Kilmer Group—is to be built over several phases in a master plan by Giannone Petricone Associates and Urban Strategies.
A successful summer 2020 launch of first phase buildings Brightwater I and II and a pair of associated commercial buildings was recognized with the prestigious Best New Community (Planned/Under Development) award by BILD, to bring the first 2,995 condominium residences and 150 affordable housing units to the community. Hot on the heels of the first phase's sales success, the project team is back with a new phase of intimately scaled homes bordering the west edge of the community.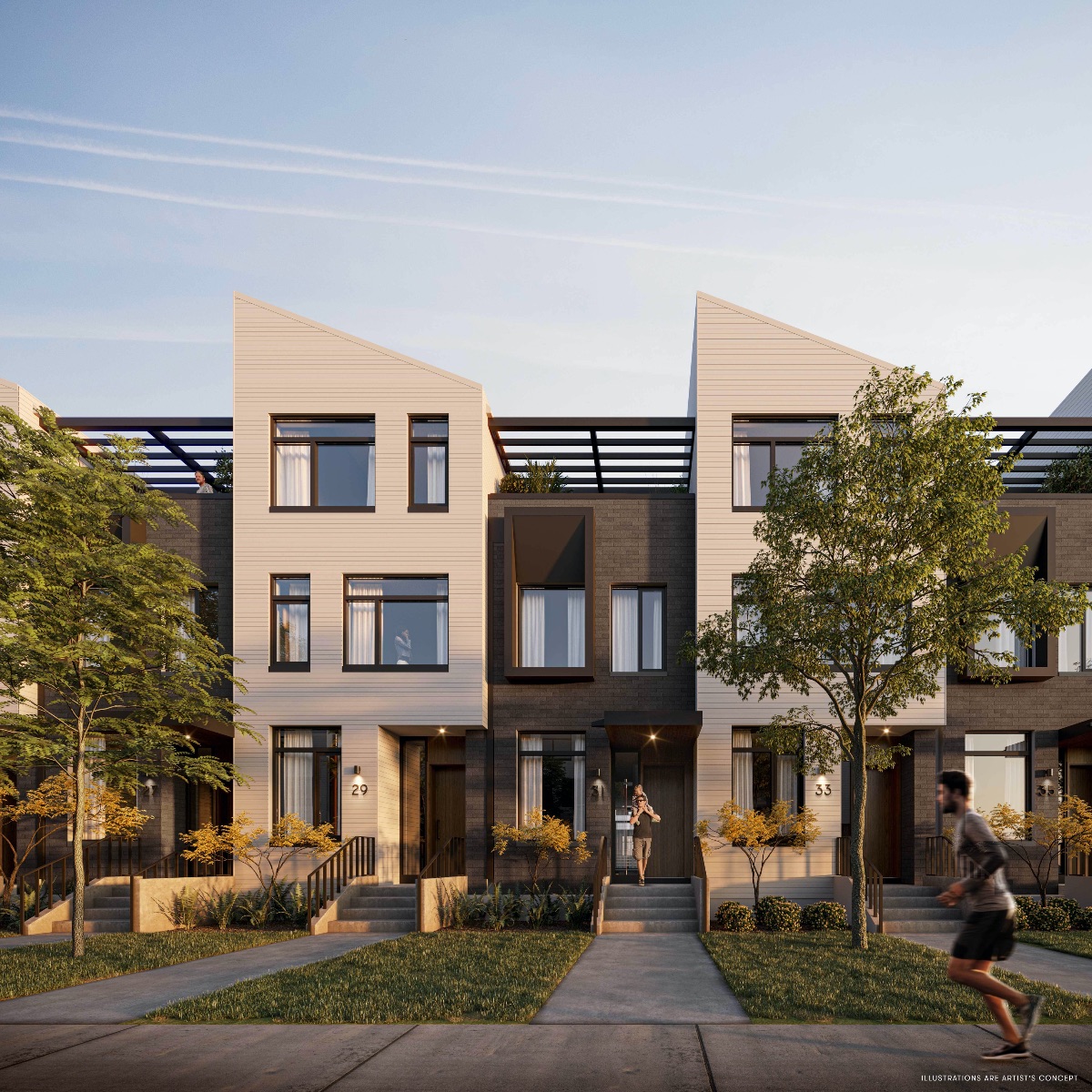 The Brightwater Towns, image courtesy of Port Credit West Village Partners
Known as The Brightwater Towns, the new phase is to bring 106 luxury townhomes to the site, ranging from 1,900 ft² to 2,600 ft² in area, and priced starting from $1.4 million. The home—designed by superkül—present a contemporary spin on the traditional house-forms of the neighbouring low-rise community to the west. These townhomes will act as a contextual buffer between them and the new mid-rises and towers that will populate Brightwater to the east.
The towns are being offered in three design styles dubbed the Trail Collection, Terrace Collection, and Mews Collection, each with a distinct look keyed to their rooflines and private terraces above. Superkül have incorporated masonry on the exteriors to reflect the site's distant past as a brickyard, while architectural finishes such as horizontal slat siding and soft colours speak to the lakefront themes of the area.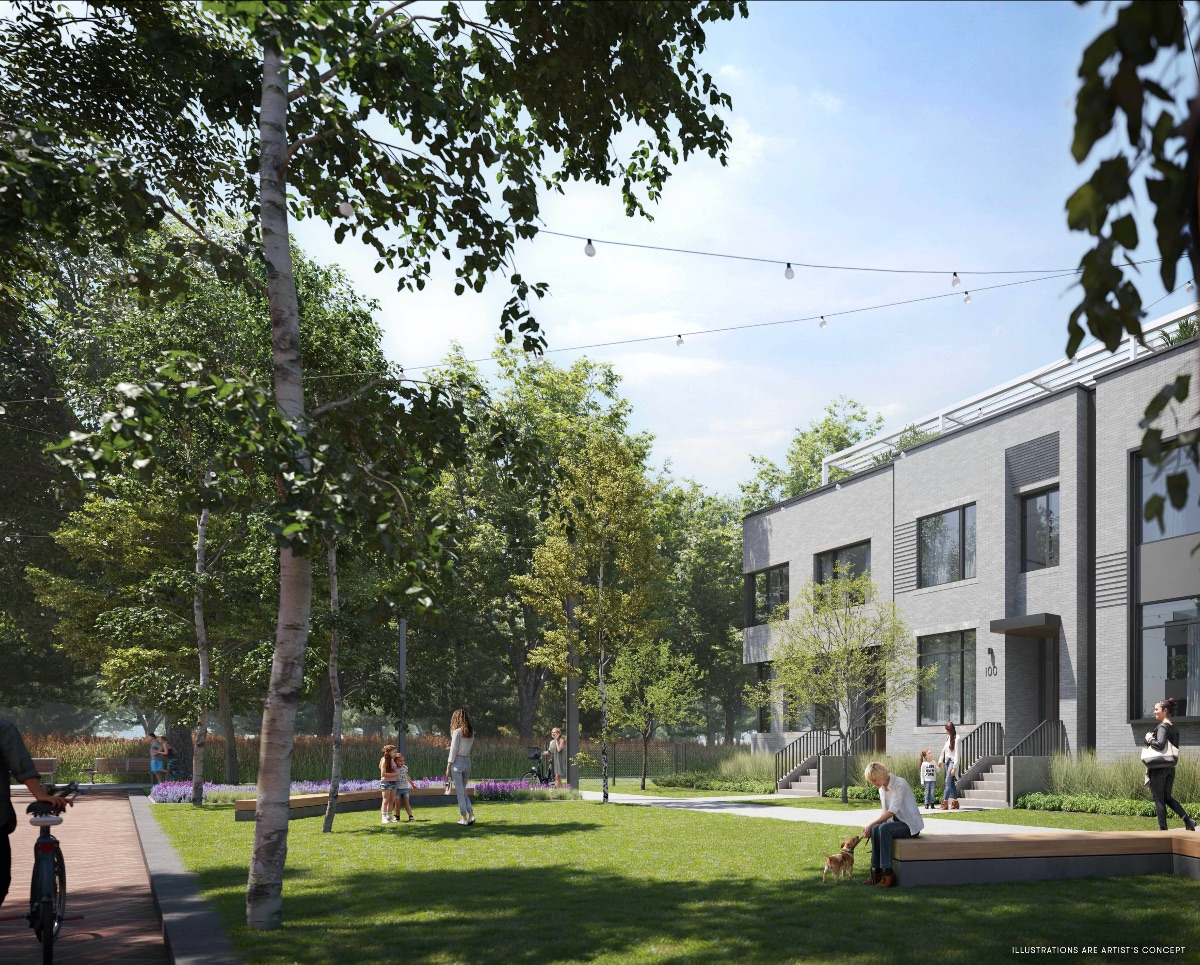 Landscaped pedestrian mews at The Brightwater Towns, image courtesy of Port Credit West Village Partners
"Inspired by Brightwater Towns' coveted location, we wanted to create an intriguing variety in elevation and suite types that speak to themes of coastal and contemporary living. We took a holistic approach to the residences, blending timeless style with thoughtful, meaningful spaces to create a sense of awe," reads a statement from Andre D'Elia, Owner and Principal of Superkül.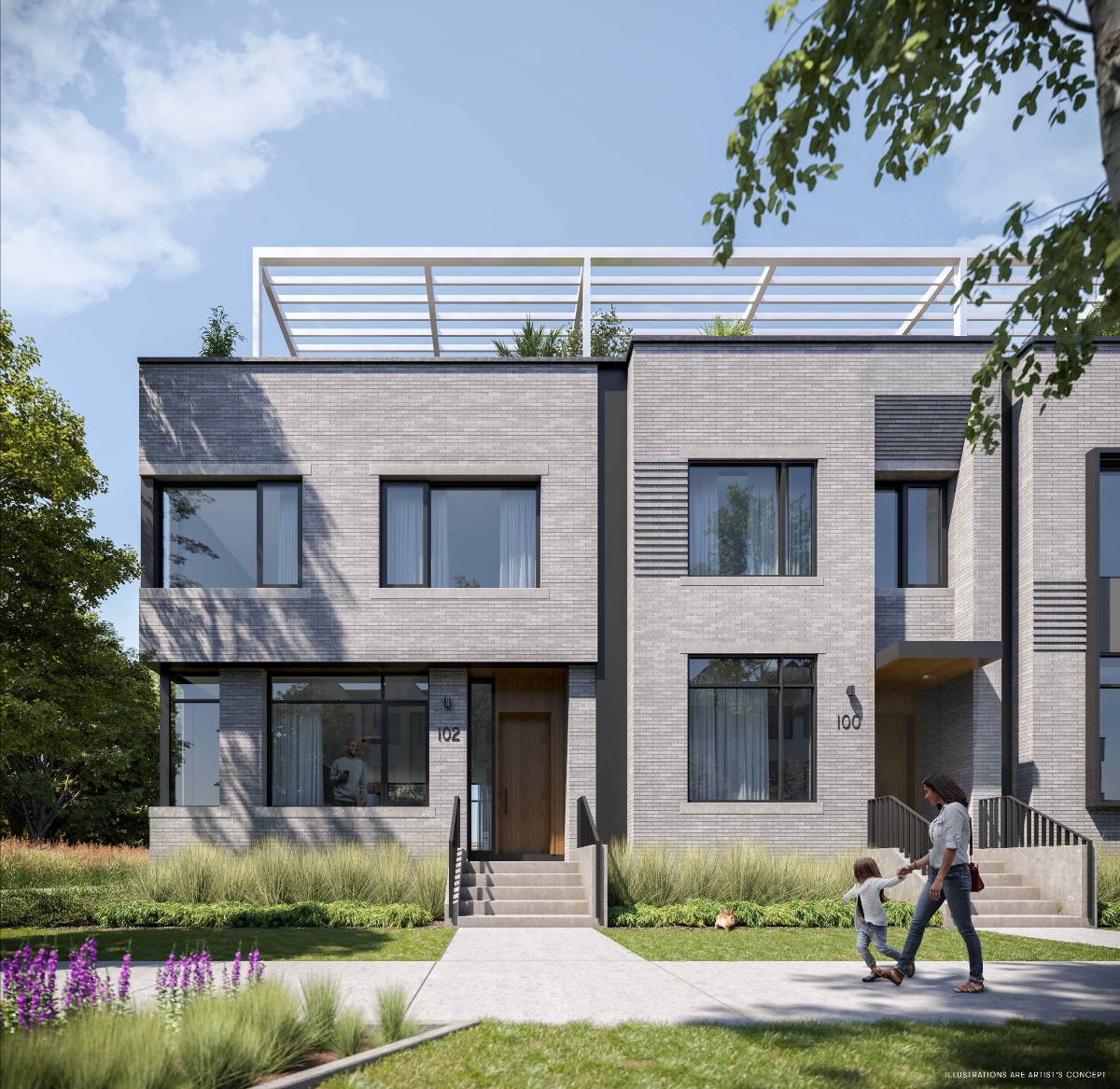 The Brightwater Towns, image courtesy of Port Credit West Village Partners
Interiors are to benefit from oversized windows, filling the open-concept layouts with natural light. Truong Ly Design—the interior designers behind Brightwater I and II—continue their work at The Brightwater Towns, creating layouts with generous indoor and outdoor living space that offer such features as spacious contemporary kitchens with dining islands and quartz countertops. Each home will have a flex space on the upper floor, connecting with the private rooftop terrace, designed for a range of uses.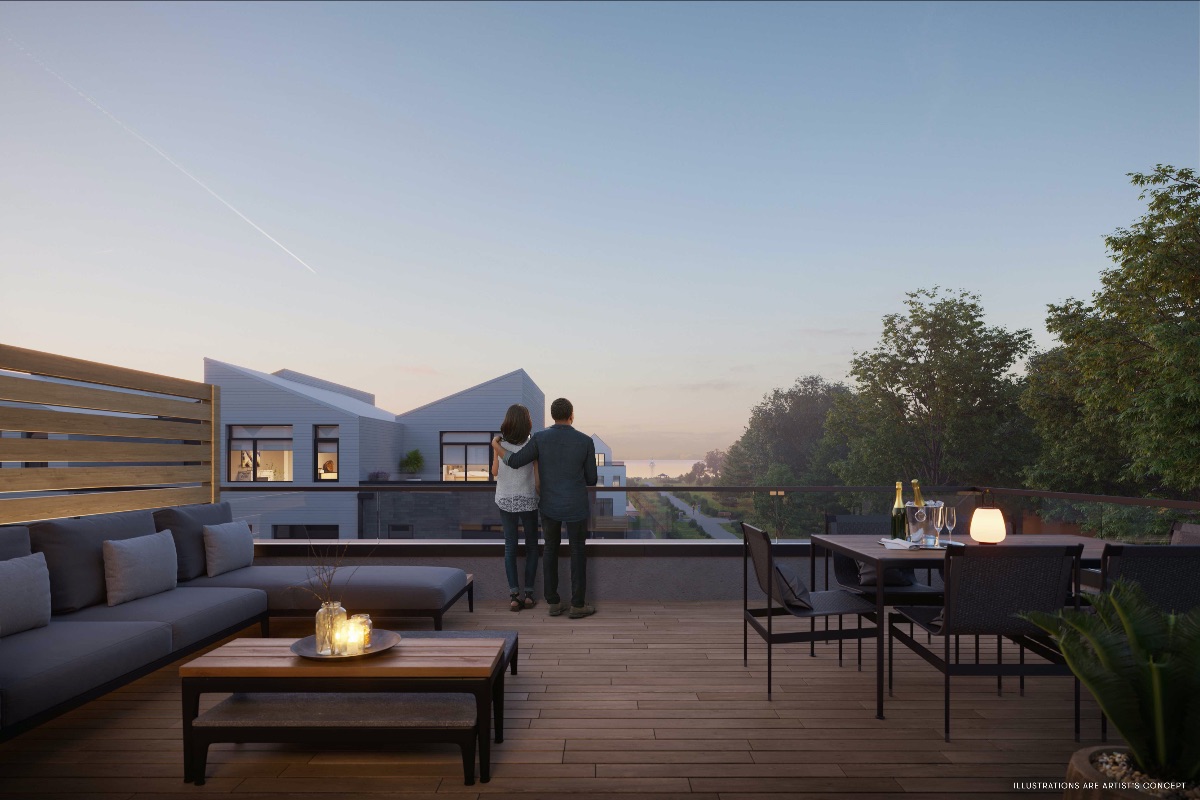 Rooftop terrace at The Brightwater Towns, image courtesy of Port Credit West Village Partners
"We've introduced a colour palette of light hues that reflects the seasons, speaking to themes of light and water. Brightwater Towns is perfect for those who have a great appreciation for elevated, high-quality design and want to be connected to a vibrant community," reads a statement from Truong Ly, Founder of Truong Ly Design.
Like residents of the initial phases, townhome residents will enjoy the community's 18 acres of green space, including a nine-plus acre waterfront park, while the towns' location along Benson Trail will benefit from a multi-use path with enhanced connections to the Waterfront.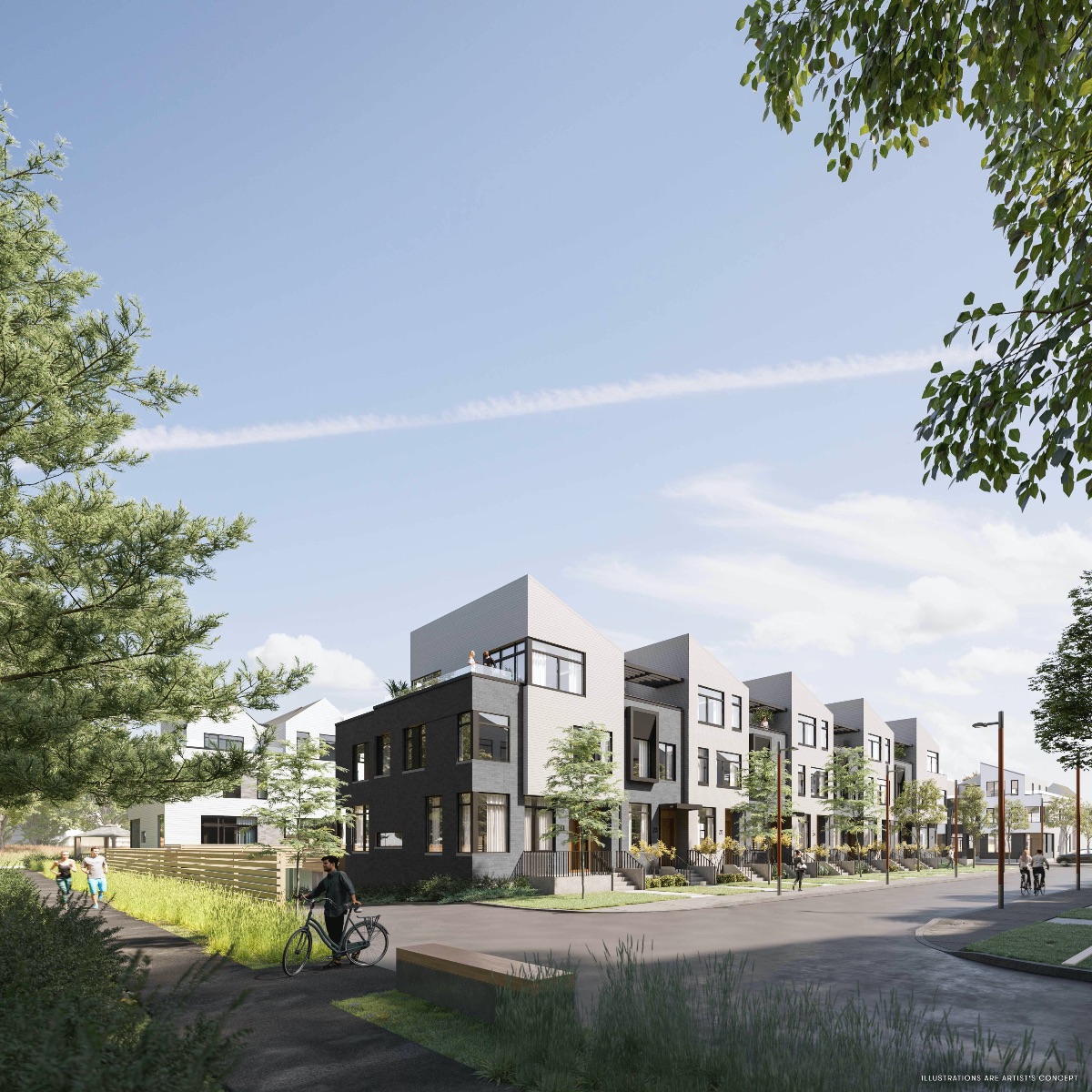 Townhomes' location along the Benson Trail, image courtesy of Port Credit West Village Partners
Additional information and images can be found in our Database files for the projects, linked below. Want to get involved in the discussion? Check out the associated Forum threads, or leave a comment n the space provided on this page.
* * *
UrbanToronto has a new way you can track projects through the planning process on a daily basis. Sign up for a free trial of our New Development Insider here.