A new mid-rise condominium development is making quick construction progress on The Queensway west of Royal York Road in the Toronto borough of Etobicoke. Dubbed Queensway Park in a nod to the 3.1-hectare public space of the same name that the building overlooks to the north, the project from Urban Capital Property Group and Rosewater Developments is now topping out at its final nine-storey height, while cladding installation is hinting at the final look.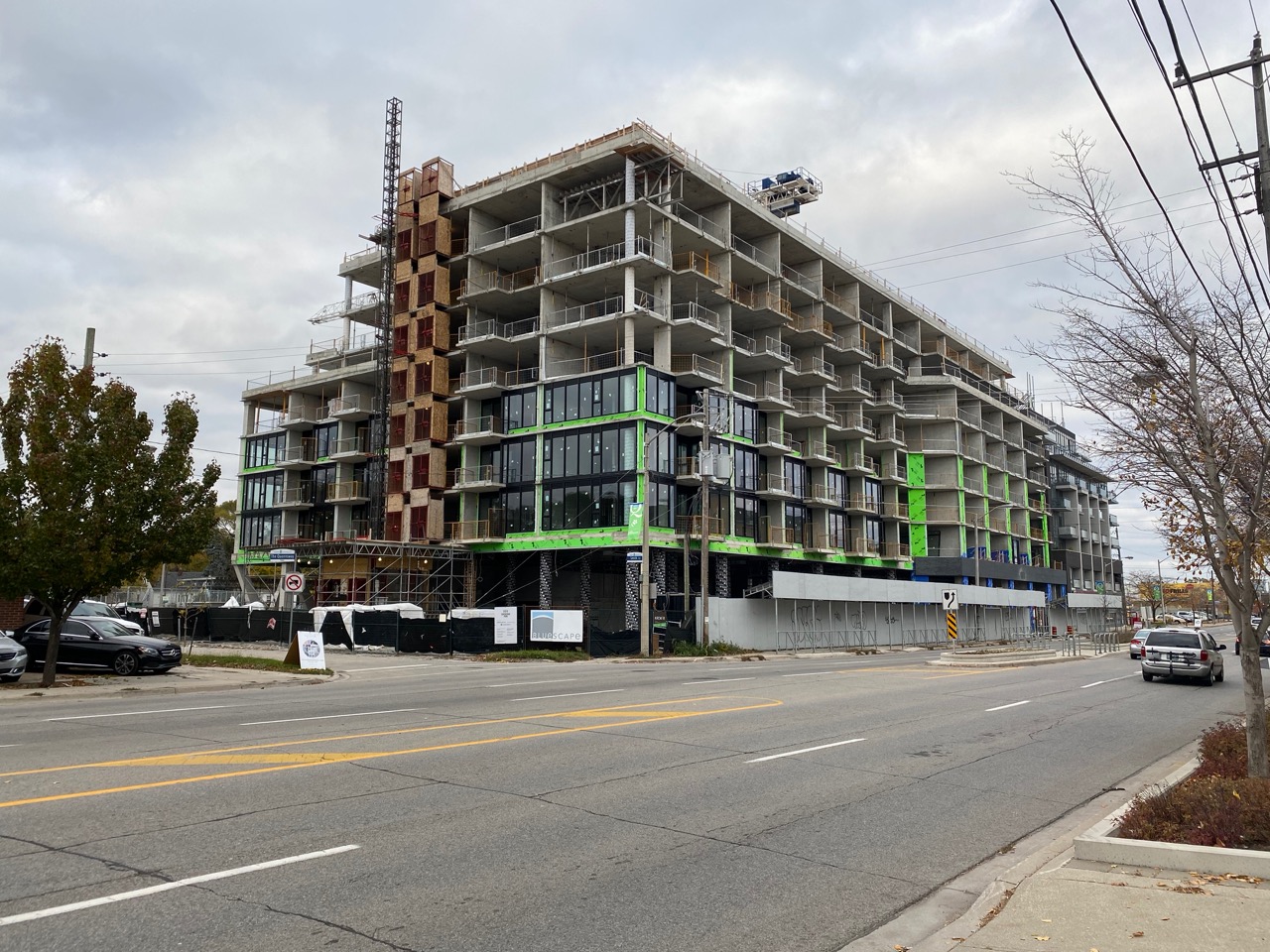 Looking northeast to Queensway Park, image by Craig White
Construction on the RAW Design building began in mid-2019 on the site of a former The Beer Store location, one of several of the retailer's properties that were sold in the face of skyrocketing land values. Shoring moved along quickly, and by Fall of last year, excavation had bottomed out for sections of the site. A crane was installed soon after, allowing forming to begin for the underground levels.
By February, 2020, the first forms for the ground floor were in place, and it's been a quick ascent in the months since. By August, forming had reached the seventh and eighth floors, and the most recent photos show the ninth and final residential floor taking shape along with a mechanical penthouse level above. This last bit of forming work brings the building to its final 36-metre height.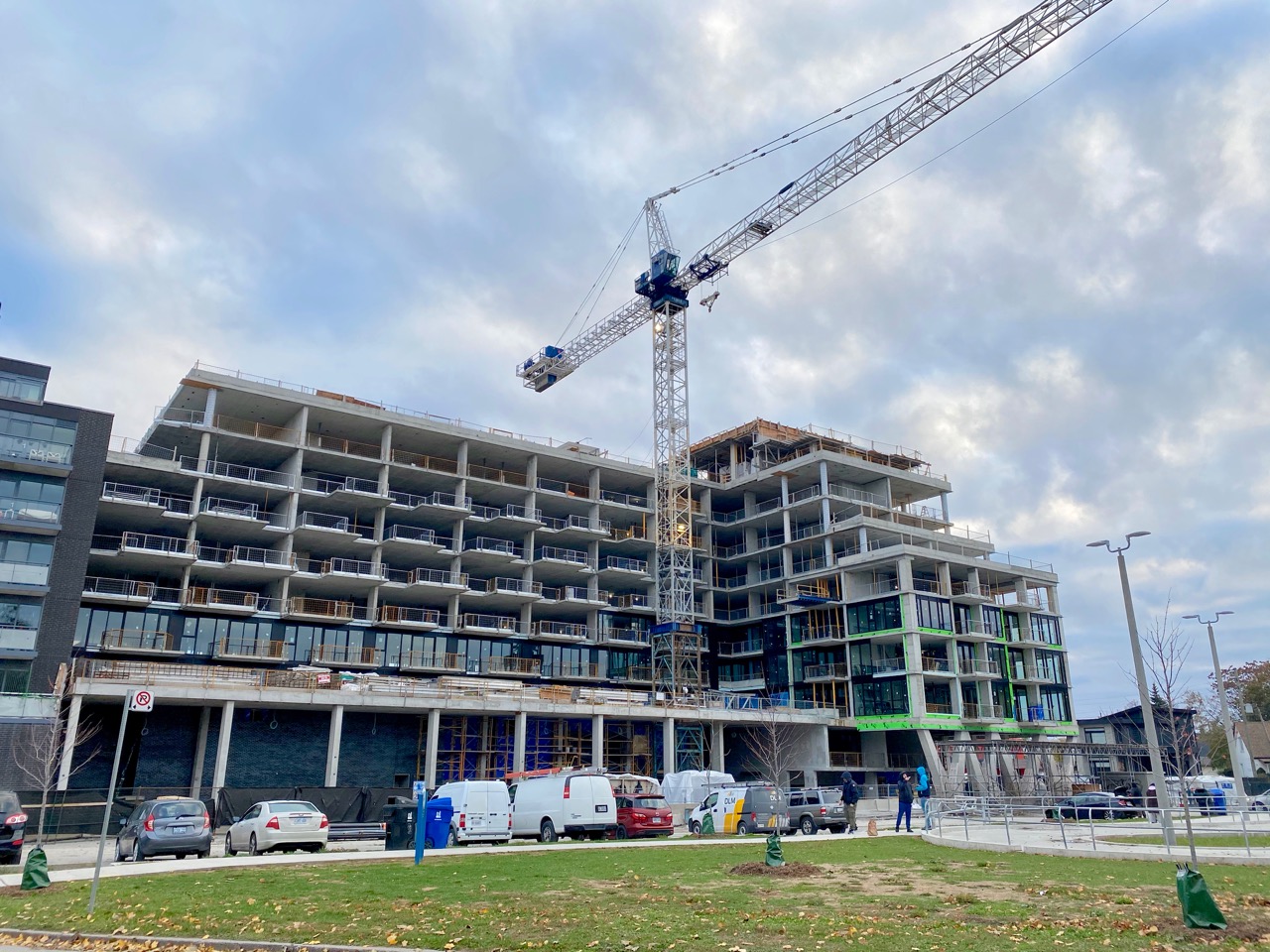 Looking southwest to Queensway Park, image by Craig White
Another recent development in the site's progression is the start of installation of the building's exterior envelope. A window wall cladding with full-height panes along with operable windows, all framed in slender black aluminum mullions, has now been installed as high as the fourth floor.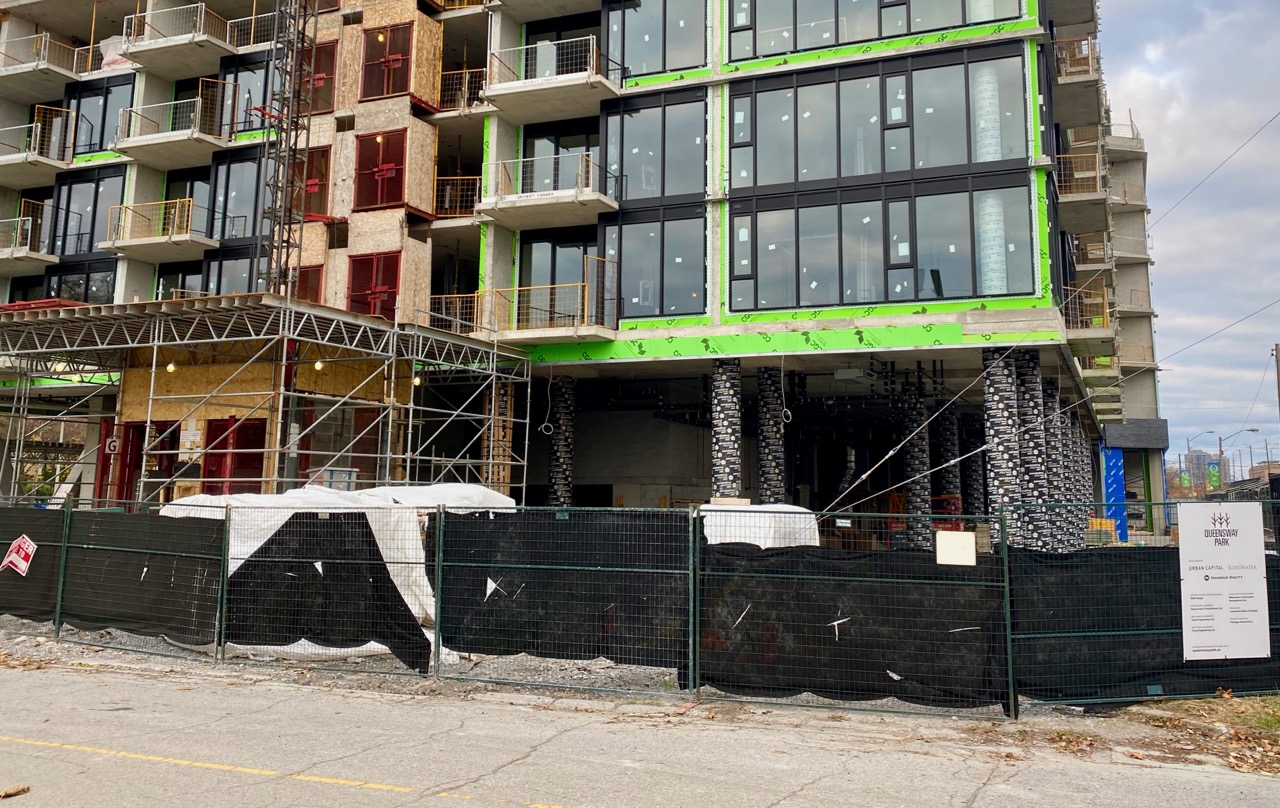 Cladding at Queensway Park, image by Craig White
At street level, the building responds to both its Queensway frontage to the south and Queensway Park-facing north elevation. At the south end, the ground floor addresses The Queensway with multiple retail spaces contributing to the block while a zigzag of linked canted columns creates a playful feature facing the public park to the north.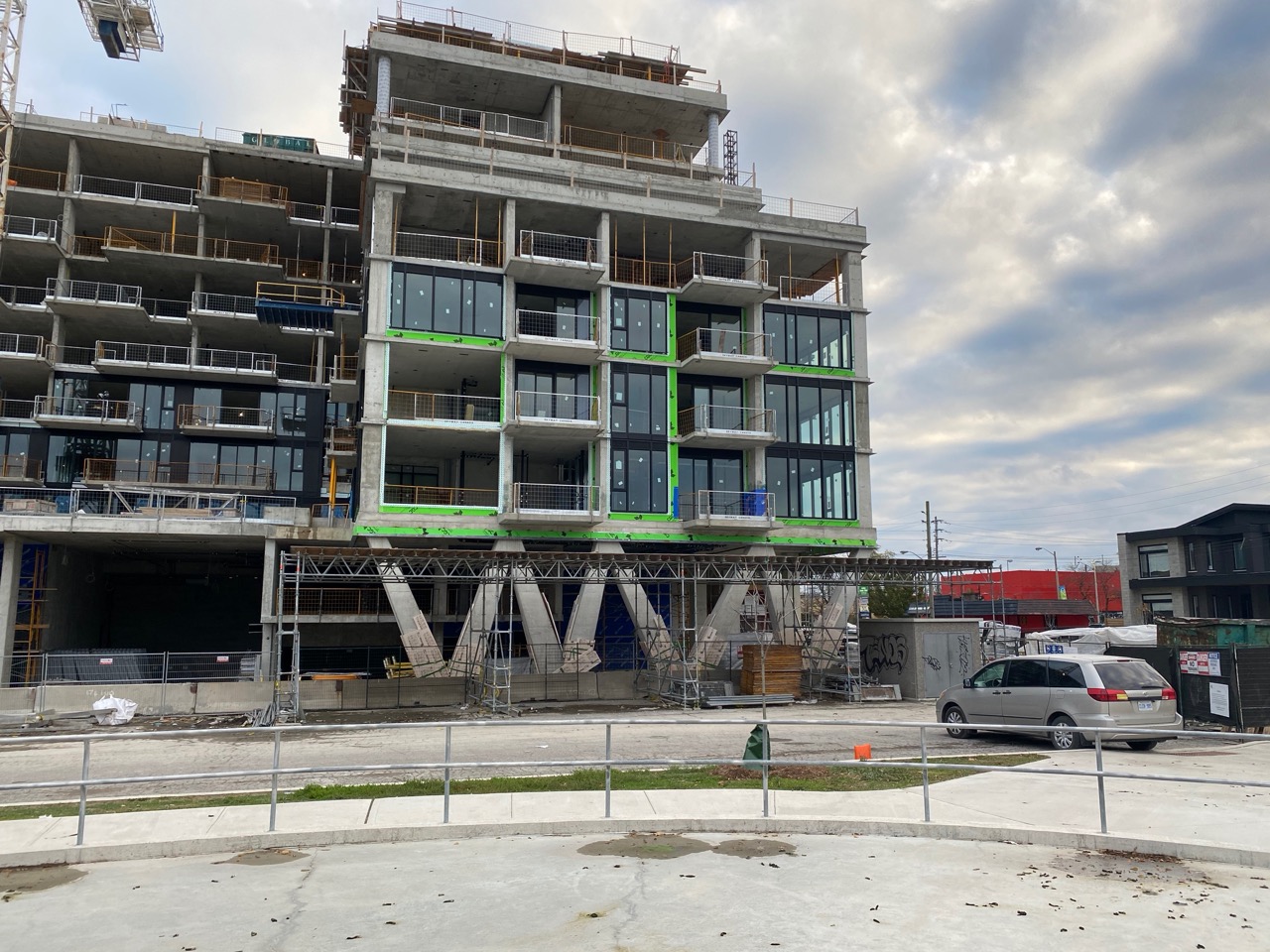 Looking south to Queensway Park, image by Craig White
Upon completion, Queensway Park will bring 172 condominiums units to the area, anchored by a selection of retail and restaurants that is to be custom-curated by the developers. Among them will be a boutique Beer Store at the east end of the building to replace the closed one.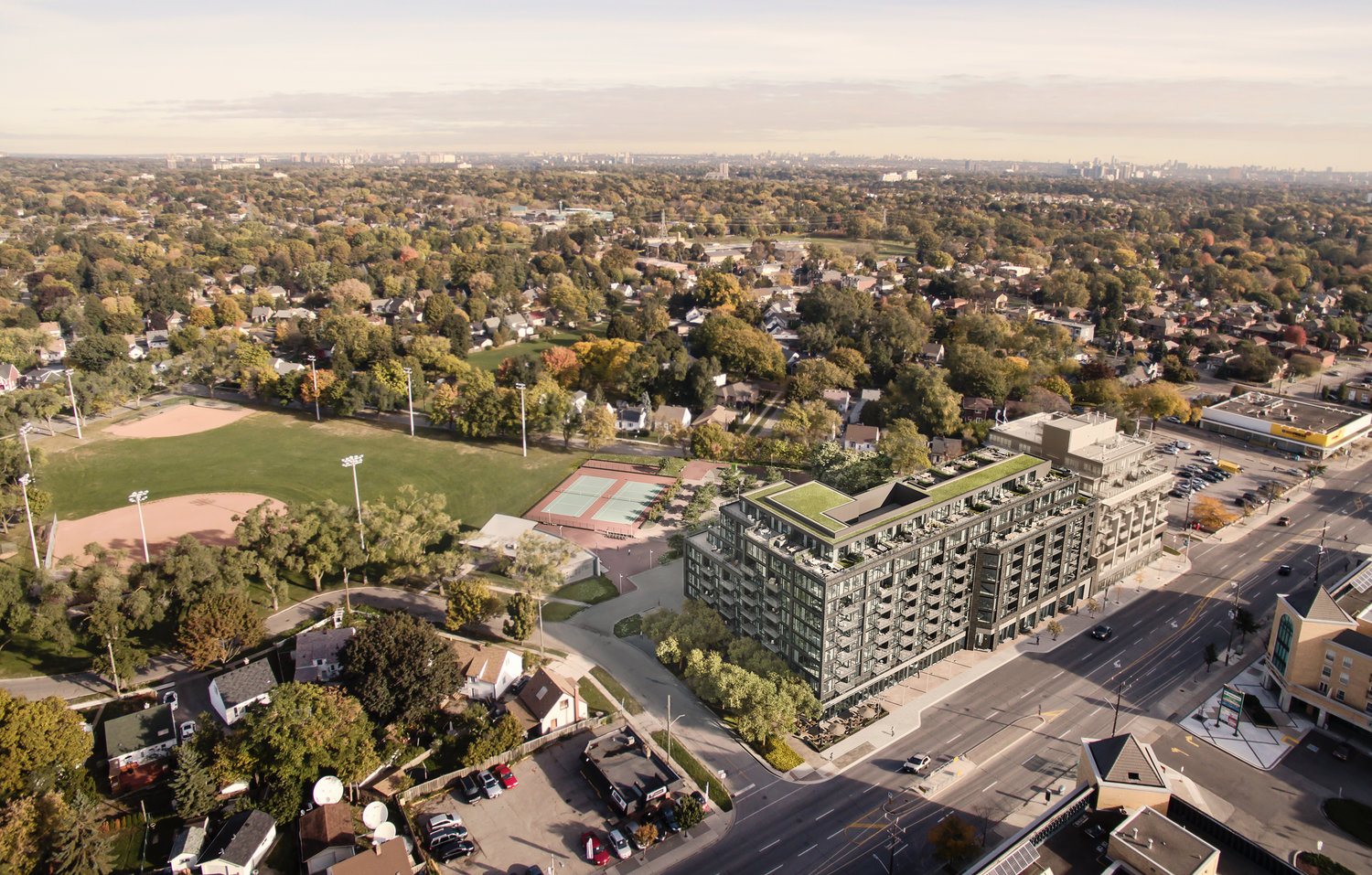 Aerial view of Queensway Park, image courtesy of Urban Capital/Rosewater
Additional information and images can be found in our Database file for the project, linked below. Want to get involved in the discussion? Check out the associated Forum thread, or leave a comment in the space provided on this page.
* * *
UrbanToronto has a new way you can track projects through the planning process on a daily basis. Sign up for a free trial of our New Development Insider here.