A rezoning application submitted to the City of Toronto, if successful, could see a 1,000-condo complex built in Scarborough. Arya Corporation are seeking to build a new mixed-use development comprised of residential buildings, new public streets, and a public park at Markham and Ellesmere Roads in the city's Woburn neighbourhood.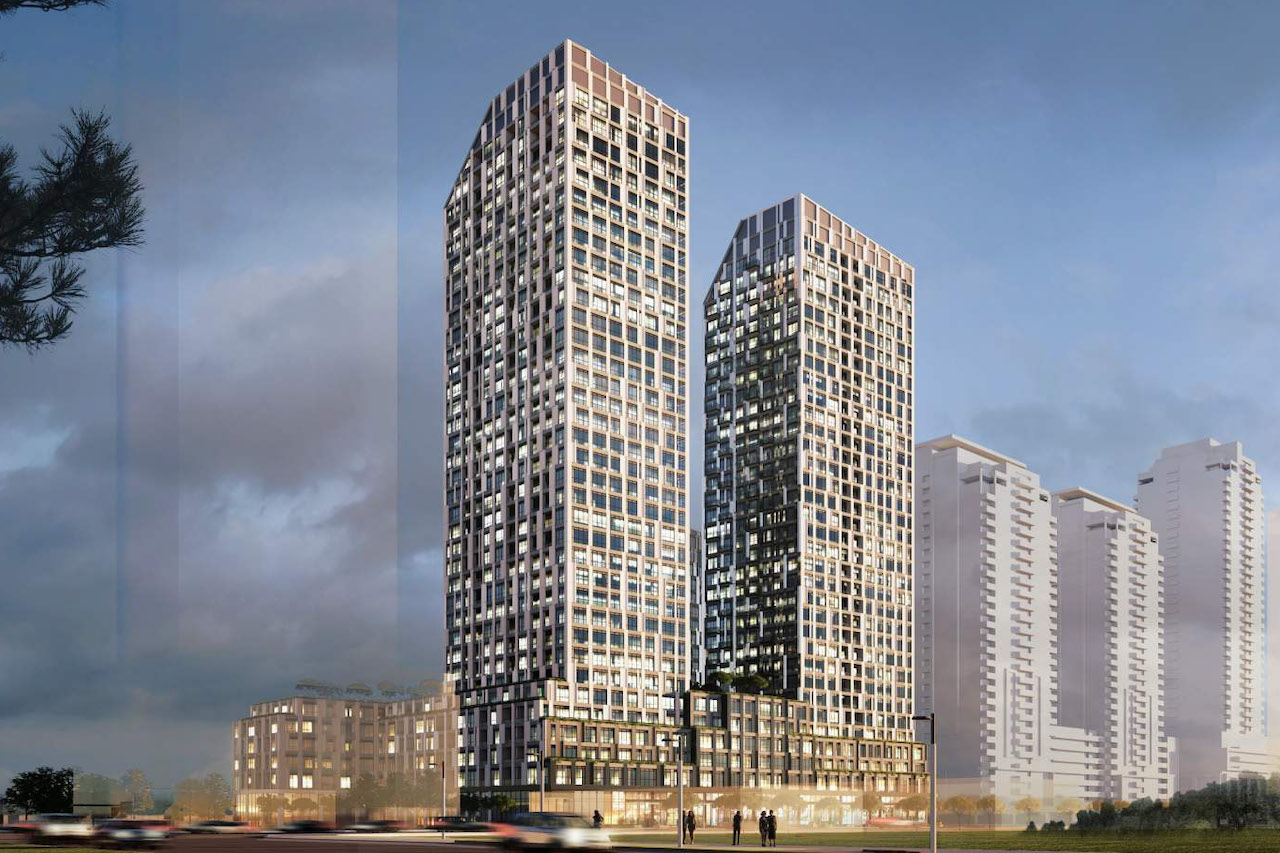 Looking southeast towards 1125 Markham Road, designed by Turner Fleischer Architects for Arya Corporation
The L-shaped, 2.8-acre site is located in the southeast quadrant of the Markham Road and Ellesmere Road intersection, although it does not include the retail building right at the corner, currently serving as a sales centre for an adjacent condo project. The site is currently occupied by three single-storey commercial retail buildings surrounded by surface parking. The wider neighbourhood includes institutional uses (e.g. Centennial College), employment areas and a range of residential, from tall towers and slab-style apartments, to townhouses.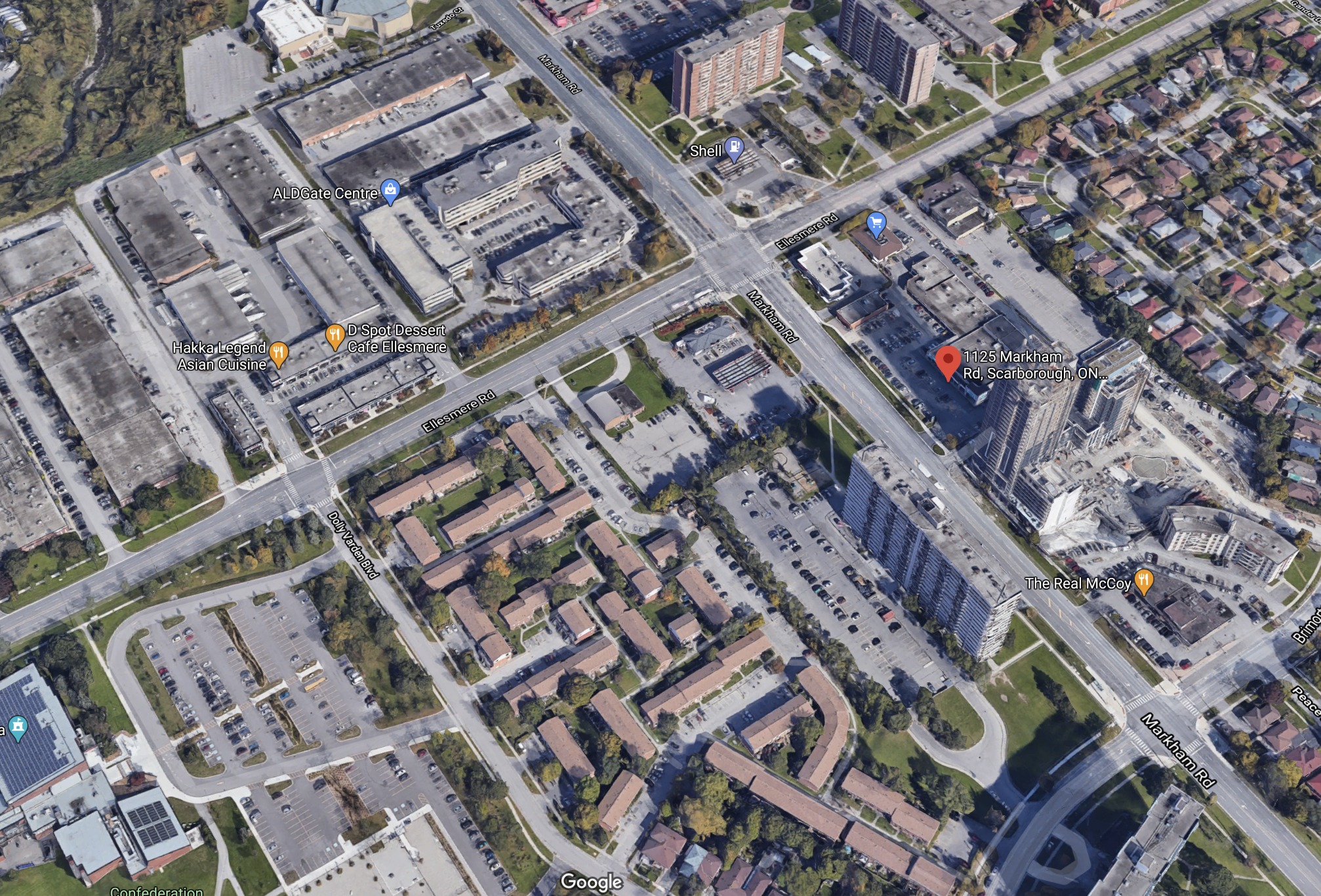 Aerial photo with the site of 1125 Markham Road, image retrieved from Google Maps
Designed by Turner Fleischer Architects, the proposal comprises four new residential buildings with heights ranging from 6 to 36 storeys. A total gross floor area of 75,655 m² is proposed, resulting in a gross site density of 6.7 FSI. A new 822 m² public park is envisioned in the northeast corner of the site, along Ellesmere Road. A walkway, located adjacent to the northerly edge of the base building, would provide pedestrian connections from Markham Road on the west side of the site to the park, and to a proposed extension of Meadowglen Place on the east side of the site.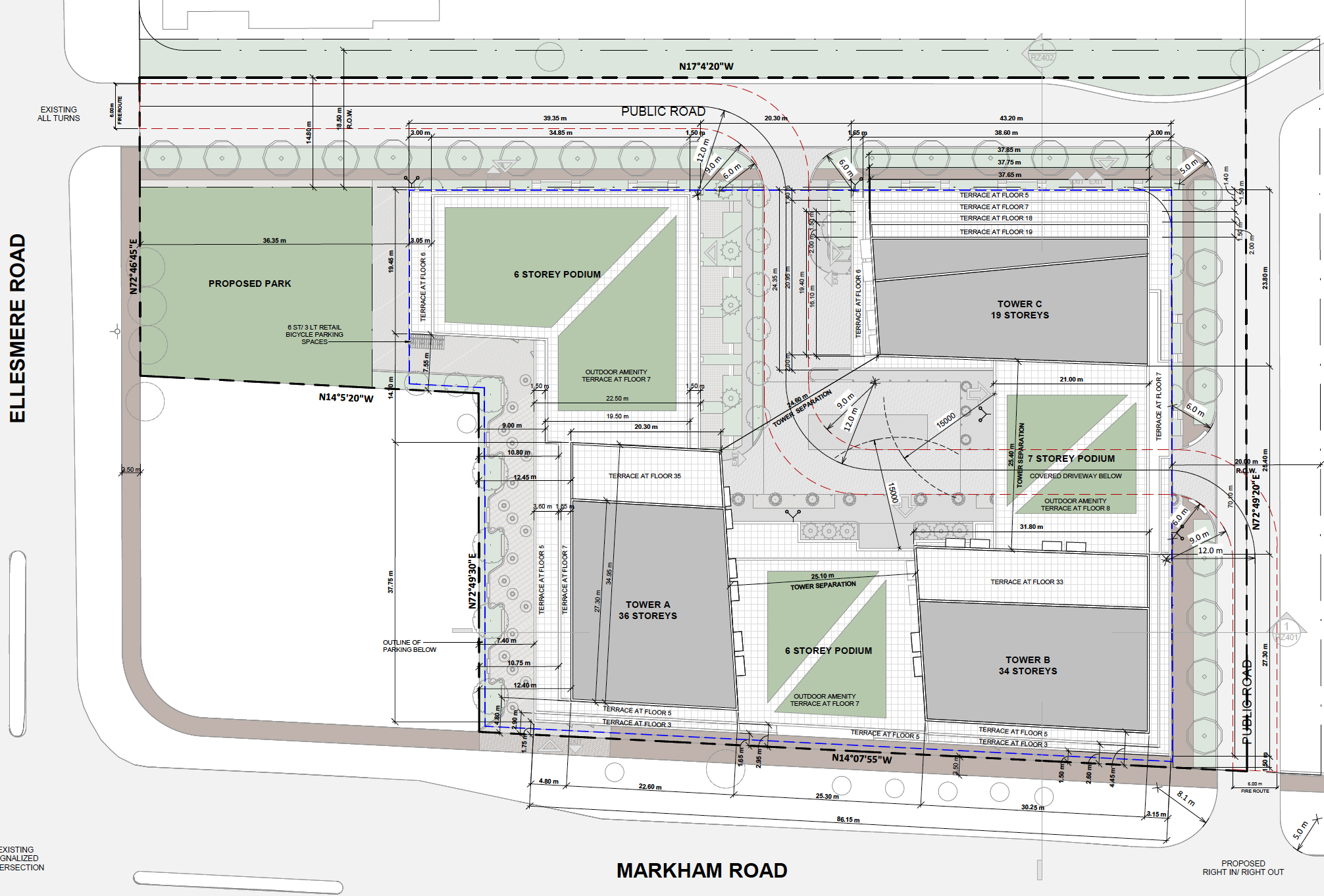 Site Plan of the 1125 Markham proposal. Generally 'L' shaped, it has frontages of 105m on Markham Rd and 40m on Ellesmere Rd, image by Turner Fleischer Architects
The complex would consist of a continuous base building of 6 and 7 storeys in height, framing all street frontages, with slender tower shafts above. The planning rationale states that the podium is designed to create a compatible relationship between the new buildings and the public realm, and to create a street presence along existing and proposed municipal roads.
Grade-related retail space of 1,148 m² would span the Markham Road frontage. As illustrated in the section below, the base building steps back at the third and fifth floors in a subtle 'terracing' effect.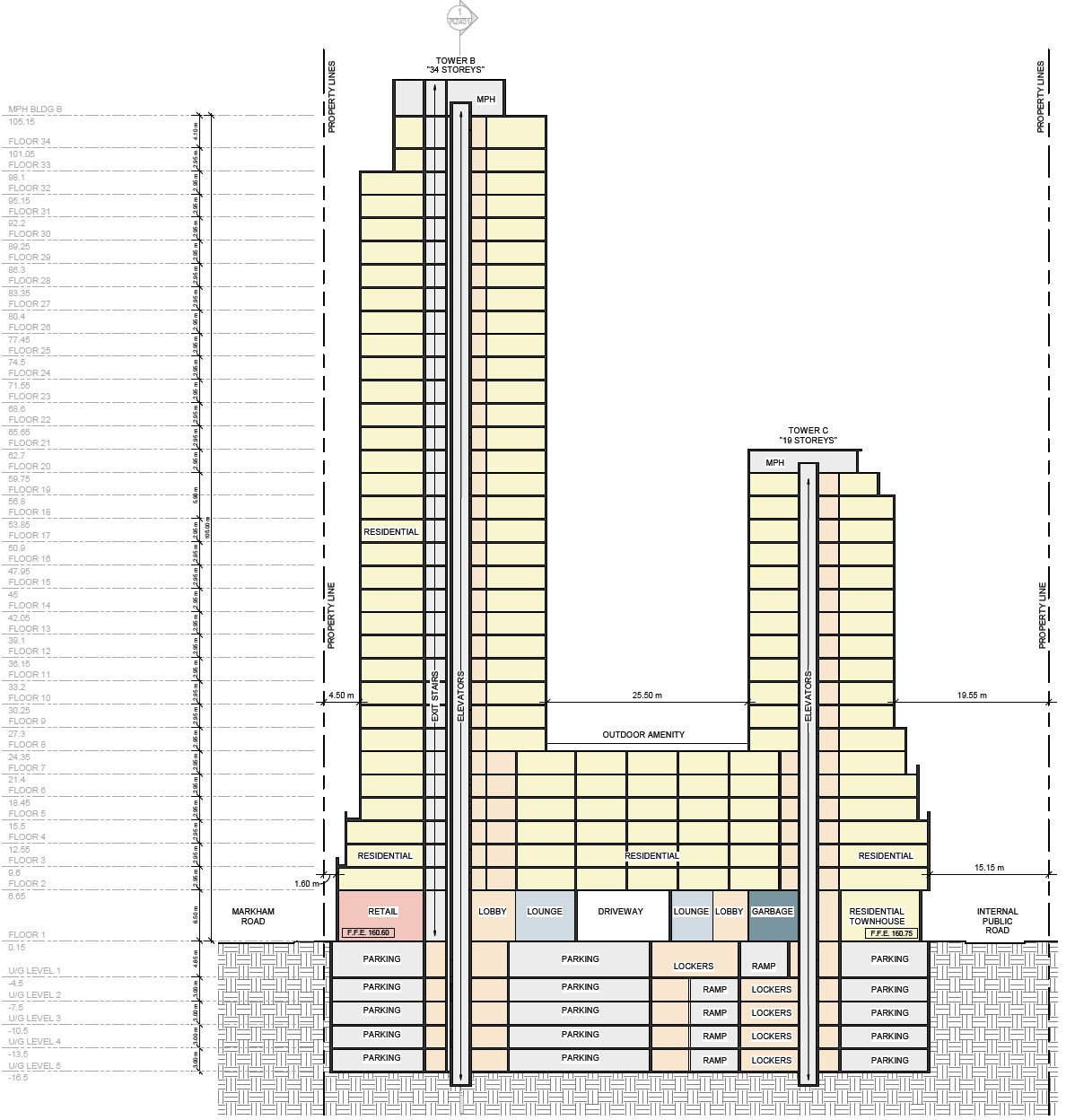 Section through Towers B and C. Retail fronts Markham Road. Image by Turner Fleischer Architects for Arya Corporation
Tower A would be the tallest building of the four, topping out at 36 storeys and 111m. It is located closest to the Markham/Ellesmere intersection and would house 445 residential units. Tower B, located along Markham Road in the site's southwest corner, is proposed at 34 storeys with 353 units.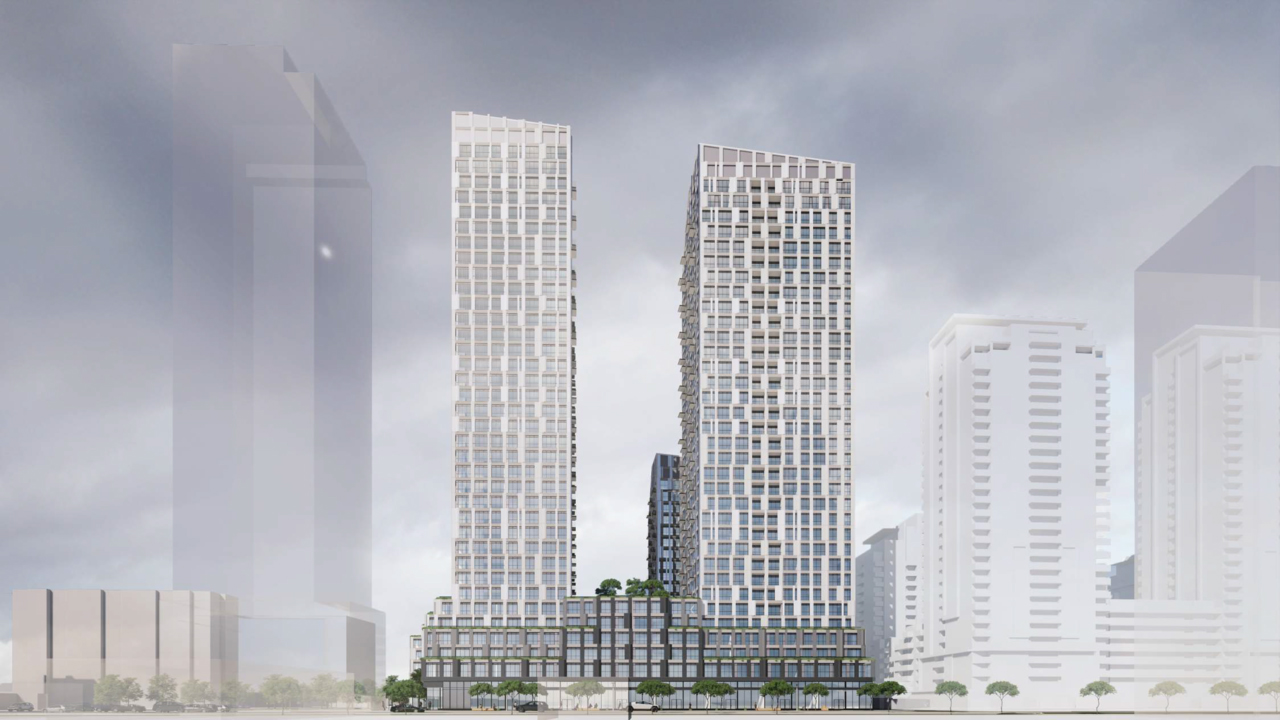 Looking east atowards 1125 Markham Road, image by Turner Fleischer Architects for Arya Corporation
Completing the trinity is Tower C, anchoring the southeast corner of the site, and standing 19 storeys tall. It contains 242 units. On average, the minimum separation distance between the towers is 25m.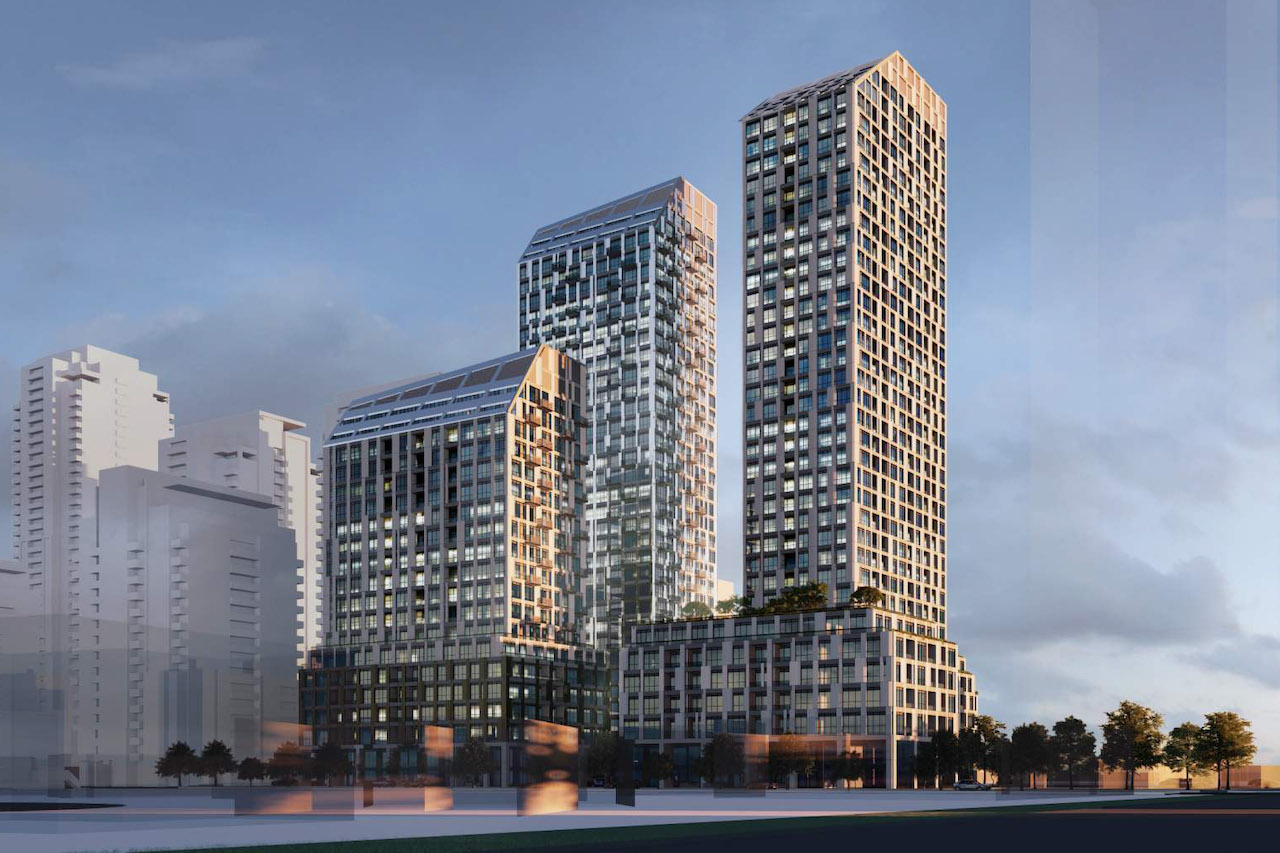 Looking southwest towards 1125 Markham Road, designed by Turner Fleischer Architects for Arya Corporation
Adjacent to the proposed public park is a 6-storey mid-rise building which forms part of the continuous base that frames the entire site.
Of the 1,040 proposed dwelling units, the breakdown includes 55 studio units (5.3%), 561 one-bedroom (53.9%), 319 two-bedroom (30.7%), and 105 three-bedroom suites (10.1%).
A total of 4,215 m² shared amenity space is proposed (2,153 m² indoor, and 2,062 m² outdoor). In addition, each unit would have its own private balcony or terrace.
A five-storey underground garage would provide 944 residential vehicular parking spaces. It would also include bicycle and locker storage.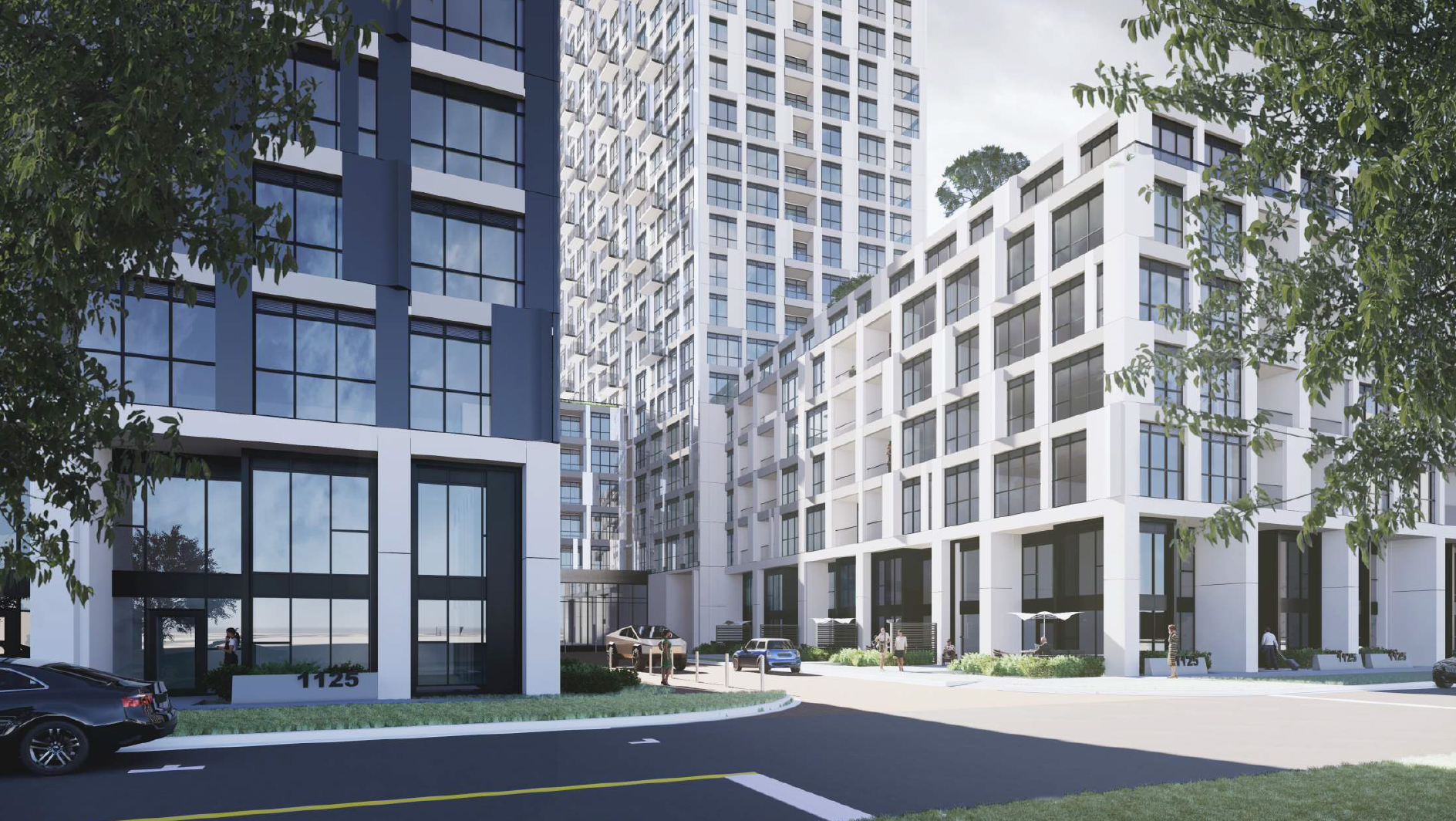 View south from public road 'A' at podium level, image by Turner Fleischer Architects for Arya Corporation
You can learn more from our Database file for the project, linked below. If you'd like to, you can join in on the conversation in the associated Project Forum thread, or leave a comment in the space provided on this page.
* * *
UrbanToronto has a new way you can track projects through the planning process on a daily basis. Sign up for a free trial of our New Development Insider here.