Unique site considerations are shaping the construction process for a new mixed-use development rising tall near Toronto's bustling Yonge and Dundas intersection. Panda Condominiums by Lifetime Developments has been under construction on Edward Street since mid-2018, and the Turner Fleischer Architects-designed tower is now approaching its final 30-storey height as crews navigate the final stages of the forming process… with an interesting caveat.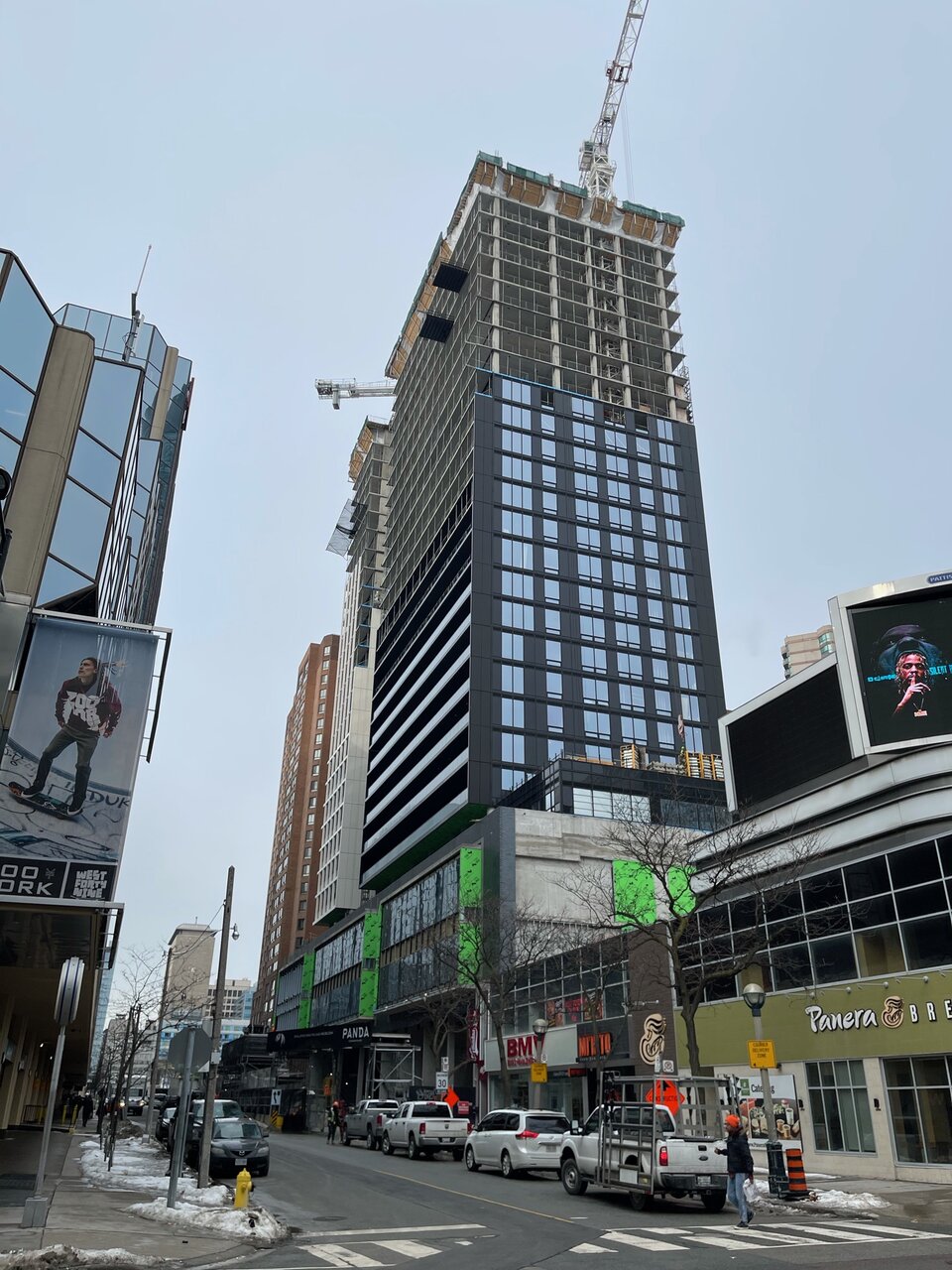 Looking west to Panda Condos, late February, image by Forum contributor Benito
The tower has been progressing above grade since the start of 2020, and now stands about 26 storeys high. At the start of the month, a crane removal operation began despite there still being a few levels left to form before the building reaches its 107.6-metre peak. In conditions similar to those experienced at Fleur Condos a few blocks to the southeast, the tower is being constructed to just below where airspace restrictions are in place to ensure clear flightpaths for two major Downtown hospitals. Those restrictions also prevent a crane from piercing the reserved airspace.
Crane removal at Panda Condos, early March, image by Forum contributor NeilV
We spoke with Lifetime's VP of Construction, Eli Donenfeld, who gave us a detailed explanation of the limiting factors, and why these crane-free topping-offs are a relatively new phenomenon in Toronto.
"In 2017, the City of Toronto enacted a bylaw that imposed heavier restrictions regarding the helicopter flight paths for St Michael's Hospital and for The Hospital for Sick Kids. Prior to this bylaw, builders had an ability to encroach into the flightpaths with certain restrictions, for specific periods of time, with close communications with the hospitals' services teams. The use of a luffer crane or self-climbing crane was the solution to this bottleneck, but once the bylaw imposed a zero-tolerance mandate for flight path encroachment, builders had to get more creative…

Once the tower cranes at Panda were raised to 1 metre below the flight path, they were removed. With four floors still to construct, specialized equipment and equipment customization—from hoisting machinery to forming systems—have been utilized to maintain the pace of construction and ensure we meet our commitments to our purchasers, the community, and the City of Toronto. With precision planning and organization, our construction team is in the process of effectively managing the increased project cost and schedule impacts with executing this unique style of construction."
As forming advances to the final levels, much progress is being made down below as cladding installation races forward for the building's telltale black and white finishes that inspired its ursine branding. Contrasting sections articulate the tower into two distinct volumes, with gridded white finishes to the west and a darker look distinguishing the east volume.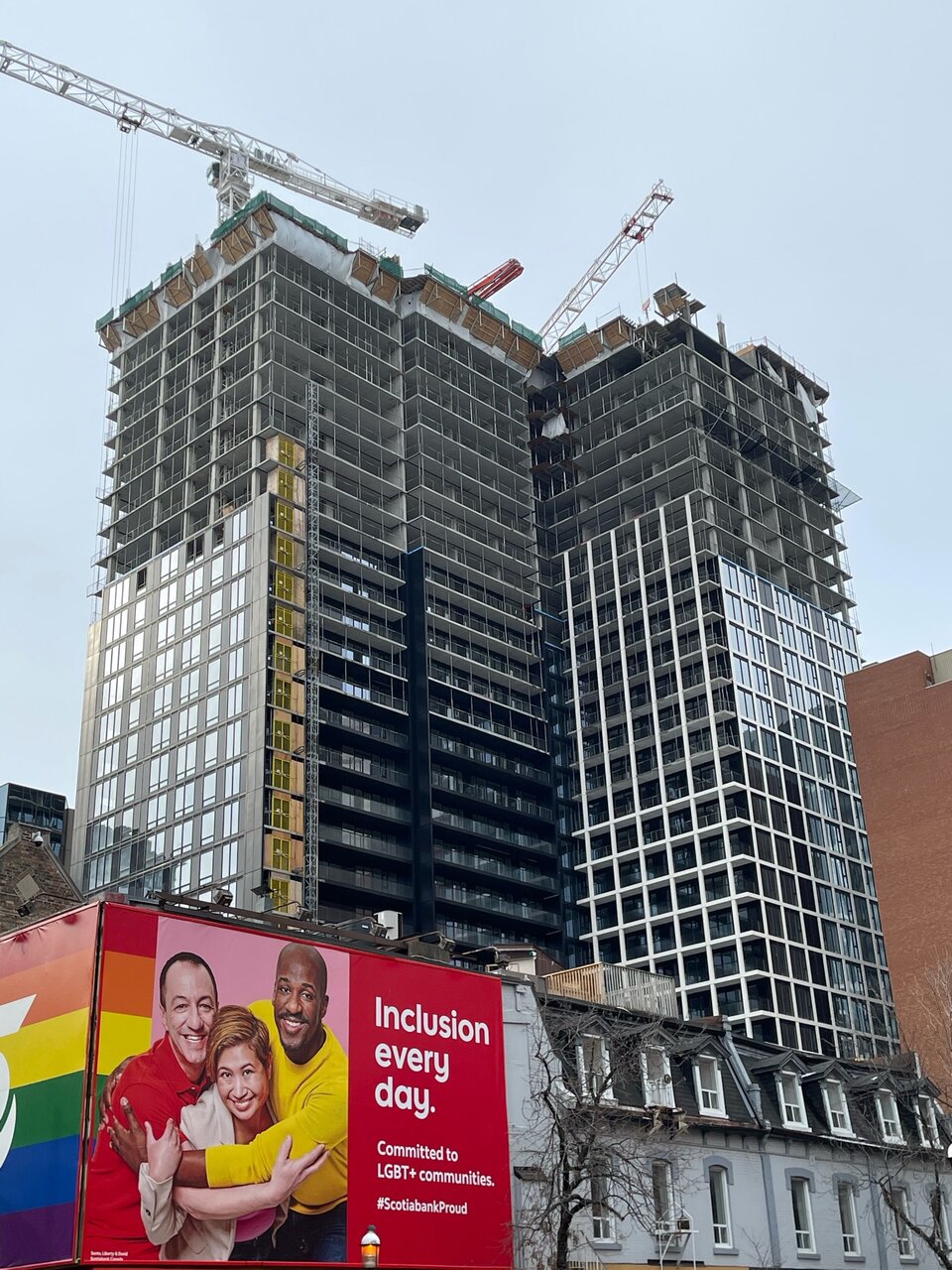 Cladding installation at Panda Condos, late February, image by Forum contributor Benito
Set to welcome its first residents later in the year, Panda is bringing 555 condominium units to the Yonge and Dundas area, while being anchored to Edward Street by a mixed-use podium and below-grade concourse level containing a mix of commercial retail and office space. A roughed-in connection for a possible future PATH connection and/or second Dundas subway station exit offers the chance for even more connectivity for residents in the future.
You can learn more from our Database file for the project, linked below. If you'd like to, you can join in on the conversation in the associated Project Forum thread, or leave a comment in the space provided on this page.
* * *
UrbanToronto has a new way you can track projects through the planning process on a daily basis. Sign up for a free trial of our New Development Insider here.