This weekend marked the arrival of an important piece of infrastructure for the redevelopment of Toronto's Lower Don Lands, part of the wider revitalization of the post-industrial Port Lands. area and its Flood Protection project. One of four prefabricated bridges that will connect the future Villiers Island to Toronto's mainland, the new bridge arrived early in the AM on Saturday after a week-long journey via barge down the St Lawrence Seaway from its manufacturing location in Nova Scotia.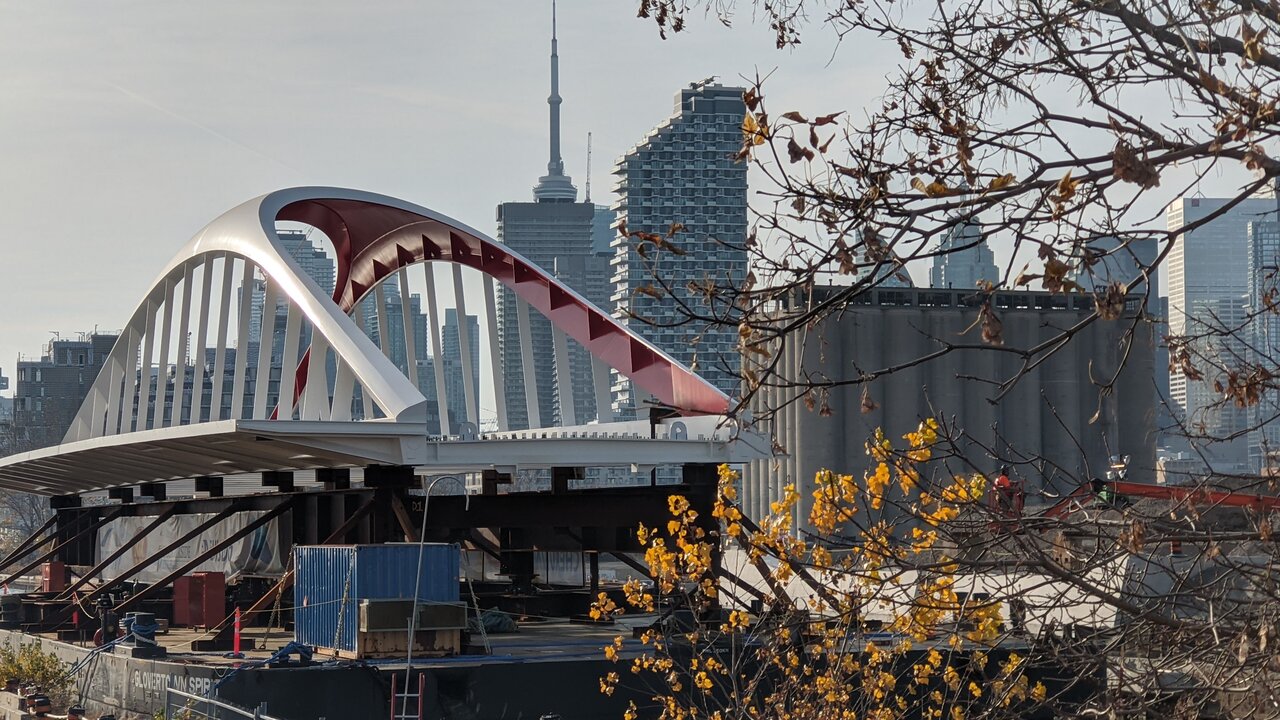 Looking west to the new bridge, waiting to be installed, image by Forum contributor achender
The barge's appearance was celebrated with an 'arrival party' hosted by Waterfront Toronto and attended by federal Minister of Infrastructure and Communities Catherine McKenna, Ontario Minister of Infrastructure Laurie Scott, Toronto Mayor John Tory, and Ward 14 Councillor Paula Fletcher, who each spoke on the milestone's importance to the wider area revitalization. A full version of the approximately 19-minute event includes remarks, which conclude just as the bridge arrives at its future position near the mouth of the Keating Channel.
"I look forward to the arrival of the first of the new Cherry Street bridges to Toronto's inner harbour coming all the way from Nova Scotia. I know these new bridges will become an iconic part of our waterfront and a signature landmark in our already unique skyline. The Port Lands Flood Protection project is one of the largest waterfront revitalization projects in the world and one of the most ambitious and significant infrastructure projects in Toronto's history. By working with other levels of government we are ensuring that this project moves forward and building up Toronto's waterfront for generations to come," reads a statement from Toronto Mayor John Tory.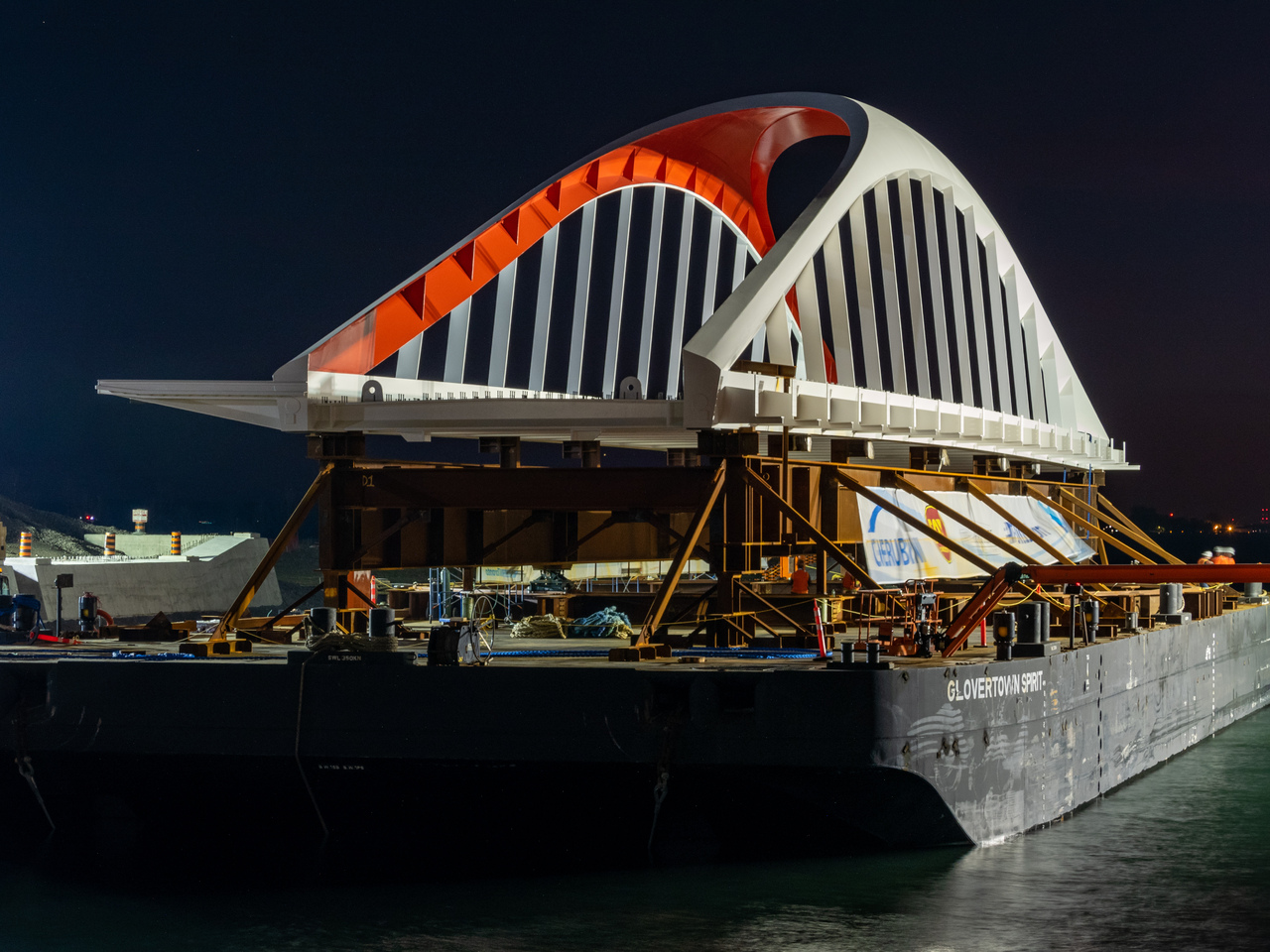 New Cherry Street North Bridge, image by Forum contributor globalexpress
The 57-metre, 350-tonne bridge span, designed by Entuitive along with London-based Grimshaw Architects and SBP, will carry the realigned Cherry Street over the Keating Channel. This first span will be joined by a twin, with one side to carry two-way vehicular traffic and the other carrying dedicated two-way lanes for a future LRT line. Additional information about these and other bridges serving the future Villiers Island can be found in an earlier article on their conceptual design.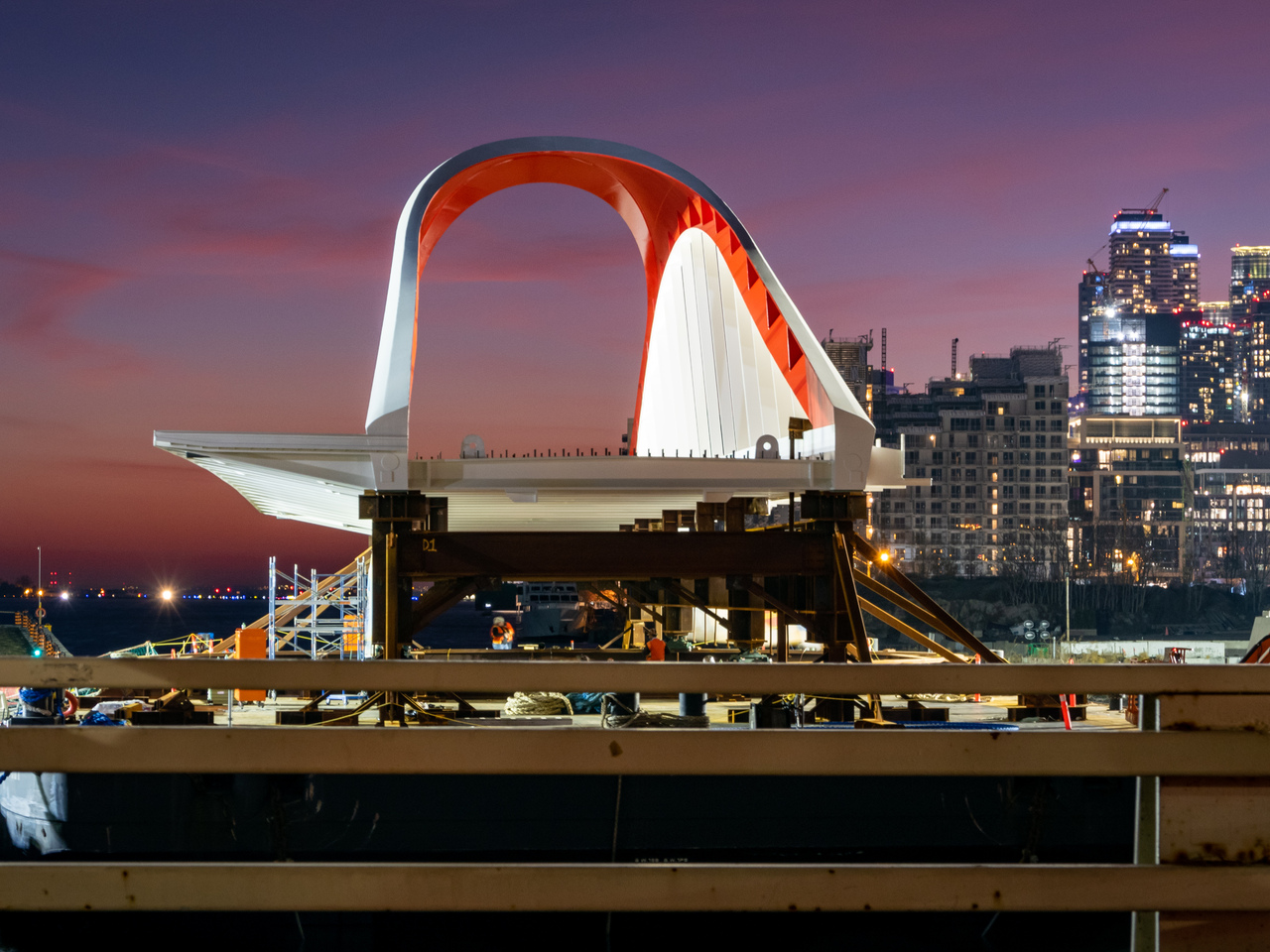 Looking west to the new bridge, waiting to be installed, image by Forum contributor globalexpress
Another video released by Waterfront Toronto shows the beginning of the bridge's journey, including a time-lapse of the bridge span being loaded onto a barge in one piece, as well as aerial views of the barge departing Dartmouth, Nova Scotia, for its trip through the St. Lawrence Seaway.
"These bridges will be a connection for the public to access the new island we are building, and bridges that will connect us to Toronto's future. The bridges are another piece Waterfront Toronto is adding to make our city's waterfront world-class, just as bridges have helped define the image of cities like Chicago and Sydney," reads a statement from Waterfront Toronto CEO George Zegarac. "Work has been continuing all year on the Port Lands project, excavating the new path for the Don River, and creating Villiers Island. Beyond providing critical flood protection, this project is going to deliver a stunning new destination steps from downtown for people to live, work, and enjoy nature, as well as helping to drive Toronto's economic recovery," Zegarac concluded.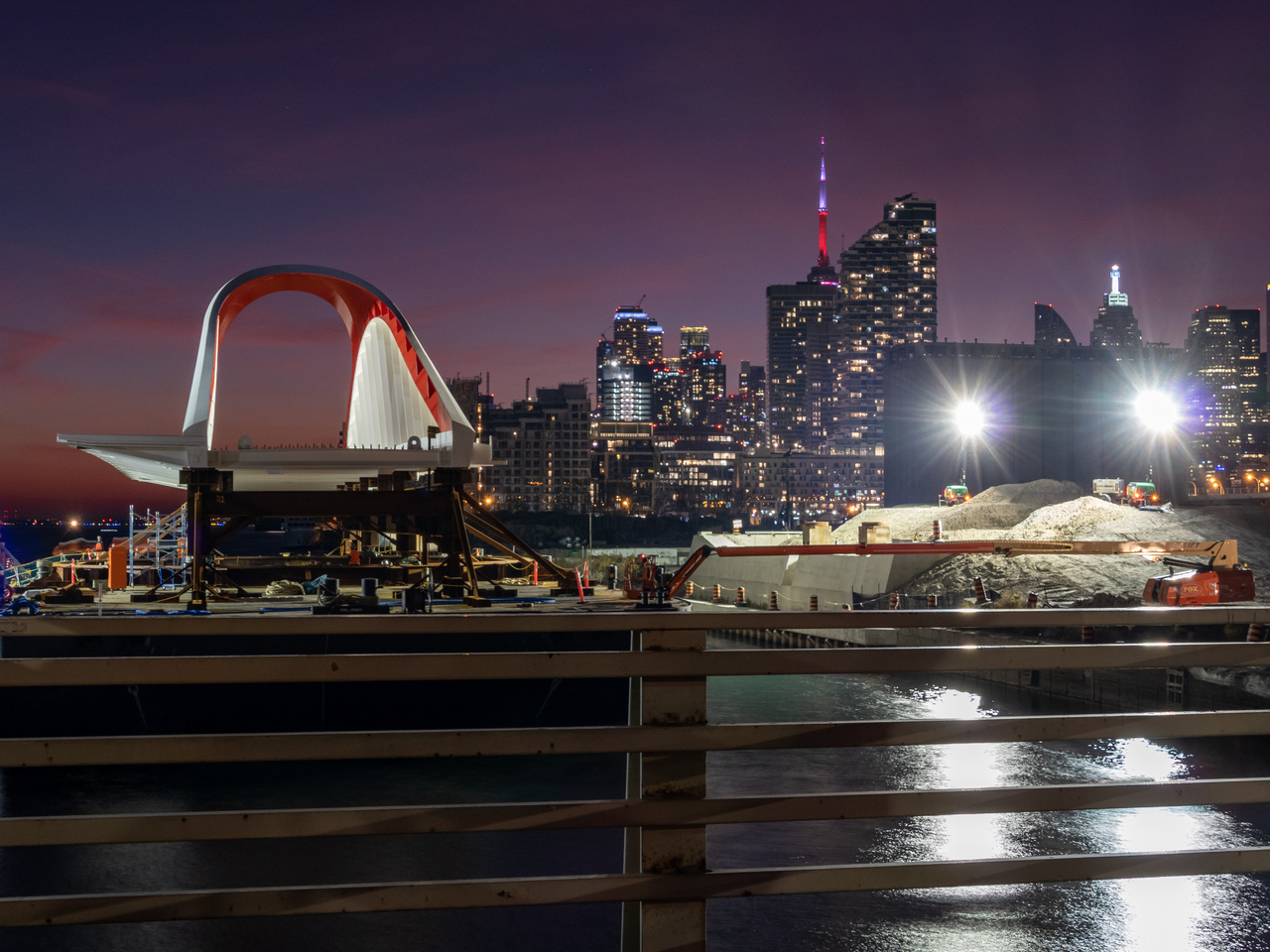 Looking west to the New Cherry Street North Bridge, image by Forum contributor globalexpress
After delivery of the new bridge, crews got to work right away on cutting through the steel supporting structure that was used to secure the infrastructure to the barge for a safe transit. The next step will be the bridge's hoisting into place, where it will serve to replace the existing Cherry Street lift bridge, which recently suffered a prolonged closure as its age begins to affect its works.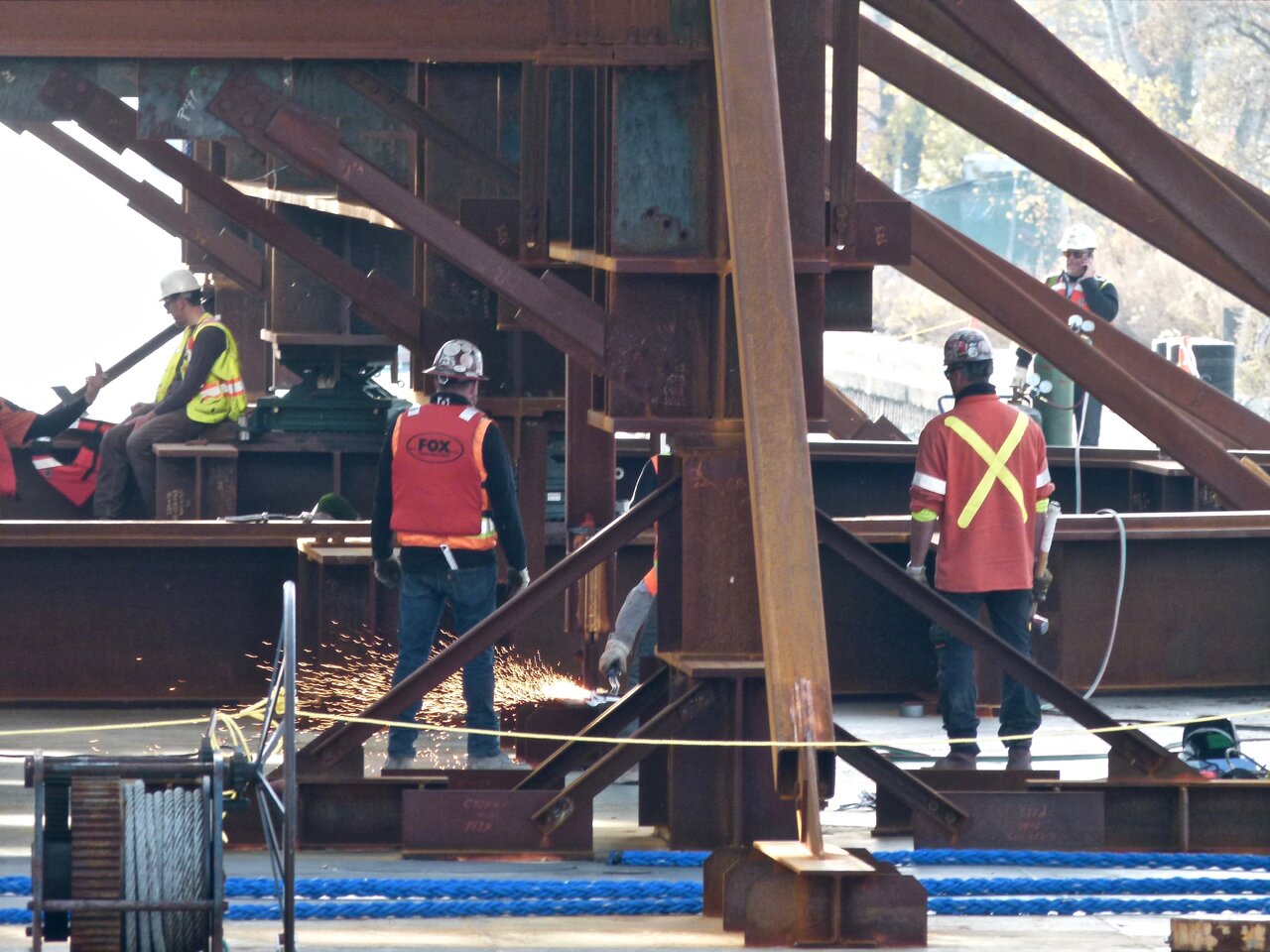 Steel supports being cut to remove bridge from barge, image by Forum contributor skycandy
Want to get involved in the discussion? Check out the associated Forum thread, or leave a comment in the space provided on this page.
* * *
UrbanToronto has a new way you can track projects through the planning process on a daily basis. Sign up for a free trial of our New Development Insider here.