Construction of Diamante Development's Mirabella Condominiums is making rapid progress at Lake Shore Boulevard West and Windermere Drive, positioned at the foot of Toronto's Swansea neighbourhood. The two-tower, Scott Shields Architects-designed condominium development has been under construction since mid-2019, and well into the second year of work, the complex's twin 38-storey towers are helping to extend the Humber Bay Shores skyline eastwards across the mouth of the Humber River.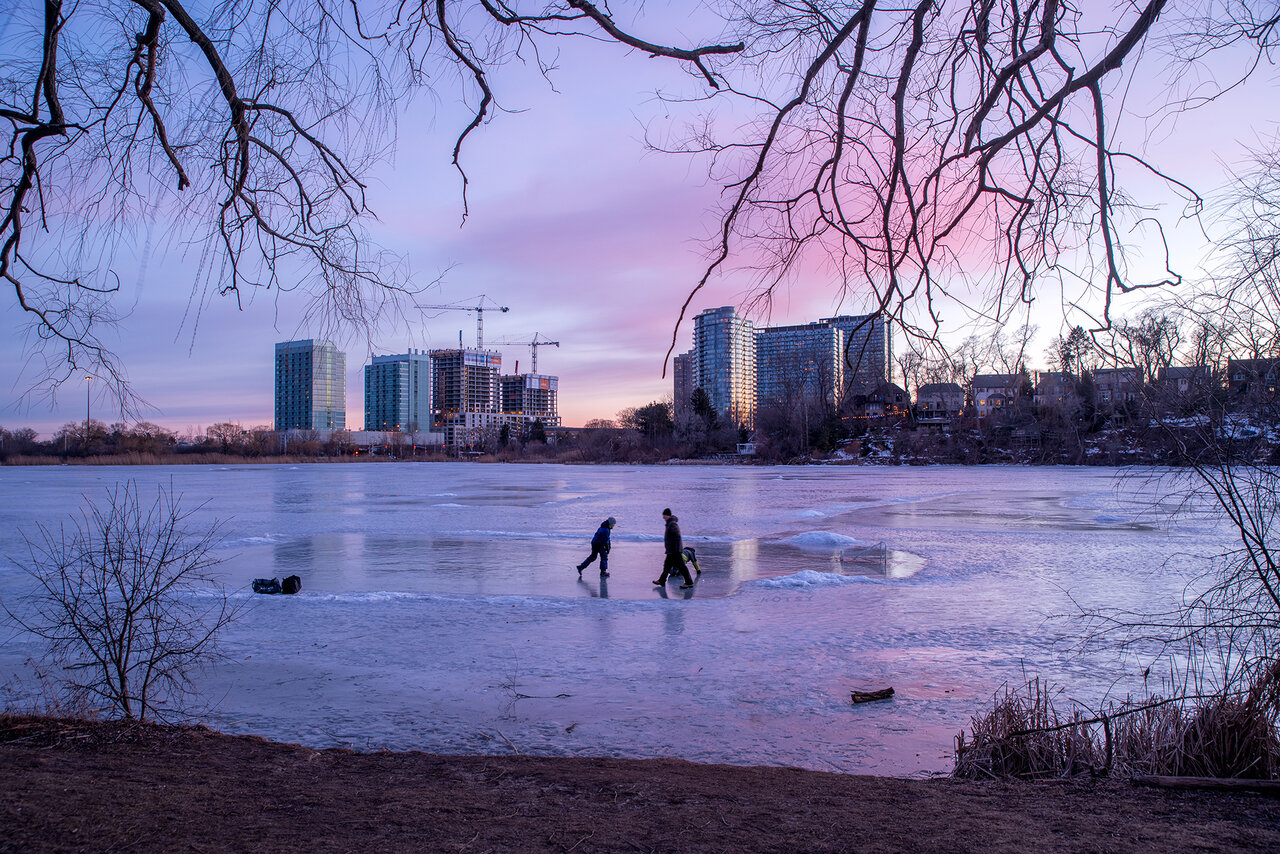 View across Grenadier Pond to Mirabella, image by Forum contributor kotsy
We last checked in on the project's construction progress in September, 2020, when forming of the its podium—mostly taken up by an above-grade garage—was creating a monolithic presence over Lake Shore Boulevard. In the months since, a few construction milestones have been accomplished including the completion of podium forming, the start of work on the reduced tower floorplates above, and the beginning of installation of the building's exterior finishes.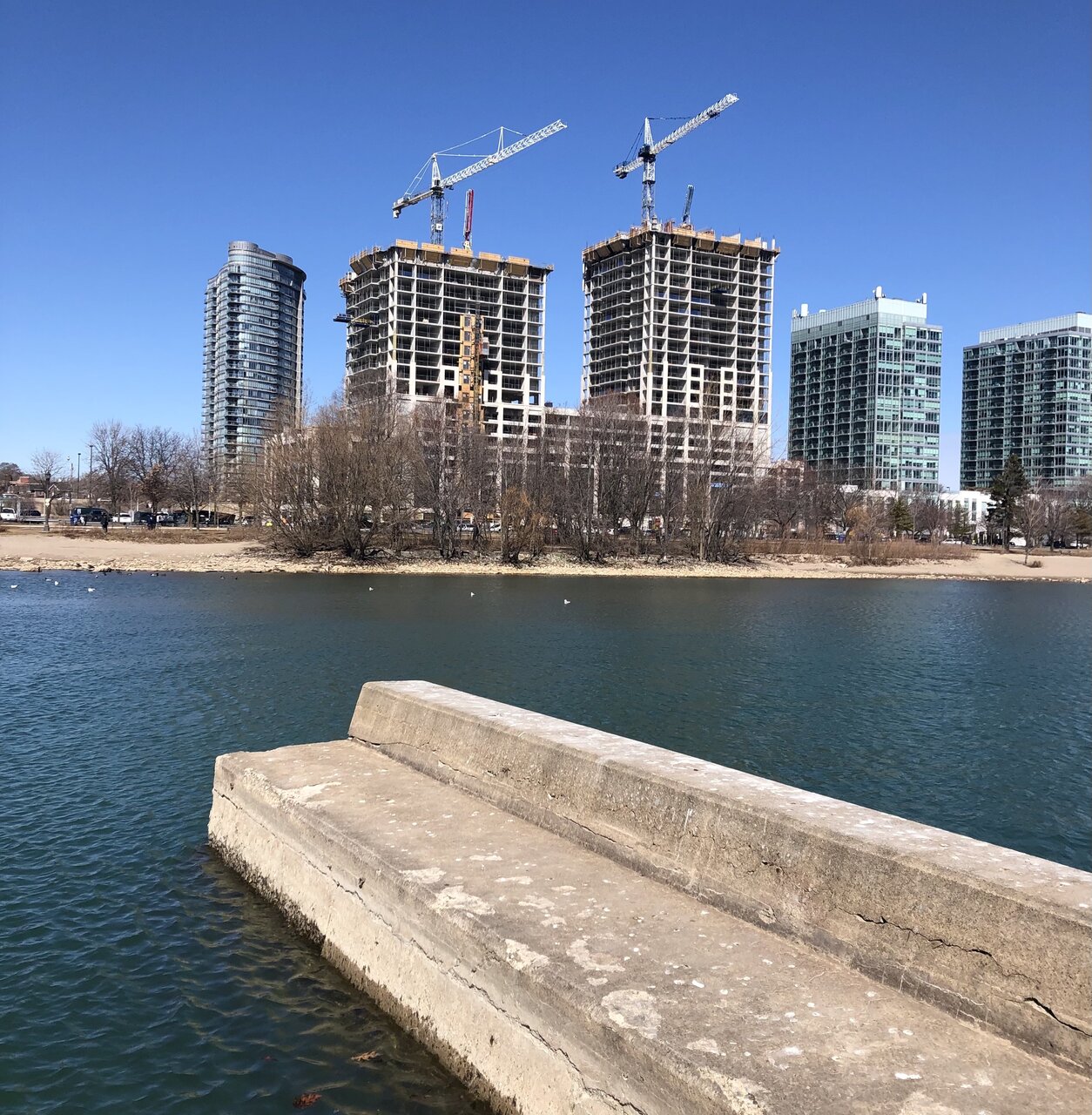 Looking north to Mirabella, image by Forum contributor SwanseaWatcher
Now reaching heights of 20 storeys for the west tower and 22 storeys for the east tower, the complex is over halfway towards their final shared heights of 120.09 metres.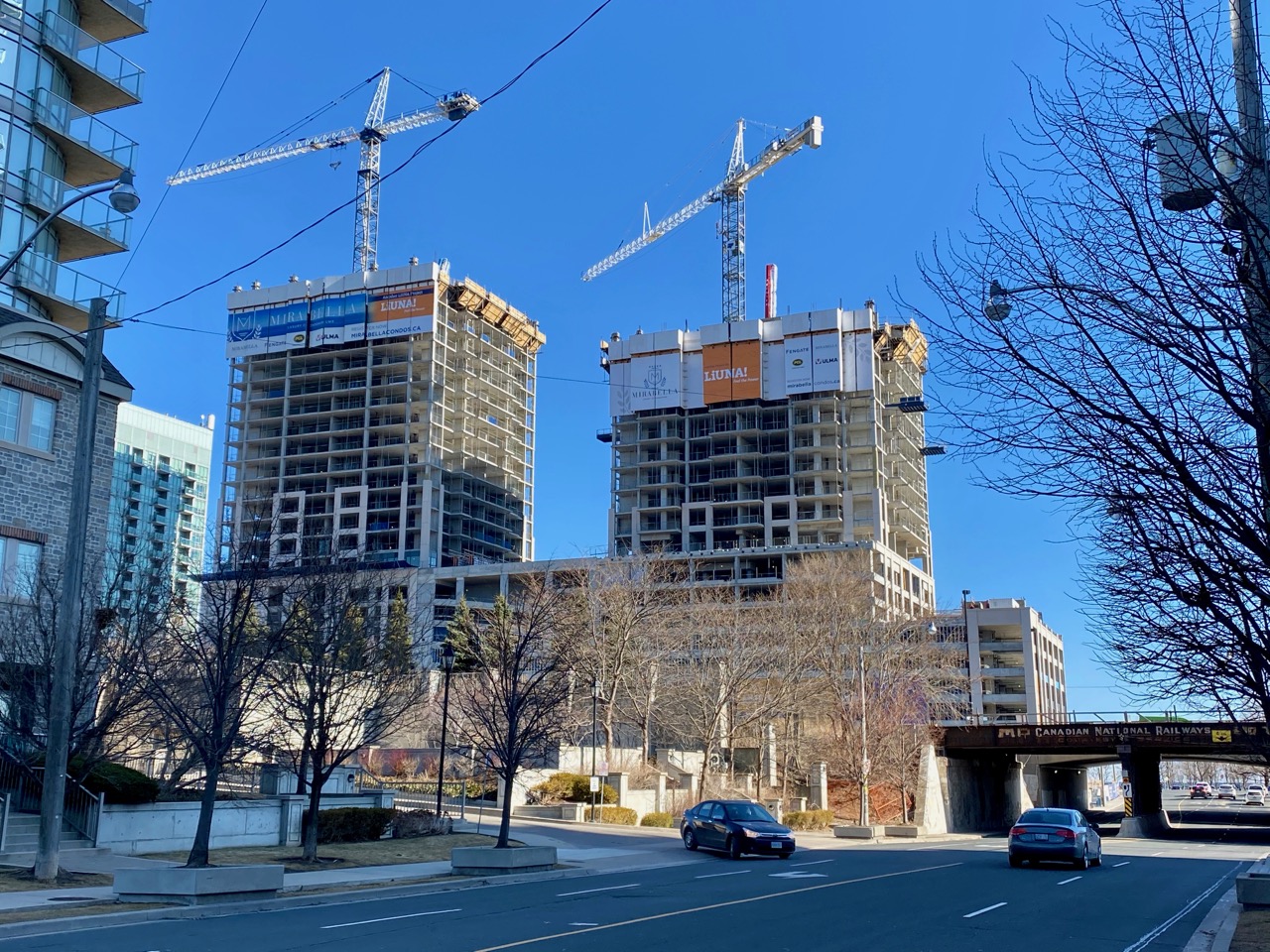 Looking south on Windermere Avenue to Mirabella, image by Craig White
Cladding installation is another new development since our last update, with the first panels of a limestone-hued precast concrete arriving on site in November. In the months since, precast installation has progressed past the podium levels, and is now being installed on lower tower floors.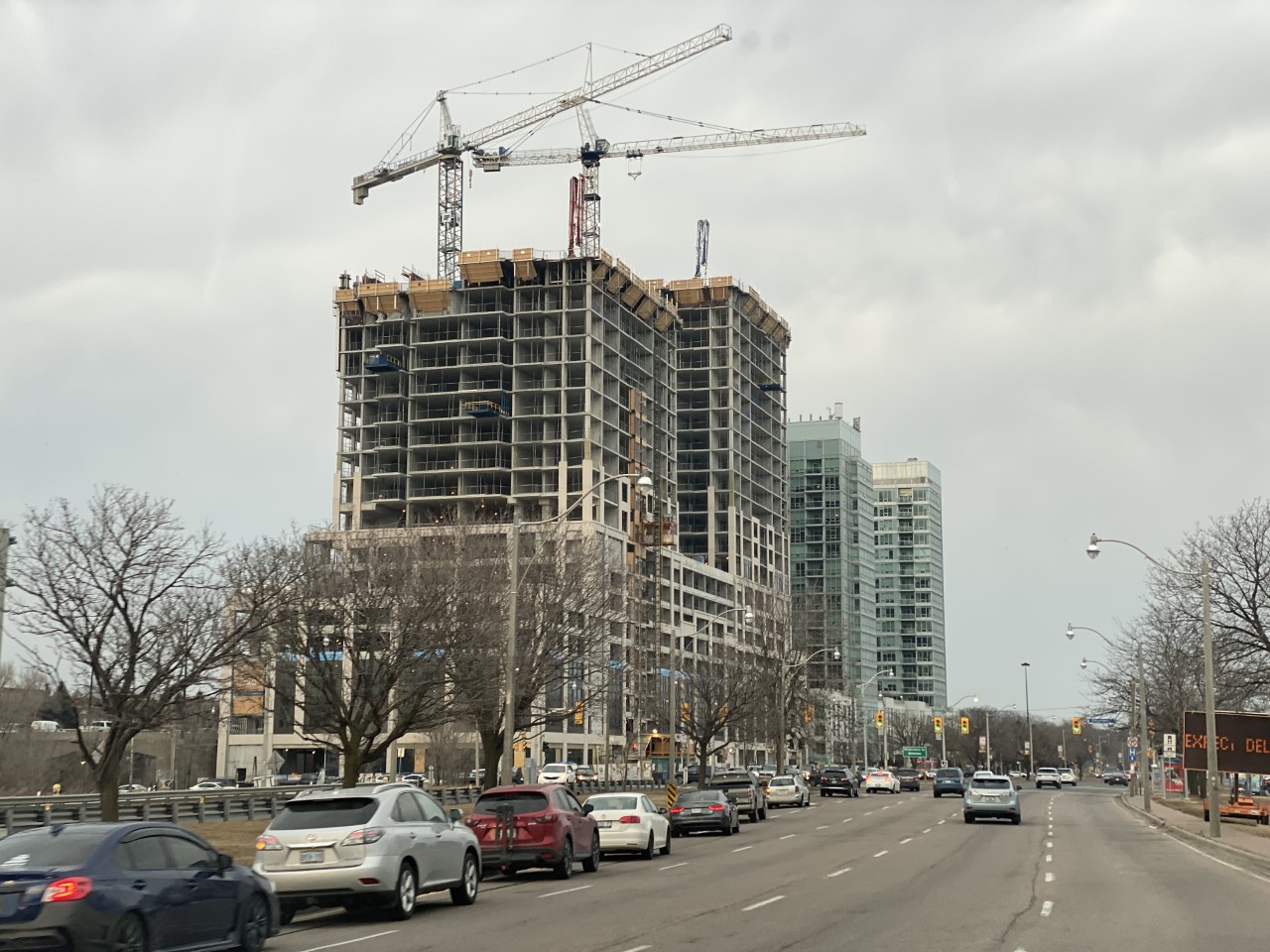 Looking east on Lake Shore Boulevard to Mirabella, image by Forum contributor DarkSideDenizen
Earlier this year, these precast panels were joined by the first installations of ground-floor glazing, as well as the start of a window wall cladding system for the floors above. The window wall being used as Mirabella's primary exterior envelope includes dark tinted glazing, glass spandrel, and metal panels framed in aluminum mullions. These finishes are now in place as high as the fifth floor of the podium.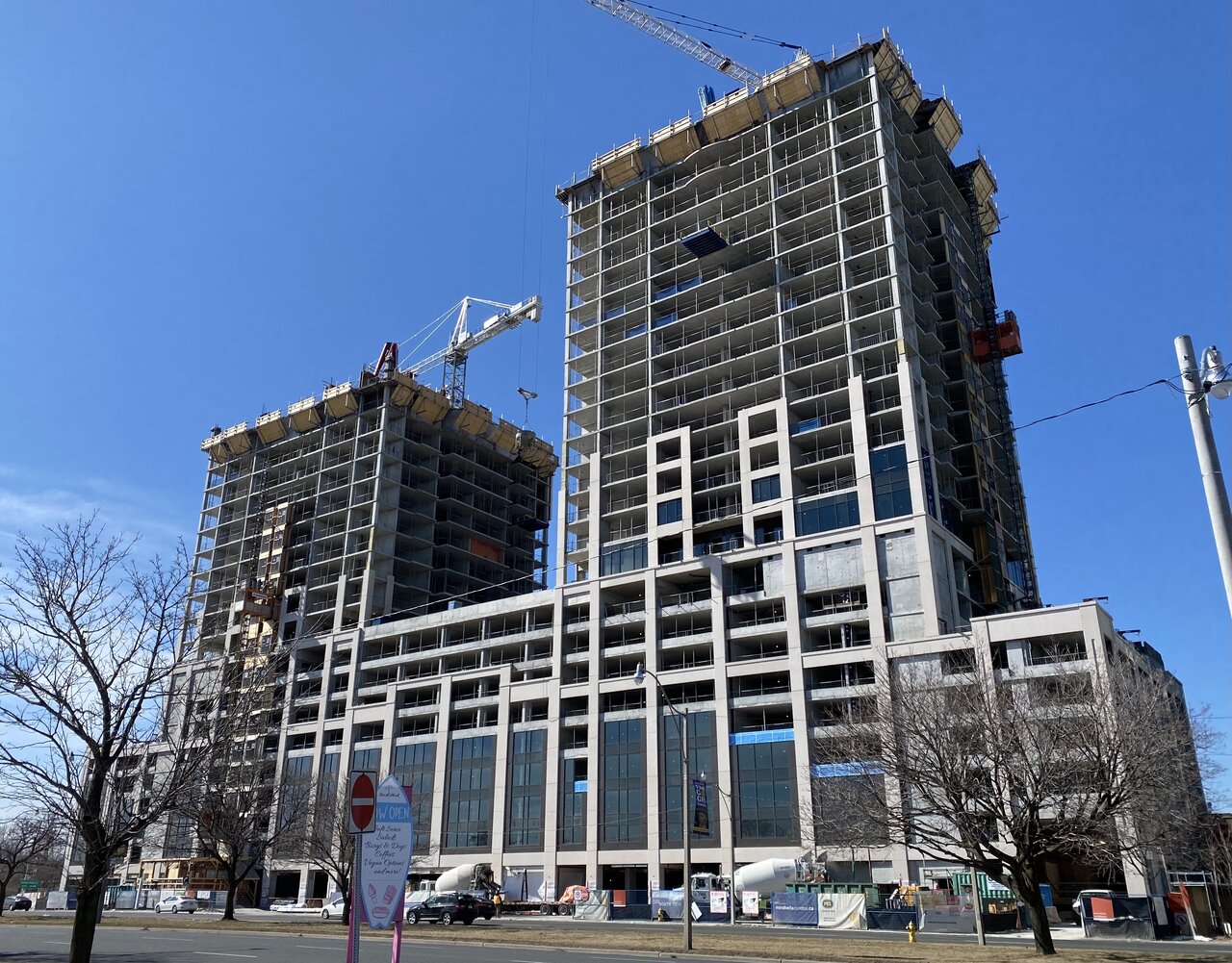 Looking northwest across Lake Shore to Mirabella, image by Forum contributor LoMein
Additional information and images can be found in our Database file for the project, linked below. Want to get involved in the discussion? Check out the associated Forum thread, or leave a comment in the space provided on this page.
* * *
UrbanToronto has a new way you can track projects through the planning process on a daily basis. Sign up for a free trial of our New Development Insider here.