An underdeveloped site in Scarborough could soon be home to 56 new condo units. Late last year, Windmill Development Group submitted a Site Plan Approval application to the City of Toronto seeking to build a mixed-used mid-rise at 1161 Kingston Road.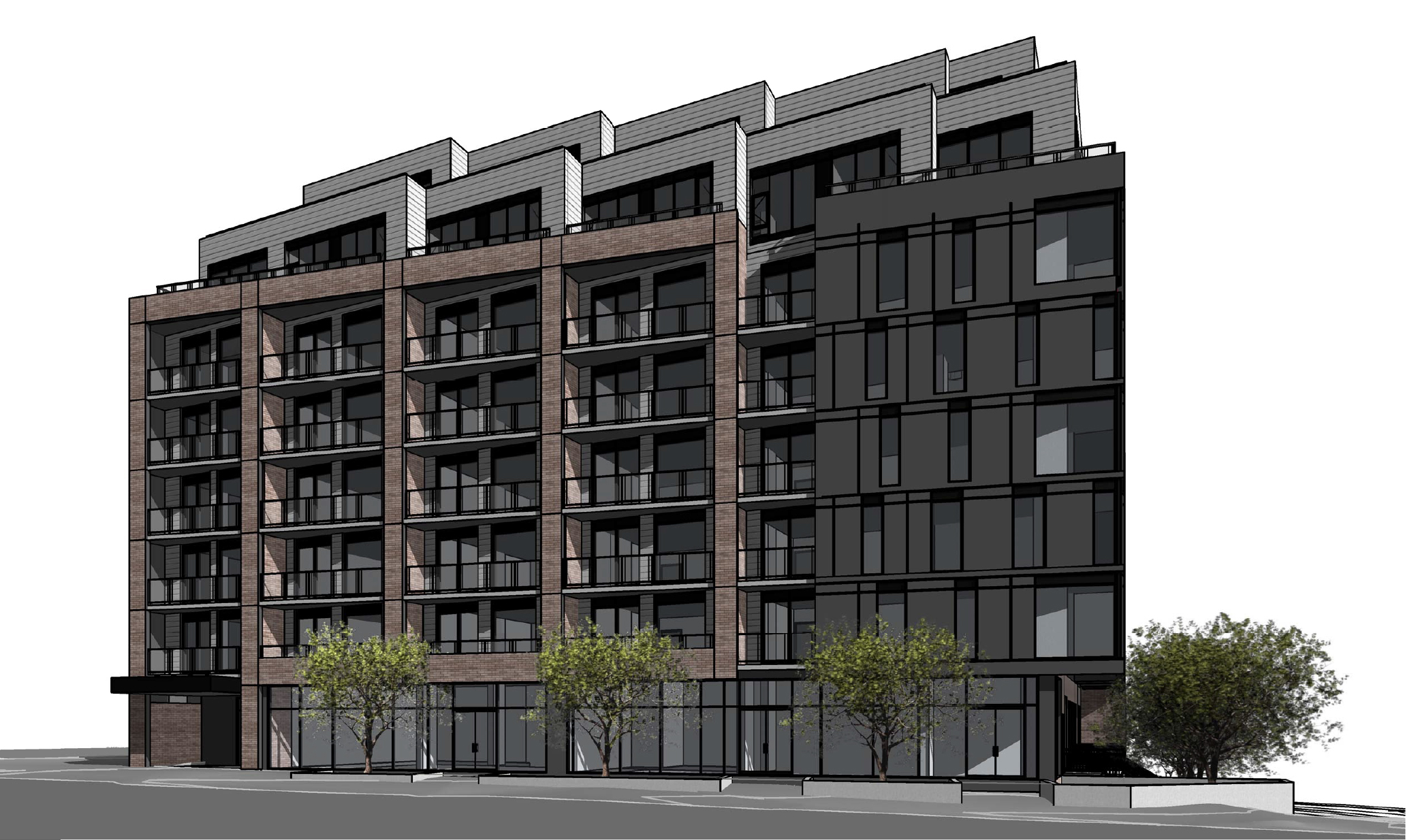 Looking southeast to 1161 Kingston Road, image by RAW Design for Windmill Developments
The development is slated for the southeast corner of Kingston and Courcelette Roads in the Fallingbrook area of southwest Scarborough. The 1,360 m² site currently contains a gas station, auto maintenance shop, and surface parking. To the immediate north and west are apartment buildings ranging from 4 to 5 storeys fronting onto Kingston Road, while to the west and the south is a low-rise residential neighbourhood comprised primarily of single detached dwellings on local residential streets.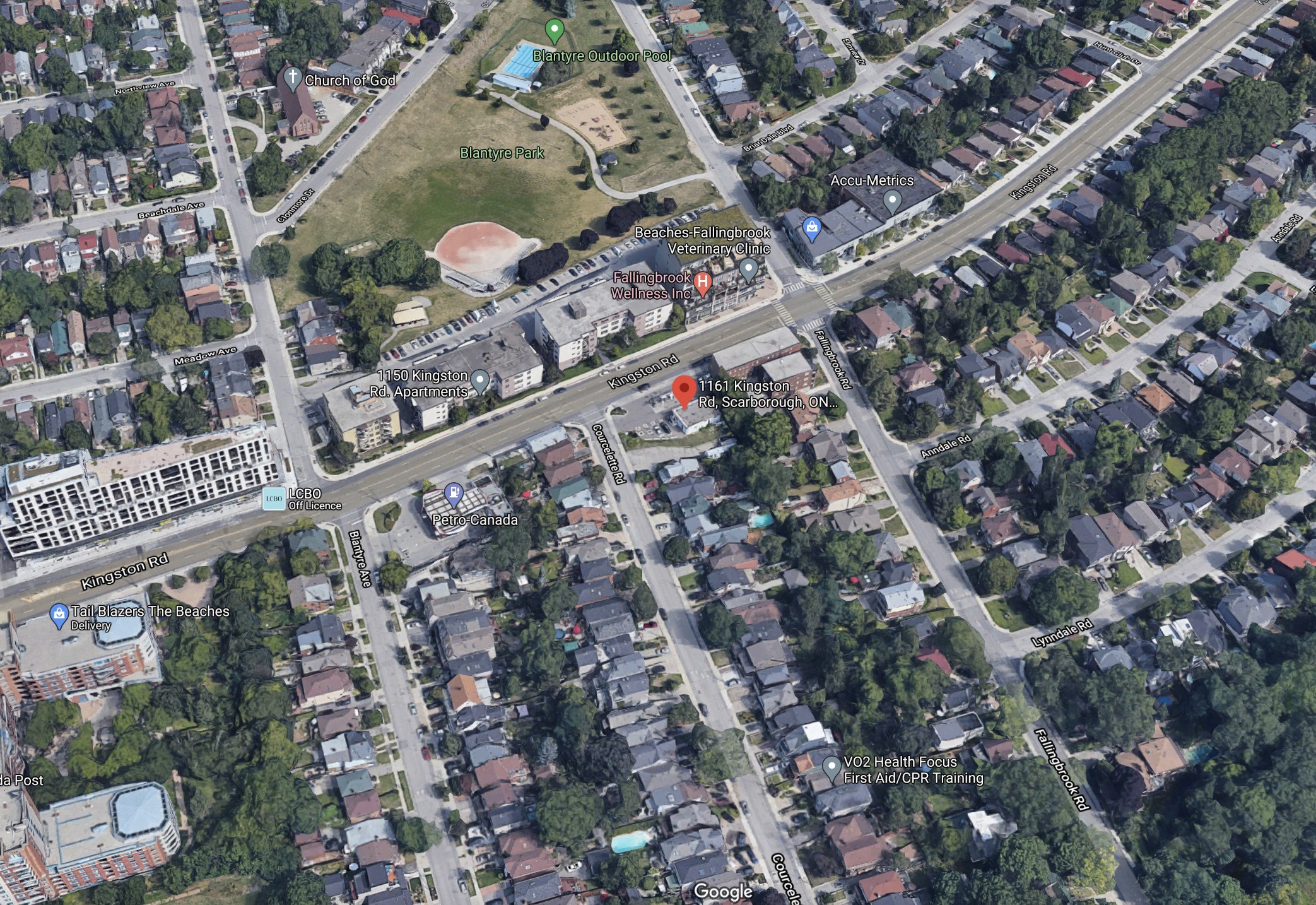 Aerial photo indicating the subject site at 1161 Kingston Road, image retrieved from Google Maps
The owner is proposing to construct an 8-storey mixed-use building by architects RAW Design with a total gross floor area of 5,068 m². Overall, this results in a density of 3.73 times the area of the lot.
On the ground level, commercial retail would occupy 222 m² along Kingston Road, with the building's principal residential entrance located at the northeast corner. Three condo units would be located along the building's west elevation, on Courcelette Rd. A two-metre setback at grade along the site's north and west edges is intended to create inviting entrances and landscaped planters adjacent to the street frontage.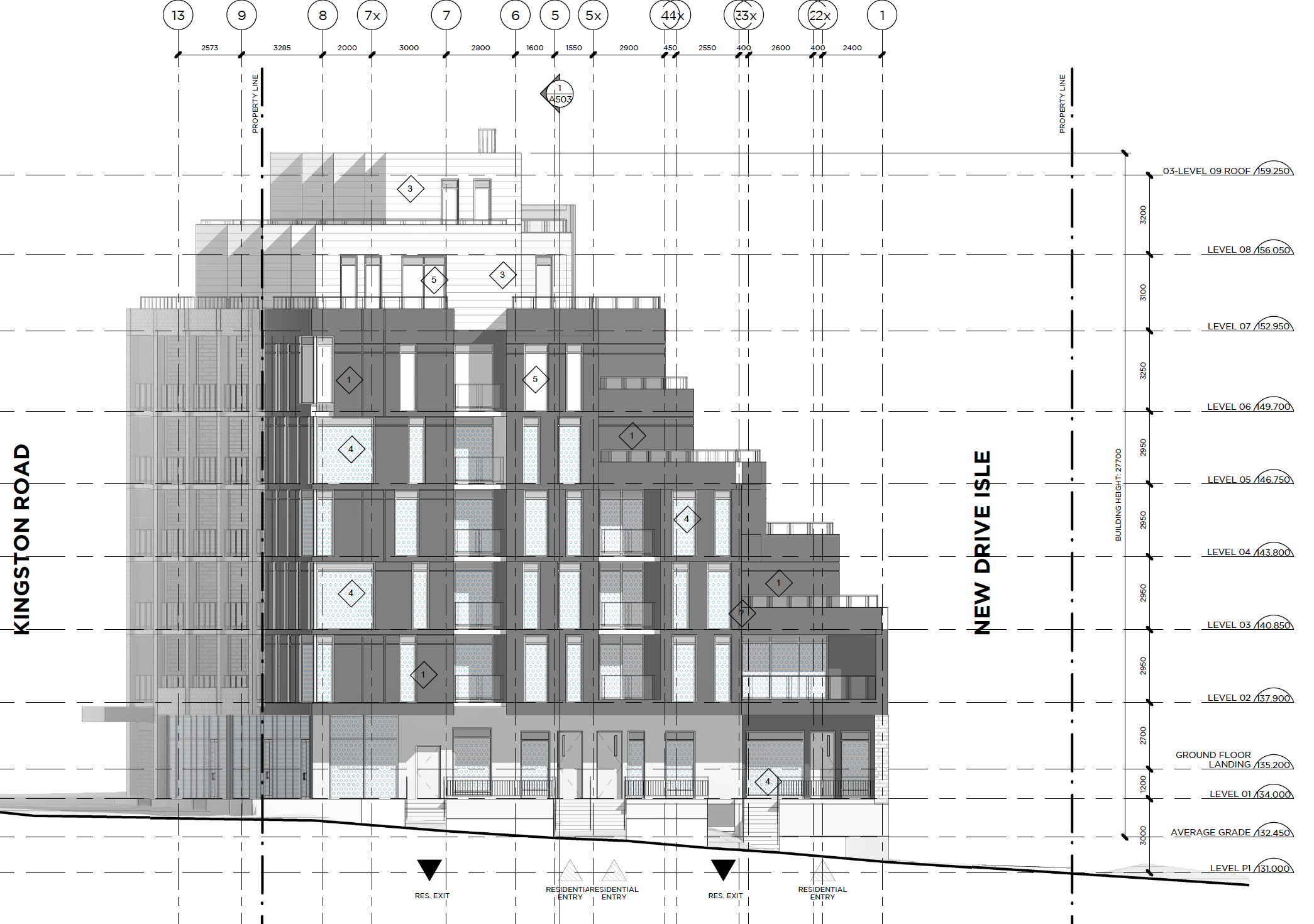 West elevation, along Courcelette, image by RAW Design for Windmill Development Group
The angled balconies and step-backs on the building's south side allow every unit to have their own private balcony or terrace. The proposal contains rear terracing beginning at floor 3 and continuing up to the 8th floor, in order to provide a transition to the low-rise neighbourhood-designated areas to the south.
The enlarged elevation below indicates the exterior materials – brick masonry, complemented by two colours of metal panel cladding.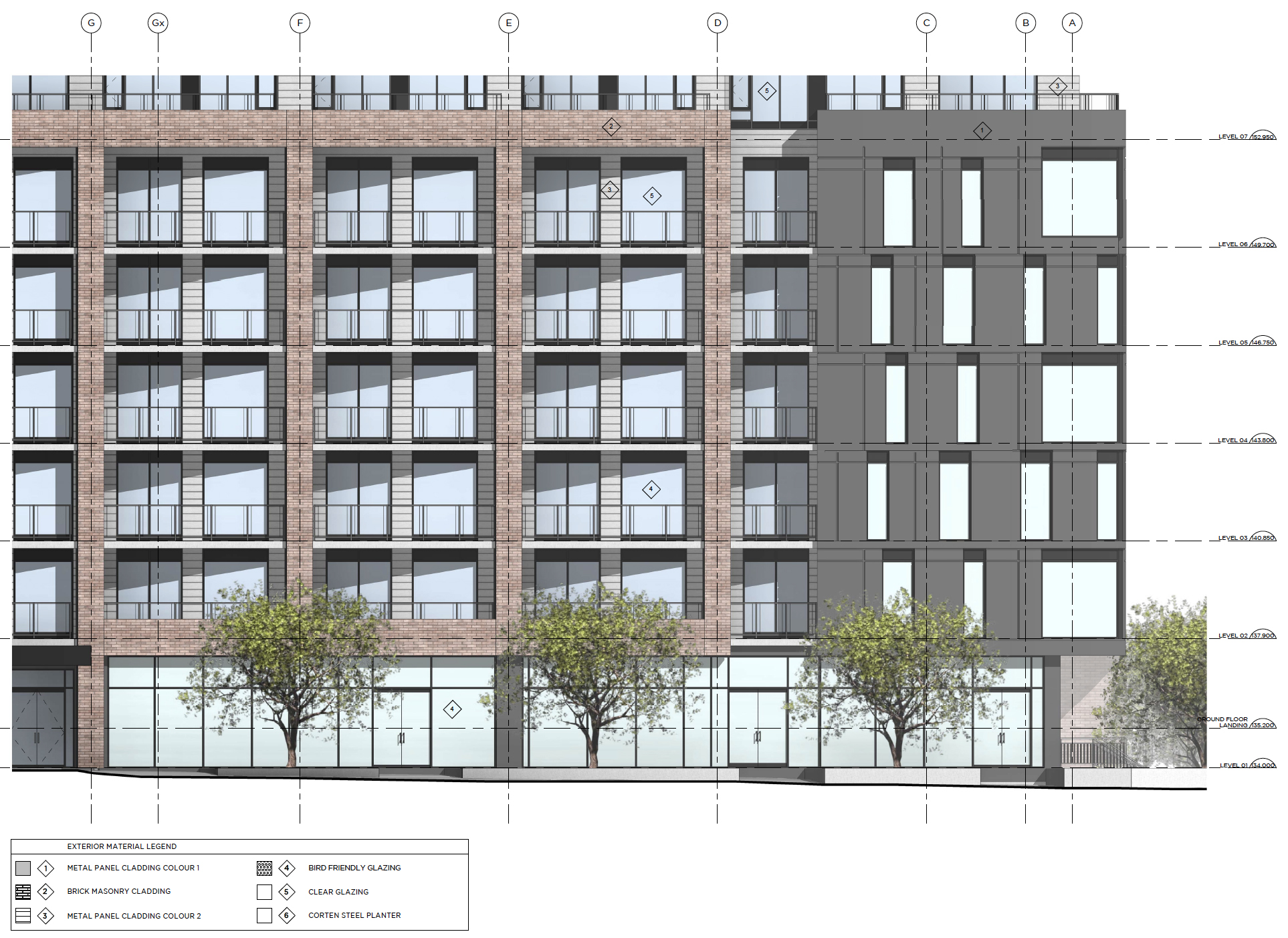 Enlarged coloured elevation with cladding materials noted, image by RAW Design for Windmill Development Group
Of the 56 dwelling units proposed, the breakdown consists of 31 one-bedroom (55.5%), 21 two-bedroom (37.5%) and 4 three-bedroom (7%) units. Floors 7 and 8 contain four two-storey units. Residents would have access to 112 m² of indoor amenity space and a south-facing outdoor amenity area on the 7th floor that is intended to welcome urban agriculture into the project.
A two-level underground garage would accommodate 37 vehicular parking spaces and 40 bicycle spots. An additional 10 spots are located on the ground floor, along with one (1) car-share space.
You can learn more from our Database file for the project, linked below. If you'd like to, you can join in on the conversation in the associated Project Forum thread, or leave a comment in the space provided on this page.
* * *
UrbanToronto has a new way you can track projects through the planning process on a daily basis. Sign up for a free trial of our New Development Insider here.