All along the 19-kilometre corridor of Toronto's upcoming Crosstown LRT, a surge of new projects is in the works in anticipation of the new transit link. Among the latest in a procession of submissions in the Fairbank area of town, a new mid-rise condominium development has been proposed at 2116 Eglinton Avenue West, on the northeast corner at Little Boulevard. Halfway between the Fairbank and Caledonia stations on the new LRT, developer Old Stonehenge has engaged Studio JCI for the design of the nine-storey building.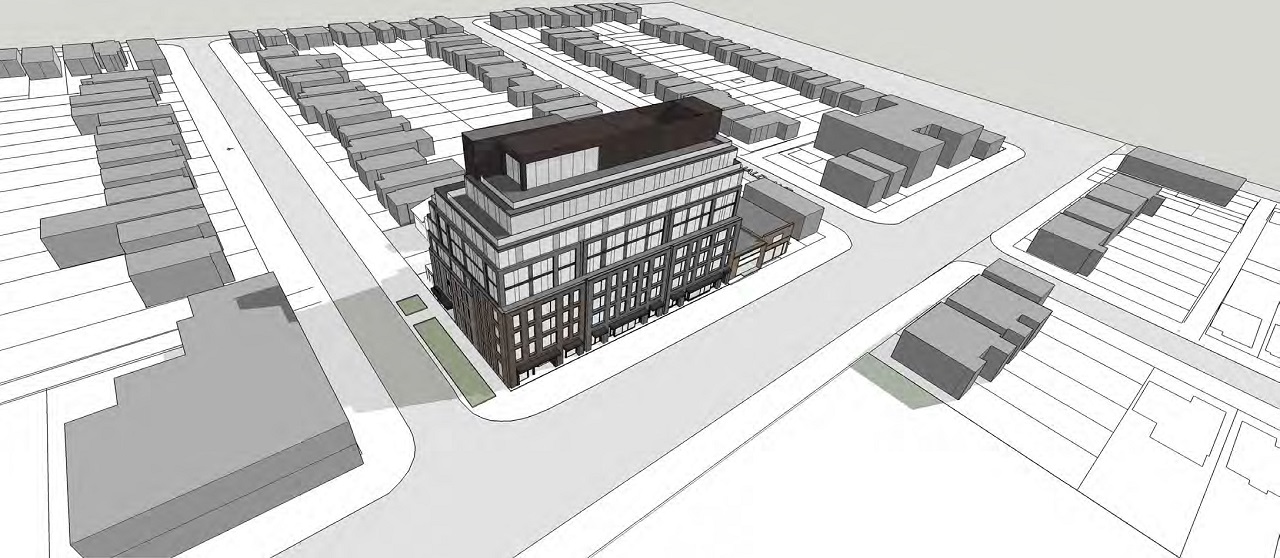 Looking northeast to 2116 Eglinton West, image via submission to City of Toronto
The application seeks Site Plan Approval for a building rising 30.5 metres high with a total gross floor area of 7,987 m². A total of 104 condominium units are proposed in a mix of 7 studios, 65 one-bedrooms, 24 two-bedrooms, and 8 three-bedrooms. In place of purpose-built retail space, a group of ten live-work units would line the entirety of the Eglinton Avenue frontage, providing potential opportunities for retail animation, and adding up to a total combined area of 569 m².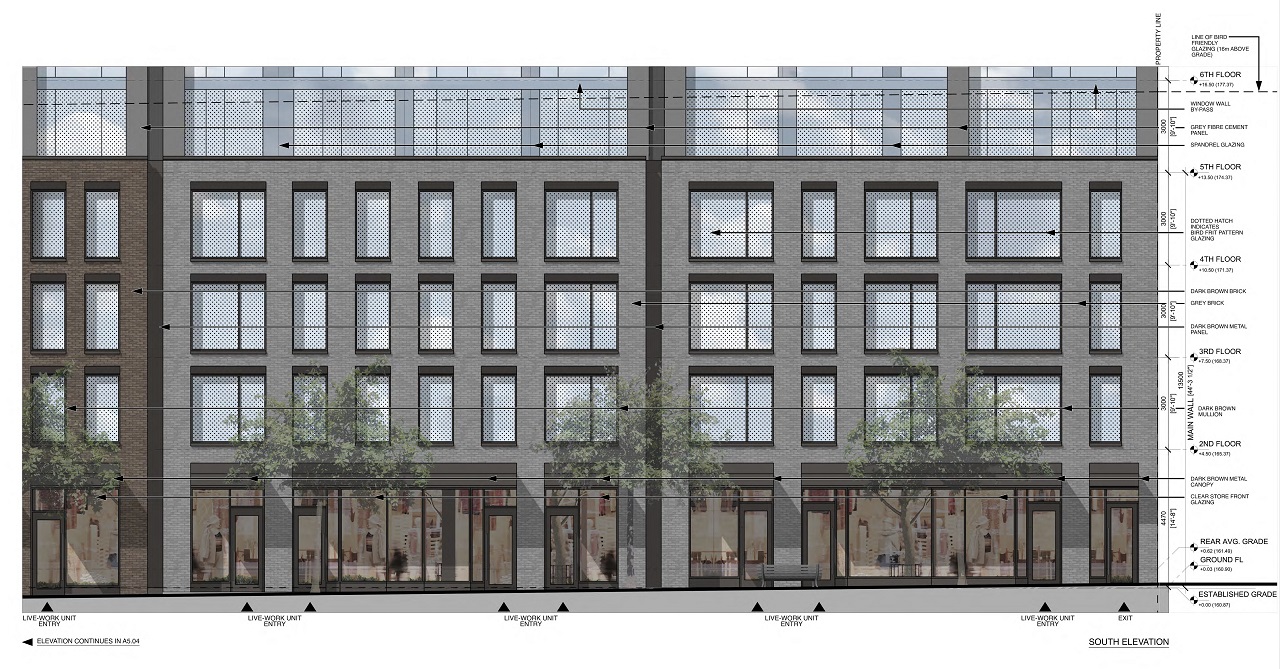 Podium at 2116 Eglinton West, image via submission to City of Toronto
The building would have a relatively small single-floor underground garage with 24 resident parking spaces, 2 car-share parking spaces, and 104 bicycle spaces. Balancing the relative lack of parking is the building[s proximity to the new LRT line which should suffice for most of residents' transportation needs.
Architectural plans include details of the proposed exterior materials. The three-to-four-storey base volume is clad in a mix of dark grey and brown brick, framing punched windows with bird-friendly glazing. Above, the upper volume is proposed with an exterior of window wall with glazed spandrel framed by grey fibre cement panels.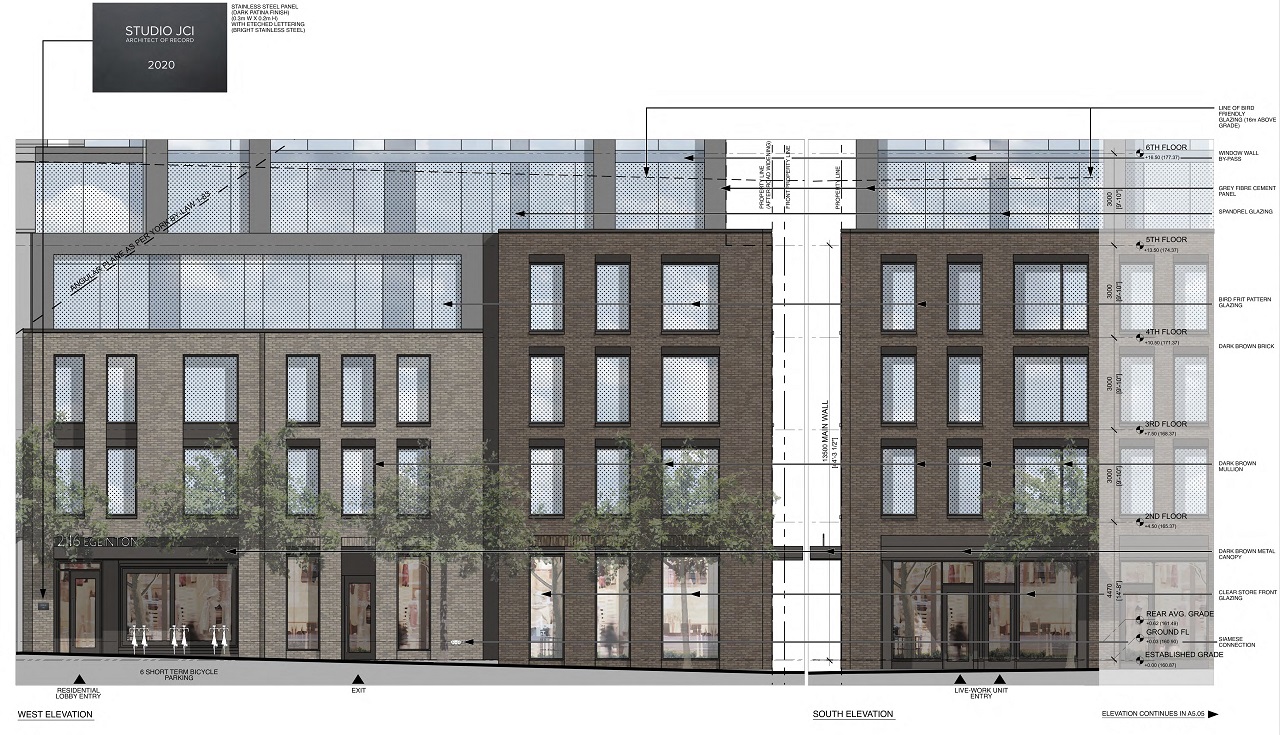 Podium at 2116 Eglinton West, image via submission to City of Toronto
Along the east elevation, the building extends to the lot line with a blank party wall, expected to be obscured by future development. This largely unadorned facade would be clad in grey brick for its base and grey fibre cement panels for the upper levels.
Additional information and images can be found in our Database file for the project, linked below. Want to get involved in the discussion? Check out the associated Forum thread, or leave a comment in the space provided on this page.
* * *
UrbanToronto has a new way you can track projects through the planning process on a daily basis. Sign up for a free trial of our New Development Insider here.