With four cranes working away on the below-grade levels of M2M Condos' first phase, developer Aoyuan International is moving ahead with the next phase of its transformation of the former Newtonbrook Plaza on Yonge at Cummer in North York. Located where the first stop of the proposed Yonge North subway extension is planned, the 8.6-acre development's next phase was recently submitted to the City of Toronto for Site Plan Approval, and the wealth of new supporting documents is being accompanied by a press release as the developer prepares to bring the buildings' condominium units to market.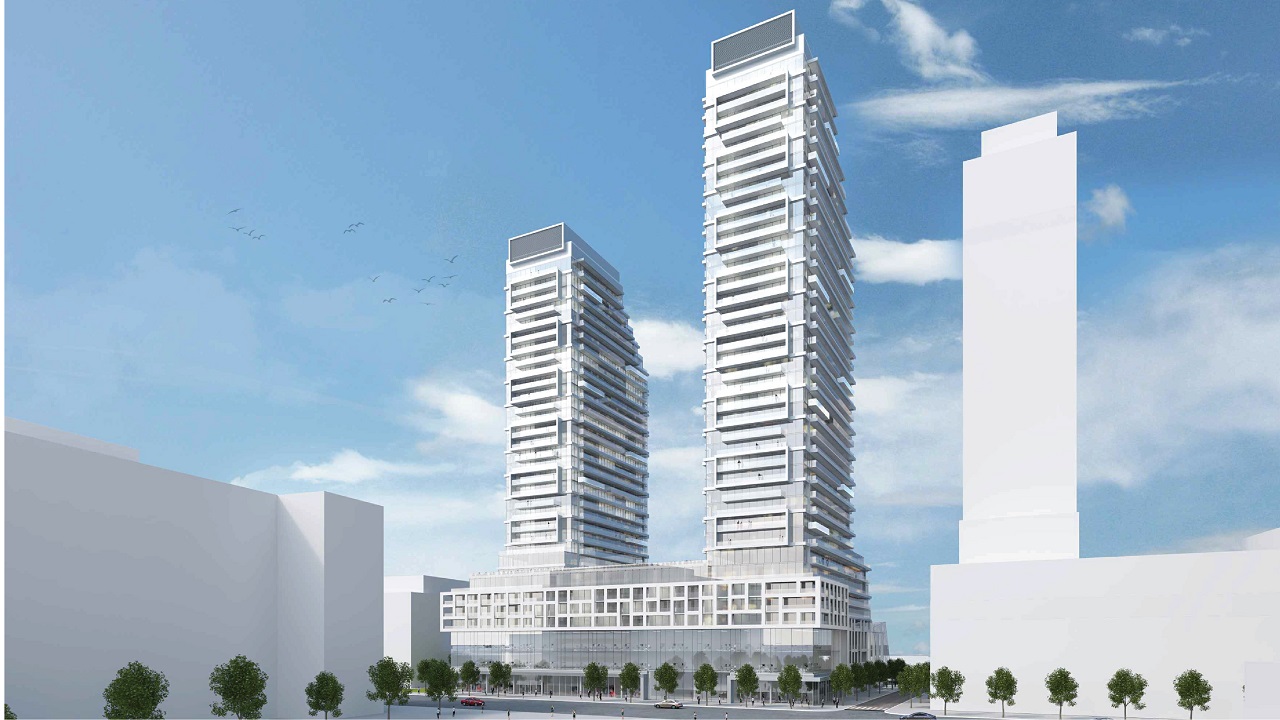 Looking east to M2M Condos Phase 2, image courtesy of Aoyuan International
As with the first phase, Block 2 of M2M is to contain a pair of Wallman Architects-designed towers, rising 34 and 40 storeys to heights of 113.3 metres for the north tower and 130.1 metres for the south tower. The buildings, rising from a shared podium, would have a combined gross floor area (GFA) of 66,839 m², predominantly planned as residential space at 63,152 m², along with 3,628 m² of commercial and 59 m² of retail GFA. The new phase has been designed not only to interact with Yonge Street to the west, but also the established lower-density community to the east, with a new park to act as a buffer between the two.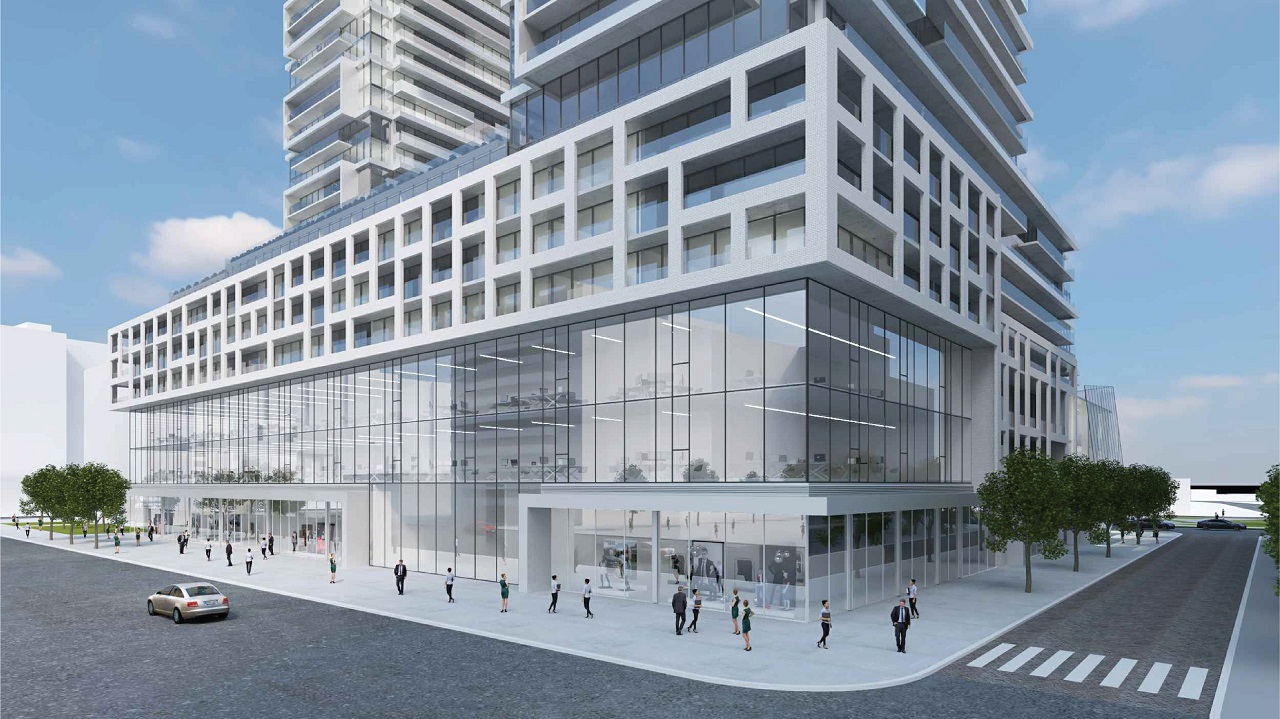 Looking northeast to M2M Condos Phase 2, image courtesy of Aoyuan International
"By organizing the spaces along the eastern edge, we get a stronger connection between the public parts of the building and the new park," reads a statement by Rudy Wallman, Principal of Wallman Architects. "Not only does this offer some practicalities, such as making drop-offs and pick-ups easier, but you get a cohesive and dynamic interplay between indoor and outdoor spaces. The design is still being refined, but we know the community spaces will have a distinctive palette, largely defined by glass elements, to promote visual connections."
The residential component, and driving economic factor behind the community, is to contain a total of 856 condominium units in a mix of 14 studios, 346 one-bedrooms, 414 two-bedrooms, 74 three-bedrooms, and an additional eight three-bedroom townhome units. Anchoring the residential density to the surrounding urban fabric, the commercial and retail space is to be joined by a City-operated community centre and daycare space. All of the community spaces are to be concentrated along the east side of the site, facing out onto a new public park that will offer over one acre of green space and playground amenities.
Situated along the ground and second floors, this daycare space will help to animate the complex's base, while the community centre is to occupy the third and fourth floors above. The community centre will have a double-height gymnasium with basketball courts and a running track on the second level, part of M2M's greater vision to build what Vince Santino, Senior Vice President, Development, Aoyuan International, describes as " a complete community designed to promote a healthy lifestyle" and offering "a diversity of uses, more livable spaces and a real connection to the surrounding area."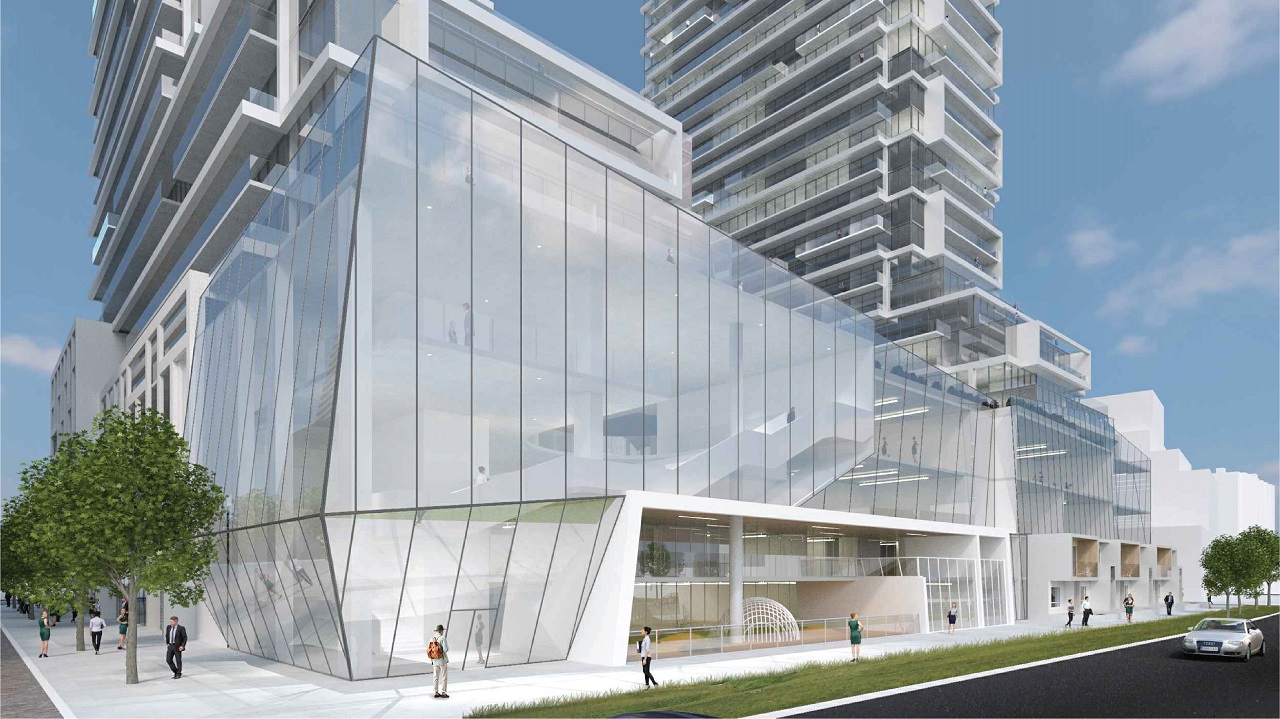 Looking west to Community Centre at the base of M2M Condos Phase 2, image courtesy of Aoyuan International
Santino's statement goes on to talk about the importance of creating a destination for both M2M residents and those living nearby, saying "With Phase Two, we're going to see a lot of our community-focused elements materialize, with the community centre, daycare spaces and the public park all scheduled to be delivered. We're really excited because that's when you start to see the real integration between our development and the surrounding neighbourhood."
Once all is said and done, M2M is to bring a total of five towers, over 1,750 residential units, and approximately 180,000 ft² of office and retail space to the Yonge and Finch neighbourhood.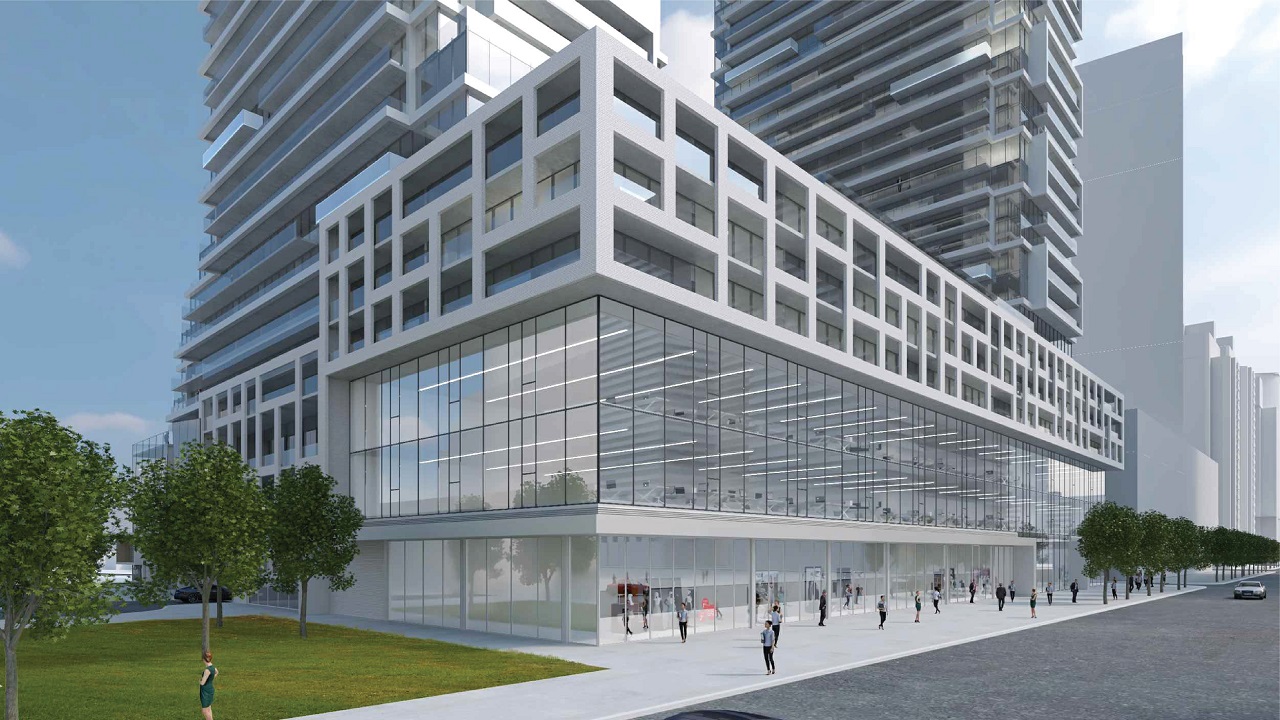 Yonge Street frontage at M2M Condos Phase 2, image courtesy of Aoyuan International
Additional information and images can be found in our Database file for the project, linked below. Want to get involved in the discussion? Check out the associated Forum thread, or leave a comment in the space provided on this page.
* * *
UrbanToronto has a new way you can track projects through the planning process on a daily basis. Sign up for a free trial of our New Development Insider here.