A low-rise intersection along Kingston Road in Scarborough could see the start of mid-rise intensification. LCH Developments have submitted an application to the City of Toronto for Site Plan Approval to allow a new 10-storey residential building with affordable rental units at 144 Galloway Road.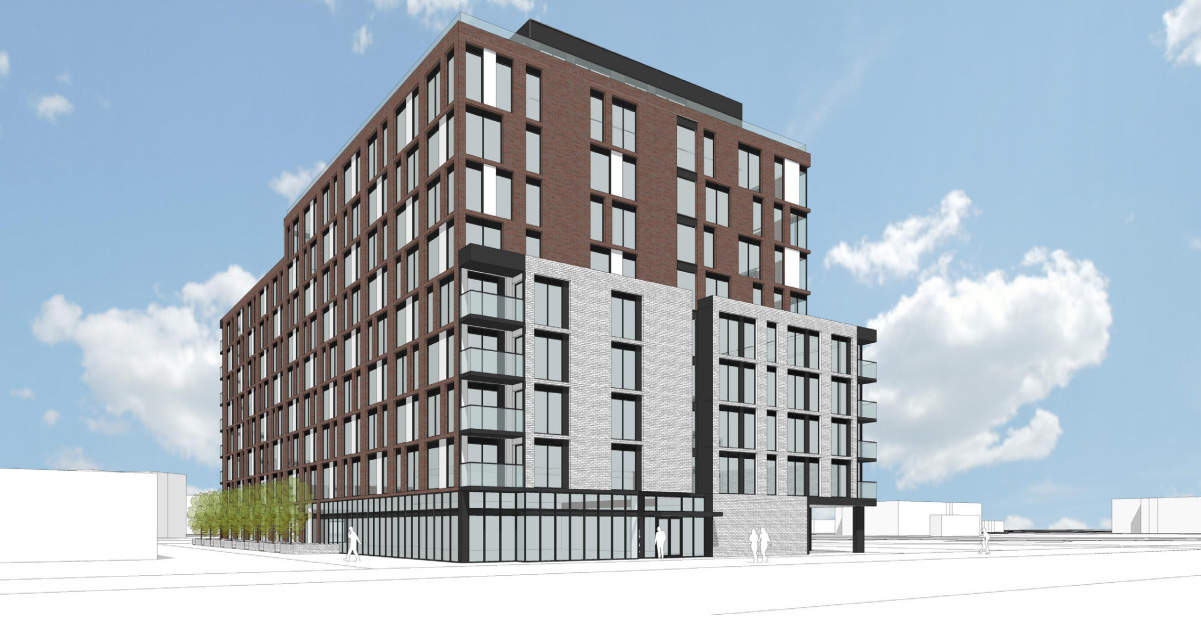 Looking northwest to the proposed development, image by RAW Design for LCH Developments.
The lands in question are a parcel on the west side of Galloway Road near its intersection with Kingston Road. The property, which has 36 metres of frontage on Galloway Road and is 61 metres deep, is almost entirely paved, having been maintained as a self-serve car wash facility in recent history. It is currently occupied by a one-storey building which accommodates garage bays and vacuum stations, and surface parking.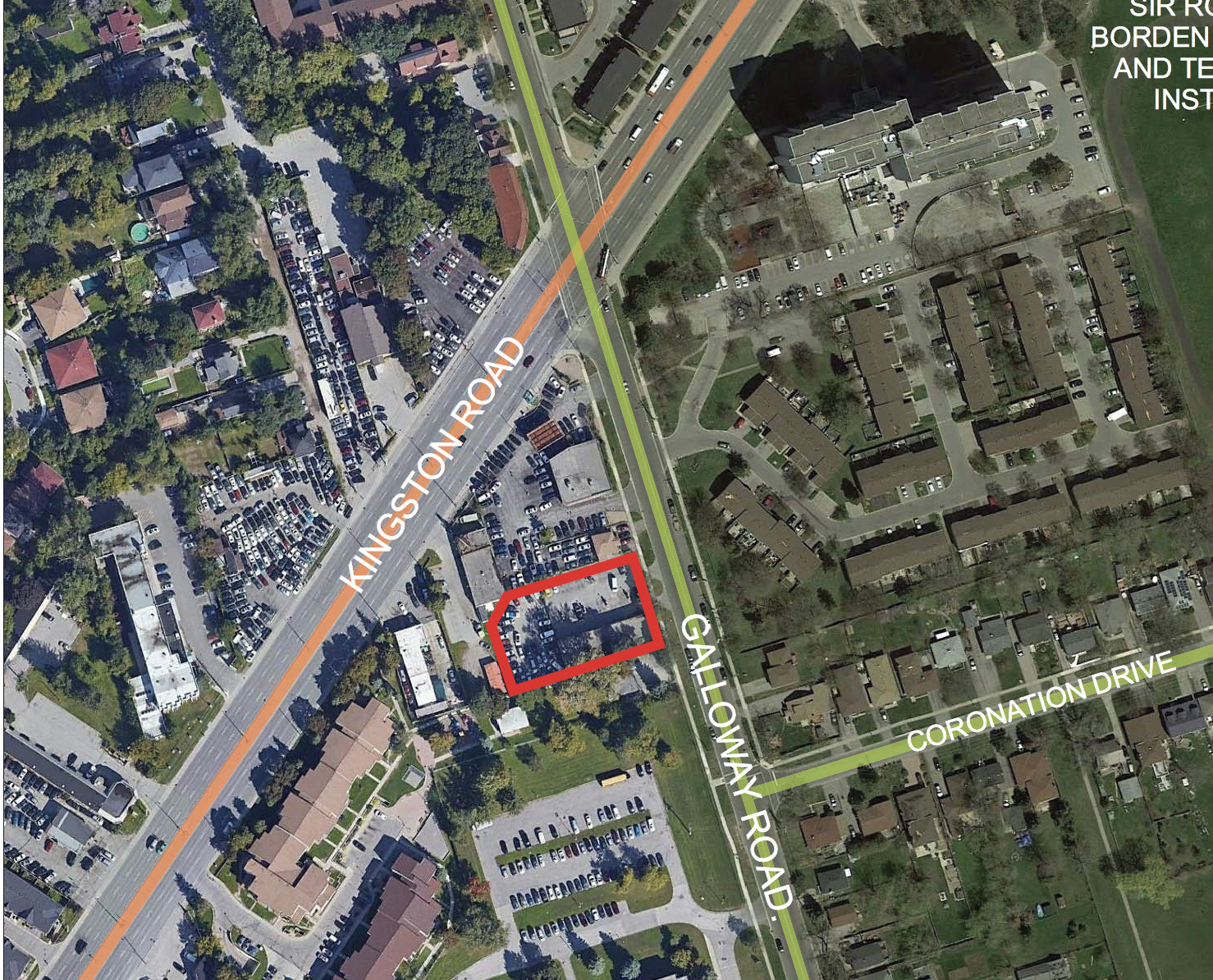 Context Map. Image courtesy of KLM Planning Partners Inc.
According to the proposal, the developer is looking to build a 10-storey apartment building comprised of 165 rental units, of which a sizeable portion are proposed to be offered at affordable rates as defined by the City's Official Plan.
The proposed building, designed by RAW Design, has a total gross floor area of 11,140 m² and a Floor Space Index of 5.2.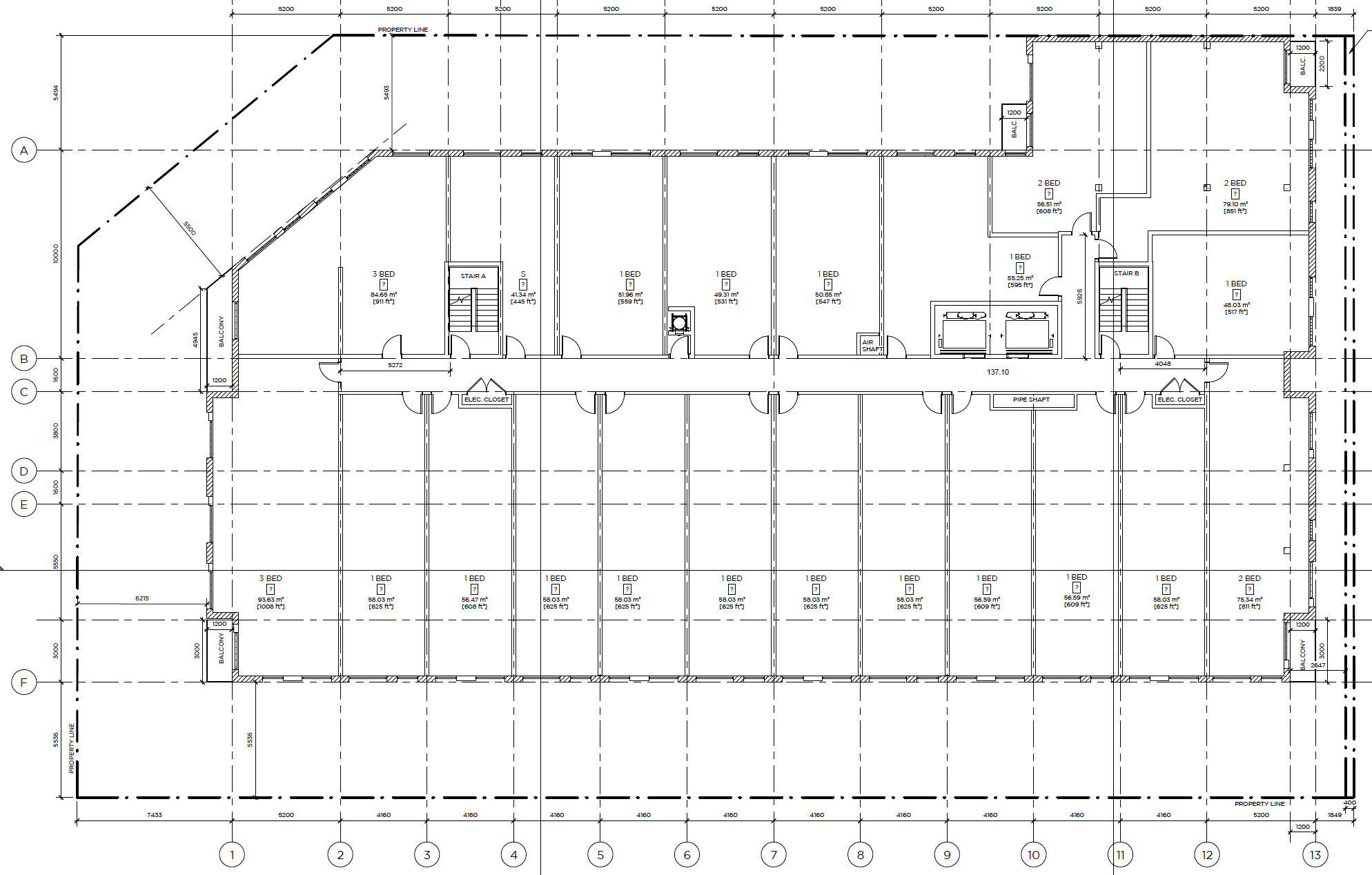 Typical Floor plan (levels 3-5) of the proposed development. Long south units are 14m deep. Image courtesy of RAW Design.
The first floor features residential units on the south side, and the building entry lobby off Galloway Road. On the remaining levels, residential units are organized around a double loaded corridor which is offset from centre, so that the units along the south are deeper than those along the north.Of the building's 165 dwelling units, the breakdown includes 9 studio (5%), 113 one-bedroom (68%), 24 two-bedroom (15%), and 19 three-bedroom units (12%).
The proposed material palette includes red brick at uppermost floors, grey brick at the base, white and grey precast, and dark metal panel accents.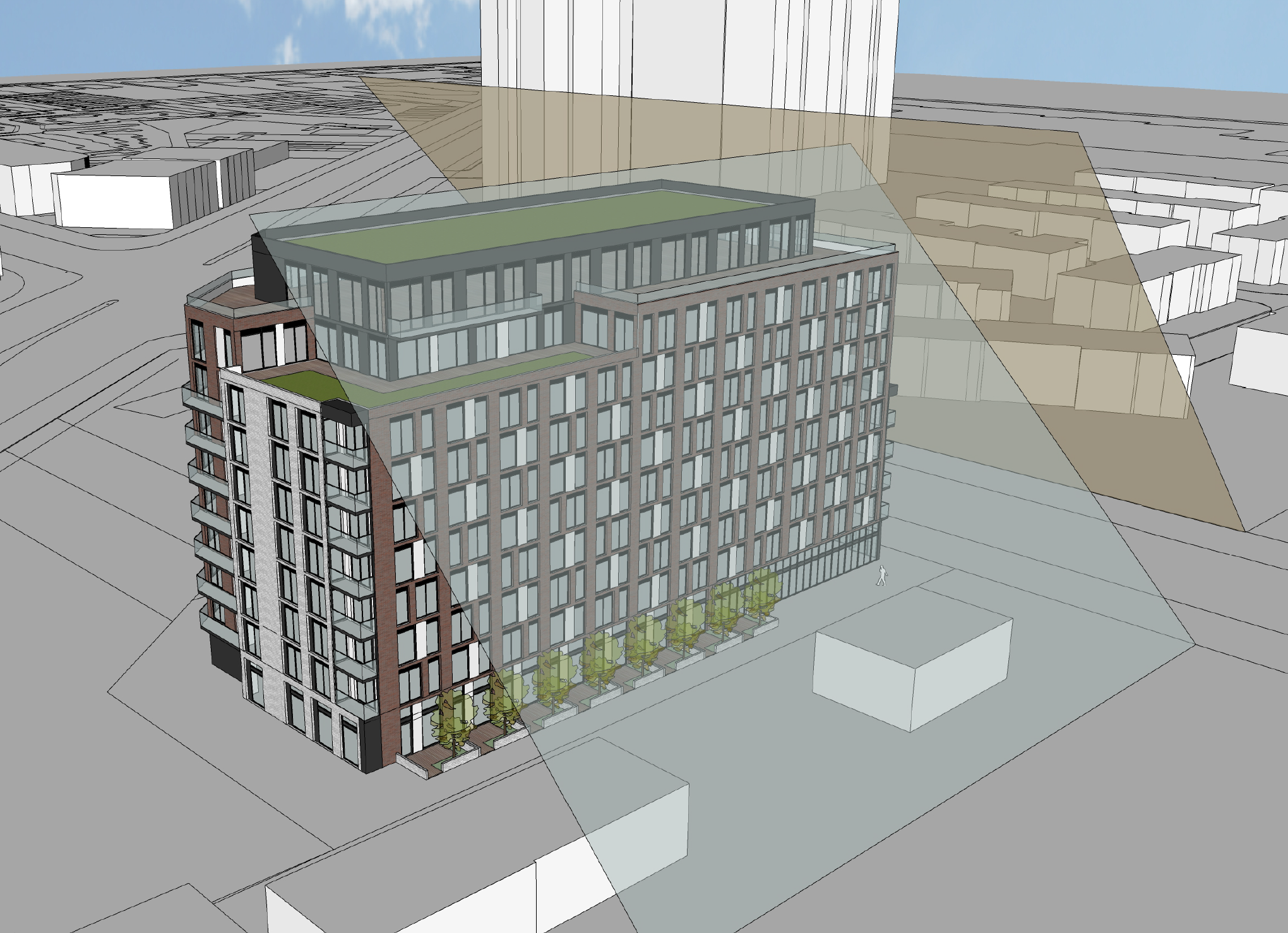 Looking northeast towards 9th floor outdoor amenity and private terraces, green roof, angular plane, image by RAW Design for LCH Developments.
A total of 362 and 303 m² of indoor and outdoor space, respectively, is proposed, including the ninth-floor outdoor communal terrace that wraps the south west corner.
A single-storey underground garage accommodates 59 vehicle parking spaces, as well as bicycle storage.
The owners have applied for the City's Open Door Affordable Housing Program.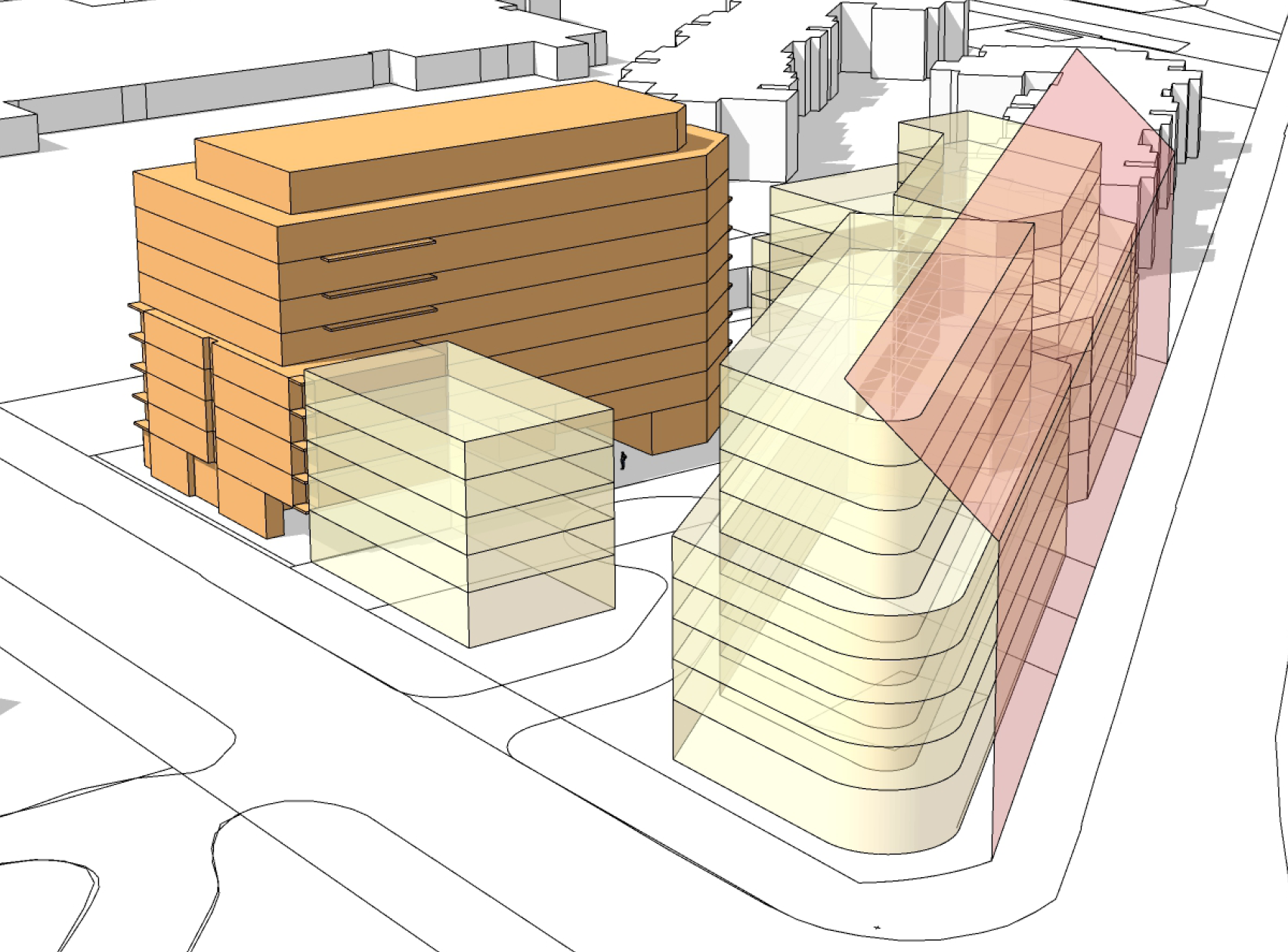 Massing in context, looking southwest from Kingston and Galloway roads, image by RAW Design for LCH Developments
You can learn more from our Database file for the project, linked below. If you'd like to, you can join in on the conversation in the associated Project Forum thread, or leave a comment in the space provided on this page.
* * *
UrbanToronto has a new way you can track projects through the planning process on a daily basis. Sign up for a free trial of our New Development Insider here.