Yesterday, we covered the start of construction activity at the site of the north tower of Ivanhoé Cambridge and Hines' new CIBC SQUARE office complex in Downtown Toronto. Today, the news is official, with a release detailing that the project team has officially broken ground on the WilkinsonEyre Architects and Adamson Associates-designed complex's new 50-storey second tower, a 1.5 million-square-foot office building at 141 Bay Street.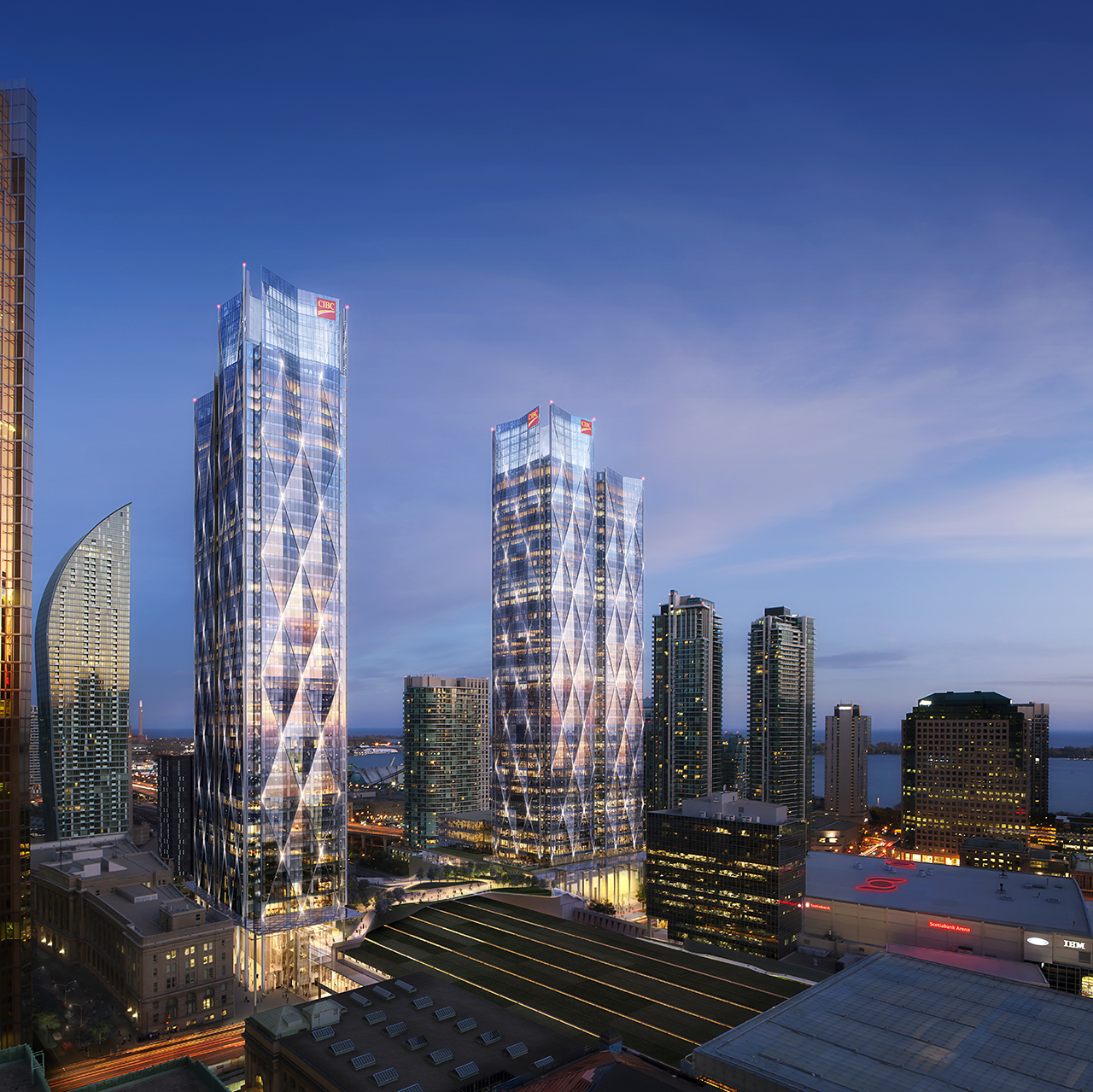 Looking southeast to CIBC SQUARE, image courtesy of Hines/Ivanhoé Cambridge
"We are thrilled that we are breaking ground on the second tower of CIBC SQUARE. The second tower at 141 Bay Street, in particular, has been designed to elevate the human experience through health and wellness," stated Avi Tesciuba, Hines Canada Country Head. These sentiments were echoed by Jonathan Pearce, Executive Vice President, Leasing & Development, Office & Industrial, North America at Ivanhoé Cambridge, who stated "Ivanhoé Cambridge is delighted to continue to develop Toronto's skyline with Phase Two of CIBC SQUARE through the construction of 141 Bay Street. Phase One, 81 Bay Street has brought our vision of a city-defining office complex for human-centered services and sustainable design solutions to life, all to deliver the highest tenant experience."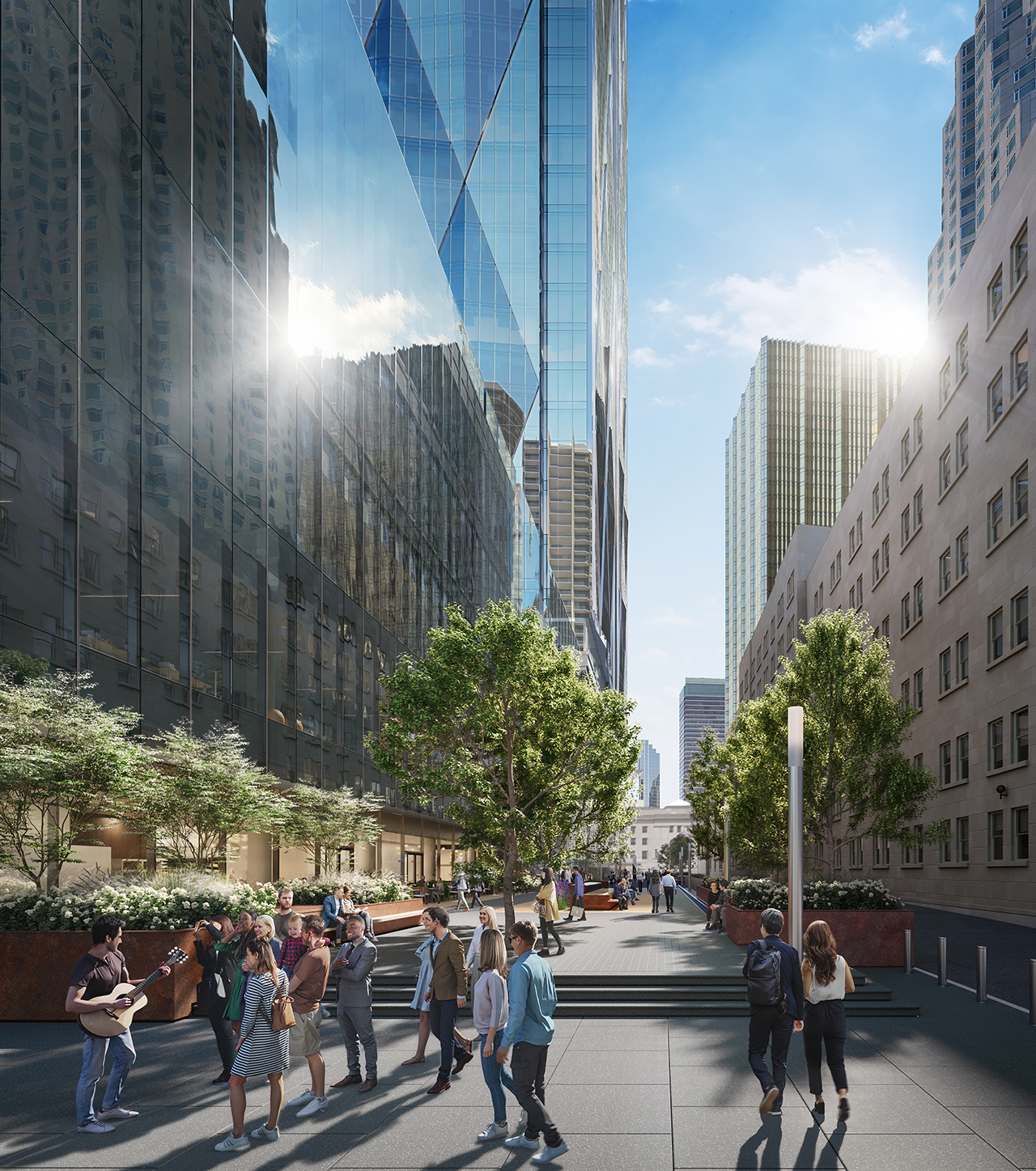 Laneway at 141 Bay, CIBC SQUARE, image courtesy of Hines/Ivanhoé Cambridge
Phase Two will carry on the architectural theme established by the 49-storey South Tower, now wrapping up construction on the opposite side of the Union Station rail corridor. "CIBC SQUARE is an exciting project for our team as it is WilkinsonEyre's first project in Toronto. The building will have a lightly folded glazed facade and create a diamond pattern every 10 storeys, to add a vertical scale and modulation contrasting with the surrounding buildings. The completion of Phase Two will set a benchmark for the city with the destination's vibrant, technically and socially advanced architecture, which will benefit the city for decades to come," reads a statement issued by Dominic Bettison, Director at WilkinsonEyre.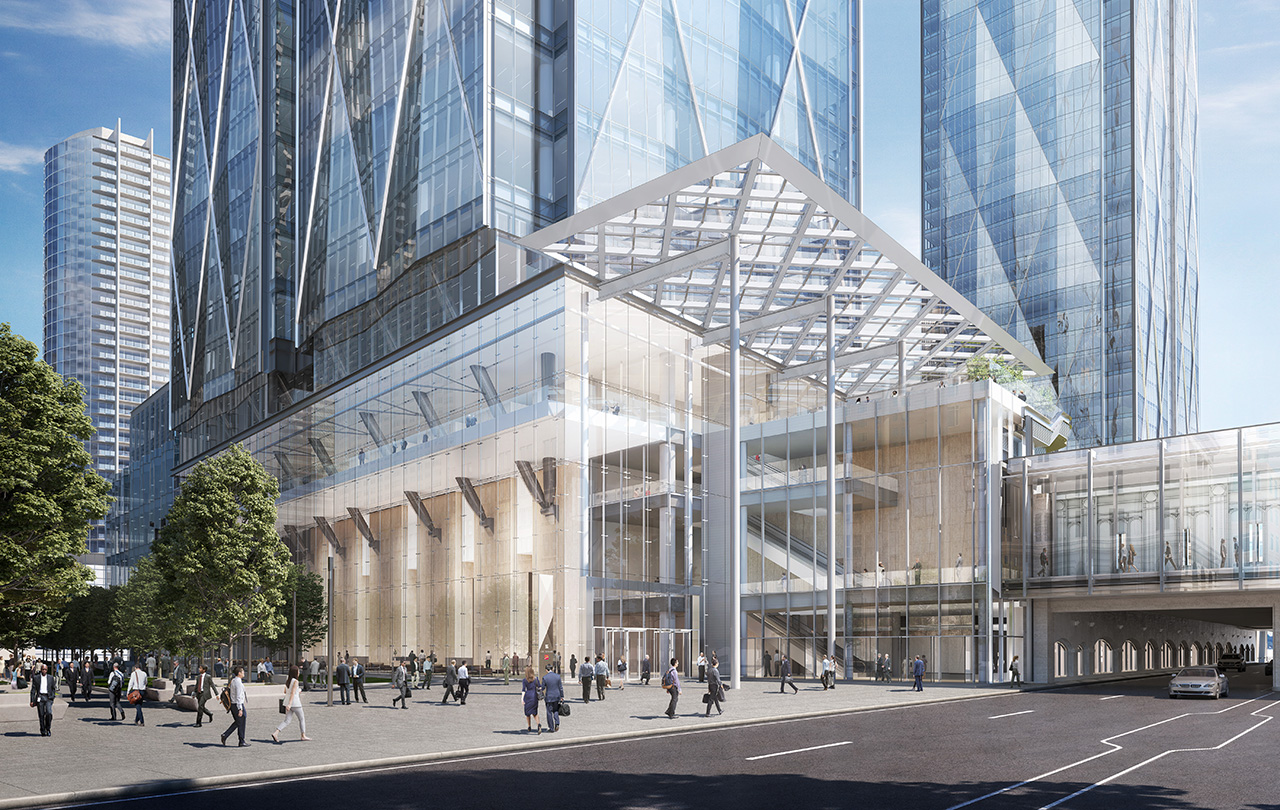 141 Bay exterior at CIBC SQUARE, image courtesy of Hines/Ivanhoé Cambridge
Connecting the two towers, an elevated park built atop the rail corridor will serve tenants of both buildings, as well as the wider public. "The building's green areas, spacious one-acre park, enhanced air quality, and thoughtfully appointed amenities reflect a commitment to one's health, safety and security," stated Tesciuba.
The inclusion of new park space is to be complemented by the complex's sustainability and wellness aspects, with David Hoffman, General Manager at CIBC SQUARE, stating that "141 Bay Street is set to seamlessly complement 81 Bay Street and our overall goal of creating a next-generation environment that will elevate all of the city's offerings while setting a tone for the future. The building is being engineered to LEED® platinum standards and is pursuing WELL Building Standard™ certification and will connect the city to a new international standard of office."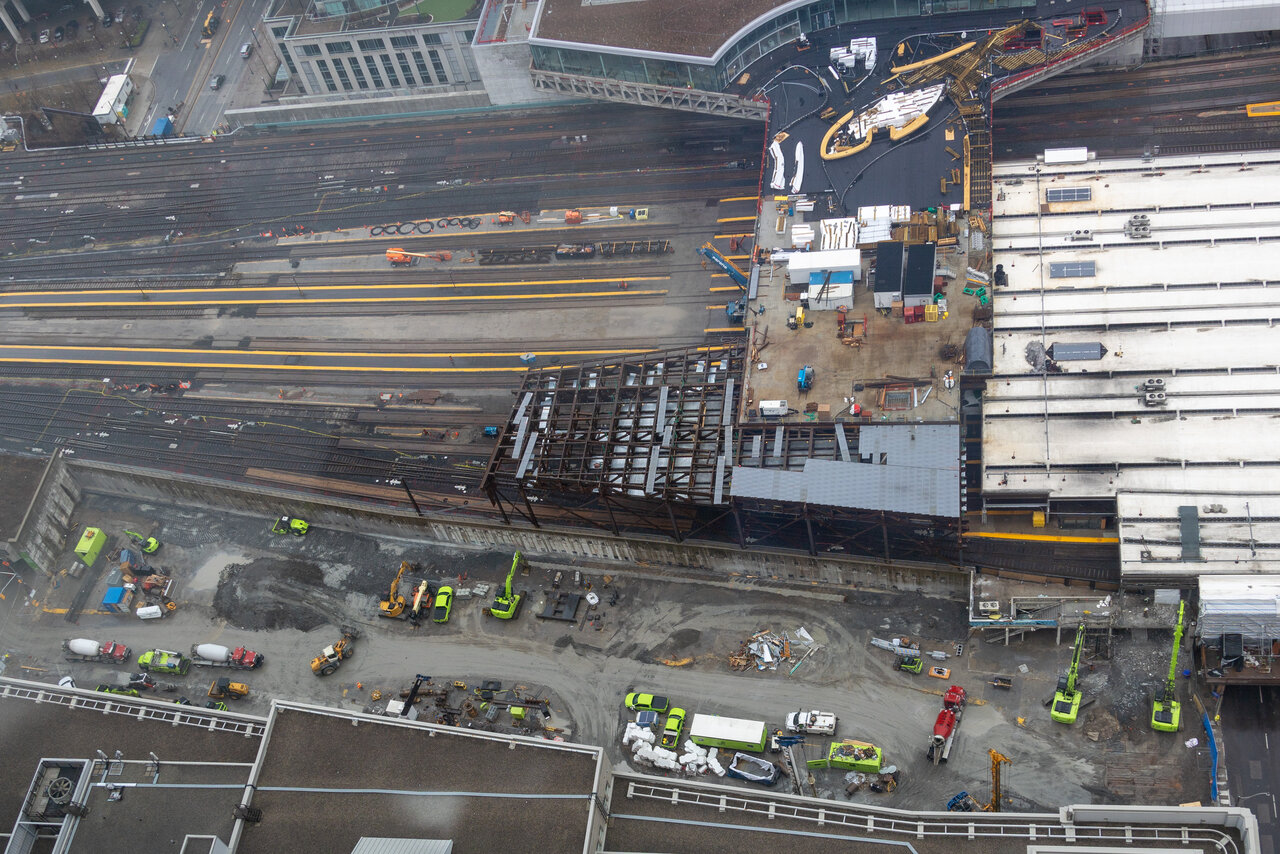 CIBC SQUARE Phase 2 site, image by Forum contributor mburrrr
CIBC SQUARE is named for lead tenant CIBC, who will take up a significant presence in the complex including a new headquarters for the banking institution, currently located in the Commerce Court complex a few blocks to the northwest. "Our new home will accelerate the future of work with a modern, flexible and inclusive environment that is uniquely designed to curate client and workplace experiences focused on our purpose – to help make our clients ambitions real," reads a statement issued by Veni Iozzo, Executive Vice President, Enterprise Real Estate and Workplace Transformation, at CIBC. "We are very excited to welcome our team and new neighbours to CIBC SQUARE Phase One later this year."
Additional information and images can be found in our Database file for the project, linked below. Want to get involved in the discussion? Check out the associated Forum thread, or leave a comment below.
* * *
UrbanToronto has a new way you can track projects through the planning process on a daily basis. Sign up for a free trial of our New Development Insider here.