A new low-rise infill development proposal could bring 127 apartments to southwestern Scarborough on an assembly of narrow and deep properties where there are currently only three single family homes, each set well back from the road.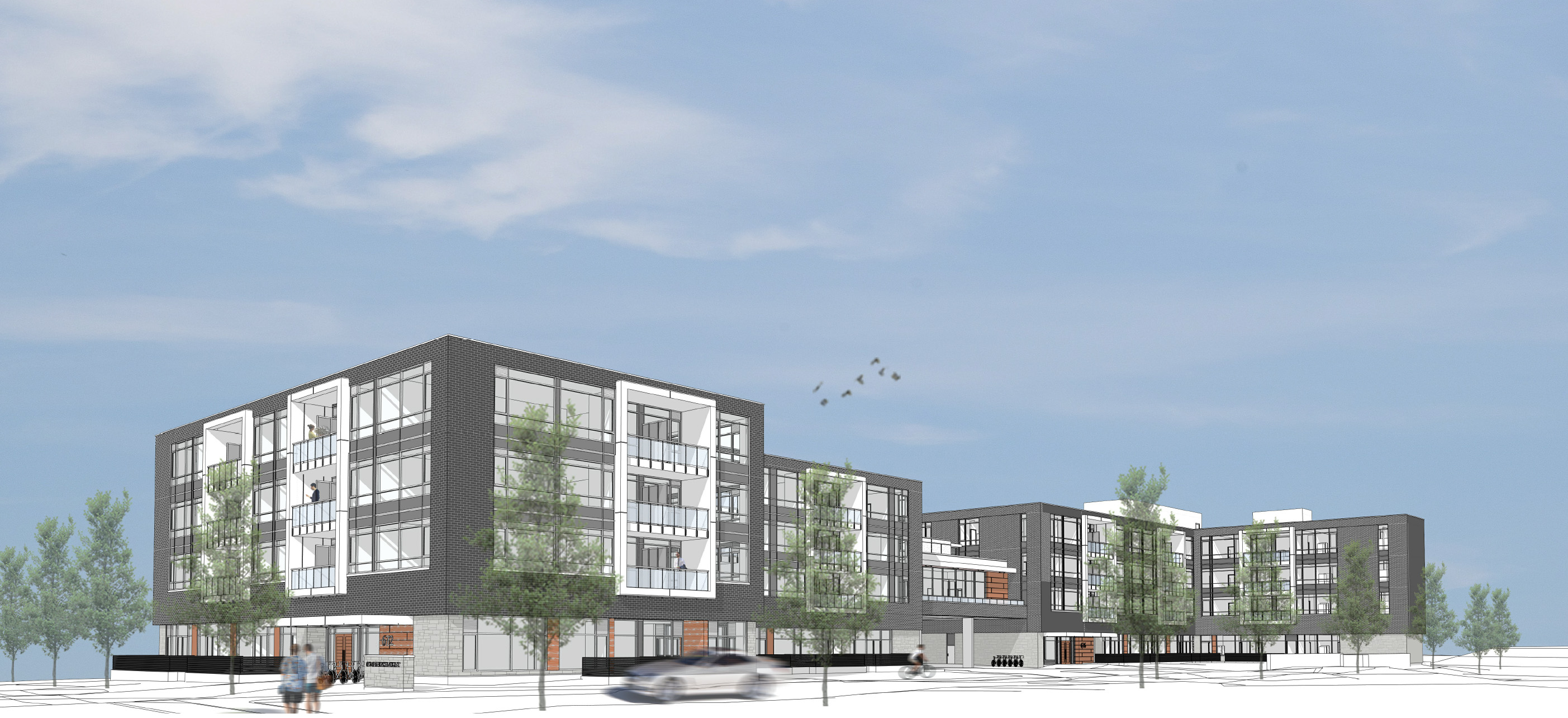 Rendering of the Proposed development. Image courtesy of KFA.
In December, Toronto-based Insoho Developments submitted Zoning By-law Amendment and Site Plan Approval applications to City planners to redevelop the lands at 672, 674, and 676 Birchmount Road with a four-storey apartment complex.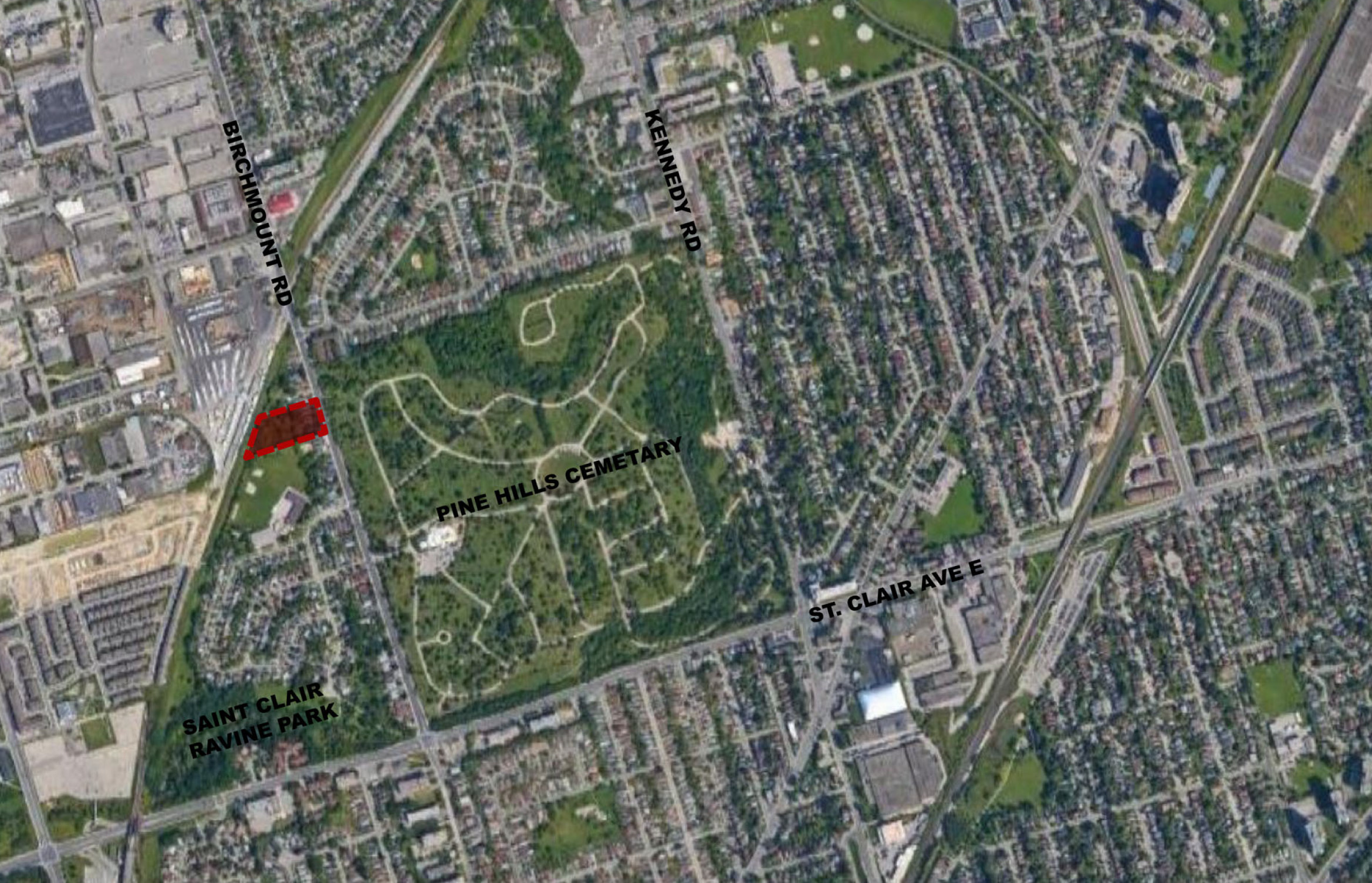 Context Plan indicating the 1.96 acre site, comprised of three large and deep lots. Image courtesy of KFA.
The site is located on a major arterial road, across the street from an expansive cemetery, with a school playground and single family homes to the south, single family homes to the north, and a hydro corridor to the west. It has a 57-metre frontage on Birchmount Road and a variable depth in the range of 165 and 123 metres.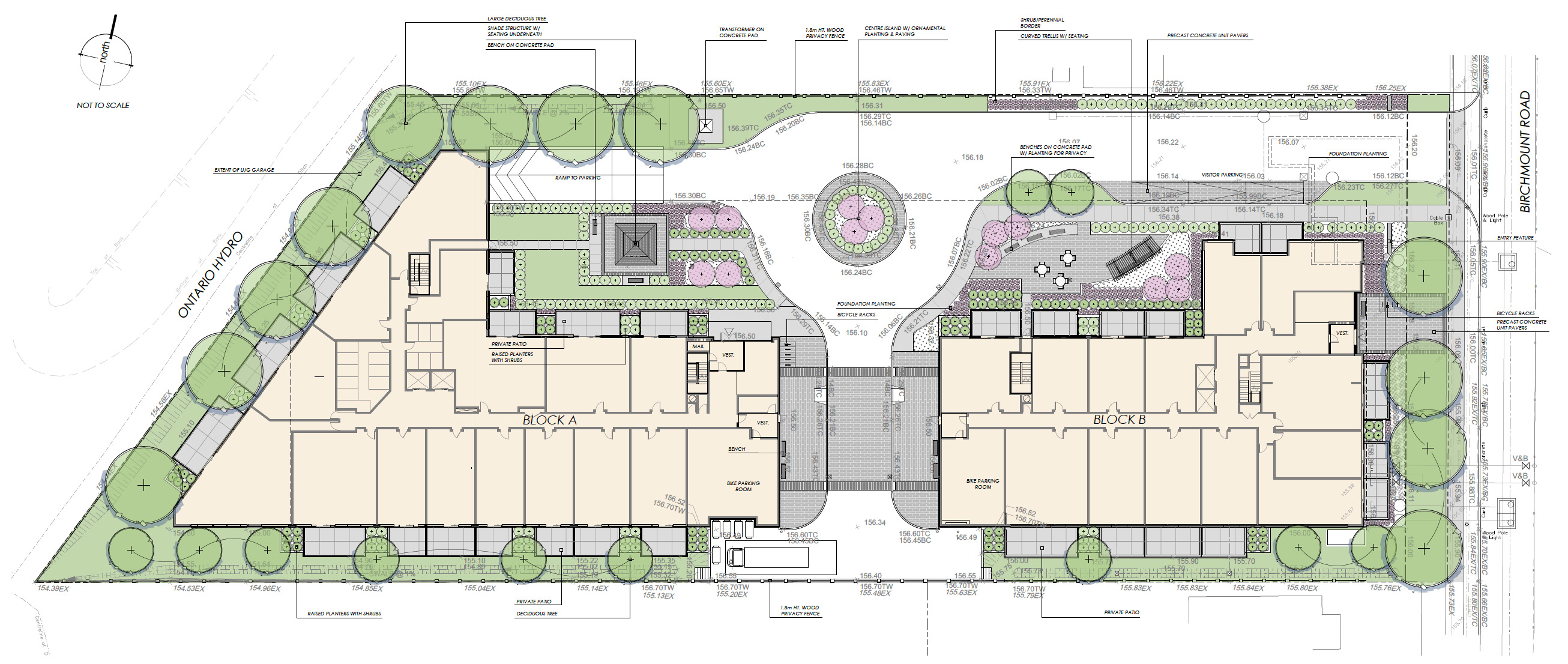 Concept Landscape Plan. Image courtesy of Adesso Design Inc.
Designed by KFA Architects & Planners, the proposed apartment building consists of two residential blocks (Block 'A' and Block 'B') connected by an indoor and outdoor amenity area on the 2nd and 3rd floors. A total 11,544 square metres of residential gross floor area is included, representing a building coverage of 41% and development density of 1.45 times the site area.
On the ground floor, between the two apartment blocks, are two carefully landscaped outdoor amenity areas are proposed with benches and a trellis shade structure. On the second floor, 215.5 m² of indoor amenity space will feature a party room, a meeting room, and a fitness center with access to north and south facing terraces. An additional 95 m² outdoor amenity area is located on the third floor, featuring a lounge area with a BBQ surrounded by a green roof. These shared facilities complement the residents' private balconies and yards.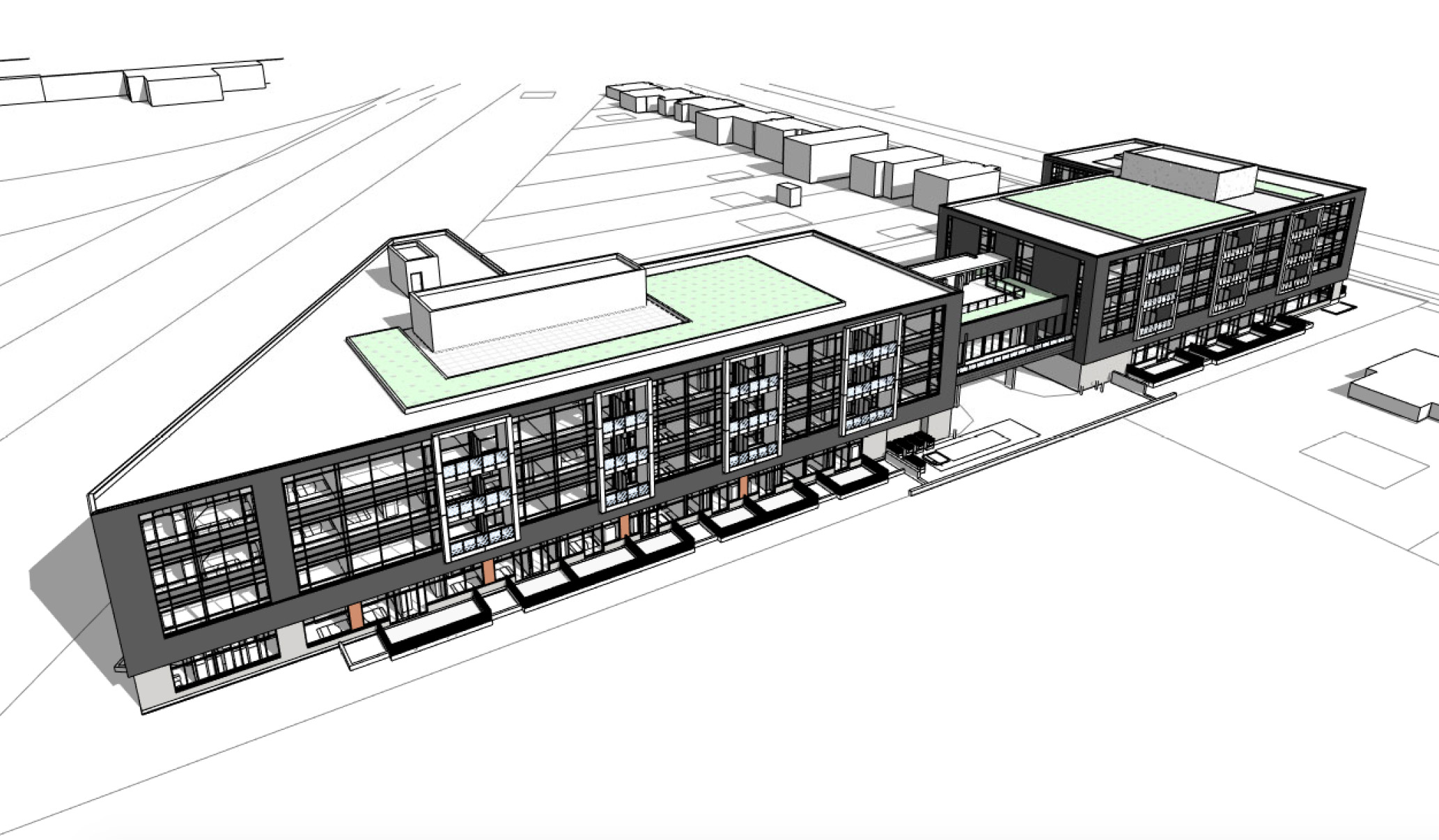 Rendering of the proposed development. South West View. The two apartment blocks are connected by indoor and outdoor amenity spaces to support a variety of age groups and activities. Image courtesy of Adesso Design Inc
Of the 127 units, 87 are one-bedroom (69%), 28 are two-bedroom (22%), and 12 are three-bedroom (9%) units.
Vehicles will enter from Birchmount Road via a two-way private driveway and access the apartment entrance mid-block, with a road arm extending south to the loading area. The proposal includes a one level underground garage with 132 parking spaces and a total of 115 bicycle parking spaces are provided on the ground floor, along with a bike repair station.

North Elevation – Block A & B. Image courtesy of KFA.
You can learn more from our Database file for the project, linked below. If you'd like to, you can join in on the conversation in the associated Project Forum thread, or leave a comment in the space provided on this page.
* * *
UrbanToronto has a new way you can track projects through the planning process on a daily basis. Sign up for a free trial of our New Development Insider here.