Our annual Growth To Watch For series is back for another year, bigger, taller, and more comprehensive than ever. The reports this year are presented by NEEZO Studios. Over the course of the year, we have brought you to every significant development happening across the 416 and have moved beyond, now covering activity in the wider Greater Toronto Area. We're covering everything from brand new proposals, to those inching their way through the planning process, to those under construction or about to be completed.
A total of 21 reports from Toronto and six reports from the surrounding 905 are being released to subscribers throughout the year. For a taste of what's offered in the 25th report in our 2020 series, here's a sneak peek at some of the contents.
* * *
This edition of our Growth to Watch For series continues our journey through the 905, leaving the City of Brampton and heading east into York Region, traveling through the suburbs north of Toronto. Beginning on the west side of Vaughan, we zigzag eastward through the city and then cross into Richmond Hill, ending where we are poised to enter Markham in the next report. Not to be overshadowed by the pace of construction activity in Toronto, these communities are seeing their fair share of development as density makes its way into the suburbs. Development is typically concentrated at central nodes or along major roads, staying clear of infiltrating the expanses of single-family neighbourhoods, but nevertheless, urban intensification is making its way across each of the suburban municipalities, with Vaughan Metropolitan Centre quickly rising as the next great suburban centre in the GTA. Below we have compiled a list of all developments that are currently under construction, that are working their way through city planning, or that are ambitious ideas promising future transformation.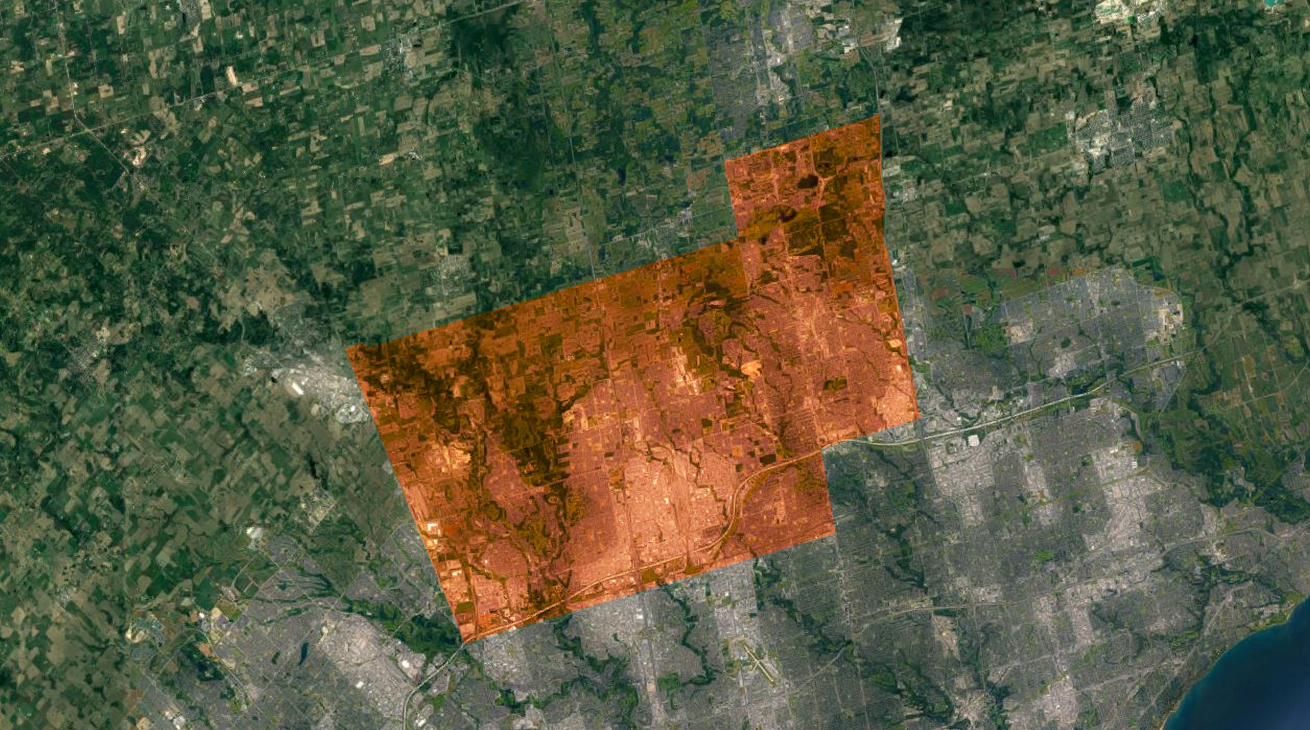 UrbanToronto's Growth to Watch For 2020 report on Vaughan and Richmond Hill, base image via Google Maps
The epicentre of growth in the area covered in this report is without a doubt Vaughan Metropolitan Centre, a new purpose-built Downtown built around the 2017-opened Line 1 subway station of the same name, or VMC. The VMC area is seeing a surge of development exceeding all of the planned community's growth targets, that includes some of the tallest towers in the region. The tallest of these is CG Tower—now under construction in VMC. At 189 metres, it will be the tallest building on Vaughan's skyline once overtaking the current title holders still under construction at Transit City. Its title may be short-lived though as an even taller tower has been proposed as of early November, 2020, which would be Vaughan's first to break the 200-metre mark. In short, development here is at its most intense in terms of height, density, and quantity, with a host of new tower developments that are either already complete, currently under construction, or coming through the development pipeline.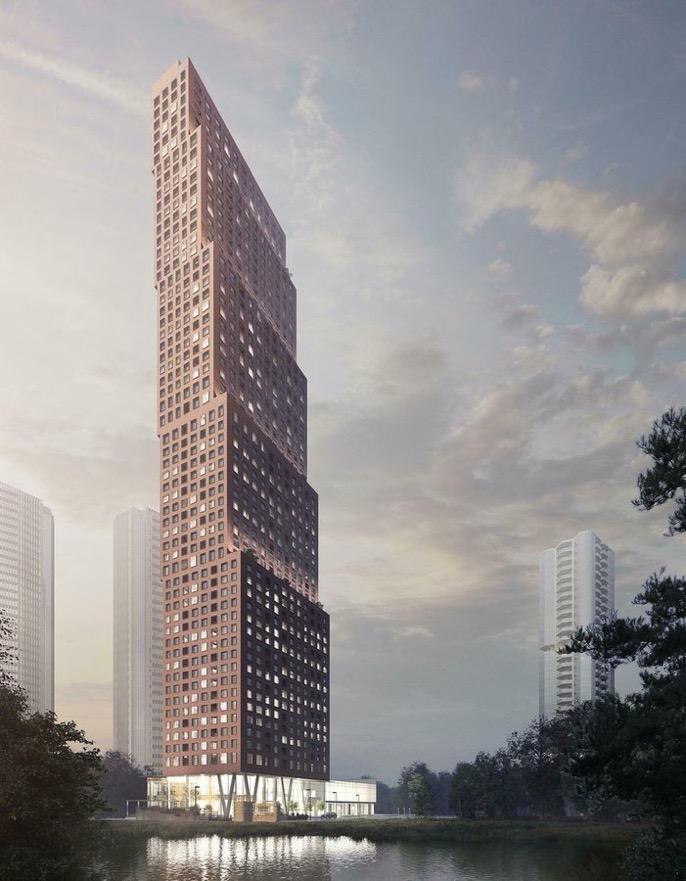 CG Tower, image via submission to the City of Vaughan
Another highlight in this report is the collection of redevelopments of existing malls, many of them strip malls occupying land that has dramatically risen in value as the region builds increasingly vertical. Other larger shopping centres like Promenade Mall at Bathurst and Centre streets in the southeast corner of Vaughan aim to retail their large retail presence, while building out the vast expanses of parking that surround them. Here, Liberty Development is leading the charge on a large-scale redevelopment that would include up to 20 condo towers, a new street grid, and public open space in a master plan is carried out by WZMH Architects. The first trio of these towers is now being marketed as Promenade Park Towers.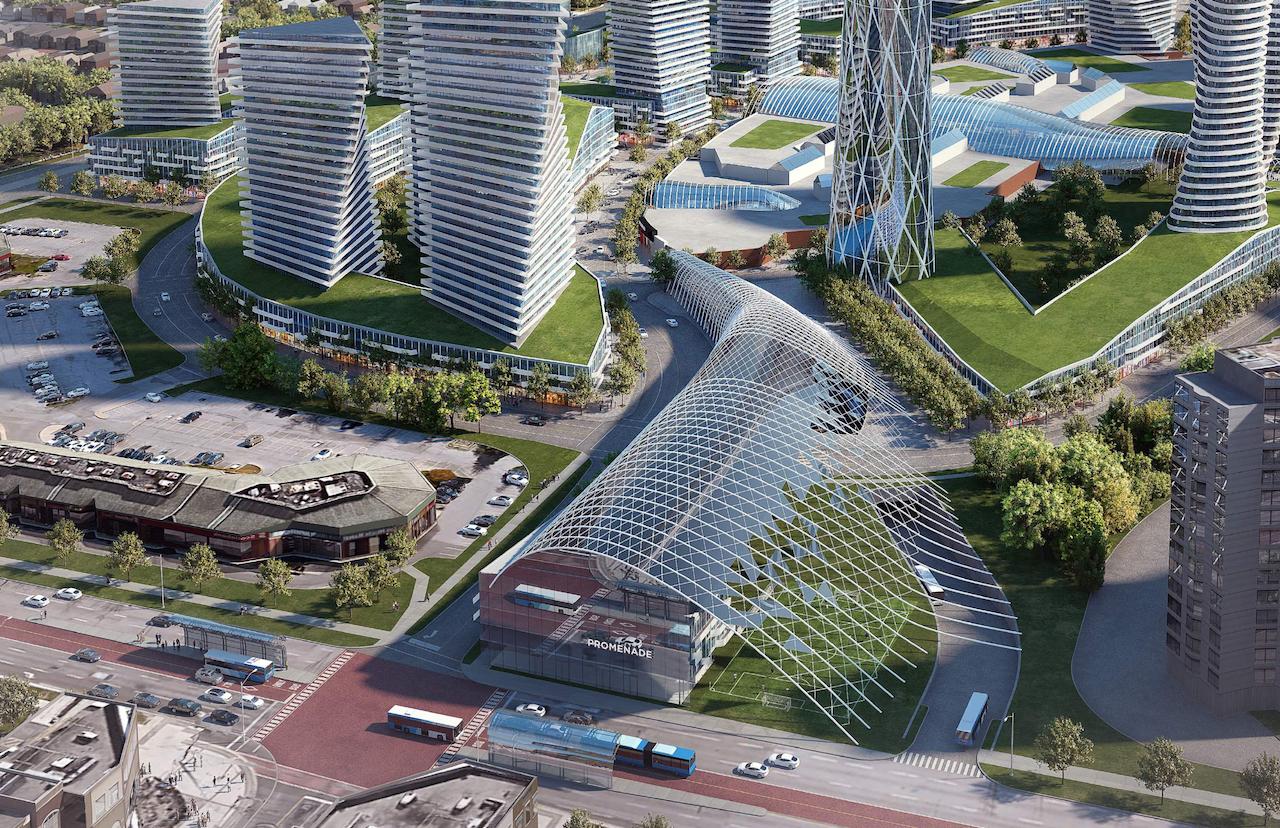 Promenade Mall master plan, image via submission to the City of Vaughan
Much like the rest of the 905, Richmond Hill is experiencing a development boom of density beyond the typical sprawl of detached homes and townhouses, but in this case, the density is almost all concentrated along the central spine of the city, Yonge Street. Spurred largely by the installation of the new Rapidway BRT running along Yonge from Newmarket all the way to Vaughan/Markham, as well as plans for an extension of the TTC's Yonge subway line up to Langstaff GO station at the south edge of Richmond Hill, mid-rise and high-rise developments are slowly filling in many of the parking lots and underused properties along the entire length of the major artery. Some of the projects covered along Richmond Hill's central Yonge Street spine include 7028 Yonge, 7080 Yonge, 8188 Yonge, 8700 Yonge, Westwood Gardens, 8888 Yonge, Era 2 Condos, Yonge Parc 2 Condos, 9251 Yonge, 9218 Yonge, 9350 Yonge, 9699 Yonge, and more.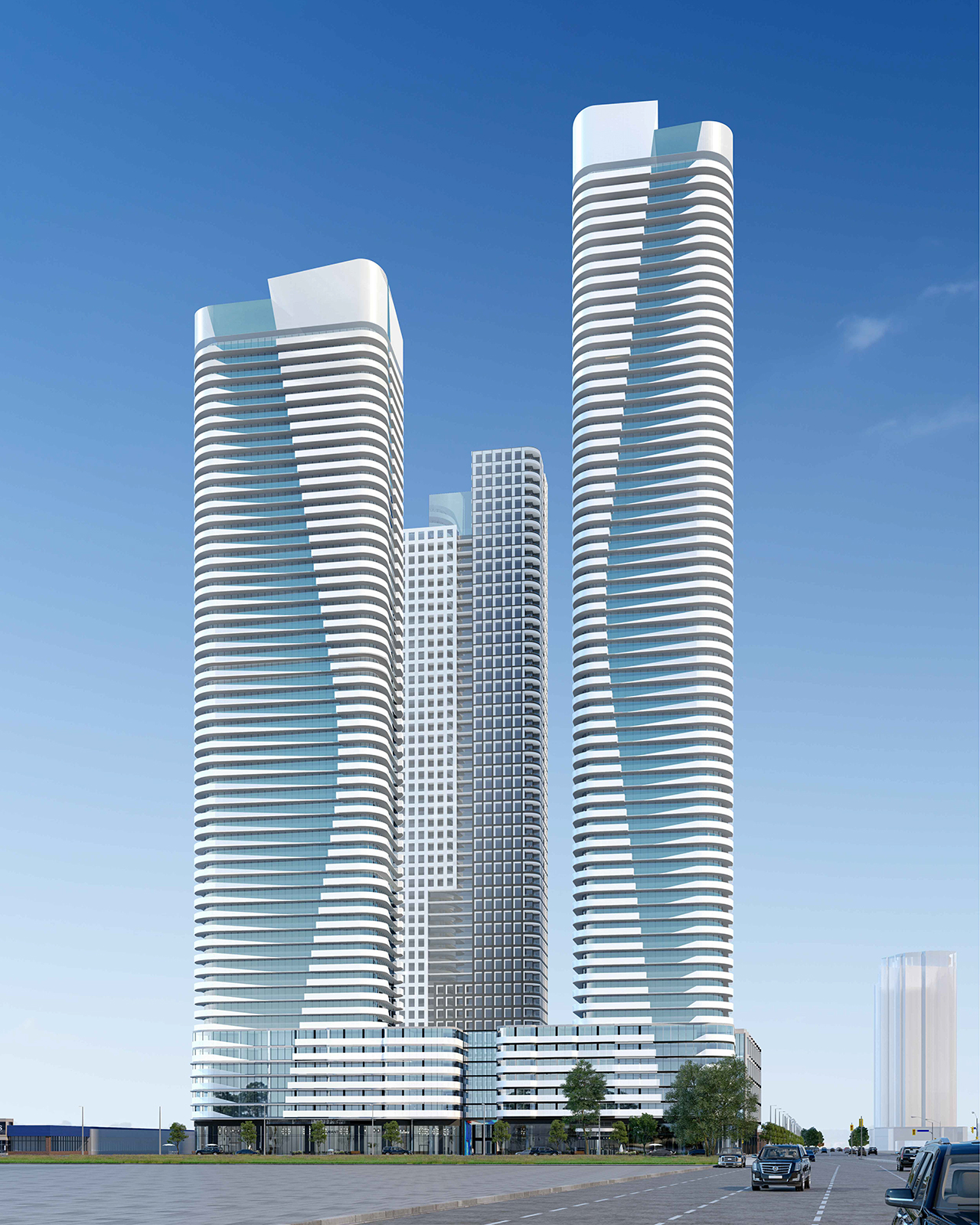 7028 Yonge, image via submission to the City of Vaughan
There's much, much more in the report!
New Growth to Watch For 2020 reports are being released on an ongoing basis, each covering a different section of the Greater Toronto Area. The series' upcoming 26th report will continue our trek through the 905 region, moving east into Markham. One additional report will follow, moving further east to highlight growth across the municipalities of Pickering, Ajax, Whitby, and Oshawa.
Subscribers can get access to the complete existing and future reports for the year on our Growth to Watch For 2020 landing page. Subscribe today as a standalone subscription purchase for $199+tax, and you'll receive access to all reports.
Individual reports from our 2019 and 2020 Growth to Watch For series can now be purchased à la carte for $39.99 per report. Please Contact Us for more details.
The full list of the Toronto Growth to Watch For 2020 instalments includes:
2. King & Queen West, Liberty Village & Parkdale
4. Etobicoke Centre & Bloor West
5. Dupont, the Junction, & St. Clair West
7. York to Yorkdale to York Mills
8. Downsview & York University
9. North York Centre & Willowdale
12. Beaches, Leslieville, & The Danforth
14. Midtown: Eglinton to St. Clair
15. Bloor-Yorkville & Rosedale
16. Corktown-Regent Park-Cabbagetown
21. Toronto's Central Waterfront
22. Burlington, Milton, and Oakville
24. Mississauga North and Brampton
25. Vaughan and Richmond Hill
26. Markham
27. Pickering, Ajax, Whitby, and Oshawa
* * *
UrbanToronto has a new way you can track projects through the planning process on a daily basis. Sign up for a free trial of our New Development Insider here.