Just north of Toronto's North York City Centre area, the first phase in a new multi-tower development has begun its rise above Yonge Street. For about two years now, we've been keeping a close eye on construction of Aoyuan International's M2M Condos, ever since local staple Newtonbrook Plaza and an adjacent office building were demolished to clear the site for the start of the M2M project. In recent months, progress has been rapid, with notable milestones surpassed almost monthly, the latest having occurred in the past few weeks when the first above-grade forming began.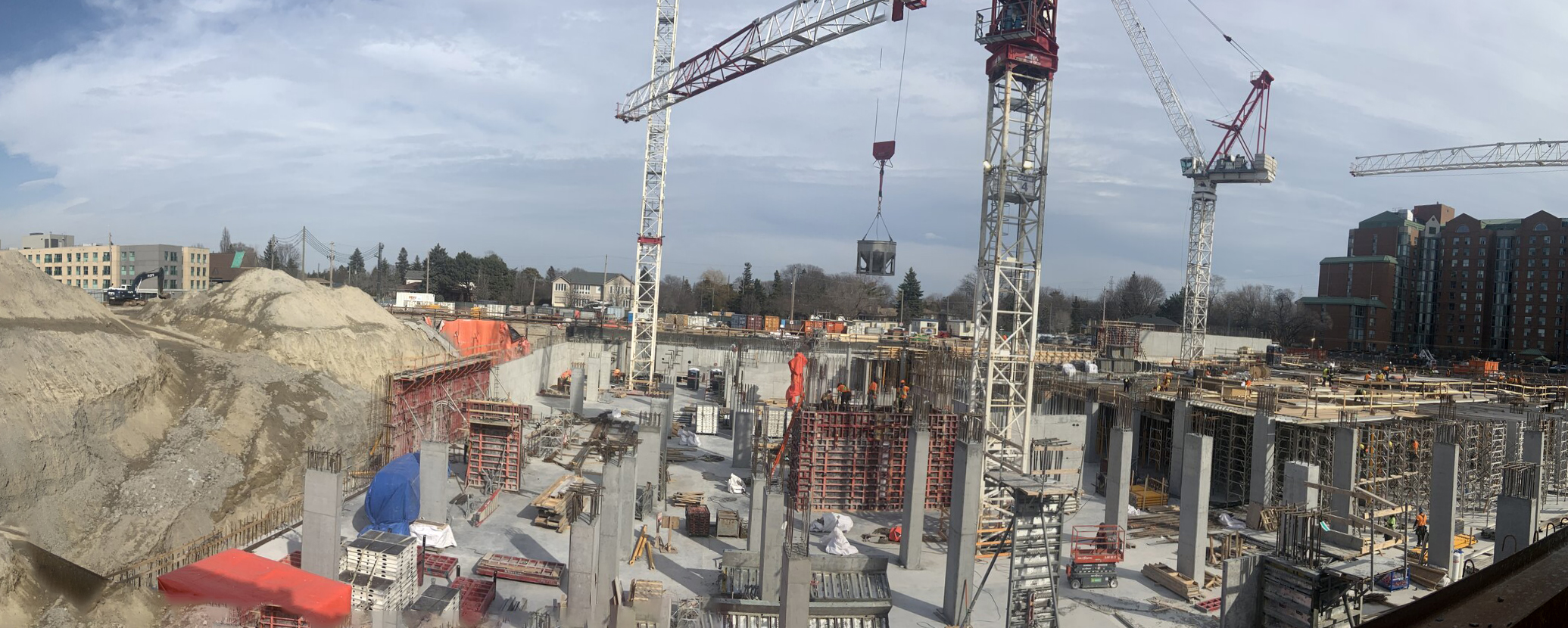 Panorama facing east across M2M site, image by Edward Skira
Following the completion of demolition work, shoring and excavation started in Fall, 2019. The dig reached a final depth of 13.3 metres below Yonge Street in Spring, 2020 and the first tower crane was installed in July. Another three cranes would follow, installed at approximately one-month intervals. Over the months since, forming of the four-level underground garage has largely been accomplished, culminating in the recent arrival at grade.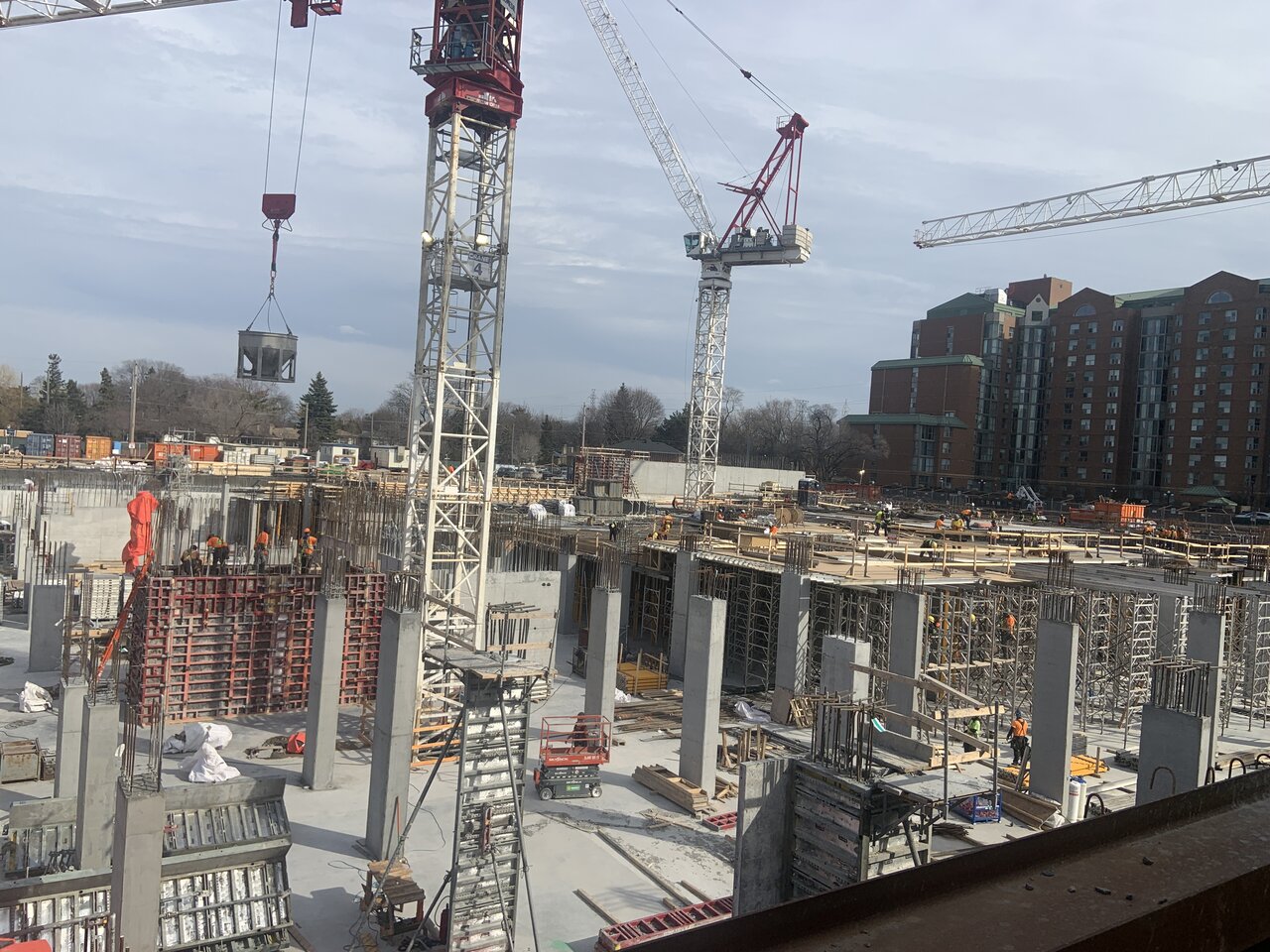 Looking southeast across M2M site, image by Edward Skira
The first walls and columns have appeared at the site's southeast corner, where the first of four cranes was installed last year. At the site's southwest corner, floor forms and rebar cages for walls and columns have begun to shape more of the ground floor.
Looking northeast across M2M site, image by Edward Skira
To the north, forming of the last sections of the P1 parking level is progressing, with this section of the site to rise above grade as well within the coming weeks.
Looking east across M2M site, image by Edward Skira
The first phase's 34 and 36-storey condominium towers are to be followed by three more buildings immediately to the north. Site preparation activity has been setting the stage for construction of phase two, and a recent planning submission to the City is moving plans forward for the new towers as construction presses on for phase one.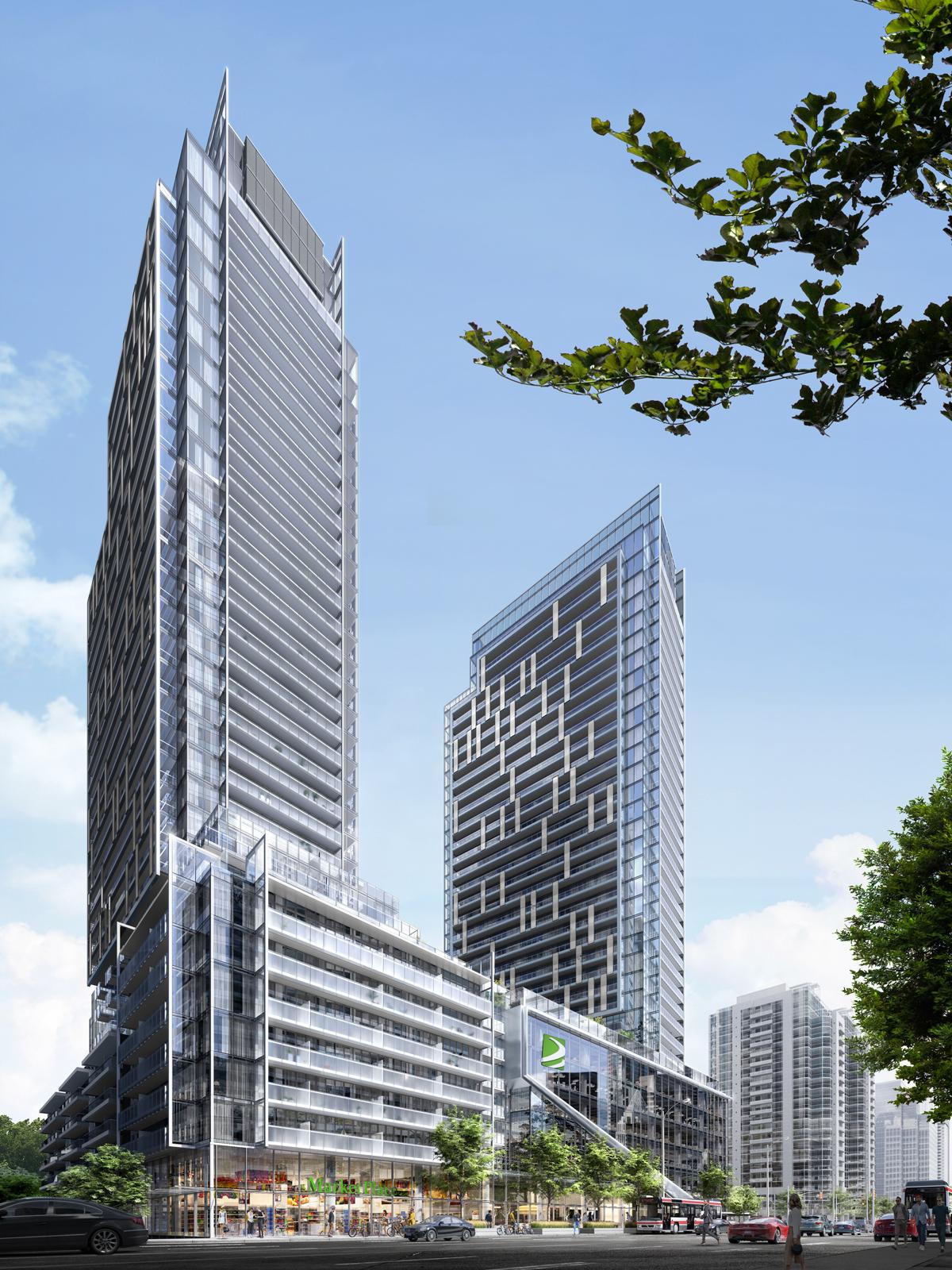 Looking southeast to phase 1 of M2M Condos, image courtesy of Aoyuan International
Additional information and images can be found in our Database file for the project, linked below. Want to get involved in the discussion? Check out the associated Forum thread, or leave a comment in the space provided on this page.
* * *
UrbanToronto has a new way you can track projects through the planning process on a daily basis. Sign up for a free trial of our New Development Insider here.