First Capital is looking to redevelop parts of a 2003-built suburban-style plaza in Toronto's bustling Liberty Village neighbourhood that it acquired in 2004. The plaza, known as the Shops at King Liberty, includes a number of buildings clustered around a surface parking lot. As Liberty Village has urbanized over the years since the plaza was built, the low-rise retail development has felt more and more out-of-place.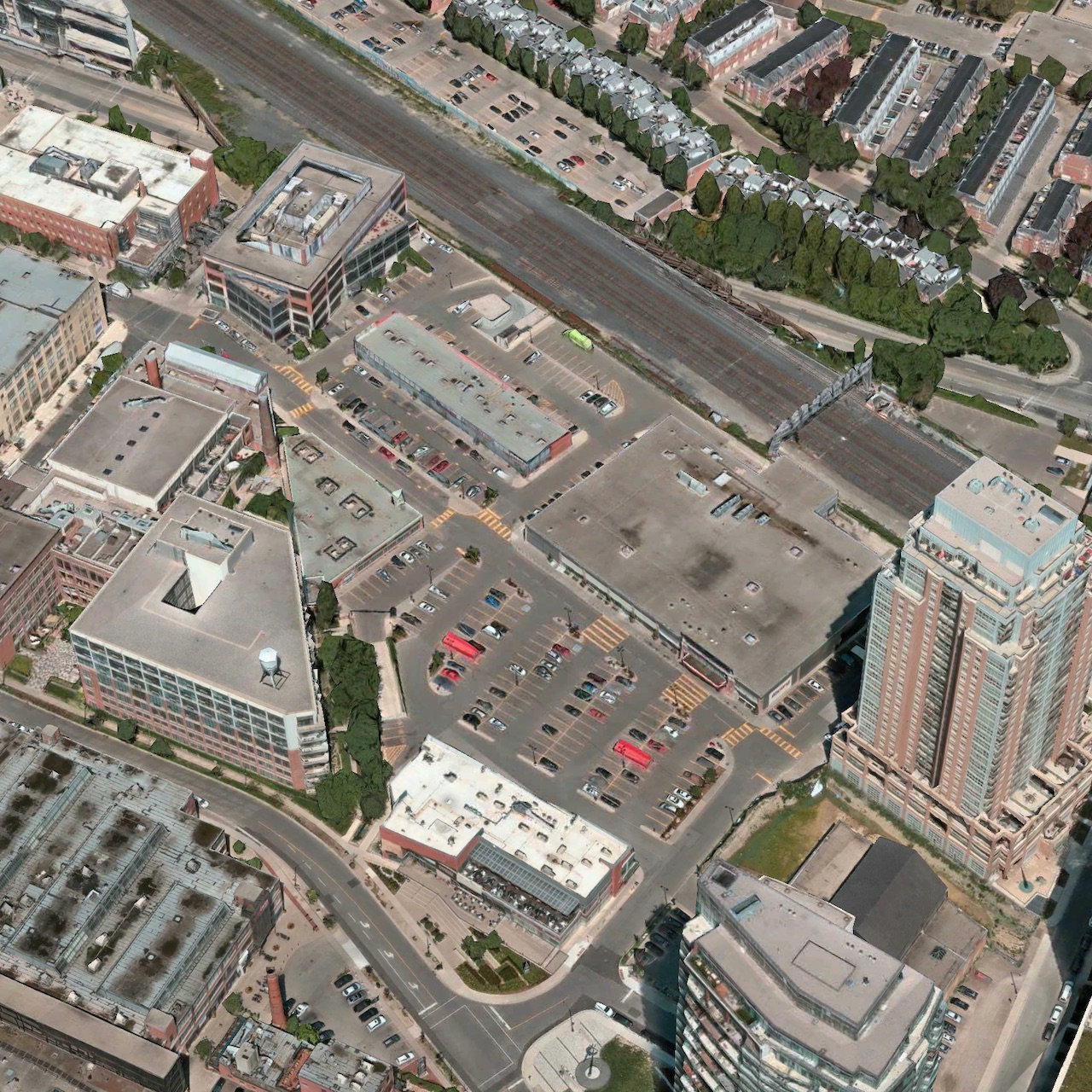 Looking northwest across the Shops at King Liberty plaza area, image via Apple Maps
The plaza's anchor is a Metro supermarket, seen up and to the right of the two red grocery cart return stands in the middle of the parking lot in the image above. The Metro is staying: the store is a successful performer for the grocery chain, and holds a longterm lease on their building and the surface lot out front of it. It's the three other plaza buildings around the parking lot that are now being proposed for redevelopment.
Across the three towers and their podiums are planned 850 residential units (First Capital has not yet settled on whether the units in the towers will be condominium or rental, or a combination) representing 695,800 ft² of space, 70,500ft² of office space, and 33,700 ft² of retail space.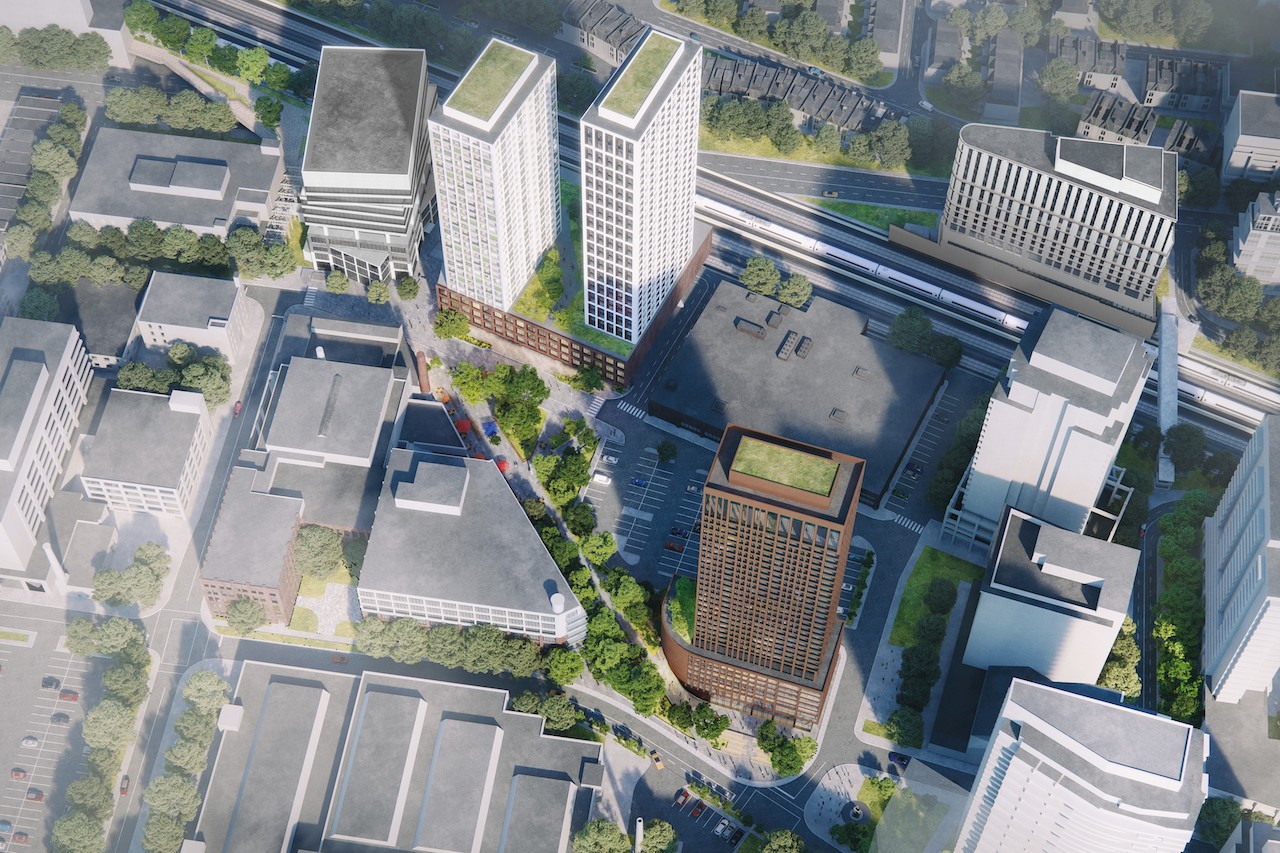 Looking north to First Capital's King Liberty site in Liberty Village, with three new towers designed by BDP Quadrangle
The plan is to redevelop in phases, the first in the northwest corner of the site and along the west side. Here, to the west of the Metro store, there currently are two single-storey retail strip buildings, one on either side of the private road that extends east from Snooker Street.
Both of those single-storey buildings will go: on the north side, a new building consisting of a four-storey retail and office podium will have two residential towers, rising to 29 and 34-storeys, and 105 and 120 metres high respectively.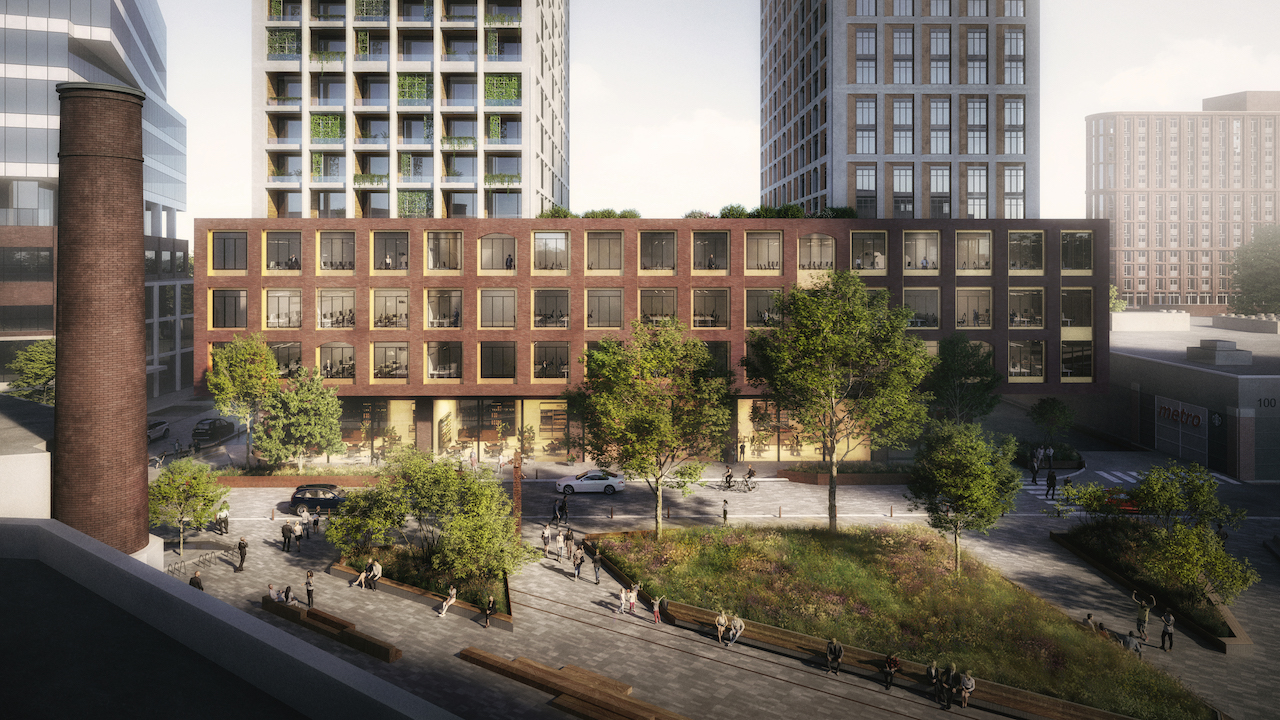 Looking north to Block A, King Liberty in Liberty Village, designed by BDP Quadrangle for First Capital
On the south side, that single storey retail building would also be torn down as part of the first phase. It is to be replaced by a 12,000 ft² public park and promenade stretching southeasterly to East Liberty Street.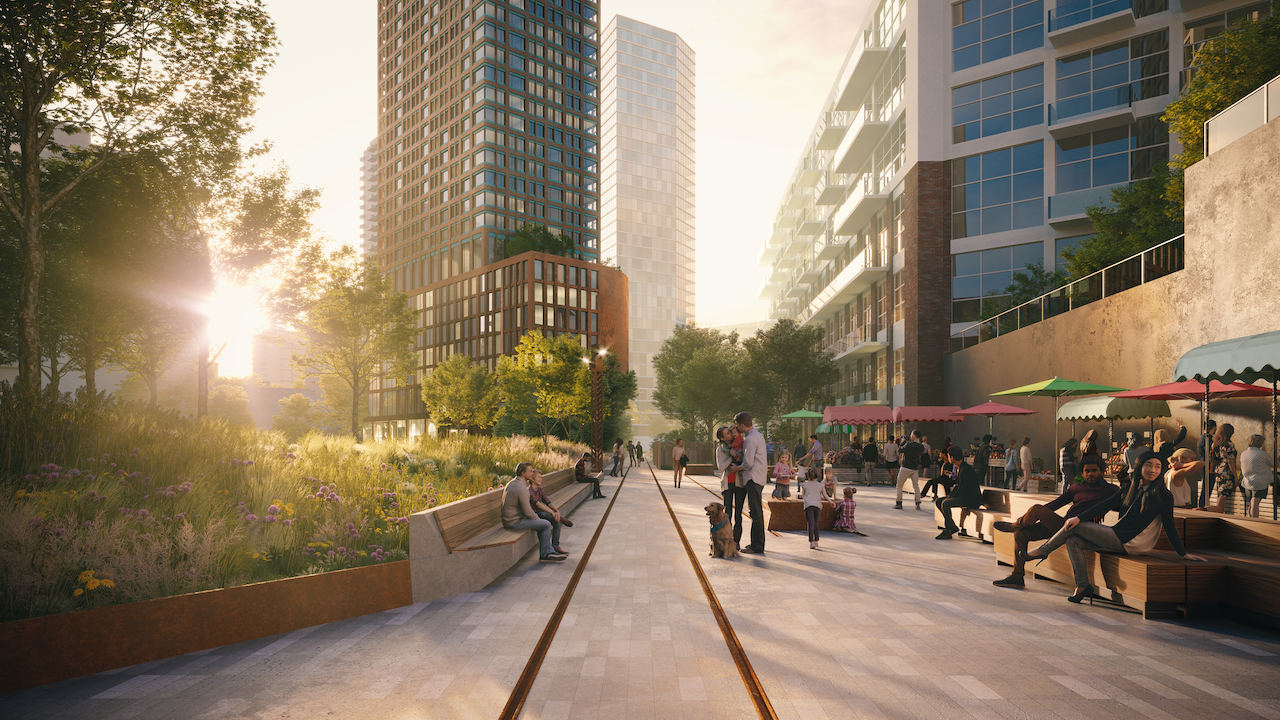 Looking southeast through King Liberty in Liberty Village, designed by BDP Quadrangle for First Capital
The promenade would extend south to East Liberty Street. Adjacent to its south end to the east is a two-storey commercial building that currently includes such businesses as the Williams Landing restaurant. Here, a 33-storey, 115 metre-tall residential tower with retail at ground level would be built as the second phase. There is no specific timeline known for building either phase yet.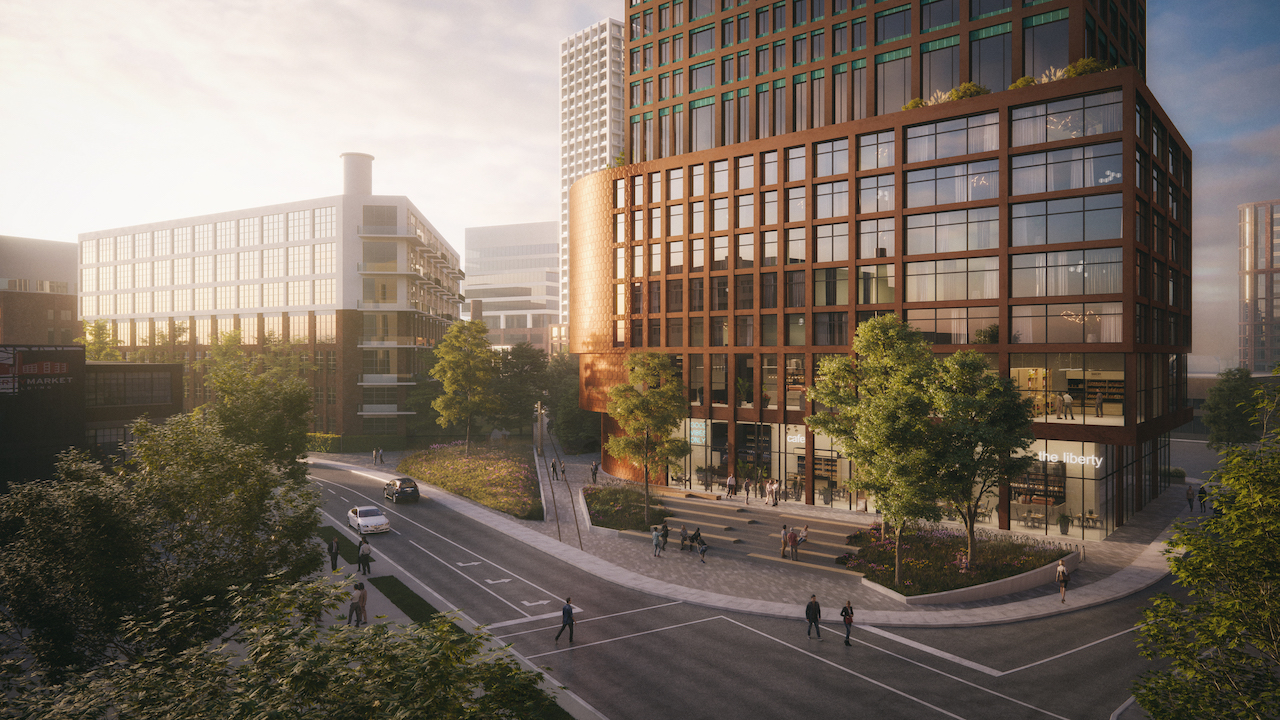 Looking north to Block B, King Liberty in Liberty Village, designed by BDP Quadrangle for First Capital
Designed by BDP Quadrangle and Urban Strategies with DTAH on the public realm, there are no all-glass towers proposed here. While still featuring large windows to let in plenty of natural light, all of the buildings prominently feature frames which are mostly faced by brick, the predominant vernacular material of Liberty Village's industrial past. Other textural materials in the landscape architecture plan, along with significant greenery, are meant to bring a warmer, homier feel to the area.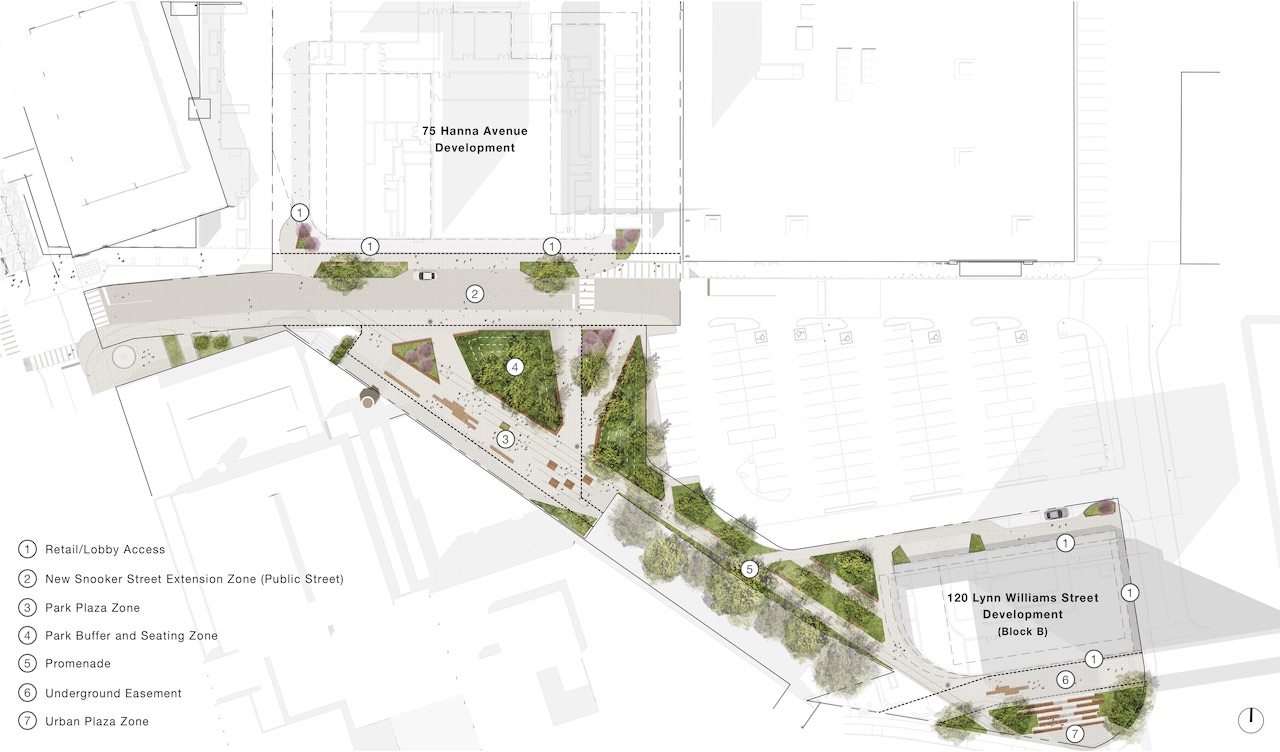 Site Plan of King Liberty in Liberty Village, designed by BDP Quadrangle for First Capital
Along with the 12,000 ft² park, another 41,600 ft² of space will be dedicated to other public realm improvements around the site, including the promenade and the rebuilding of the private easterly extension of Snooker Street as a full public street. Extending further northwest, public realm improvements will also come with another First Capital project at 85 Hanna, leading to King Street and its streetcar, while more pedestrian oriented improvements are also planned via a new trail link over King Street to First Capital's recently completed King High Line development and the adjacent future King West-Liberty Village station on the GO line. From there, the trail will also link up to the West Toronto Rail Path.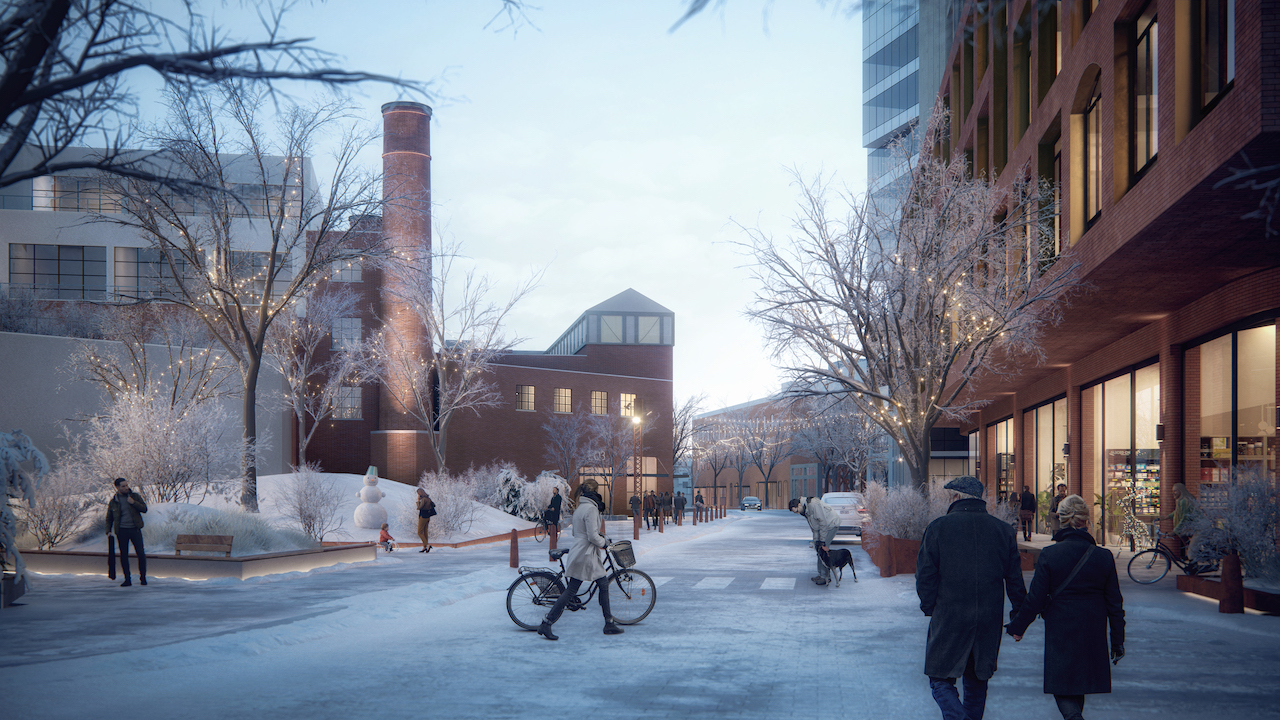 Looking west through King Liberty in Liberty Village, designed by BDP Quadrangle for First Capital
Another transit improvement is coming to the area within walking distance at the south end of Atlantic Avenue, one block west of Hanna, at Exhibition GO Station. While already served by two-way all-day service, plans are in the works for the western terminus of the Ontario Line subway to open adjacent to the GO platforms in 2030.
First Capital's King Liberty plan will soon enter its consultation phase, with First Capital planning community engagement opportunities through Town Hall events, Moderated Q&As, and direct communication via email and surveys. The company has set up an official website here where you can read more and sign up for email updates, while they will also provide information through social media channels.
Additional information and images can be found in our Database file for the project, linked below. Want to get involved in the discussion? Check out the associated Forum thread, or leave a comment in the space provided on this page.
* * *
UrbanToronto has a new way you can track projects through the planning process on a daily basis. Sign up for a free trial of our New Development Insider here.