First Capital has submitted Official Plan Amendment and Zoning By-law Amendment applications to the City of Toronto for the redevelopment of 5051 through 5061 Yonge Street, across from Mel Lastman Square, North York Civic Centre, and North York Central Library. On the table is a 42-storey, integrated mixed-use development with office space, residential uses, and active retail uses at-grade.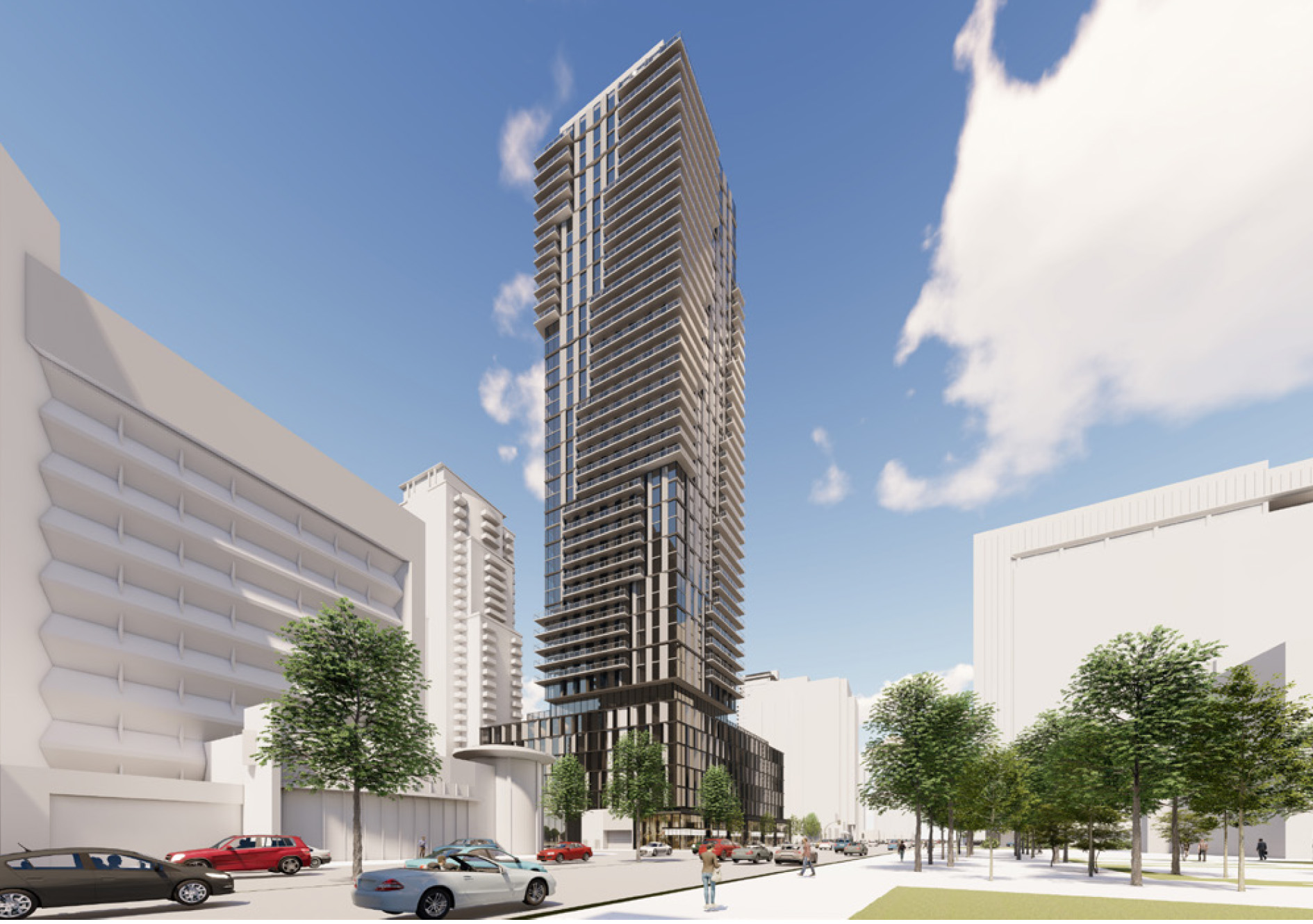 Looking southeast to 5051-5061 Yonge, image by Kirkor Architects and Planners for First Capital
The property is currently occupied with two storey buildings with retail and restaurant uses. Most proposed and approved developments in the area are concentrated along Yonge Street, with tower heights generally in the 30-40 storey range. The proposal seeks to integrate with the surrounding built and planned context—a high-density district of condominium and office towers with ground-floor commercial.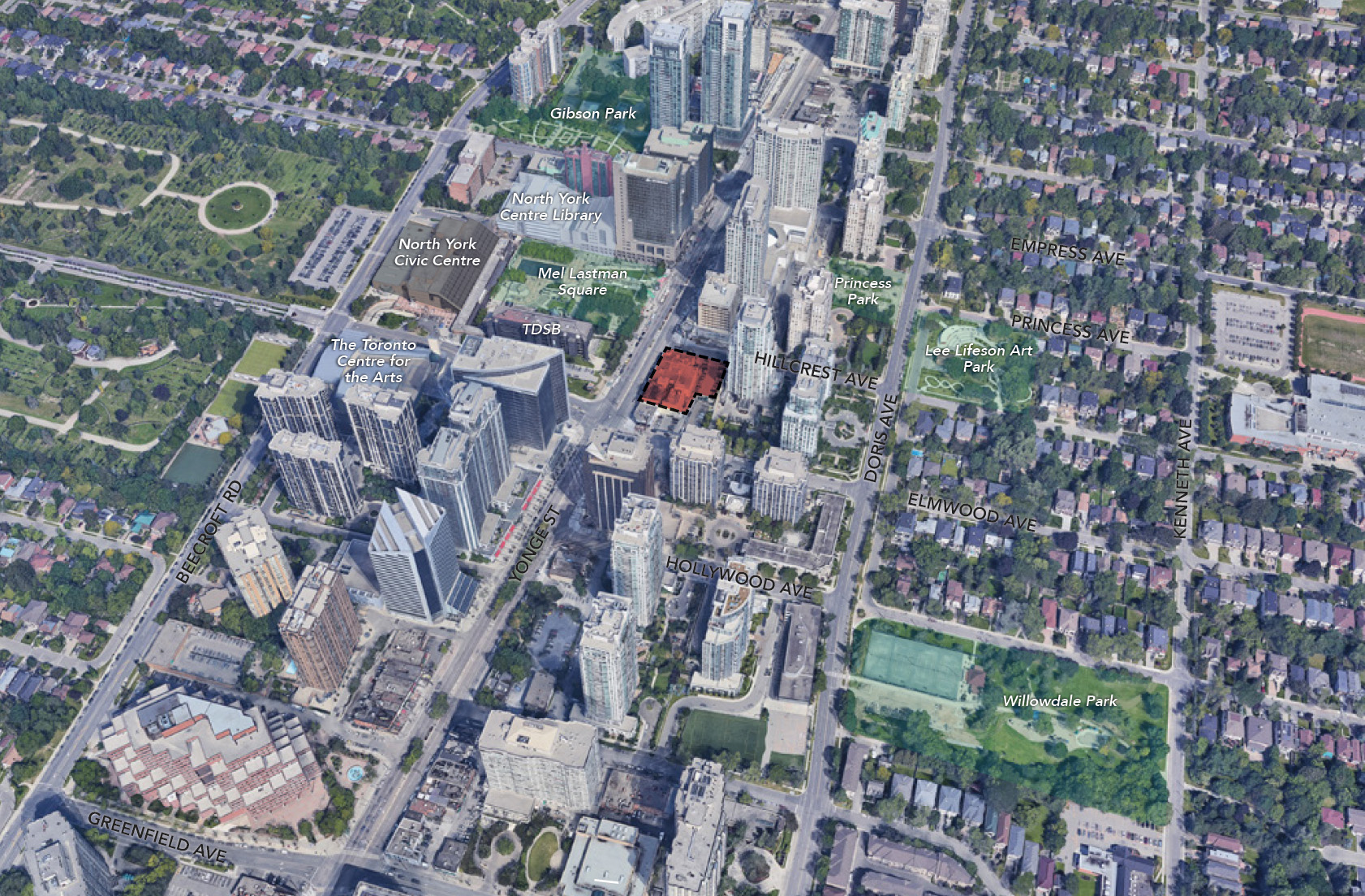 Aerial view looking north, indicating the site [RED]. Image by Urban Strategies for First Capital
Designed by Kirkor Architects and Planners, the proposed development consists of a mixed-use building with a 6-storey podium with grade-related retail located along Yonge Street, an amenity level atop the podium, and a 35-storey residential tower above.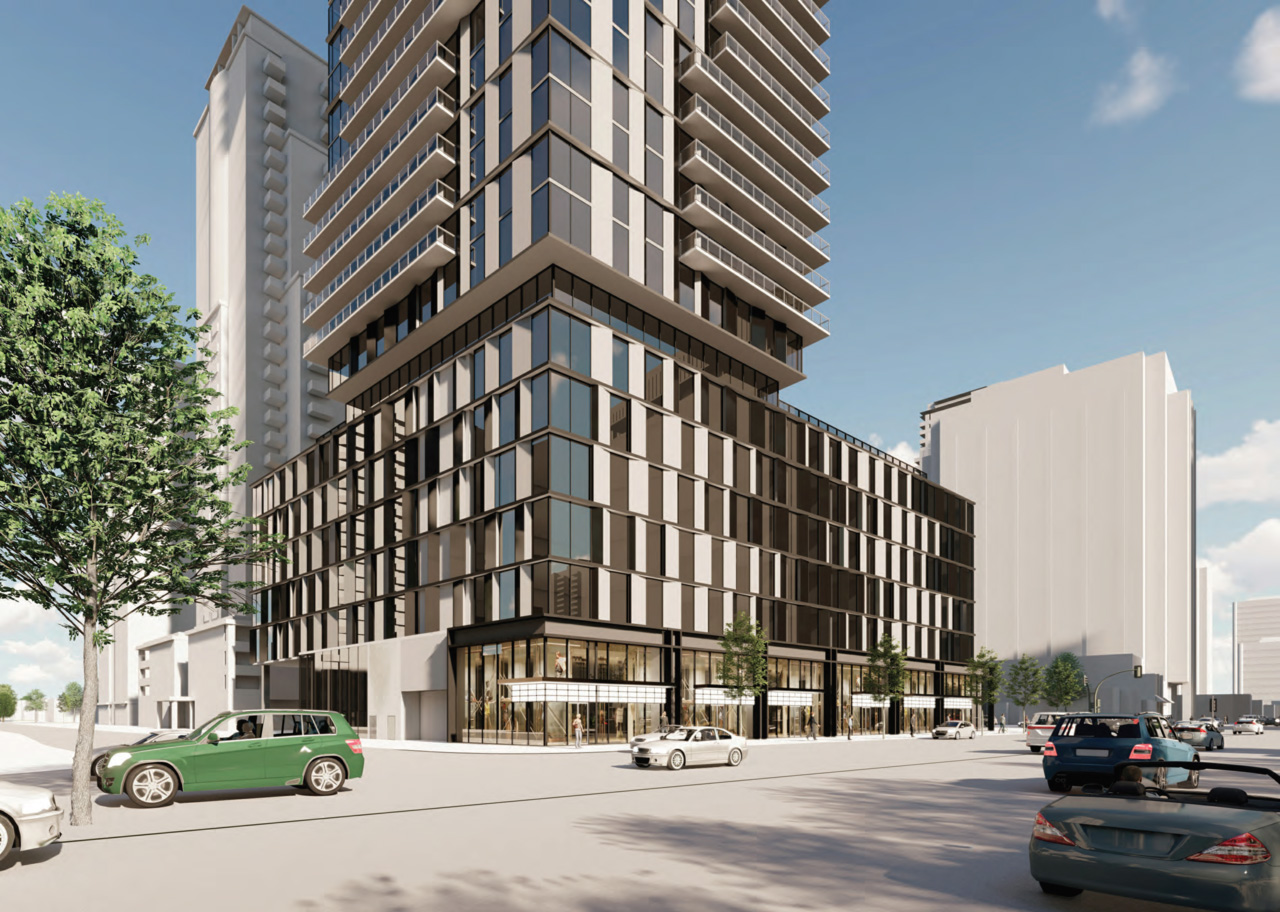 Looking southwest to the podium of 5051-5061 Yonge at Hillcrest, image by Kirkor Architects and Planners for First Capital
The Gross Floor Area is 38,814 m², consisting of 27,710 m² of residential GFA, 750 m² of retail space, and 10,354 m² of office space, the latter amounting to approximately 9% of the needs for North York Centre to meet its 2041 employment forecast. The site has approximately 59 metres of frontage along Yonge Street, and 46 metres along Hillcrest Avenue. The density of the development, at 13.13 times FSI, is above the limit contemplated in the Secondary Plan.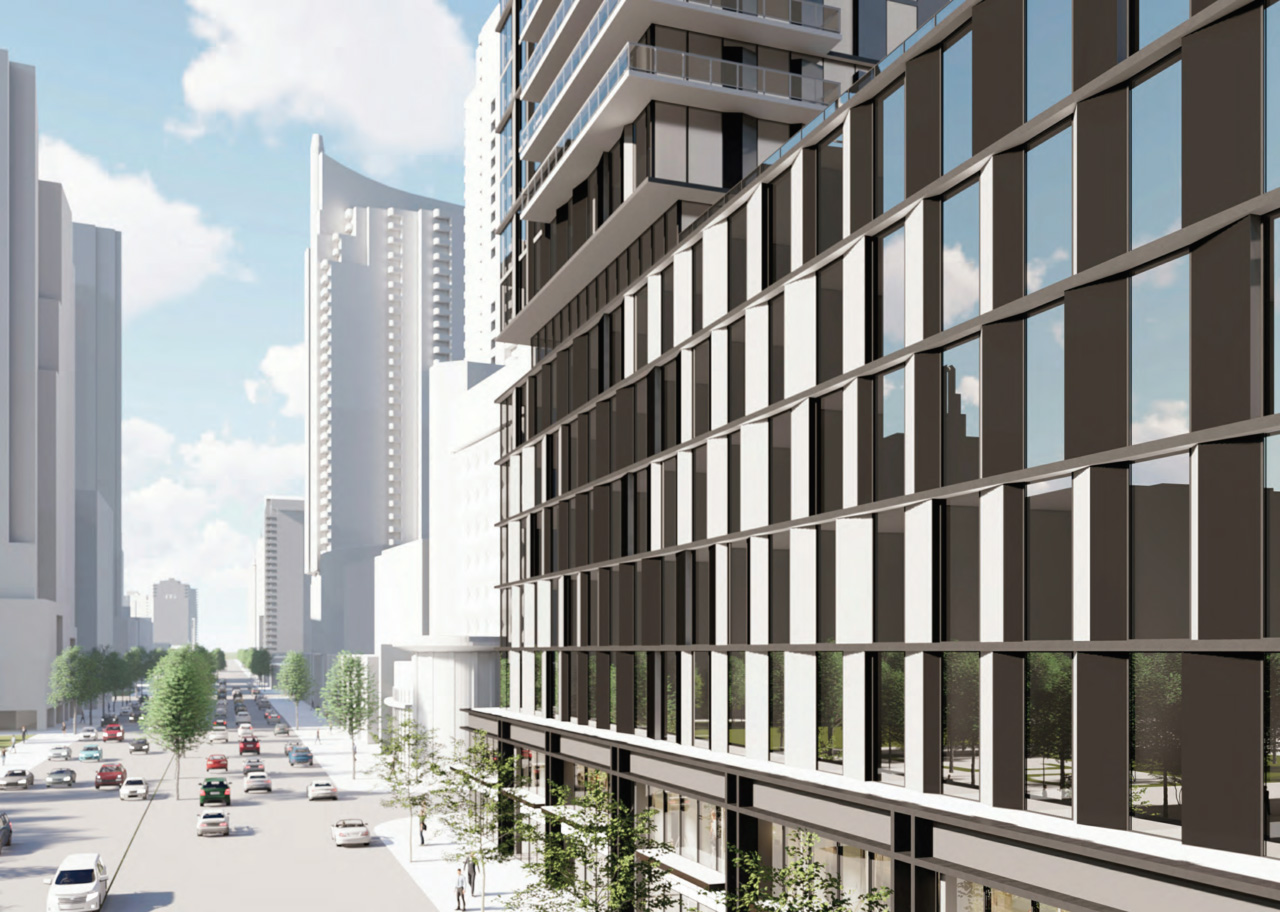 Looking north beside the podium of 5051-5061 Yonge, image by Kirkor Architects and Planners for First Capital
An initial development concept—which contained a predominantly residential program—was presented to City staff during a Pre-Application Consultation meeting in the summer of 2020. At the meeting, Staff were concerned with the land use mix, and intensity of residential uses. In response to the feedback, the owners and design team revised the proposal, reducing residential uses and delivering a significant quantum of office space, "to help contribute to the creation of a more complete and economically competitive centre," as per the proposal's Planning Rationale document. Approximately 28.6% of the proposed development is non-residential uses.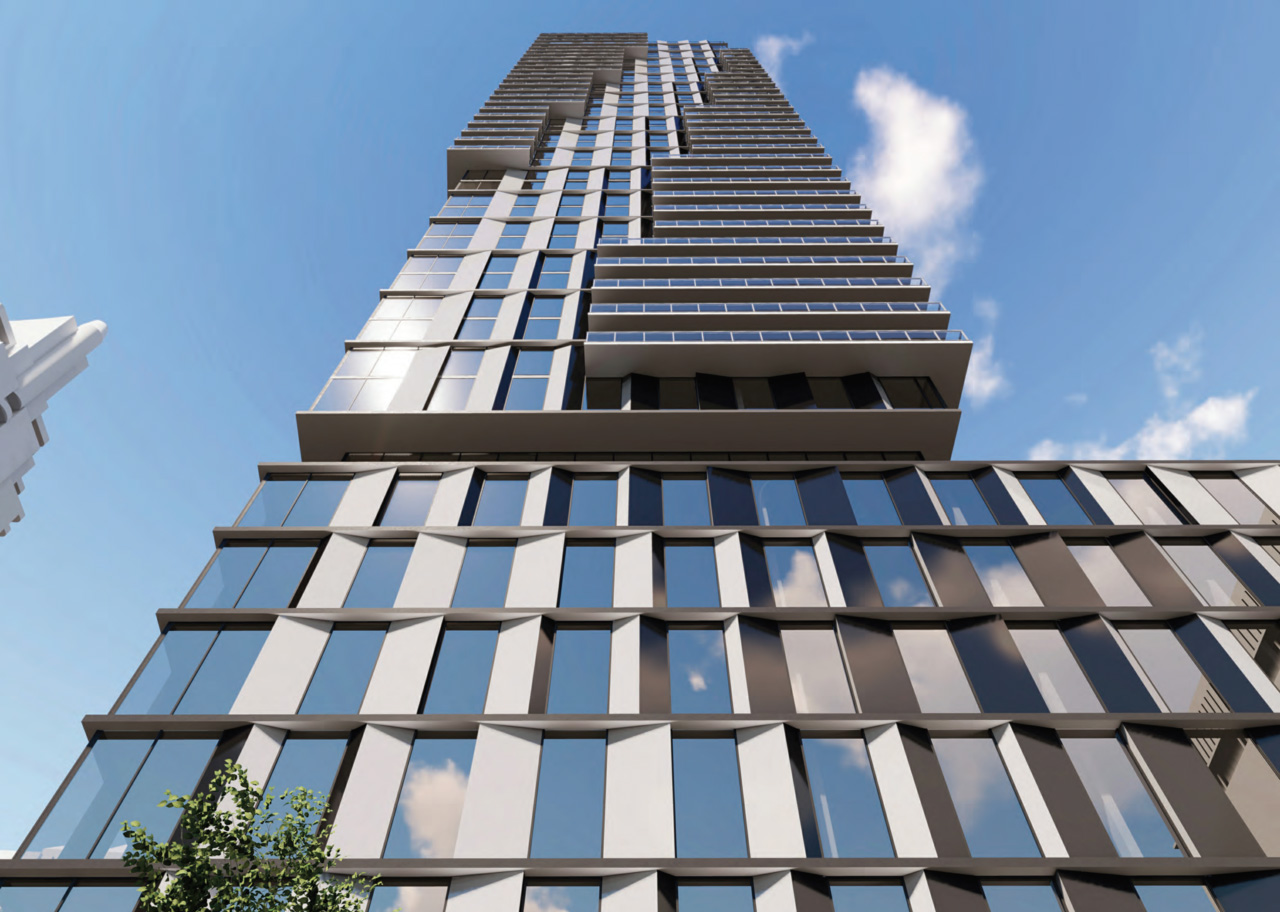 Draft Rendering of Proposed Development – tower elevation. Image courtesy of Kirkor Architects and Planners.
The residential component consists of 350 dwelling units in a mix of 227 one-bedrooms (65%), 106 two-bedrooms (30%), and 17 three-bedrooms (5%). Amenity space will be located on the 7th level: 528 m² of it indoors, and 724 m² of it outdoors on the podium roof.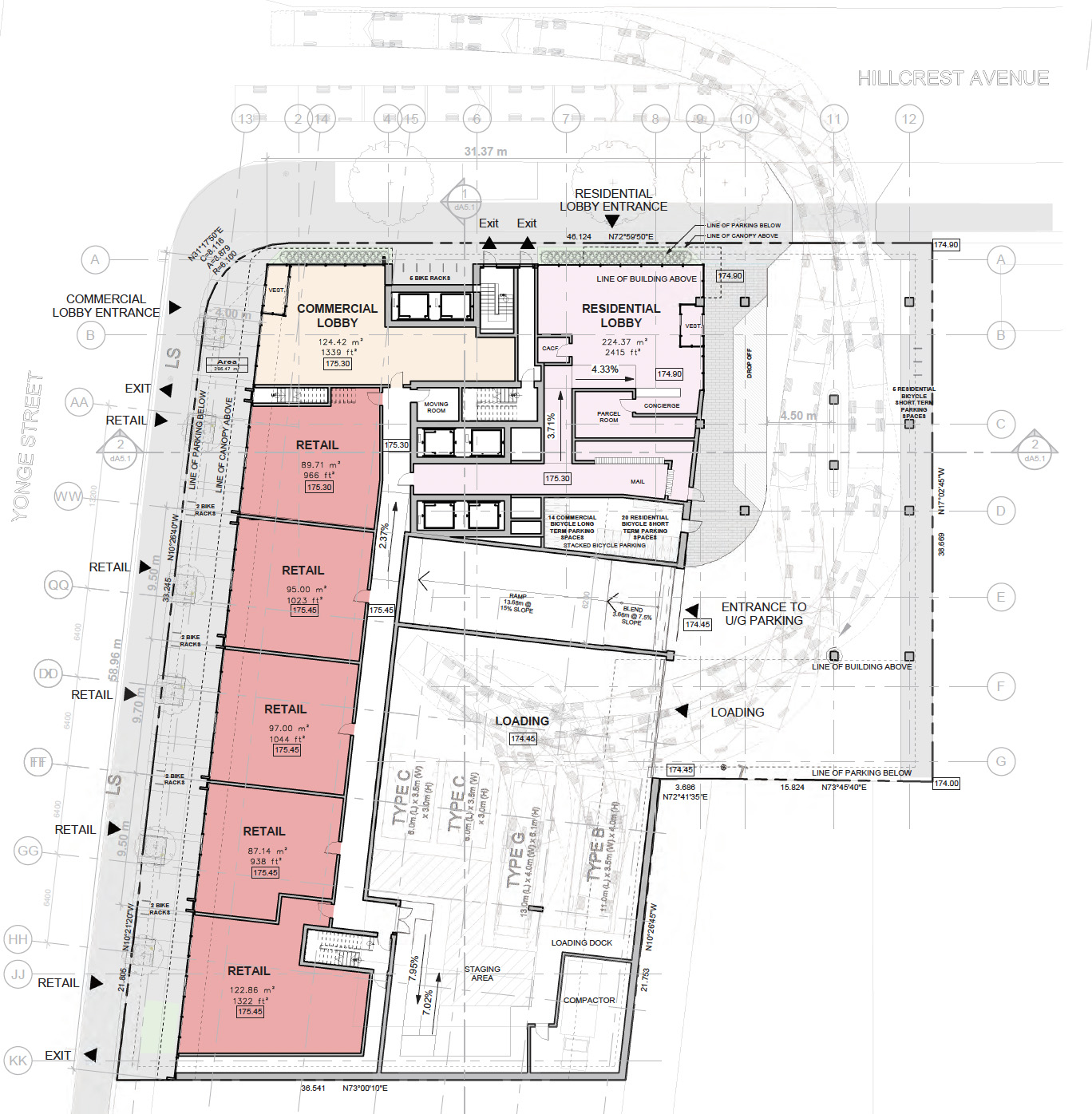 First Floor Plan.
Servicing, loading and parking access will be from the east side of the building via Hillcrest Avenue. Five levels of underground parking will be provided, serving 278 vehicles and 243 bicycle parking spaces. Office and commercial entrances to the building are located on the corner of Yonge Street and Hillcrest Avenue, and the residential entrance is located on Hillcrest Avenue.
Additional information and images can be found in our Database file for the project, linked below. Want to get involved in the discussion? Check out the associated Forum thread, or leave a comment in the space provided on this page.
* * *
UrbanToronto has a new way you can track projects through the planning process on a daily basis. Sign up for a free trial of our New Development Insider here.