Just east of St Clair subway station in central Toronto, a pair of Federal ministry office buildings are being revitalized for Public Services and Procurement Canada to house the Ontario flagship offices of the Federal Government. The Arthur Meighen Building—named for our ninth Prime Minister—has been thoroughly redesigned by multi-disciplinary firm DIALOG working with the Canadian Green Building Council as part of a pilot project to set a new standard for Zero Carbon Buildings. The renovation of the 1950s-built block began in late 2018, and the recent removal of protective tarps around the exterior has revealed much progress.
Looking east to Arthur Meighen Building, image by Forum contributor ProjectEnd
Two years and three months since the renovations began under construction manager Urbacon, and almost exactly two years since tarps hid the building from public view, we're getting a closer look at the re-clad exterior, all glass for a stepped section of glazing that follows a set of feature staircases, while limestone is still to be applied in the upper right and lower left corners. The limestone framing will create a connection with the original 1950s cladding, while the new, much larger but more energy efficient windows will allow for a naturally-lit work environment. A closer view captured in late 2020 shows patterned fritting applied to the central section of glazing.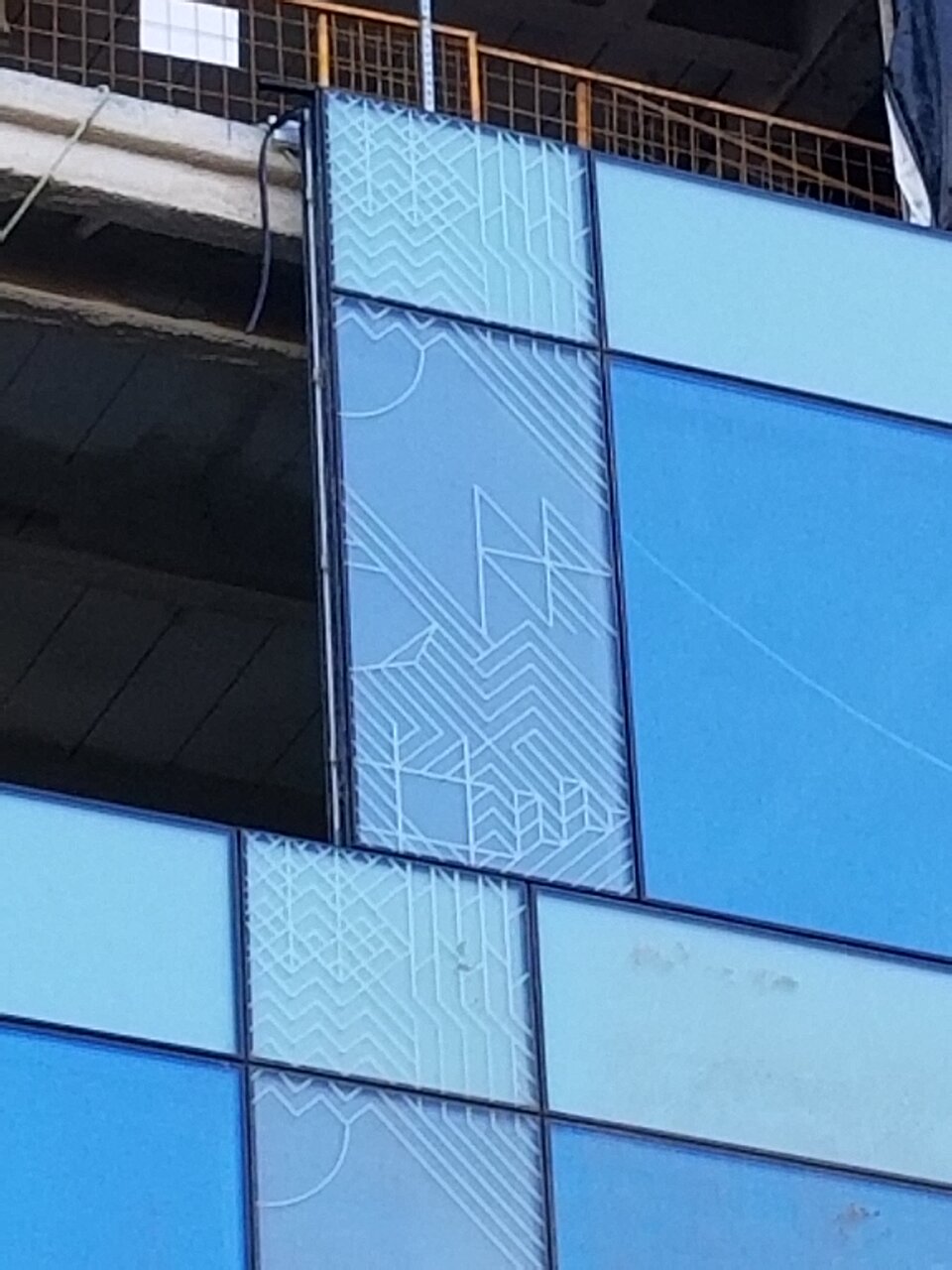 Detail of cladding at Arthur Meighen Building, image by Forum contributor Brother Johnathan
Along the east and west sides of the complex, protective tarps remain in place as exterior work happens out-of-sight. At the west end, a construction hoist obscures the some of the St Clair Avenue frontage.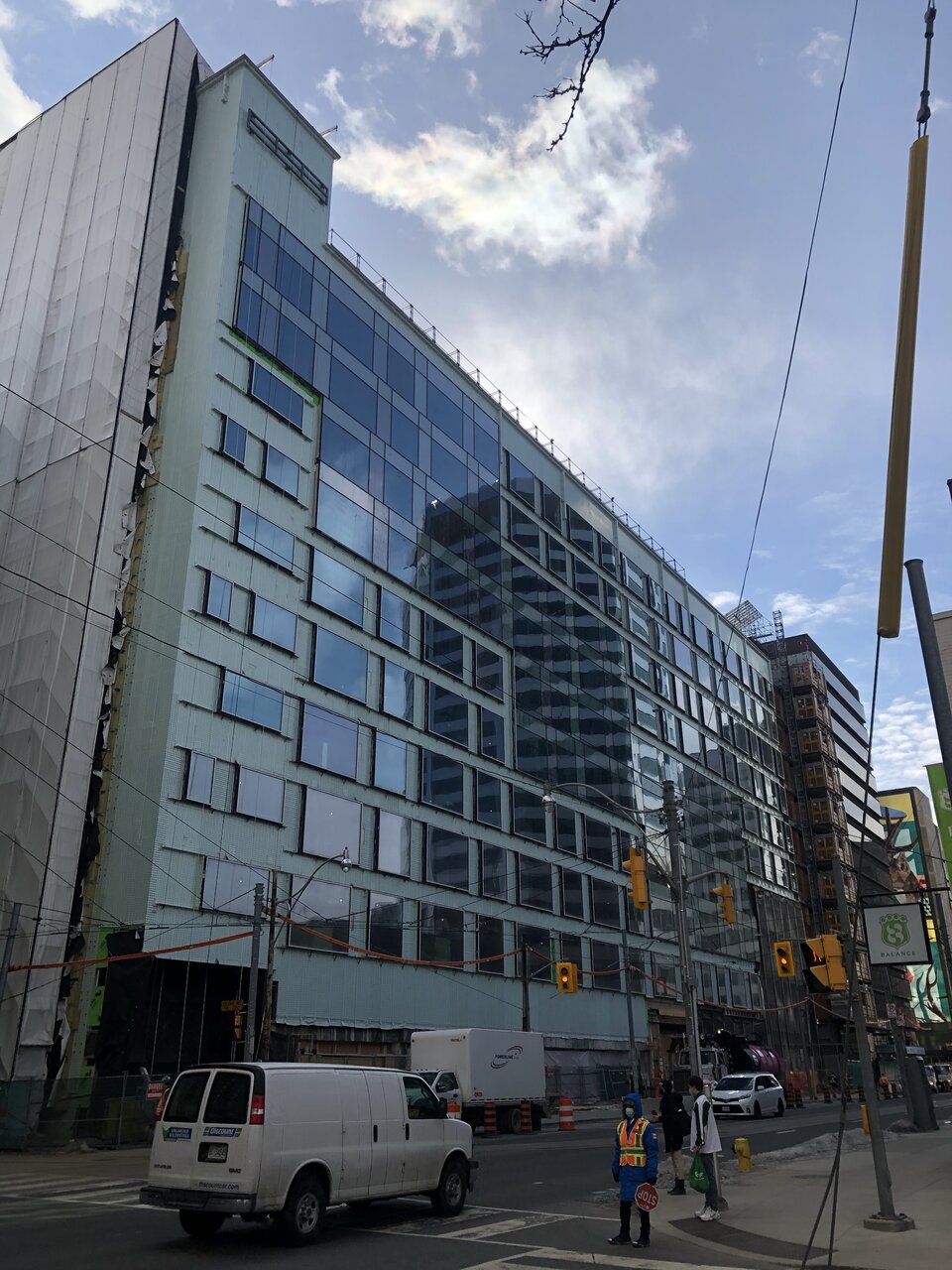 Looking west to Arthur Meighen Building, image by Forum contributor ProjectEnd
The Arthur Meighen Building was one of 16 properties selected for a Zero Carbon project, requiring a building to significantly reduce its carbon emissions and offset the remaining balance through clean energy production in its first 12 months of operation. The Meighen building is expected to achieve this zero-carbon certification through an 80% reduction in greenhouse gas emissions in conjunction with green sources of energy including geothermal heating and photo-voltaic solar panels.
Aerial rendering looking southwest over Arthur Meighen Building, image via submission to City of Toronto
The building will house Ontario's branch of the Canada Revenue Agency and several other Federal ministries when it is completed in 2022. The interior feature staircases can be made out behind the glass in the rendering below.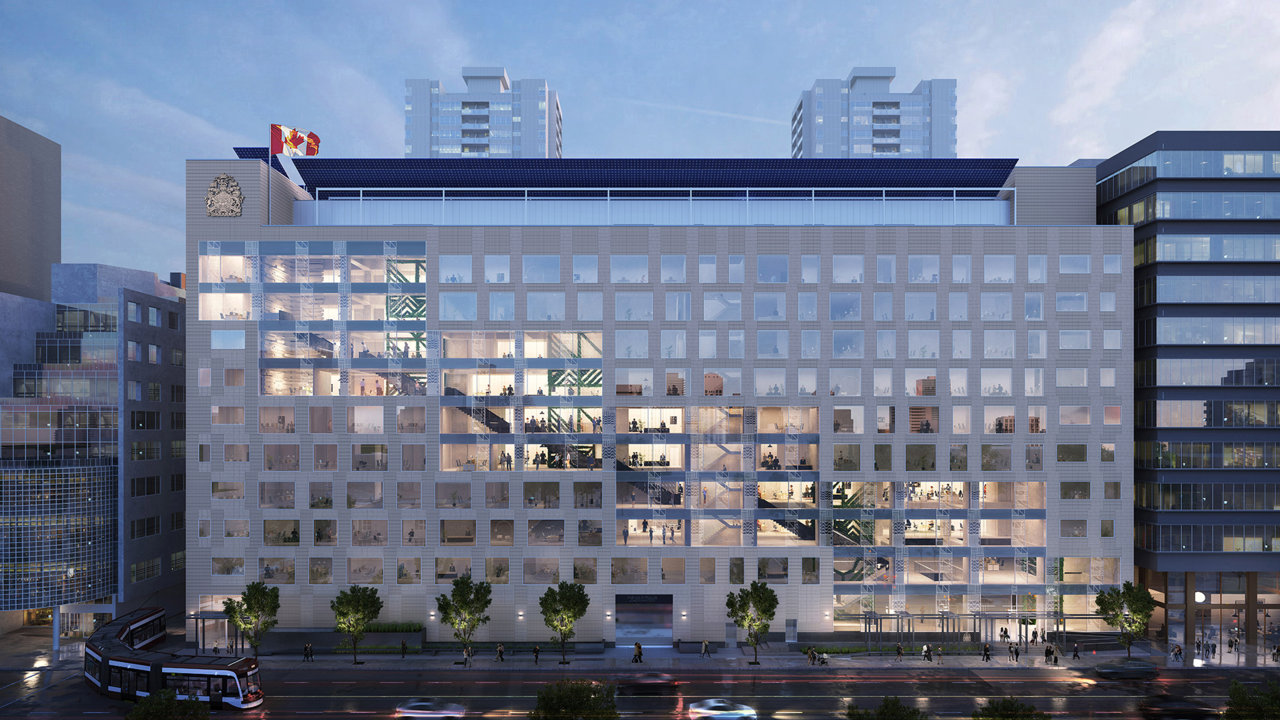 Looking south to Arthur Meighen Building, image via submission to City of Toronto
You can learn more from our Database file for the project, linked below. If you'd like to, you can join in on the conversation in the associated Project Forum thread, or leave a comment in the space provided on this page.
* * *
UrbanToronto has a new way you can track projects through the planning process on a daily basis. Sign up for a free trial of our New Development Insider here.