Dream Office REIT and Humbold Properties are proposing to build a 'supertall' mixed-use tower on the northwest corner of King and Simcoe streets in Downtown Toronto, incorporating three heritage designated buildings into its base. The design is by internationally renowned SHoP Architects of New York, with locally-based Adamson Associate Architects as Architect of Record.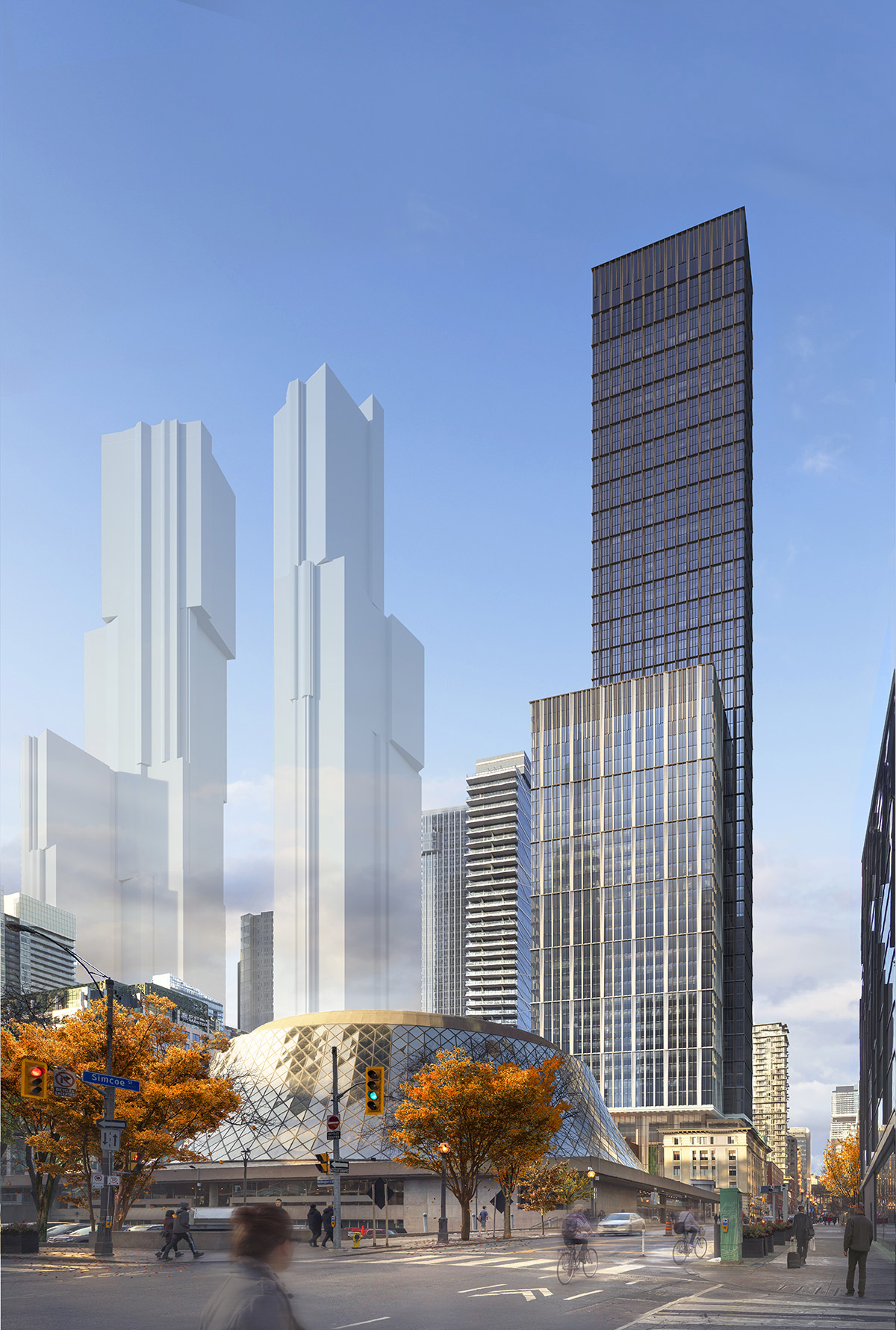 Looking northwest to 212 King Street West, image by SHoP Architects courtesy of Dream Office REIT
'Supertall' is a designation given to skyscrapers over 300 metres tall. Toronto has two supertalls under construction now: The One at Bloor and Yonge, which will eventually top out at 85 storeys and about 308.6 metres, (construction has arrived at the second floor here), while shoring for the excavation for Toronto's second supertall, the SkyTower at Pinnacle One Yonge near the harbour, has recently gotten underway. That building will be 312.5 metres tall, and 95 storeys, while this one is proposed at 310 metres and 79 storeys.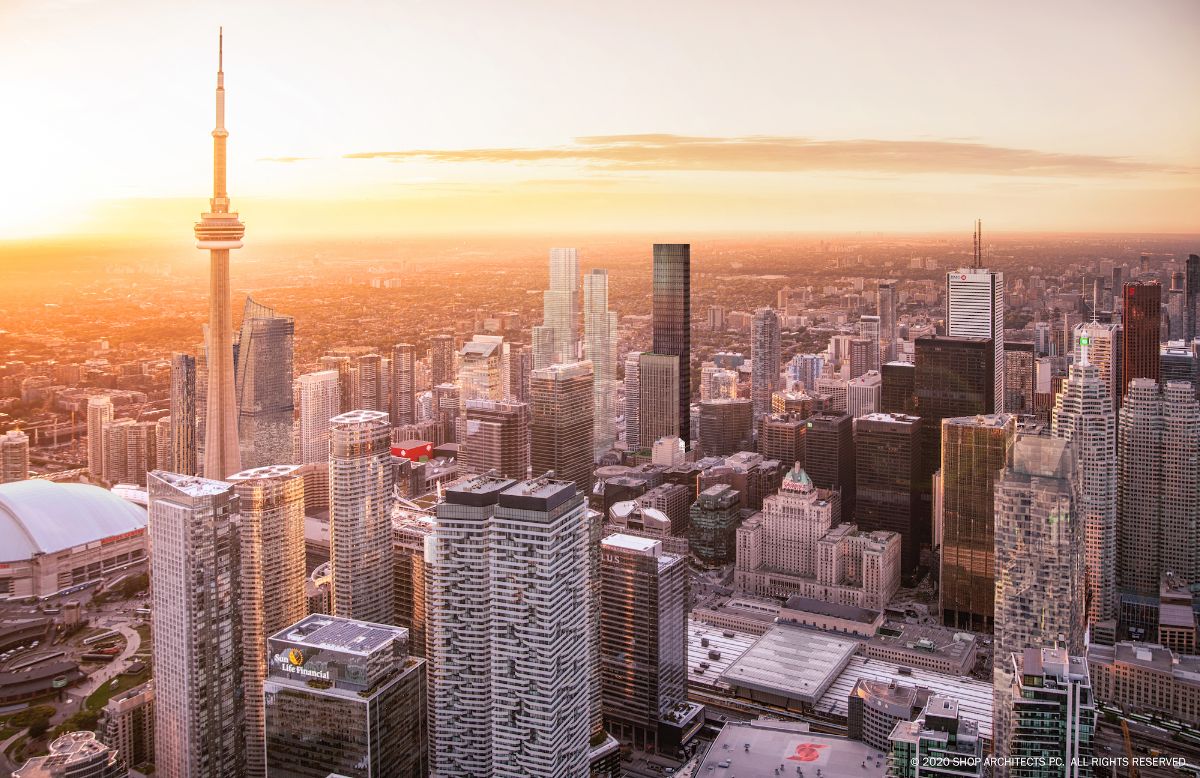 Looking northwest to 212 King Street West among Toronto's Financial Core skyscrapers, image by SHoP Architects courtesy of Dream Office REIT
The total number of storeys for 212 King West is less than that of either The One or SkyTower at Pinnacle One Yonge. While all three projects are mixed-use, the first 34 storeys of this one are planned as commercial space, including about 930 m² of retail and restaurants at ground level and over 61,300 m² of offices. Commercial floors are typically quite a bit taller than residential floors, hence only 79 storeys here compared to 95 at SkyTower despite the only two-metre difference in actual height.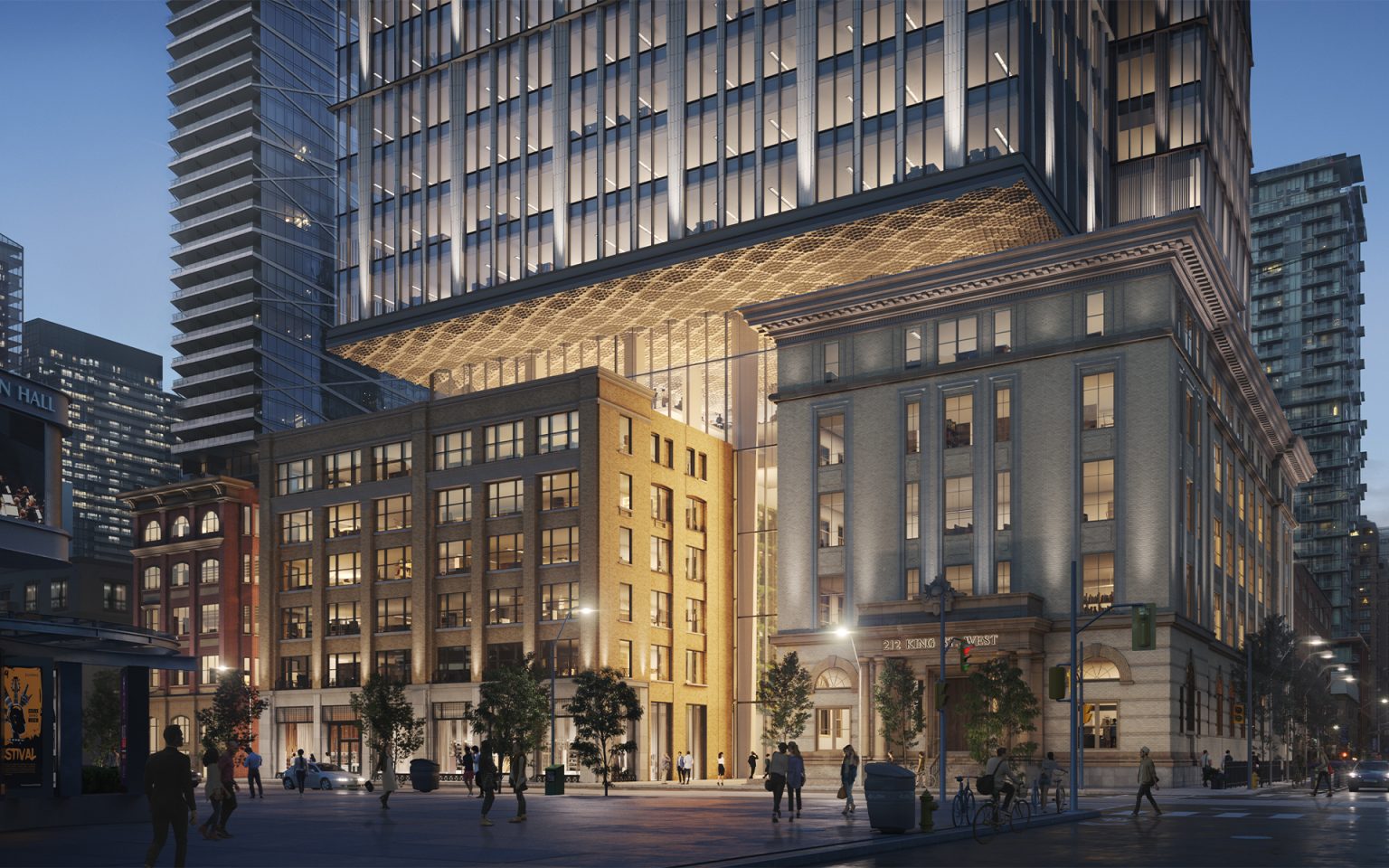 Looking northwest to 212 King Street West, image by Norm Li courtesy of Dream Office REIT
At ground level, three buildings designated in Toronto's Heritage Register would be incorporated into the base, all three running through from King Street on the south to Pearl Street on the north. At 212 King Street West, seen at right in the image above, is the 1907-built, Darling and Pearson-designed Union Building. Currently six storeys, the top storey added under a mansard roof would be removed from above the cornice. The Elephant and Castle pub is currently in this building. To its left, the 1917- through 1919-built Canadian General Electric Building is at 214 through 218 King Street West. With a number of restaurants currently in its base including an Il Fornello, all of its six storeys are to be retained. Immediately to the west is a single-storey Shawarma's King filling the gap. That building would be removed. To its west is the Denison and Stephenson-designed Nicholls Building at 220 King Street West, built in 1920, which until recently had the Los Colibris and El Caballito restaurants in its base. It is planned to be retained as well.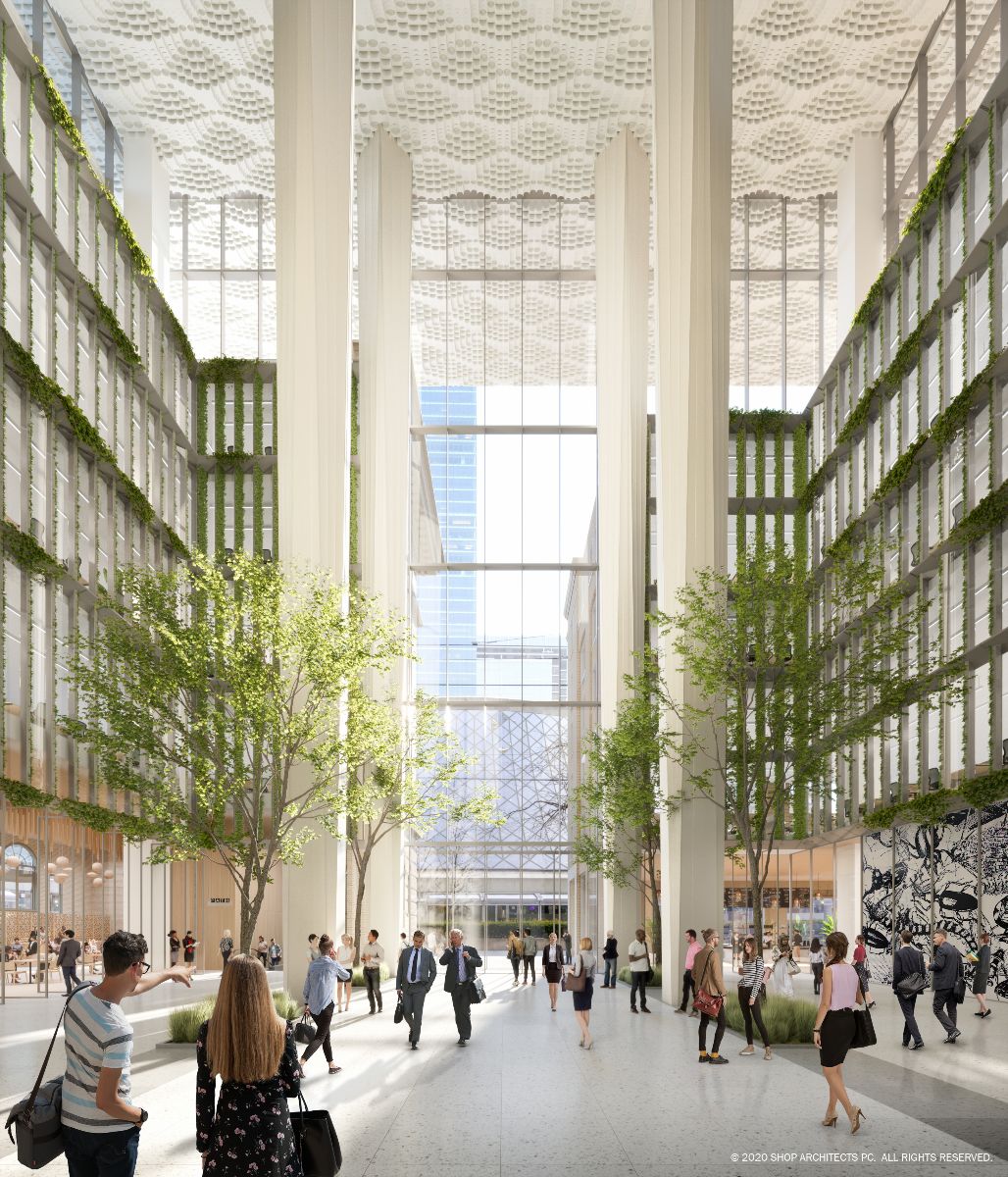 Atrium view at 212 King Street West, image by SHoP Architects courtesy of Dream Office REIT
The space between 212 and 214-218 King would be used as the main entrance to a grand atrium space, the equivalent of eight commercial storeys in height below a scalloped ceiling of terra cotta. While some of the frontages and some exterior side walls of the heritage buildings would be retained, it is unclear how much of their interiors would be restored and incorporated, but significant portions would be removed to create the atrium. Philip Goldsmith Architect, of Port Hope, is the Heritage Architect on the development team.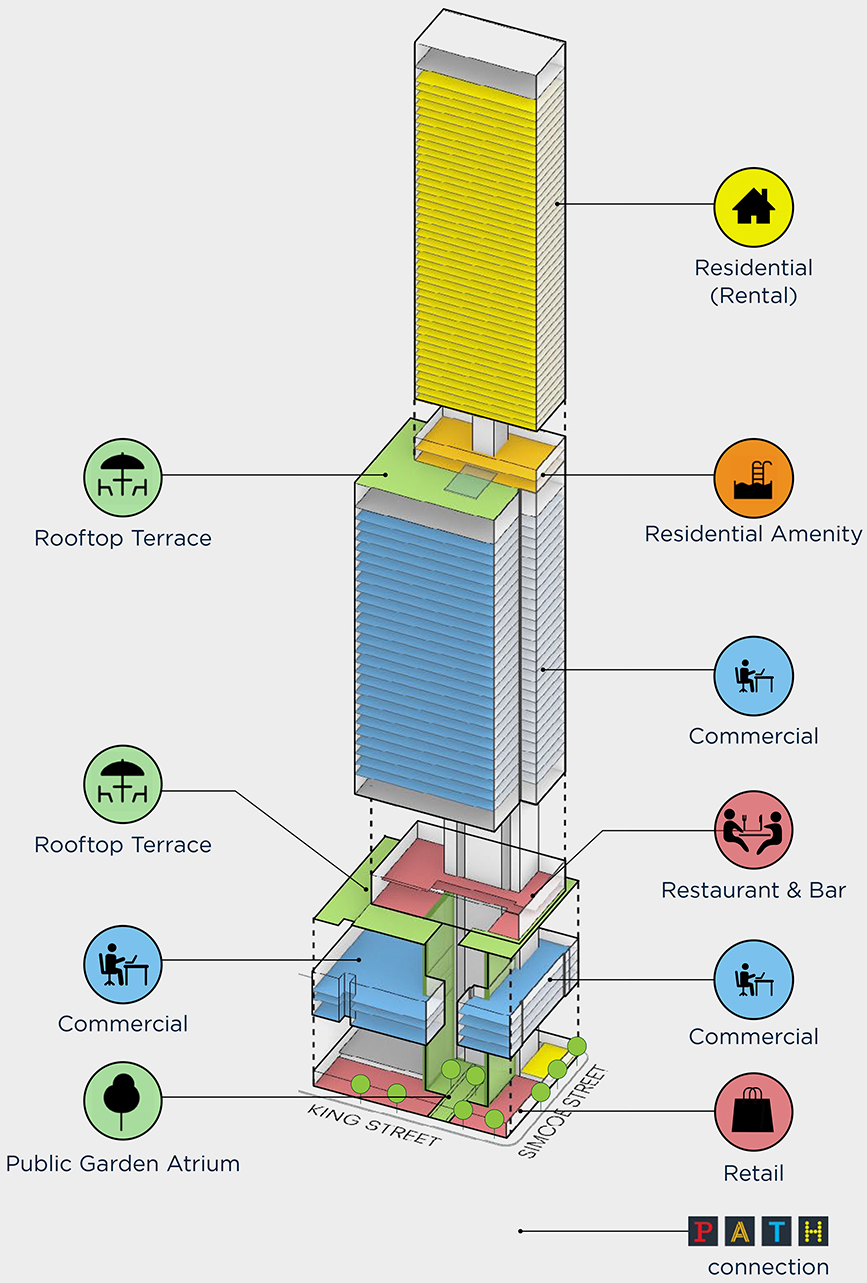 Breakdown of uses at 212 King Street West, image by SHoP Architects courtesy of Dream Office REIT
Retail and restaurants would dominate the street frontages of what would be a double-height ground floor, while the remaining portions of the three heritage buildings would become office space. Their rooftop areas would become dining terraces for restaurants and bars on the 7th and 8th storeys. Above, the modern office tower would be stepped back from the heritage fronts, rising to the 34th floor. The building would significantly step back again other than in the northeast corner, with 588 rental residential units taking up the uppermost 45 storeys. The residential lobby would face Simcoe and Pearl streets in the northeast corner at ground level, while residential amenities would be found on the 35th and 36th floors, taking advantage of rooftop space over the larger office floors for outdoor space for residents.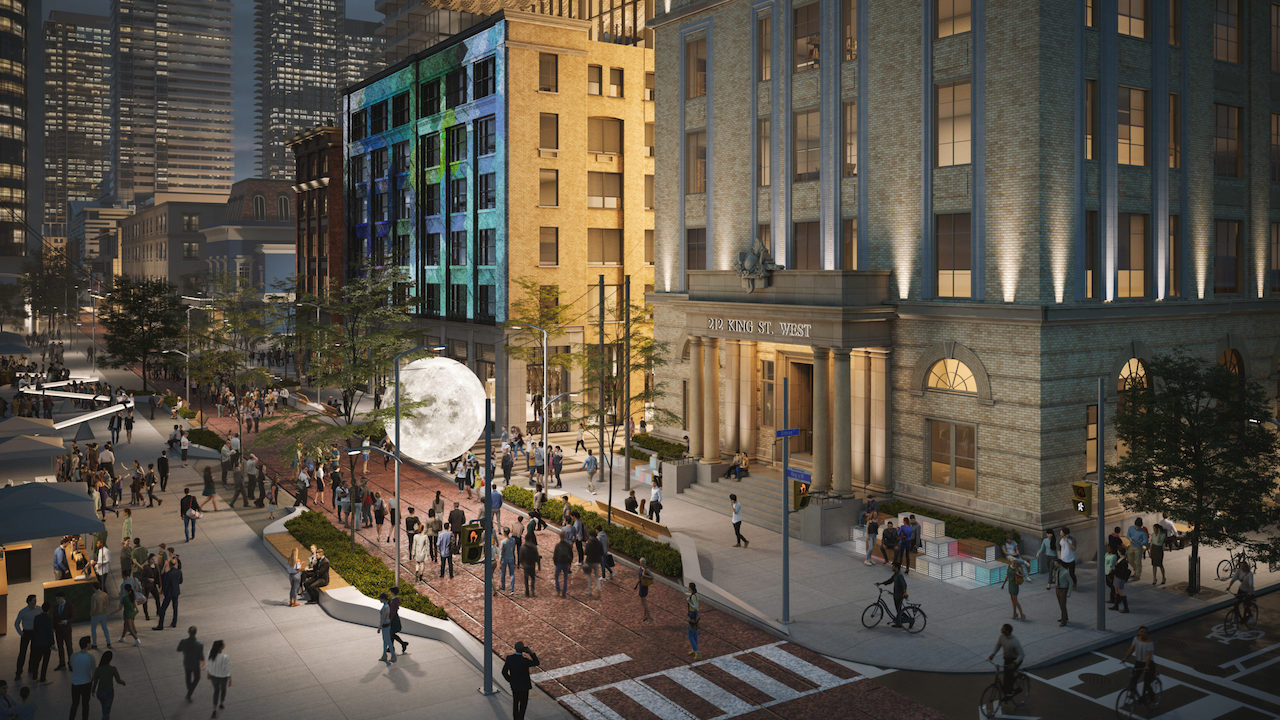 Proposed public realm outside 212 King Street West, image by Norm Li courtesy of Dream Office REIT
A 'street diet' and landscaping plan for King Street in front of the building is also proposed. Designed by Studio TLA, the street through here—recently narrowed by temporary street furniture installations and turn-restricted for transit priority—is proposed to have the asphalt replaced with brick. The image shows the street, streetcar-free, in 'festival mode'.
Humbold Properties is the owner of the middle building, 214-218 King West. In their statement accompanying the application, Robert Singer, Vice-President of Humbold Properties says, "We are excited to unveil a design that not only honours our city's rich architectural history but injects new energy into the downtown core. We are thrilled to be partnering with Dream to create a new vision for this unique intersection and to carry these buildings' legacies on for generations to come."
Dream Office REIT owns the east and west-most buildings on the site. In a statement released as of the application to the City, Michael Cooper, Chairman and CEO of Dream Office REIT addresses their vision for Downtown Toronto post-COVID-19, saying, "We believe and continue to believe that demand for incredibly well-located and designed mixed-use buildings will increase as residents and tenants expect to have it all. With a strong focus and importance placed on amenities, transit, connectivity to the city, outdoor spaces, and a serious approach to health and wellness. 212 King Street West will become the best address in the city."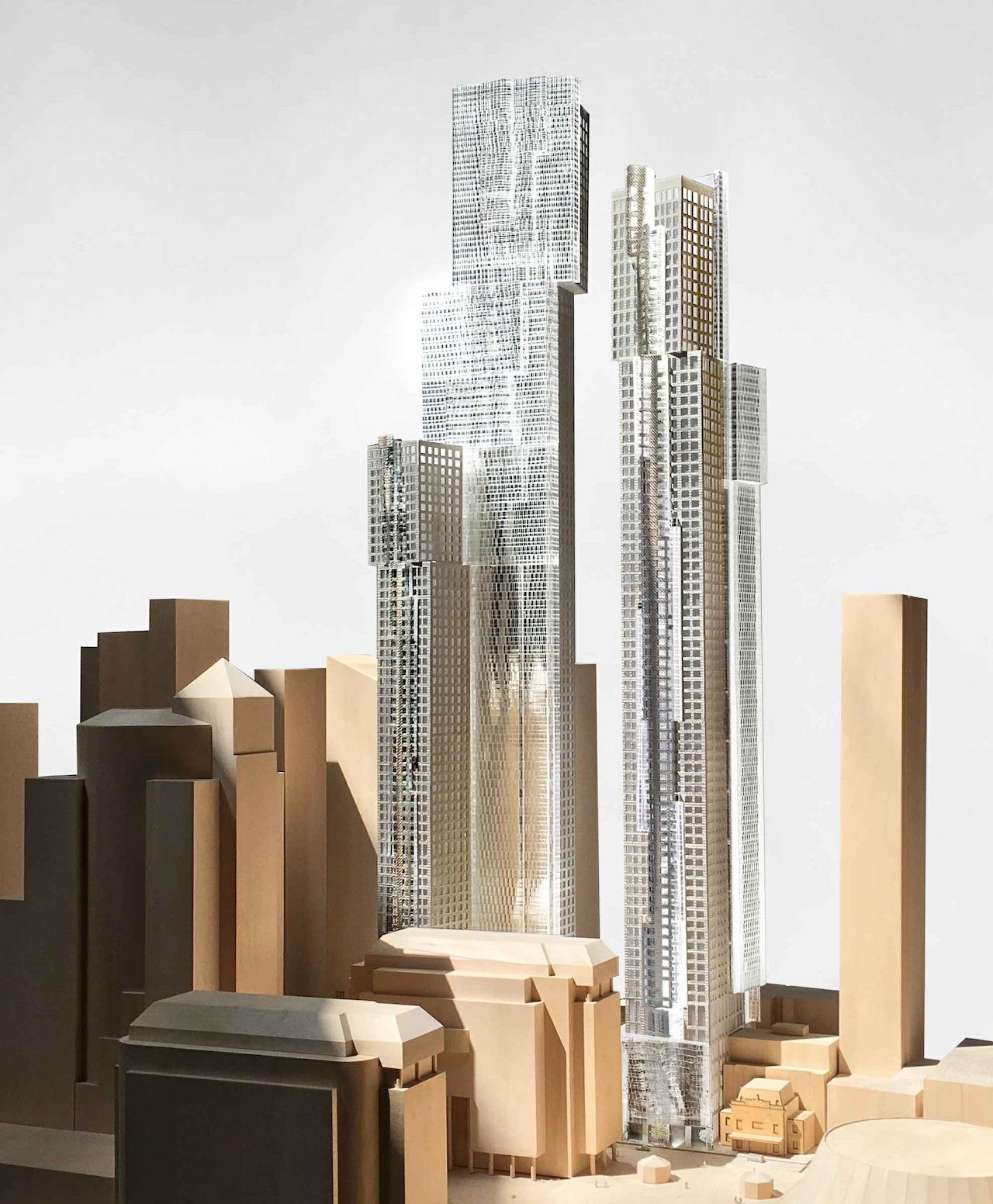 Dream is also a partner in the long-gestating Mirvish+Gehry project, two properties west, image courtesy of Projectcore
Dream is a also partner in the two-tower Mirvish+Gehry project two properties to the west on King Street, along with Great Gulf and Westdale Properties. Although currently approved at slightly lower heights, height increases are being sought for these two Frank Gehry-designed supertall buildings to bring them to 301.71m and 328.86m. Dream is quoted in the Globe and Mail today as stating that marketing of the first condominium suites in those buildings will begin in 2021.
While Dream and Humbold have submitted planning applications to the City this week for 212 King Street West, the plans have not yet been posted to the City's website. More details will be available once the planning materials are posted. In the meantime, you can learn more from our Database file for the project, linked below. If you'd like to, you can join in on the conversation in the associated Project Forum thread, or leave a comment in the space provided on this page.
* * *
UrbanToronto has a new way you can track projects through the planning process on a daily basis. Sign up for a free trial of our New Development Insider here.