Development in Midtown Toronto's Yonge-Eglinton area has been at fever-pitch for years, with no signs of slowing as another wave of projects gets underway. While the area's tallest developments are concentrated along either Yonge Street or Eglinton Avenue, the area's side streets—which have until now boasted a mix of single family houses and mid-century apartment buildings—are being transformed as the houses and smaller apartment buildings are replaced with towers. Among the developers investing in the area's transformation are Reserve Properties and Westdale Properties which are bringing a pair of multi-tower projects to a block of Broadway Avenue between Redpath Avenue and Mt Pleasant Road.
On the south side of Broadway, just east of Redpath, Line 5 Condos was the first of Reserve and Westdale's two projects on this block to start. Construction of the 33 and 36-storey, IBI Group-designed towers began in October, 2020 with the arrival of drilling rigs to begin work on the site's shoring system. A ceremonial ground breaking followed in the final weeks of 2020. As shoring continued into 2021, the first signs of excavation were spotted in mid-January, a process which has since progressed a few metres below street level.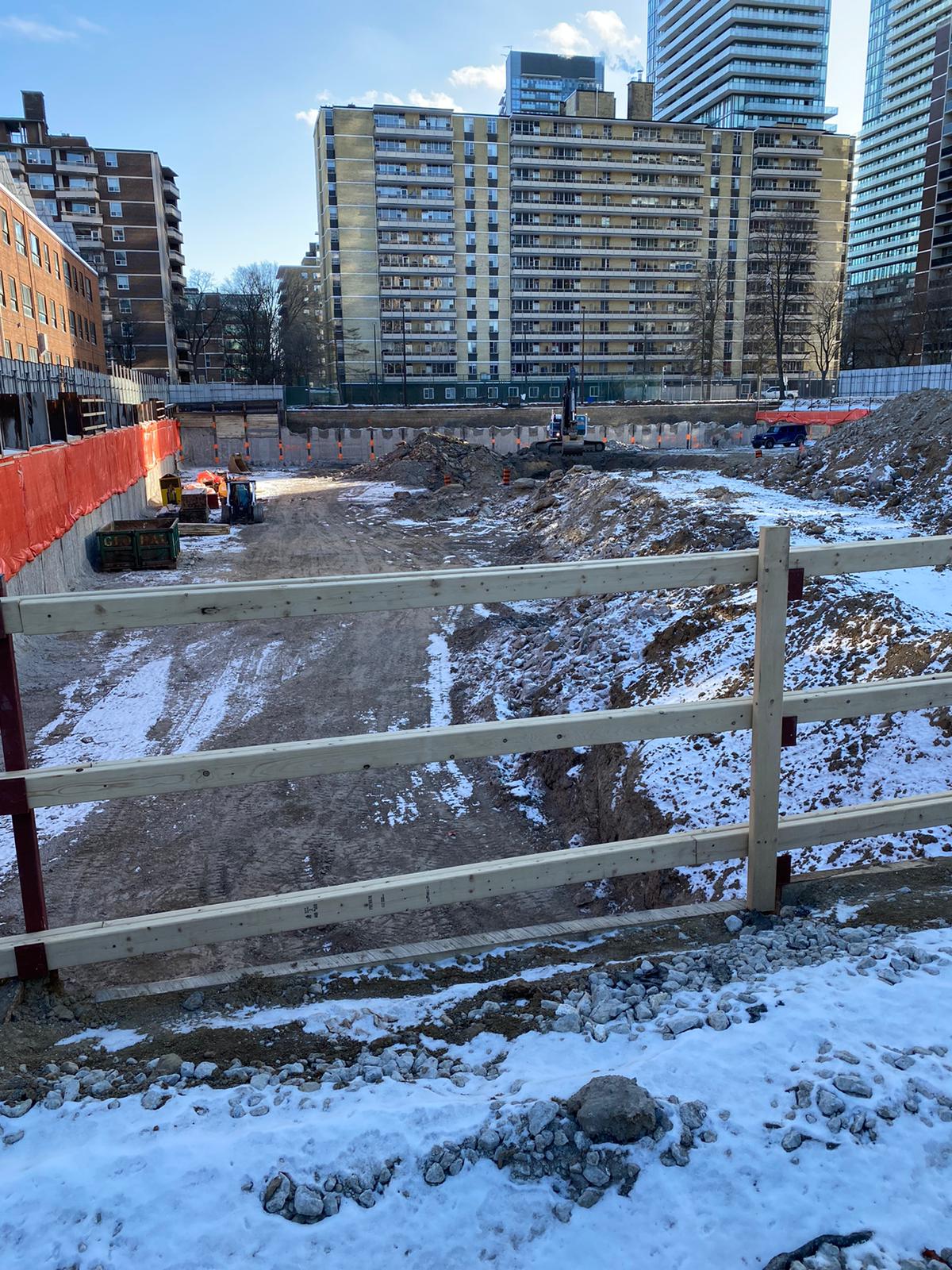 Excavation at Line 5 Condos, image by UT Forum contributor Urban Chairman
Once excavation is complete, the installation of a crane will follow, allowing forming to begin of the underground levels of the complex. While provincial lockdown orders have temporarily shuttered some construction operations, the province considers as essential any work "to prepare a site for residential development, including any necessary excavation," allowing work to proceed here.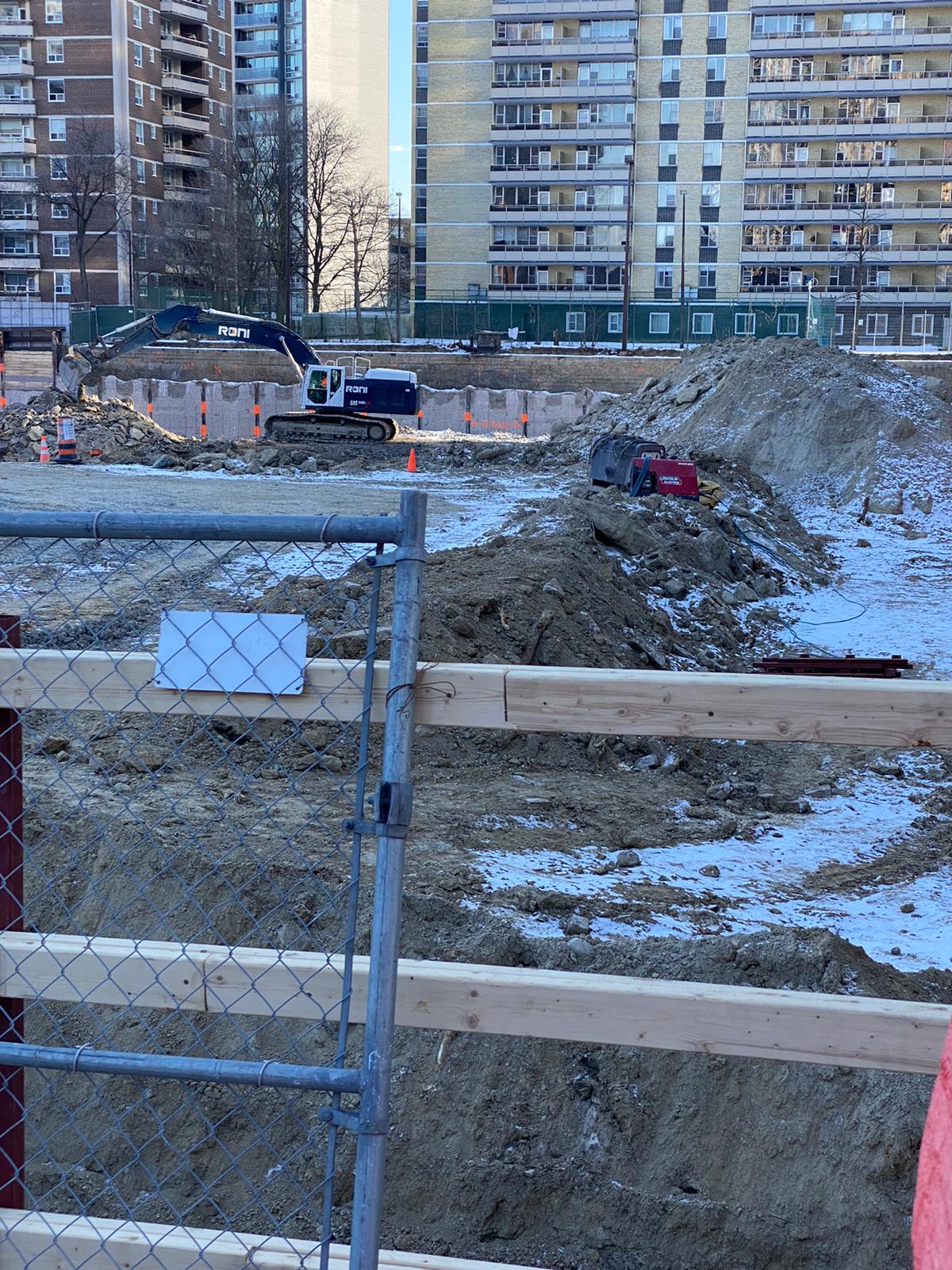 Excavation at Line 5 Condos, image by UT Forum contributor Urban Chairman
Named Line 5 Condos in reference to the nearby Crosstown LRT—now under construction and to be numbered Line 5 by TTC upon opening in 2022—its 33 and 36-storey towers are to reach heights of 106.07 and 113.99 metres, and house 428 and 504 units respectively.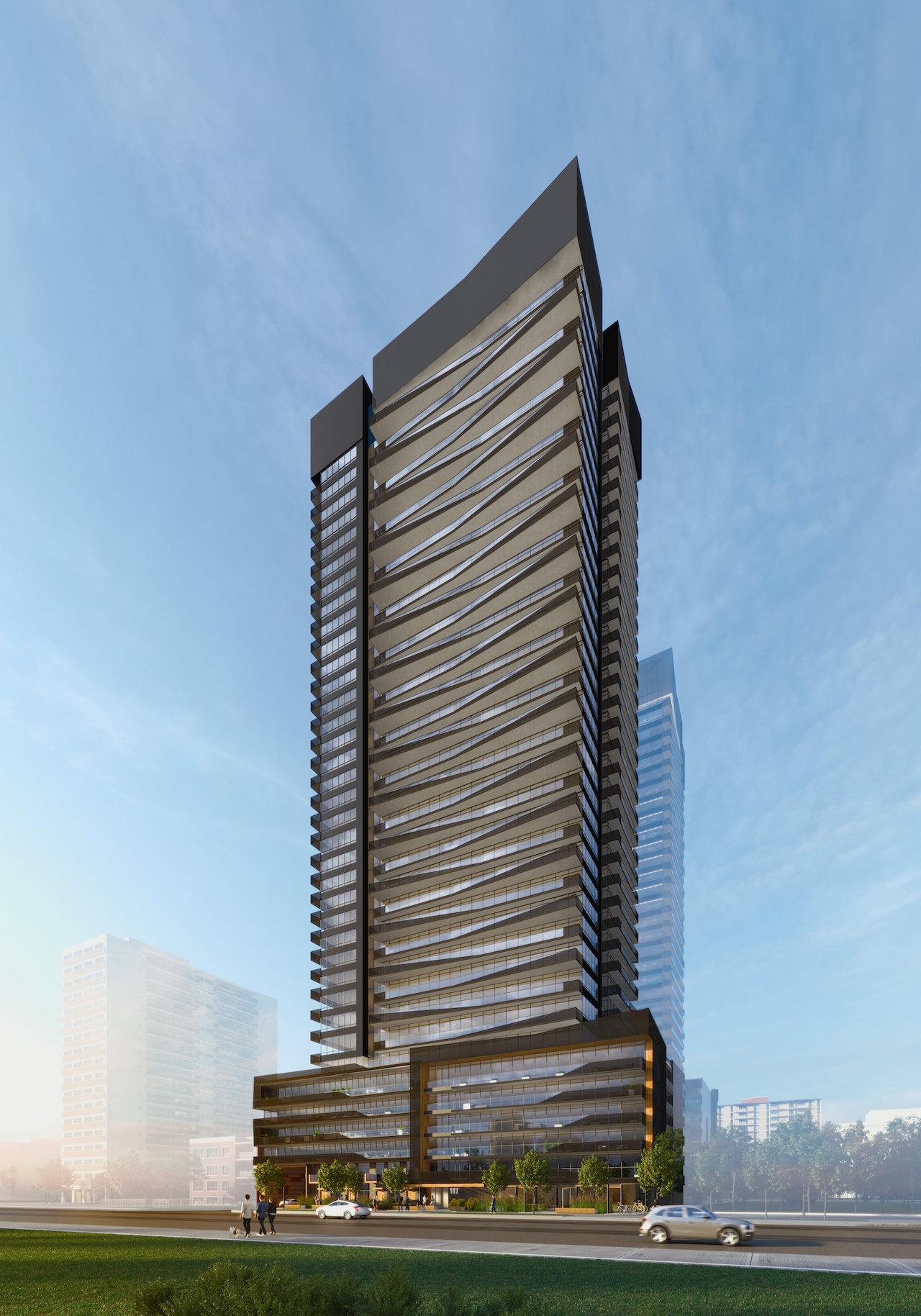 Line 5 Condos, image courtesy of Reserve Properties and Westdale Properties
Reserve and Westdale's other project on this block is now in motion directly across the street to the north. Untitled Toronto, which boasts the high-profile collaboration of Grammy-winning recording artist Pharrell Williams working with both IBI Group and U31 on the building's architecture and interior spaces, is to include a pair of 21 and 33-storey condo towers, to be built along with an associated 36-storey rental tower at 100 Broadway.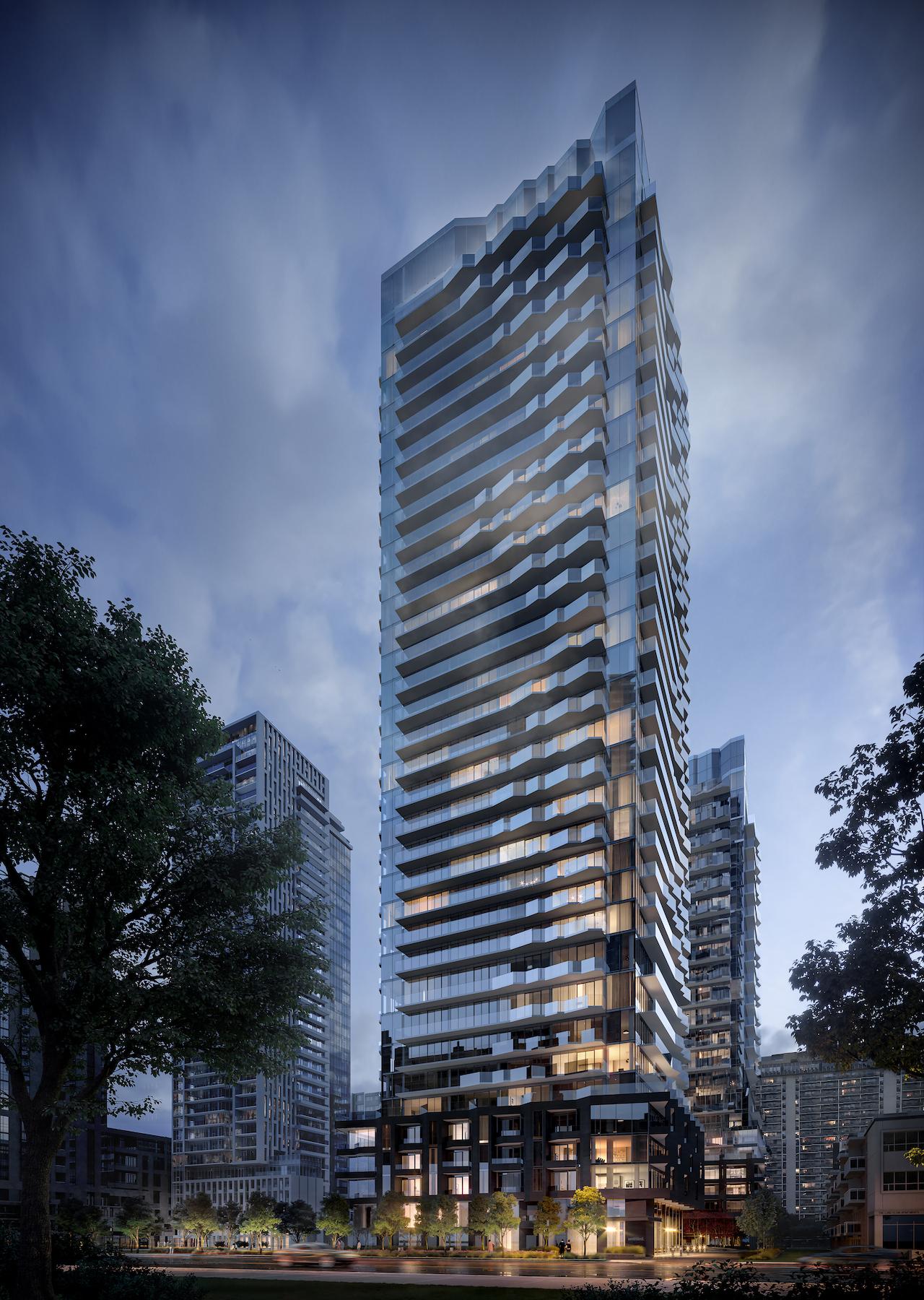 Untitled Toronto, image courtesy of Reserve Properties and Westdale Properties
Aiming to begin construction of Untitled Toronto in this first quarter of 2021, Reserve and Westdale applied for building permits in November, and for demolition permits for remaining buildings on the site the following month. While these applications remain under review by City staff, early activity has now been spotted at the site.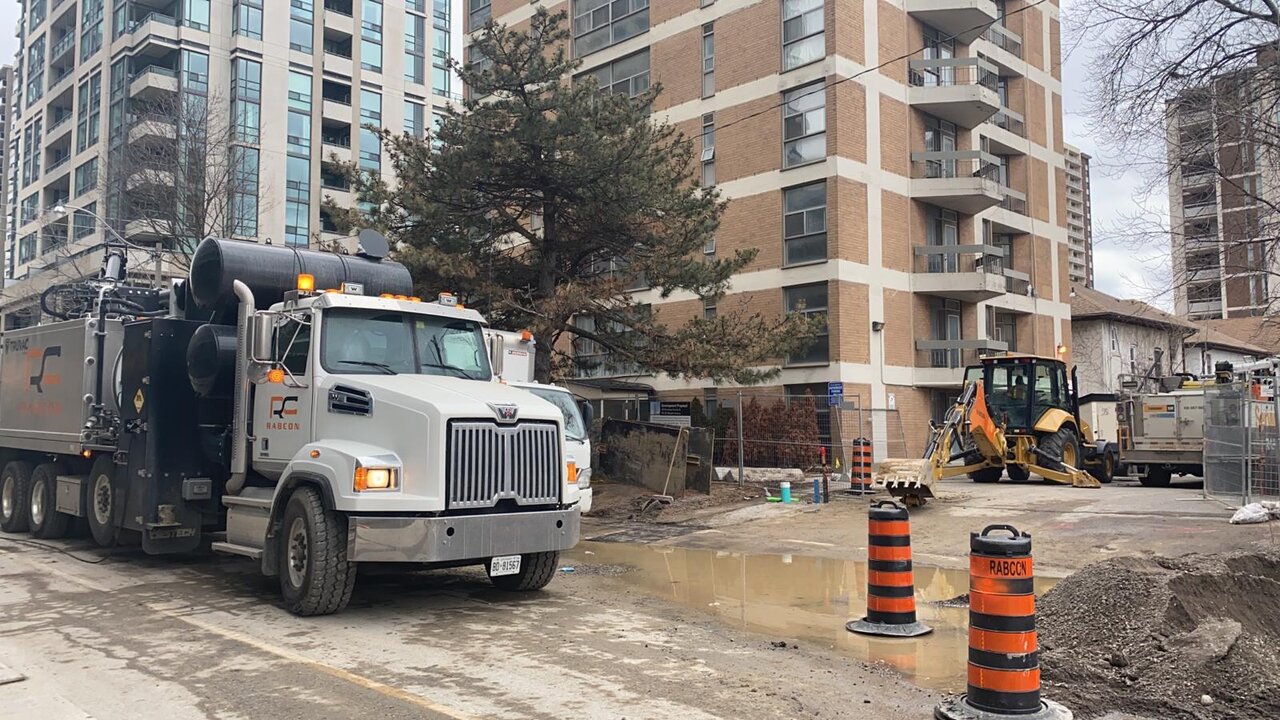 Site of Untitled Toronto, image by UT Forum contributor Urban Chairman
Additional information and images can be found in our Database files for the projects, linked below. If you'd like, you can get involved in the discussion in the associated Forum threads.
* * *
UrbanToronto has a new way you can track projects through the planning process on a daily basis. Sign up for a free trial of our New Development Insider here.