Sitting on the northeast corner of King St W and Strachan Ave, the Palace Arms at 950 King Street West has been a Toronto landmark for 130 years. The existing structure was built in 1890 as a hotel, but from the 1970s until recently served as an unlicensed 90-space rooming house for men until it began to close in 2017.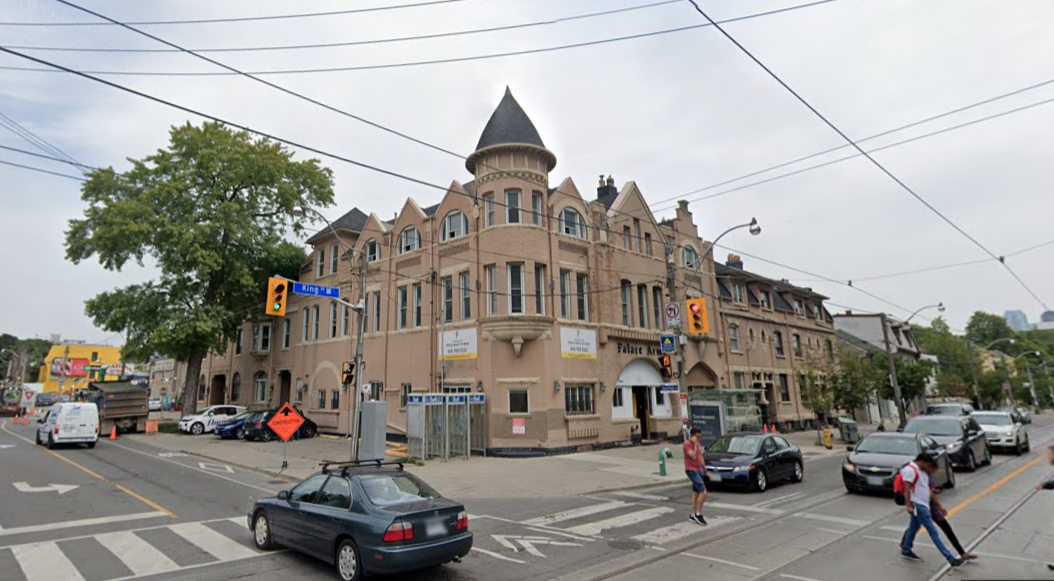 Current state of the Palace Arms, image via Google Street View
In 2018, Intentional Capital submitted a proposal for redevelopment to the City in 2018, with significant heritage retention of the ornate elevations on the both the King and Strachan sides. Above, new construction was to emerge like the flower of a tulip from behind the heritage fronts.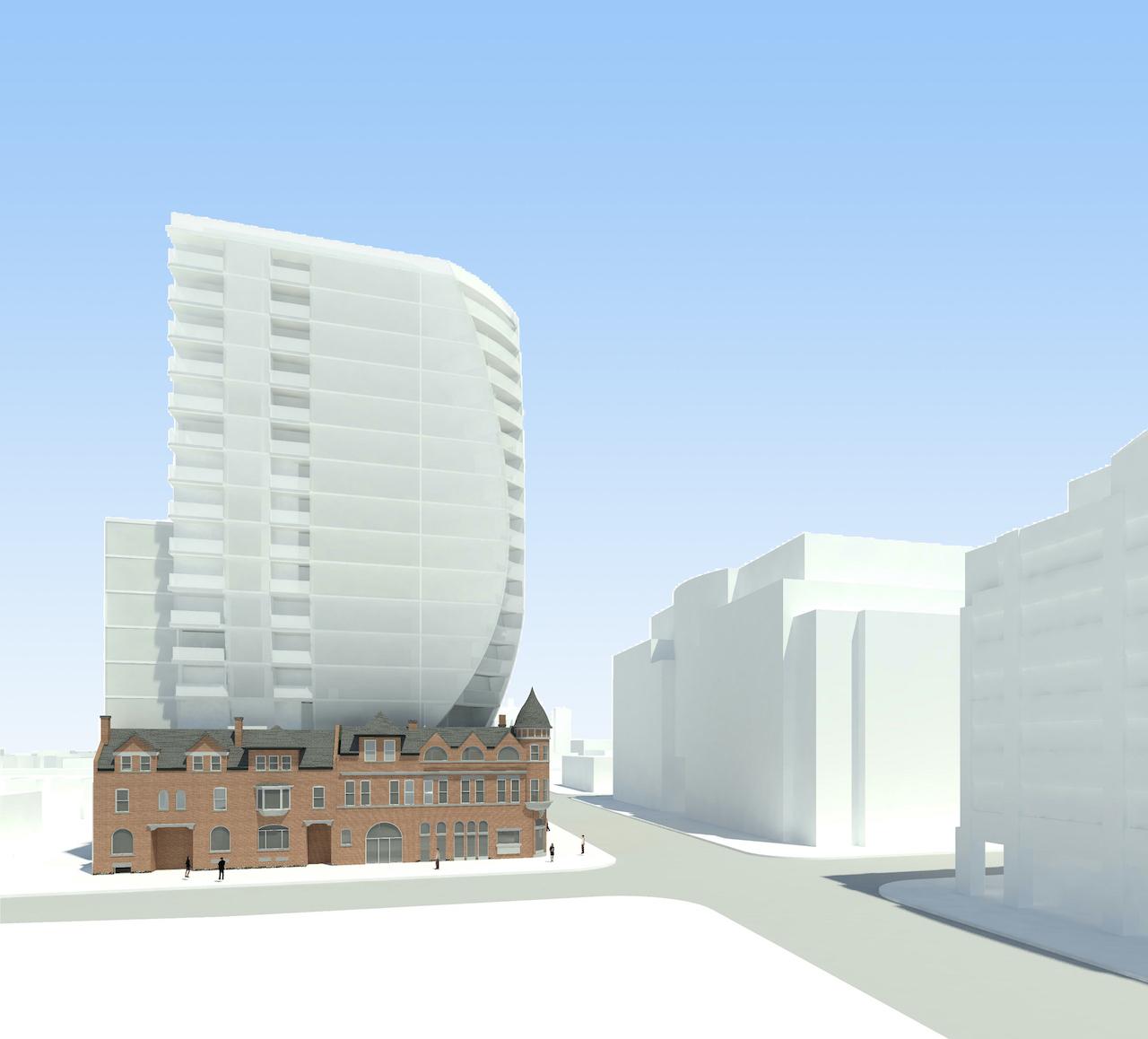 Original design strategy for 950 King Street West, by Sweeny &Co for International Capital
Following feedback from nearby residents, local City Councillor Joe Cressy, and City Planning on the initial design concept, the proposed redevelopment has been entirely reworked. The new design by Sweeny & Co Architects is more typically rectilinear now and adds red brick frames around windows of the new structure to tie it in better with the existing building. The reworked proposal is now scaled back to 13 storeys and a total height of 46.5 m, down from 16 storeys at 58.52 m. The unit count has also been reduced from the original 217 units to 193 in a mix of 33 bachelor, 119 one-bedroom, 25 two-bedroom, 10 three-bedroom, 3 townhouse, and 3 live-work units. A total of 52 parking spaces are proposed across three levels of underground garage, with 42 spaces for residents, and 10 for visitors. 147 bicycle parking spaces are also proposed, with 141 dedicated to residential uses, and 6 for retail patrons. 278 m² of retail space is proposed at grade.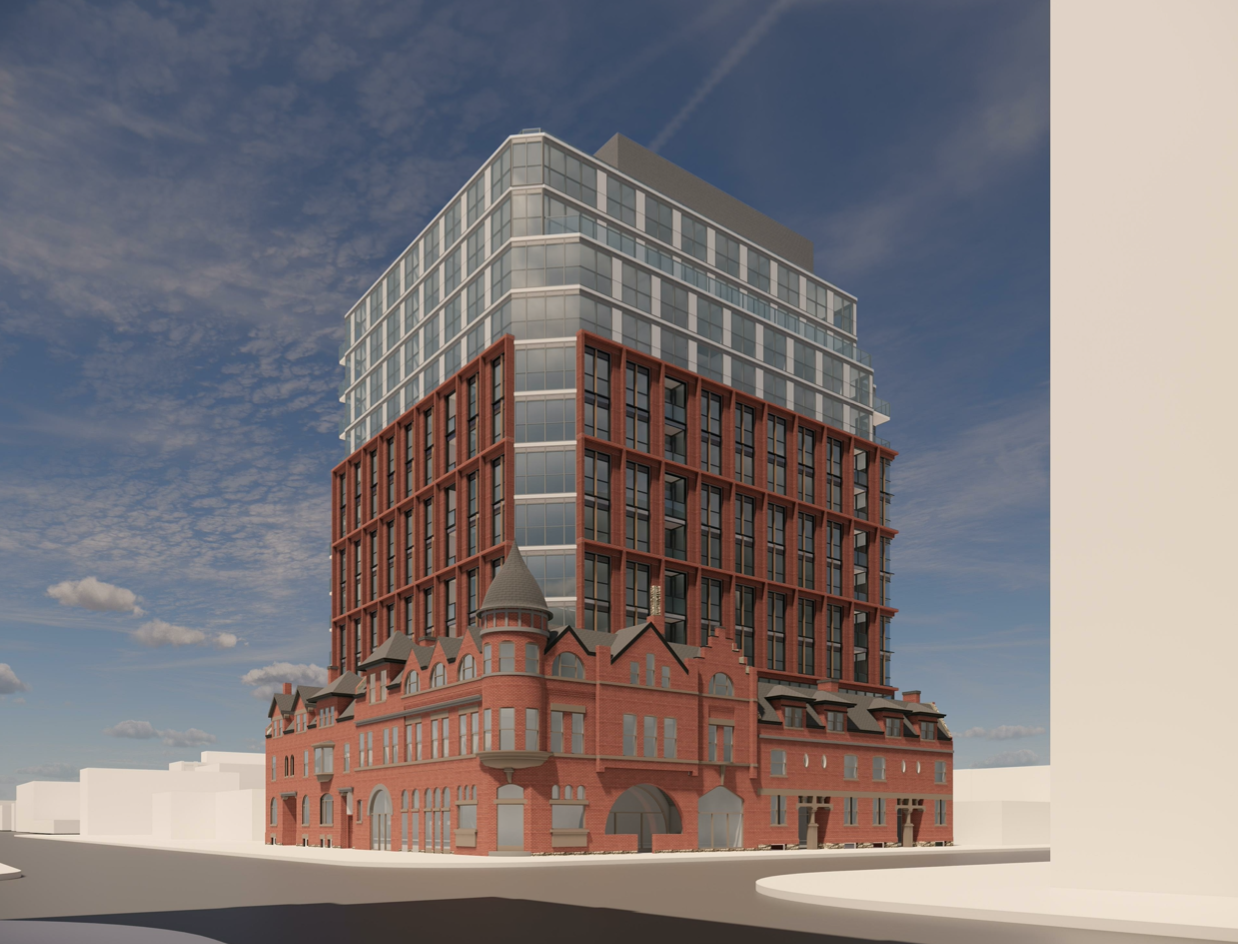 Looking northeast toward the redesigned 950 King Street West, by Sweeny &Co for International Capital
A key concern City Planning had in its objection to the original 2018 proposal was the loss of 91 low-income rooming bedrooms that the Palace Arms maintained in the neighbourhood, despite the fact it it was unlicensed. The new building design and layout does not make note of any designated replacement units, however this could change as the proposal evolves.
Additional information including images of both the new and the original design can be found in our Database file for the project, linked below. Want to get involved in the discussion? Check out the associated Forum thread, or leave a comment in the space provided on this page.
* * *
UrbanToronto has a new way you can track projects through the planning process on a daily basis. Sign up for a free trial of our New Development Insider here.