Like many areas of Toronto dominated by vast stretches of low-rise retail and industrial properties, Scarborough's Golden Mile area is on the doorstep of transformation, with multi-tower communities proposed across various large sites along the Crosstown LRT, set to begin operating in 2022. Evolved from a 2016 proposal to redevelop the Golden Mile Shopping Centre at 1880 Eglinton Avenue East, new information was revealed about the 19-acre redevelopment project from Choice Properties REIT and The Daniels Corporation in a live-streamed event yesterday afternoon.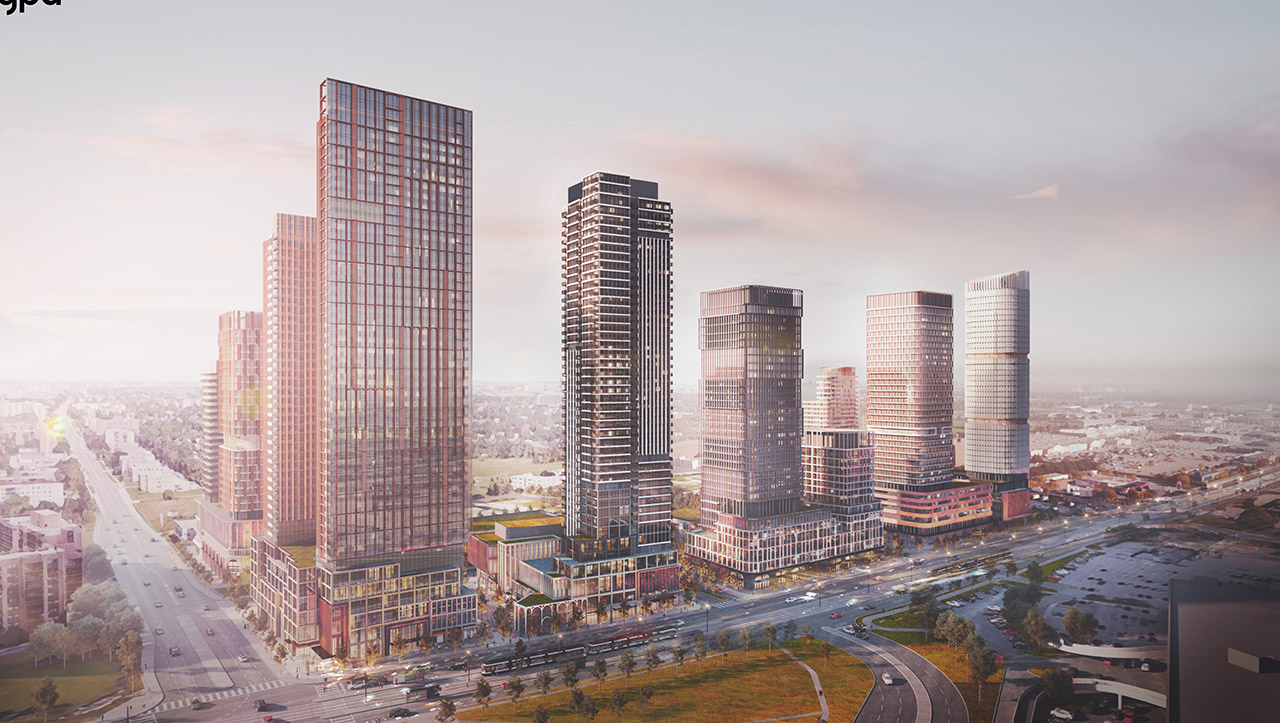 Looking northeast over Golden Mile Shopping Centre redevelopment, image courtesy of Choice/Daniels
"We have long recognized the importance of the Golden Mile as an opportunity to make a significant impact, not just within our 19 acres, but on the much broader aspiration to positively influence the entire area for generations today and tomorrow. The future redevelopment of these lands and the Golden Mile neighbourhood as a whole is about building a complete community. We are thrilled to partner with Daniels, a city builder that shares Choice Properties' commitment to creating healthy, resilient communities through a community-based approach to development," reads a statement issued by Rael Diamond, President and CEO of Choice Properties REIT.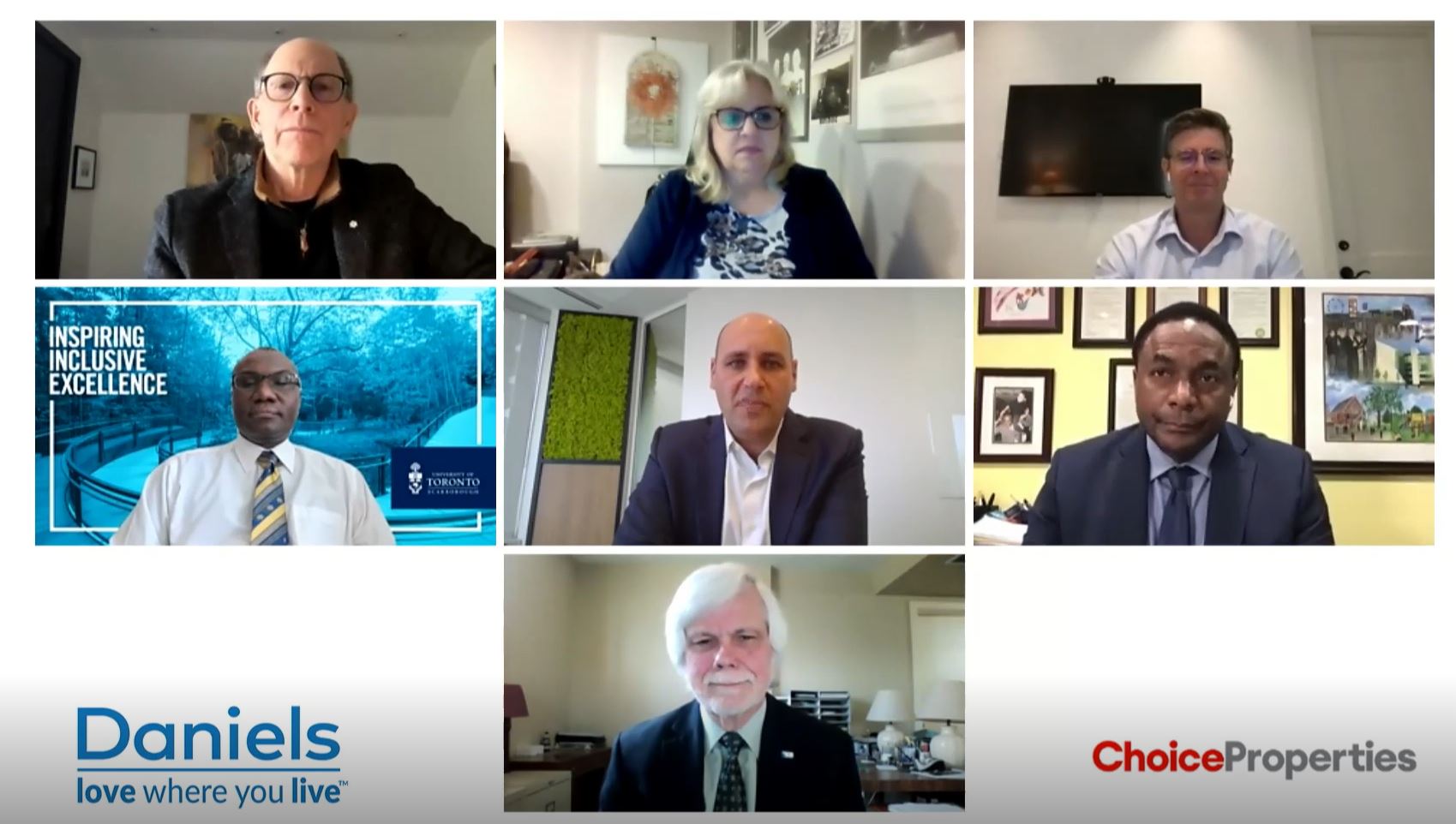 Screen capture from the live-streamed announcement
Plans call for 11 new buildings to gradually transform the 67-year-old shopping centre over the coming years into a mixed-use, mixed-income community with transit connectivity, master planned by Giannone Petricone Associates. The initial phase is to include a pair of condominium towers as well as a purpose-built market rental building and an innovation hub, rising on the northeast corner of Victoria Park and Eglinton. In the site's southwest corner, these buildings will be directly opposite an Eglinton LRT stop.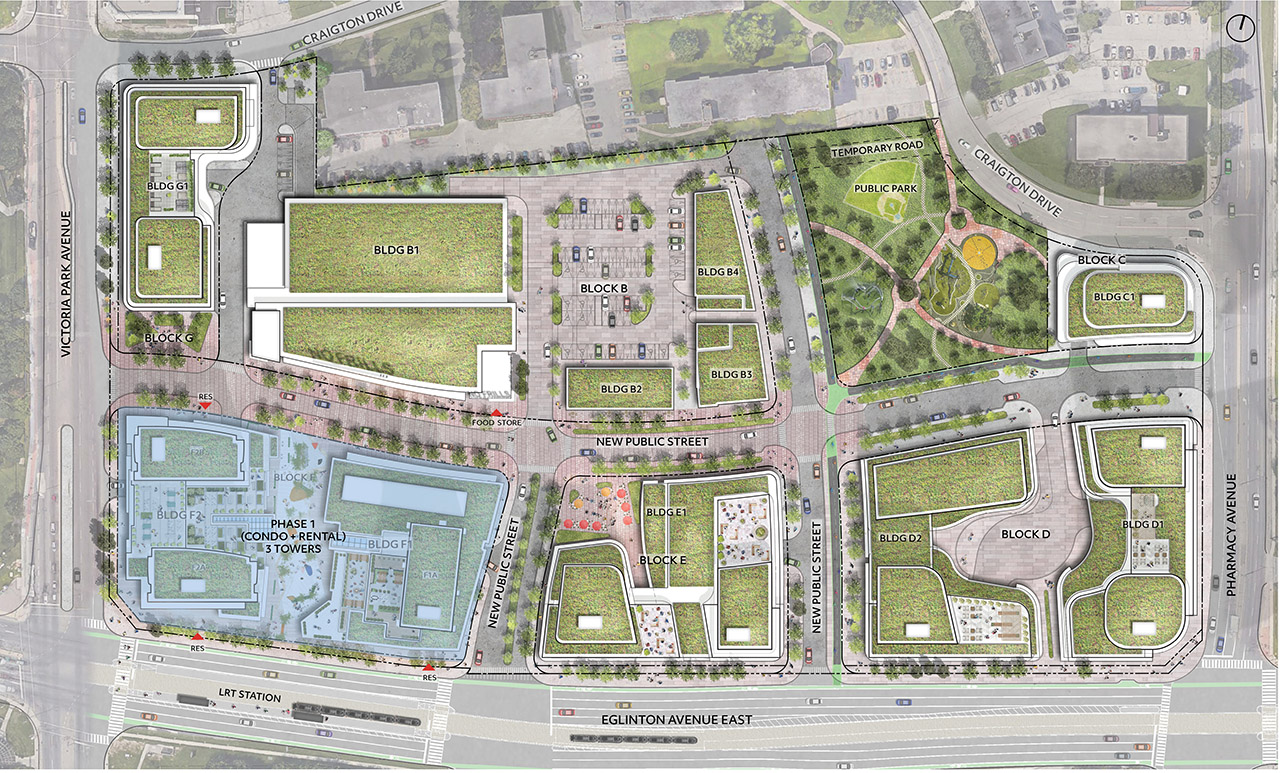 Communiy site plan, image courtesy of Choice/Daniels
The pair of condominium towers are proposed to rise 38 and 48 storeys, while the rental would rise 44 floors. A total of 926 condominium and 524 rental units are planned for the first phase, anchored by a mix of ground-floor retail uses, institutional uses, and office spaces. The mix is meant to foster a complete community, animating the pedestrian realm—with significant car-free space—throughout the day.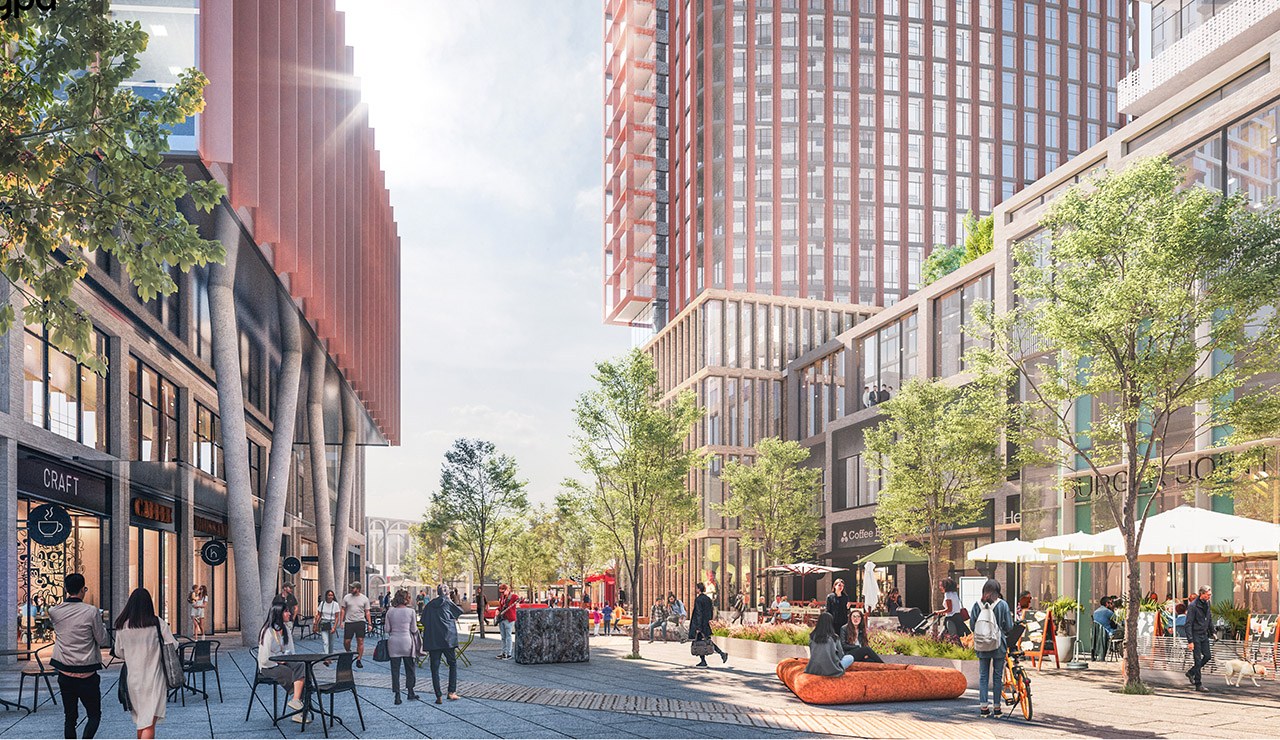 Retail mews at Golden Mile Shopping Centre redevelopment, image courtesy of Choice/Daniels
While residential uses will account for the majority of the development, the developers are aiming to jumpstart the community's reimagined employment base with the creation of the Golden Mile Community Innovation District, designed to foster the exchange of ideas between residents, community organizations, and financial and post-secondary educational institutions, with the University of Toronto Scarborough (UTSC) and Centennial College signed on as collaborators.
UTSC is planning to take up physical space in Phase One to house an innovative integrated college-community-university partnership dubbed the Communiversity. UTSC, partnered with Centennial College, aims to work with community partners to allow improved access to post-secondary education, co-learning opportunities, and the co-creation of sustainable and inclusive communities. UTSC's Institute for Globalization, Transnationalism, and the Advancement of Resilient and Inclusive Suburbs and Economies (GTA-RISE) will serve a similar purpose, acting as a hub to explore issues while helping to engage inclusive cultural and socio-economic development.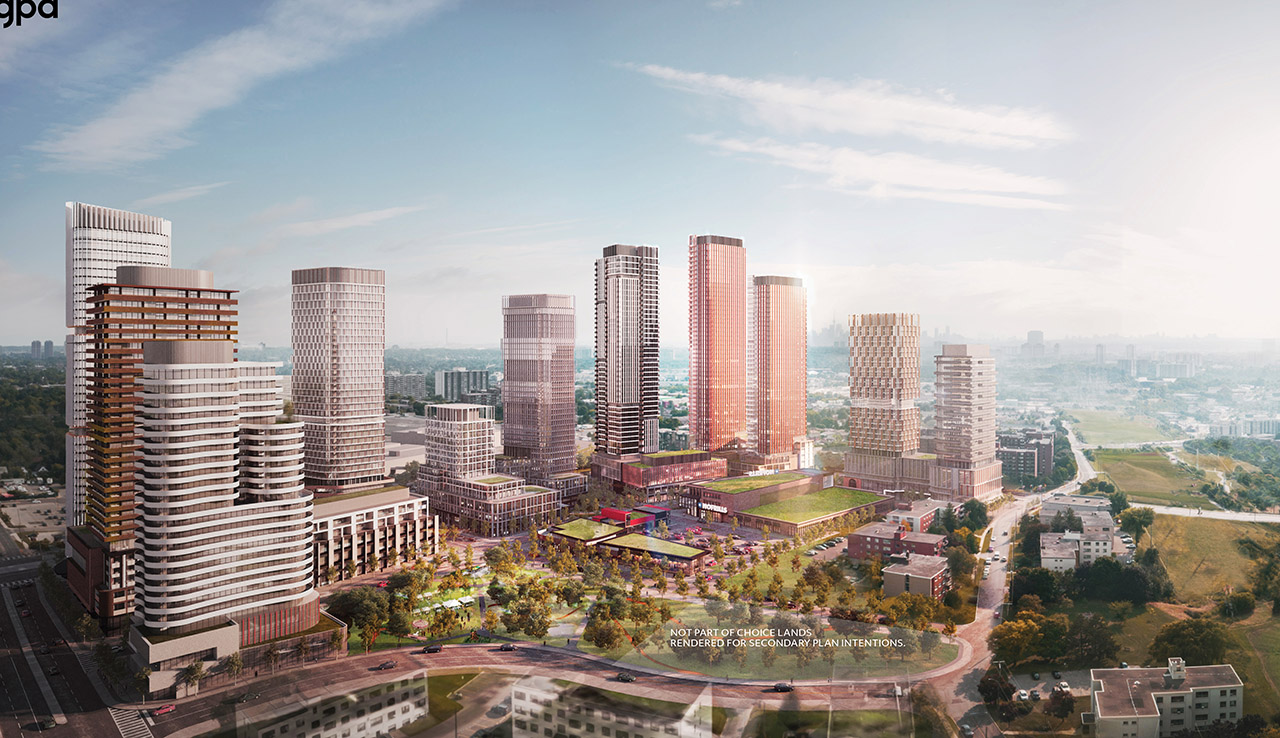 Looking southwest over Golden Mile Shopping Centre redevelopment, image courtesy of Choice/Daniels
"The University of Toronto Scarborough is excited about this dynamic opportunity to co-design and co-inhabit a mutually supportive community for the 21st century, right here in the Golden Mile. As an educational partner we are committed to doing our part to support cultural and socioeconomic innovations and transformations that are truly inclusive, resilient and sustainable, thereby enabling all members of our communities to thrive. The Golden Mile Community Innovation District promises to be a global showcase and exemplar of how to reinvent suburbs for the good of all, and our scholars and learners look forward to sharing the knowledge gained and the lessons learned with other educators and communities in Canada and around the world," stated Wisdom Tettey, Vice-President & Principal, University of Toronto Scarborough.
The Innovation District is also to include a 9,000 ft² BMO branch, which is being touted as capable of demonstrating "how financial institutions can make a meaningful impact within the communities they serve through financial advice and service offerings."
This project serves as just one element in the wider 280-acre Greater Golden Mile area, which is primed to welcome 40,000 new residents over the next 20 years, with this new density to be largely supported by the Crosstown LRT and its connections to other transit lines and routes.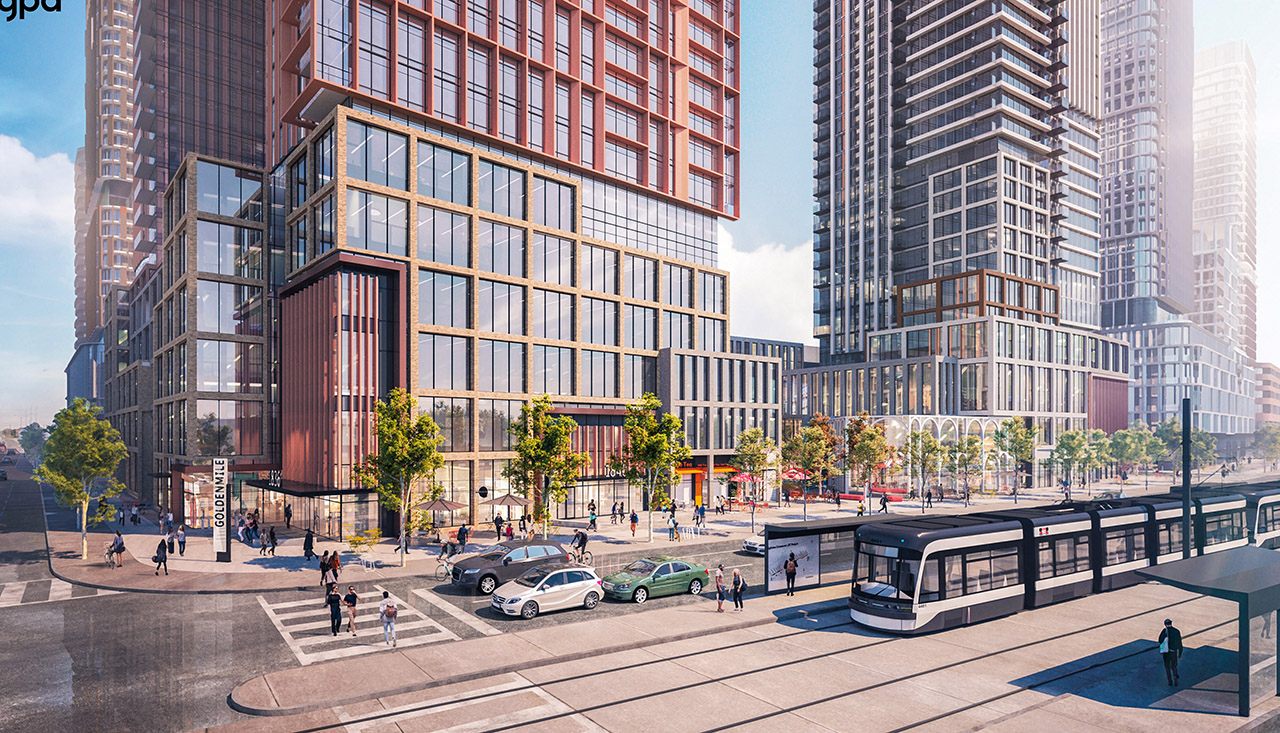 West entrance to Golden Mile, image courtesy of Choice/Daniels
"Our partnership with Choice Properties and this collaboration with residents, community organizations and post-secondary and financial institutions will catalyze the transformation of the entire area. Working together, we believe that Scarborough will re-emerge as an inclusive and powerful engine of prosperity, where a spirit of collaboration and community shines brightly, and where everyone has an opportunity to live, work, learn, shop, grow and thrive," reads a statement from Mitchell Cohen, President and CEO of The Daniels Corporation.
Additional information and images can be found in our Database file for the project, linked below. Want to get involved in the discussion? Check out the associated Forum thread or leave a comment in the space provided on this page.
* * *
UrbanToronto has a new way you can track projects through the planning process on a daily basis. Sign up for a free trial of our New Development Insider here.