Reports released today by the Toronto Regional Real Estate Board (TRREB) show that despite a major resurgence in market activity, the pandemic continued to affect condominium sales and rental activities in the fourth quarter of 2020. The pair of reports reveal that while sale and rental listings for condominium units were on the rise, average selling prices and rents both suffered to varying degrees in the final quarter of an unprecedented year.
Condo sales were up by 20.7% in Q4, with 6,469 units sold vs the 5,358 sold in Q4 2019. The increase in listings was even sharper, with a 91.9% jump in new listings compared with 2019's fourth quarter. The 4,294 total active listings at the end of Q4 2020 more than doubled Q4 2019's numbers. Despite all of the positive numbers, COVID-19 has left a dark cloud over the housing market, which has been evidenced by decreases in average selling prices. The GTA-wide average condominium apartment selling price dipped slightly by 1.1% in Q4, dropping to $610,044. Within the 416 the drop was even more pronounced, falling 2.4% to $644,516. Hardest hit were the smaller, investor-driven units that represented a large share of the pre-pandemic building boom.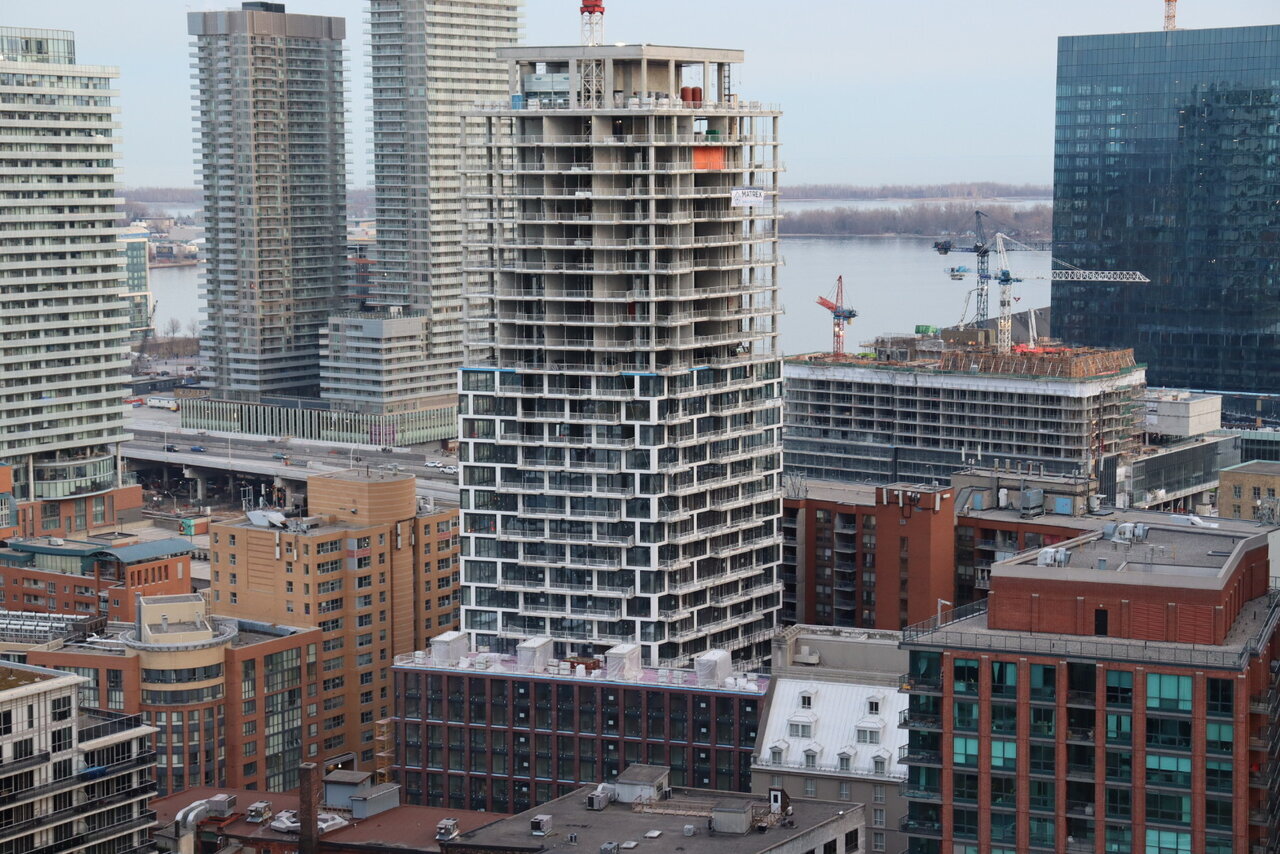 Downtown Toronto, image by Forum contributor Brit Lost in Toronto
"While the prominent storyline has been the strong increase in condo listings over the last 12 months, it is important to point out that the demand for condominium apartments has remained very strong, with sales up substantially compared to 2019. The increase in supply, largely attributed to investor selling as both the traditional and short-term rental markets softened along with the looming possibility of a City of Toronto vacancy tax, resulted in much more choice and bargaining power for buyers and a moderate decline in average selling prices," reads a statement issued by Lisa Patel, TRREB President.
The condominium rental market also saw a surge in activity in Q4, 2020, with 12,584 rental transactions marking an impressive 86.3% jump over the 6,756 rentals recorded the previous fourth quarter. Listings rose even more dramatically, increasing 131.6%.
"Demand for condominium apartment rentals reached record highs in the second half of 2020, particularly in the fourth quarter. However, at the same time, growth in the number of available units far outstripped growth in rental transactions, as many investors chose to make their units available due to the impact of COVID-19 on tourism and the short-term rental market, City of Toronto restrictions on short-term rentals and the prospect of a vacancy tax. The result was much more choice and negotiating power for renters and a downward adjustment in average rents," states Lisa Patel.
The massive increase in supply has predictably led to a decline in average rental prices. Average one-bedroom unit rents decreased by 16.5% year-over-year to $1,845 vs $2,209 in Q4 2019, while average two-bedroom rent dropped 14.5% to $2,453 from Q4 2019's average of $2,868.
"As we move through 2021, rental demand will remain strong as the economic situation continues to improve, especially as the pace of the vaccine rollout increases and immigration and non-permanent migration into the GTA accelerates. Eventually, this will result in much of the current rental unit inventory being absorbed, but market conditions will likely continue to favour renters through much of 2021," reads a statement from Jason Mercer, TRREB's Chief Market Analyst.
* * *
UrbanToronto has a new way you can track projects through the planning process on a daily basis. Sign up for a free trial of our New Development Insider here.