On Dupont Street between Albany and Howland avenues at the north end of Toronto's Annex neighbourhood, Tridel's new Bianca condo development is racing towards a mid-2021 completion, as exterior details continue to define its nine-storey Teeple Architects design.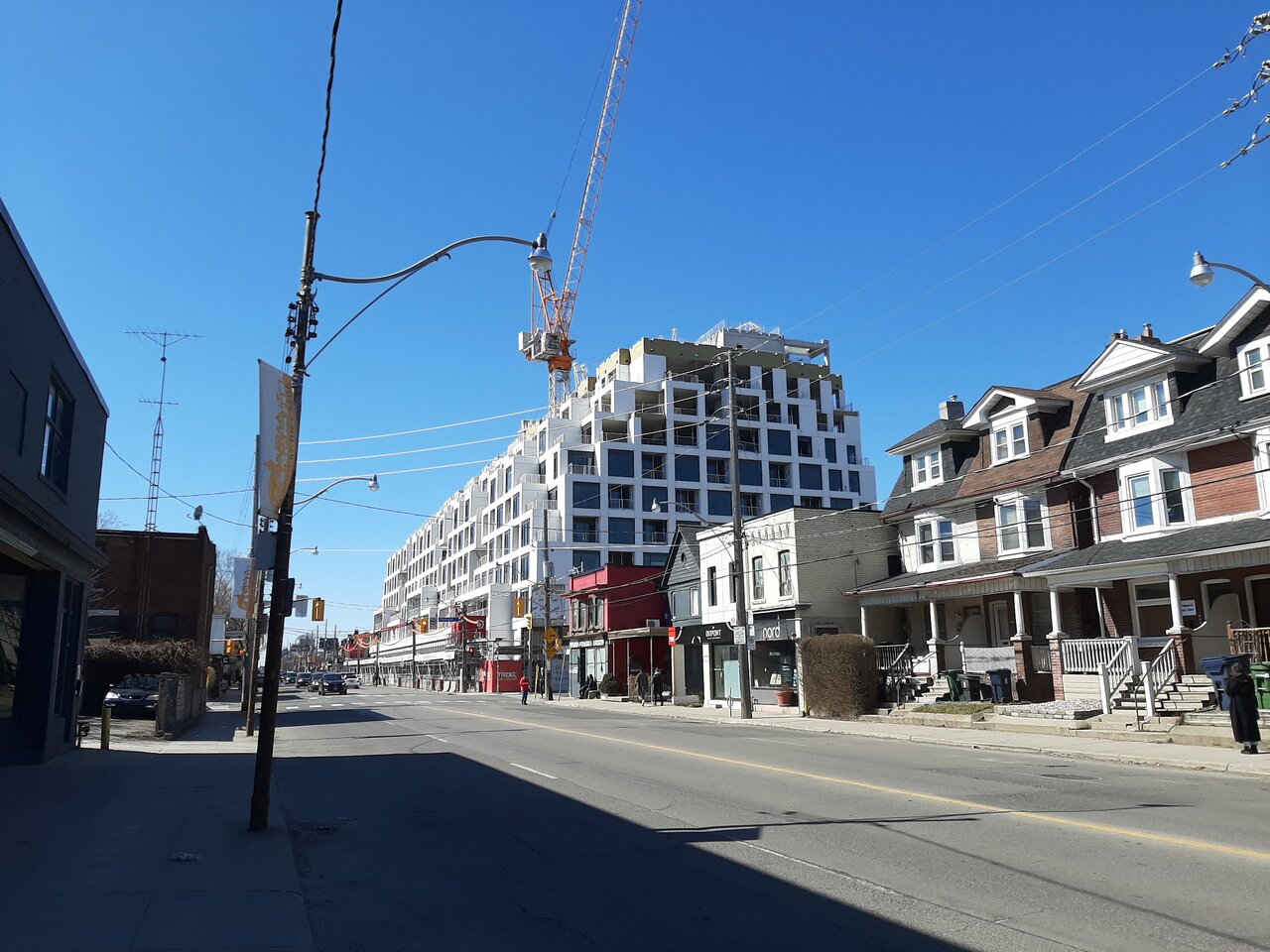 Looking west to Bianca, image by Forum contributor AlbertC
The site has been active since demolition began in mid-2018, and well into its third year of construction, the project is structurally complete, its geometric exterior quickly coming together. We last checked in on Bianca in the final weeks of 2020, when precast concrete finishes were enclosing the superstructure, and defining the signature push-pull geometry that sets Bianca apart from more typical terraced mid-rise massings appearing along Toronto's avenues.
Bianca's highly-articulated form has become much more apparent in recent months as cladding installation progresses. White precast concrete finishes have since risen to cover the remaining few residential levels, now starting to cover the mechanical penthouse level up top. Window wall installation has also made significant progress since our last update, when the mix of dark-tinted glazing, spandrel, and louvres framed in slender black aluminum mullions had reached the third floor: they are now in place up to the seventh floor, soon to enclose the remaining openings.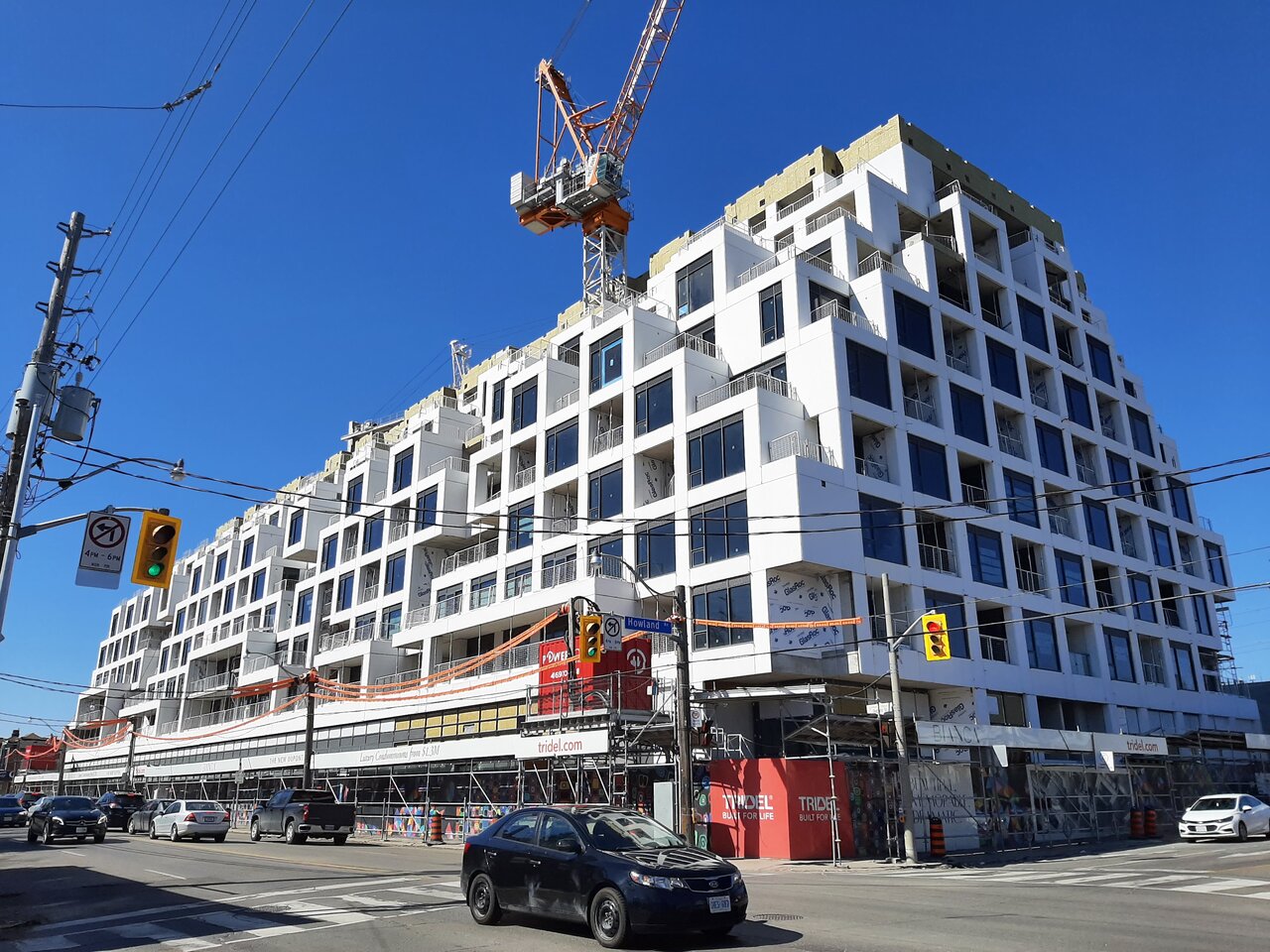 Looking northwest to Bianca, image by Forum contributor AlbertC
The building's rail corridor-abutting north side is articulated into three connected volumes, while vertical strips of black cladding help to visually break up the massing.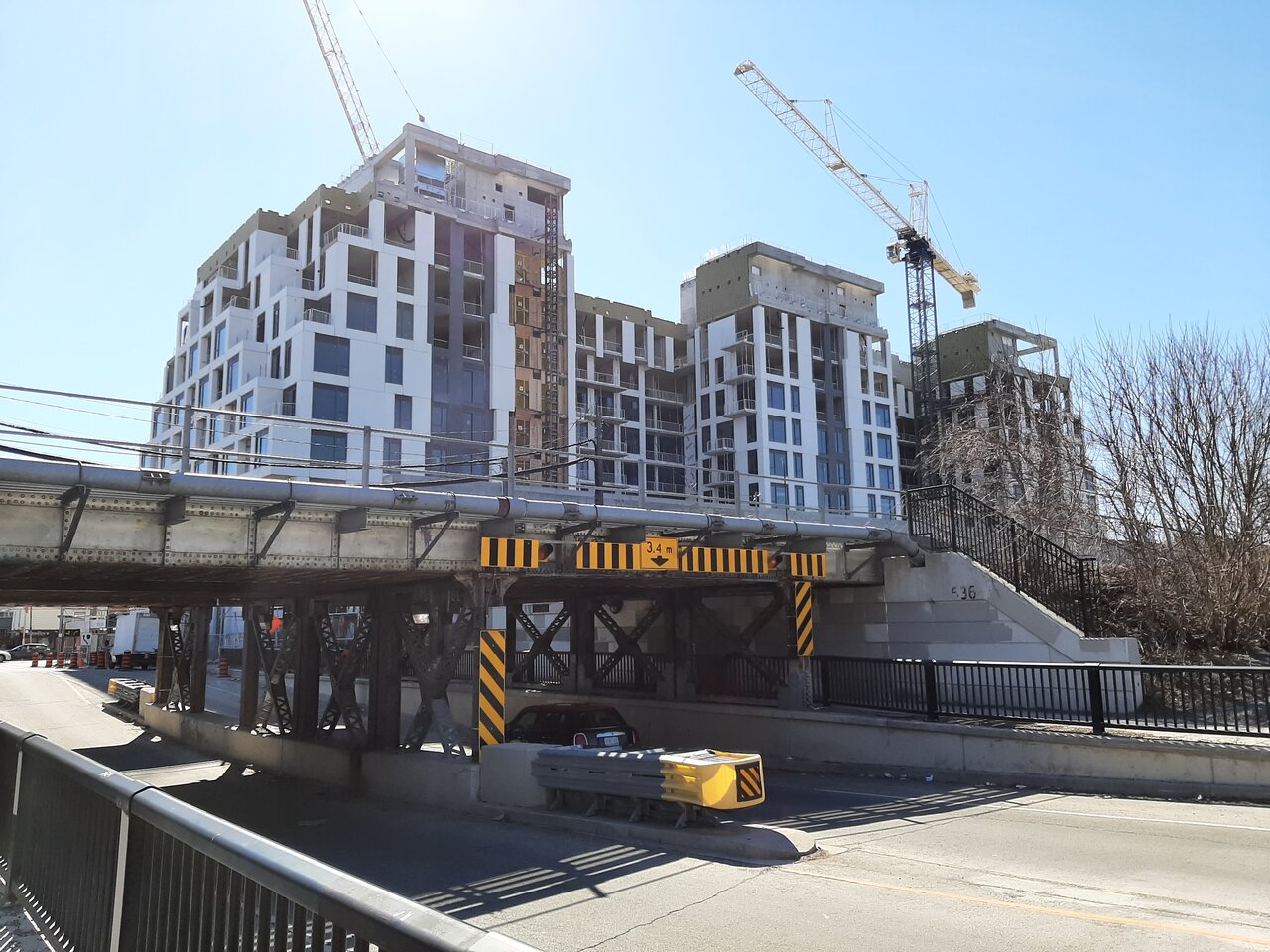 Looking southwest to Bianca, image by Forum contributor AlbertC
Further evidence of the relationship between the rail corridor and the new residential development is present just north of the building, where a concrete crash wall can be seen (below, far right) between the rail tracks and building base, ensuring the safety of residents next to the active rail line.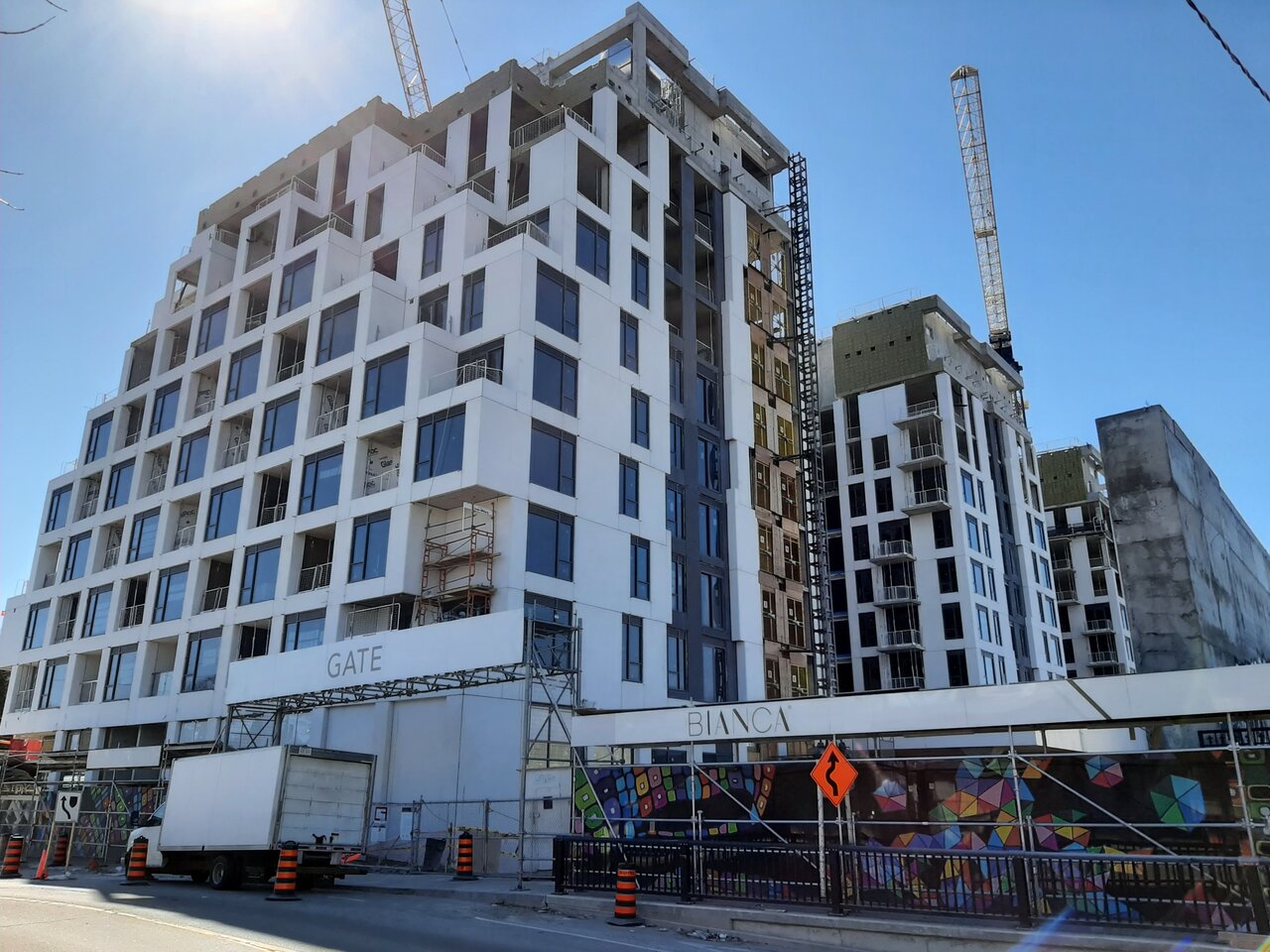 Looking west to Bianca, image by Forum contributor AlbertC
Once complete, Bianca will introduce 216 condominium units to a stretch of Dupont planned to be built out with a long list of projects in the blocks east and west of the site over the next several years.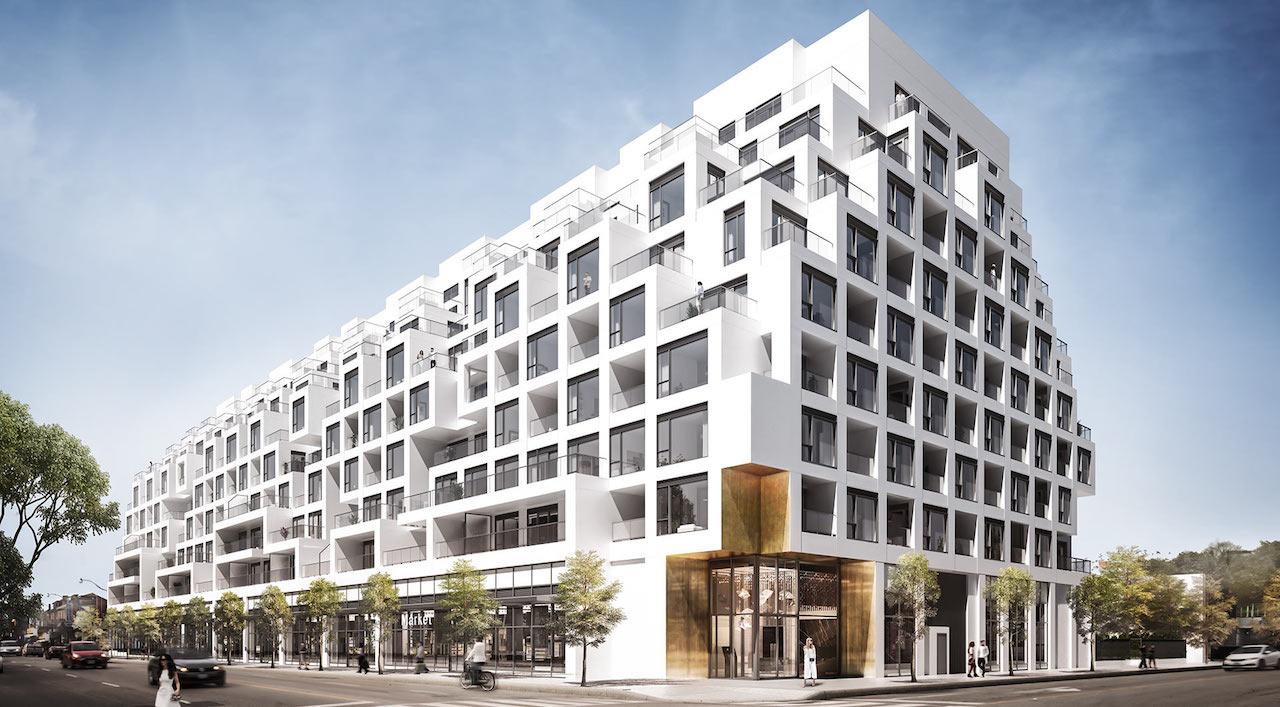 Looking northwest to Bianca, image courtesy of Tridel
Additional information and images can be found in our Database file for the project, linked below. Want to get involved in the discussion? Check out the associated Forum thread, or leave a comment in the space provided on this page.
* * *
UrbanToronto has a new way you can track projects through the planning process on a daily basis. Sign up for a free trial of our New Development Insider here.