A proposal by CentreCourt to redevelop the southwest corner of Church and Dundas streets in Downtown Toronto is being refined as it moves its way through the City's planning application process. The Toronto developer has submitted revised plans for a 52-storey mixed-use tower to replace an underserved property—a Pizza Pizza retailer and parking lot—at 250 Church Street. UrbanToronto last covered the story one year ago.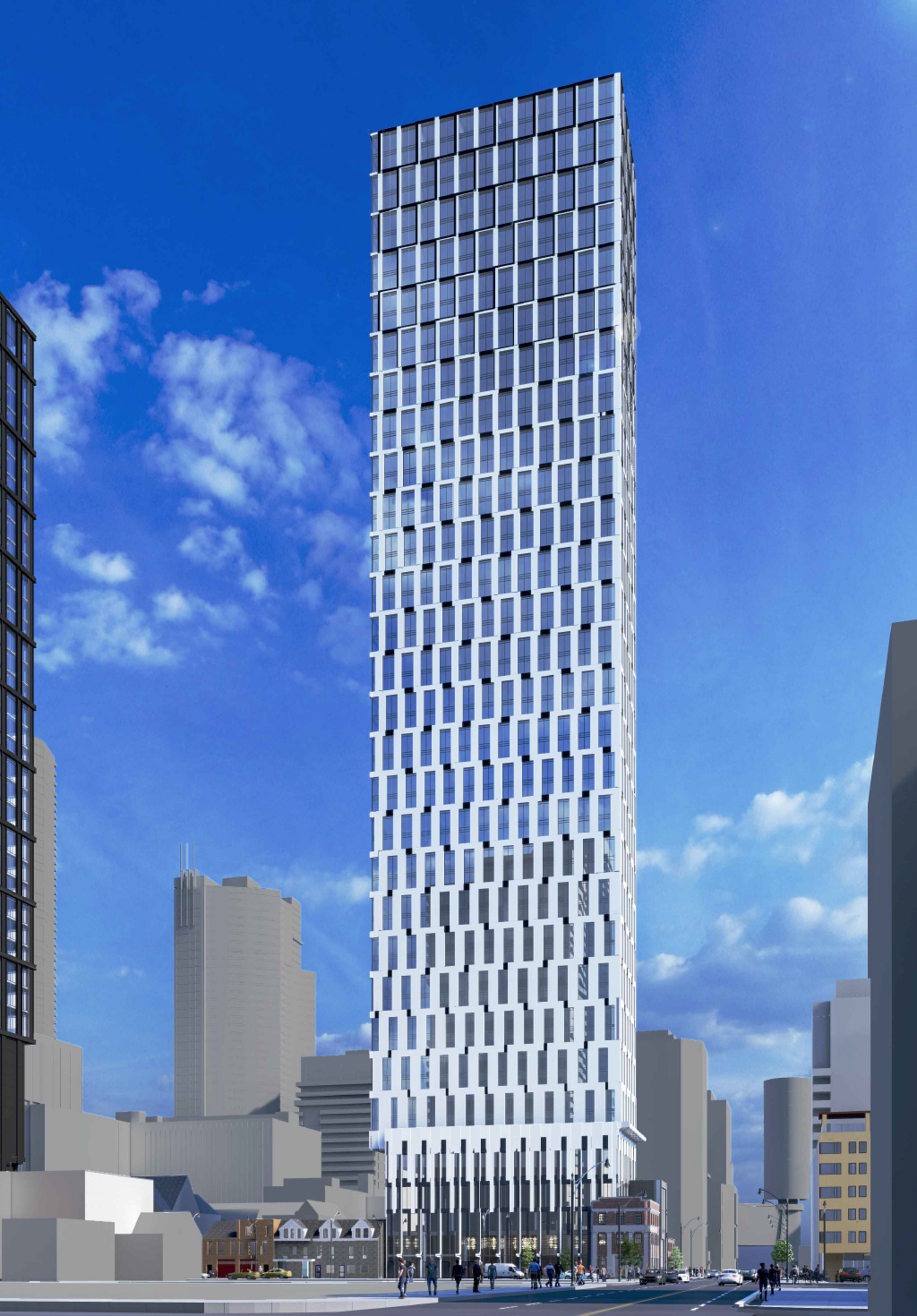 Looking west towards 250 Church Street, designed by IBI Group for CentreCourt
In response to feedback from City staff, notable revisions include a height decrease, a reduction in the number of dwelling units, and a small footprint increase to the proposed grade-level retail. Also of interest are updates to the exterior facades, as illustrated in new renderings prepared by the architect, IBI Group.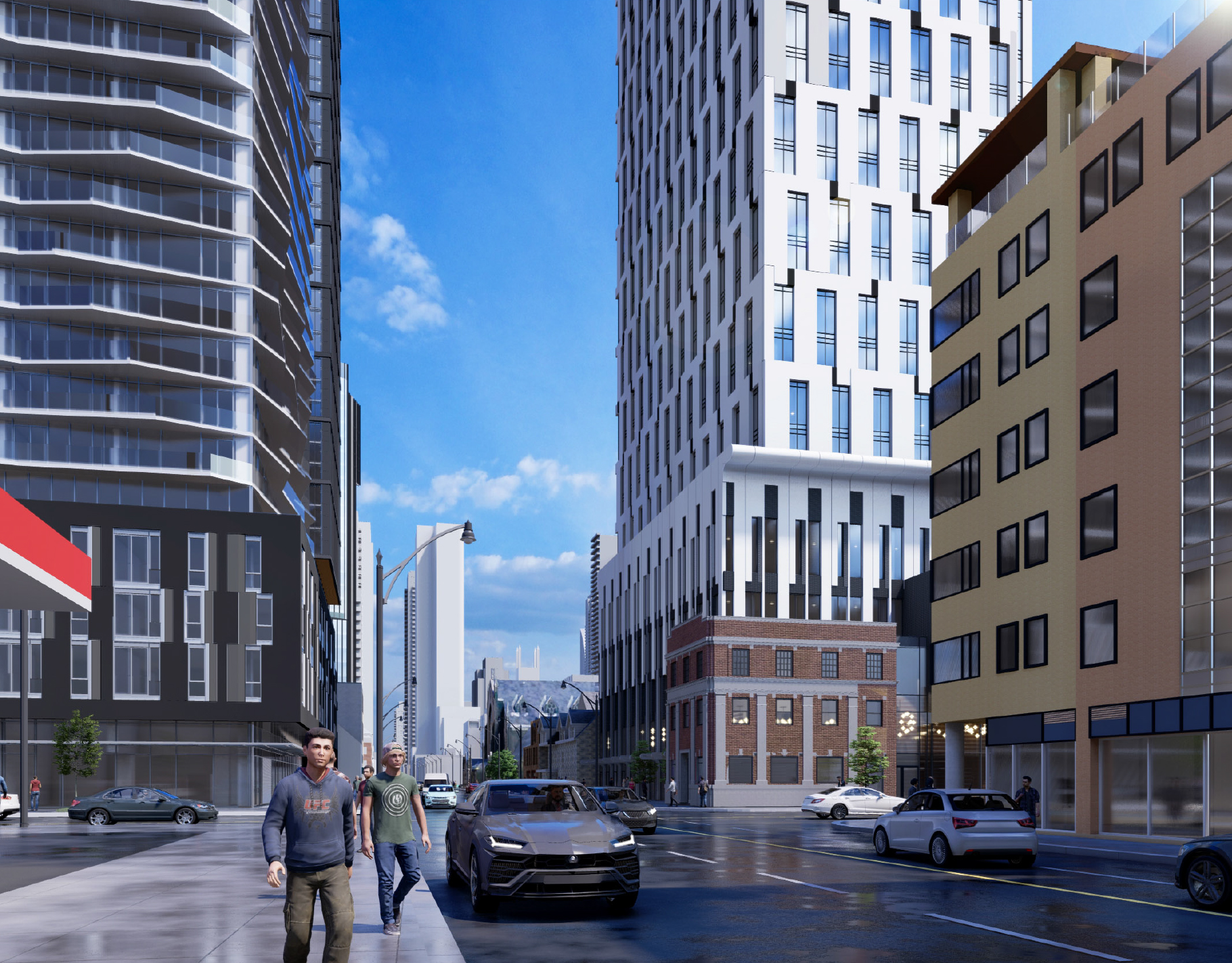 Looking south towards 250 Church Street, designed by by IBI Group for CentreCourt
The nearly 2,000 m² site is occupied by a low-rise buildings at 250 and 260-262 Church Street and the Nishnawabe Homes facility at 242-244 Church Street, the latter which will be maintained. The other portions of the site are occupied by a surface parking lot.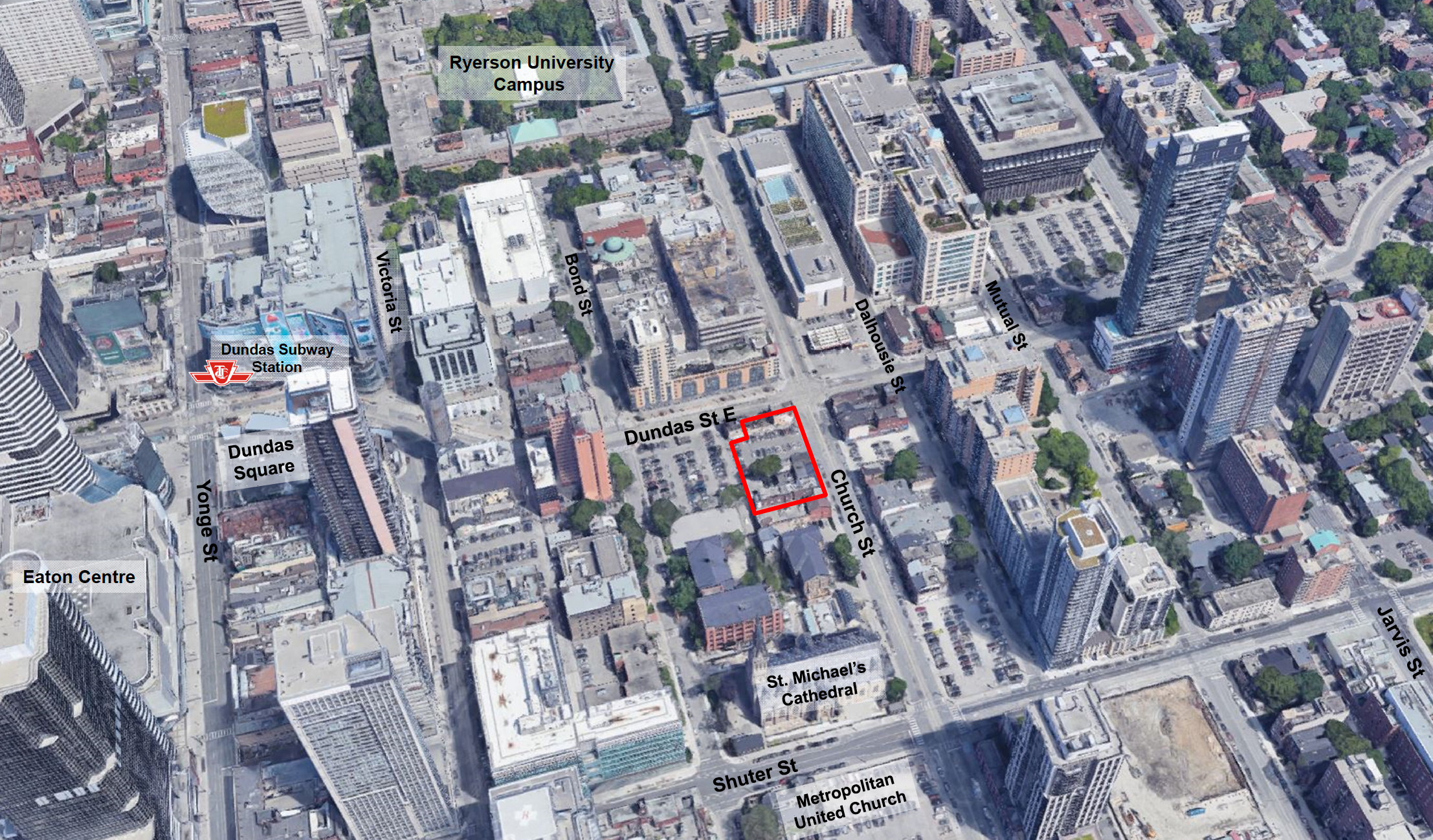 Aerial indicating the site, which has frontages of 38 m on Church Street and 24.5 m on Dundas Street East, iImage by Goldberg Group
The team is now proposing a 52-storey tower (originally 54 storeys) with a total gross floor area of 38,365m². A portion of the building would be conveyed to the Nishnawbe Homes aboriginal men's health supportive housing facility. This component would convey 16 residential units and associated amenity spaces to Nishnawbe Homes Ltd. as a community benefit.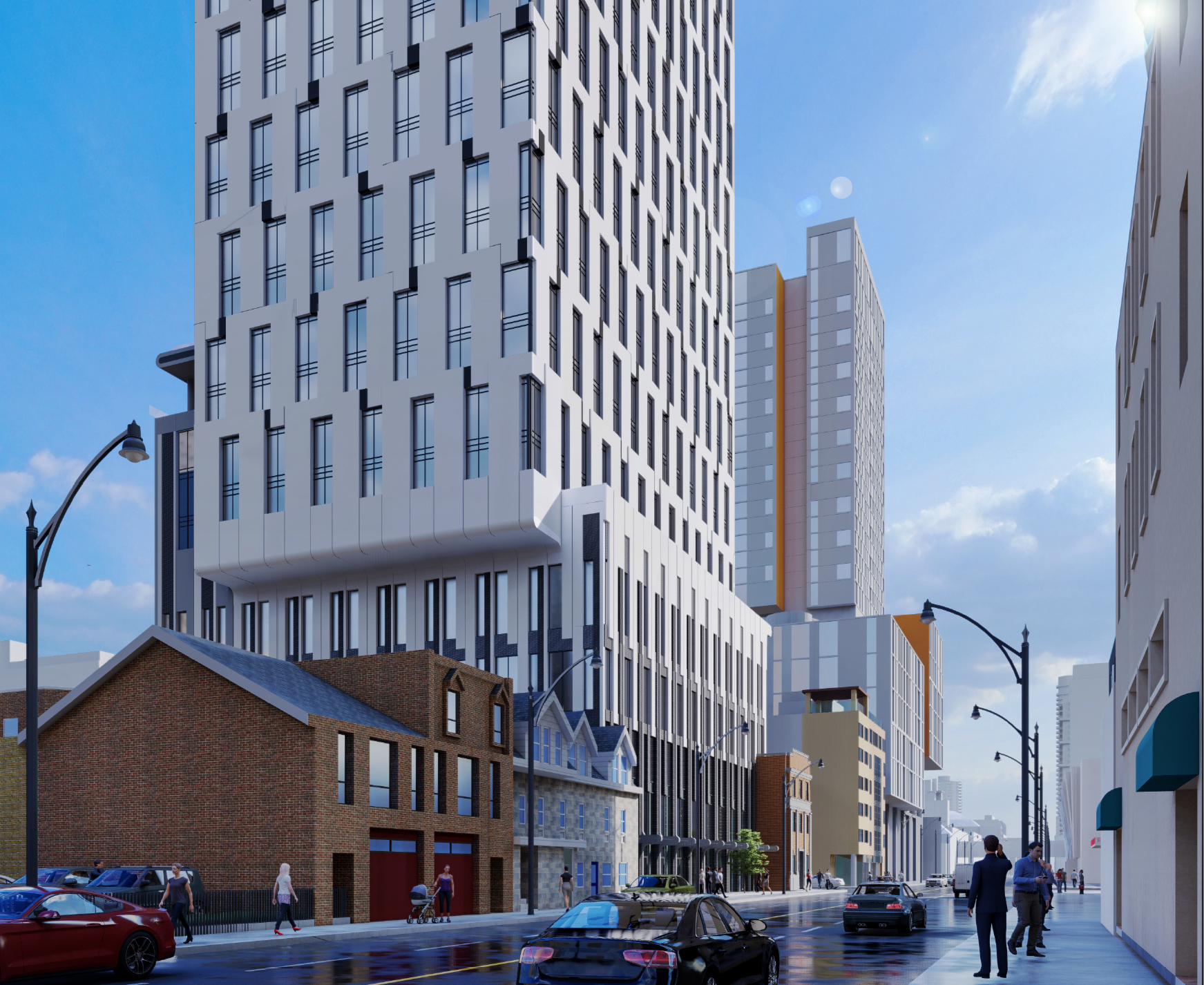 Looking north along Church Street. The Nishnawabe Homes facility's façades will be rehabilitated as part of the project, designed by IBI Group for CentreCourt
The proposed retail space fronting Dundas and Church has been enlarged to 315m² GFA (from 240m²). The residential entrance remains on Church Street, leading to the lobby, concierge, elevators and mail/parcel room. A small short-term bicycle storage is accessed from the public lane, while the mezzanine level is dedicated to long-term bike storage, with space for 554.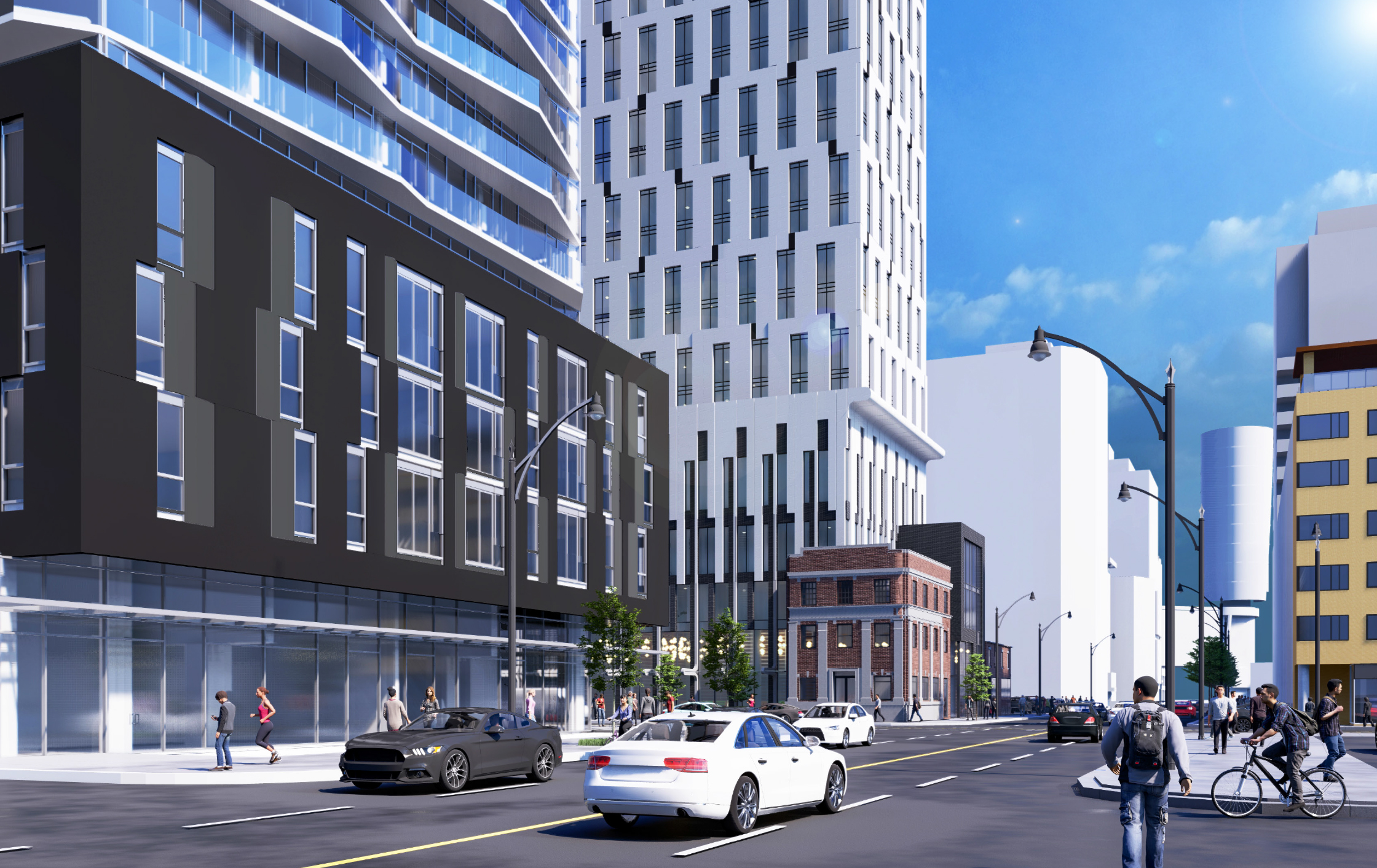 Looking west along Dundas towards 250 Church, with incorporated heritage façades of 260-262 Church Street, designed by IBI Group for CentreCourt
The project will now house a total 615 residential suites (instead of 648) in the following unit mix: 82 studios (13%), 174 one-bedroom (28%), 195 one-plus-den (32%), 102 two-bedroom (17%), and 62 three-bedroom (10%). In addition, are the 16 Nishnawbe suites.
Level three is entirely dedicated to indoor amenity space with a small outdoor amenity on the north west corner. Additional amenity space is provided on the fourth floor.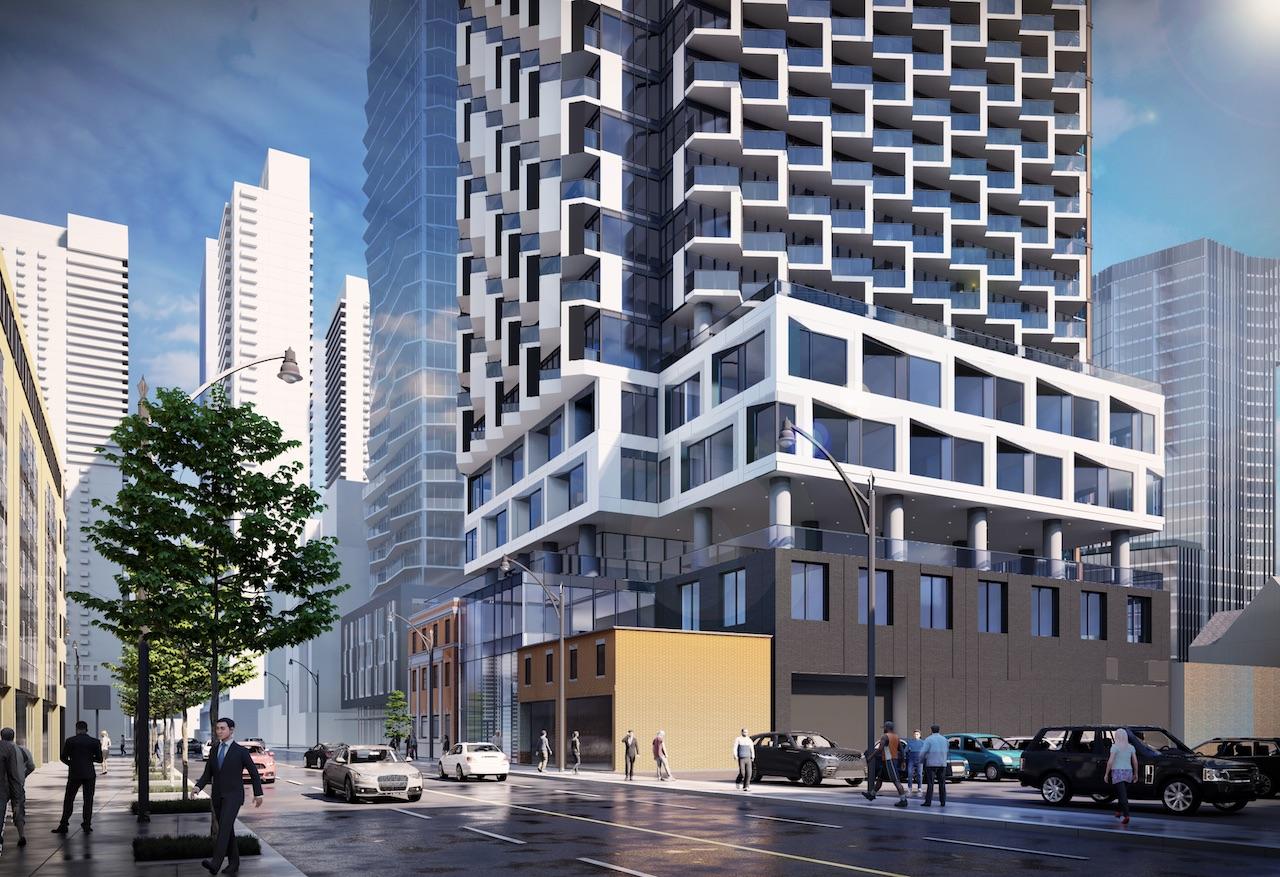 Original Plan, looking east along Dundas towards 250 Church Street, designed by IBI Group for CentreCourt
The previous tower renditions were clad with angled balconies that provided a wave-like appearance to the surface of the building (pictured above). The current design no longer includes balconies, only west facing terraces for a handful of units on levels 8 and 9, and a few terraces (podium rooftops) on levels 3, 4, and 5.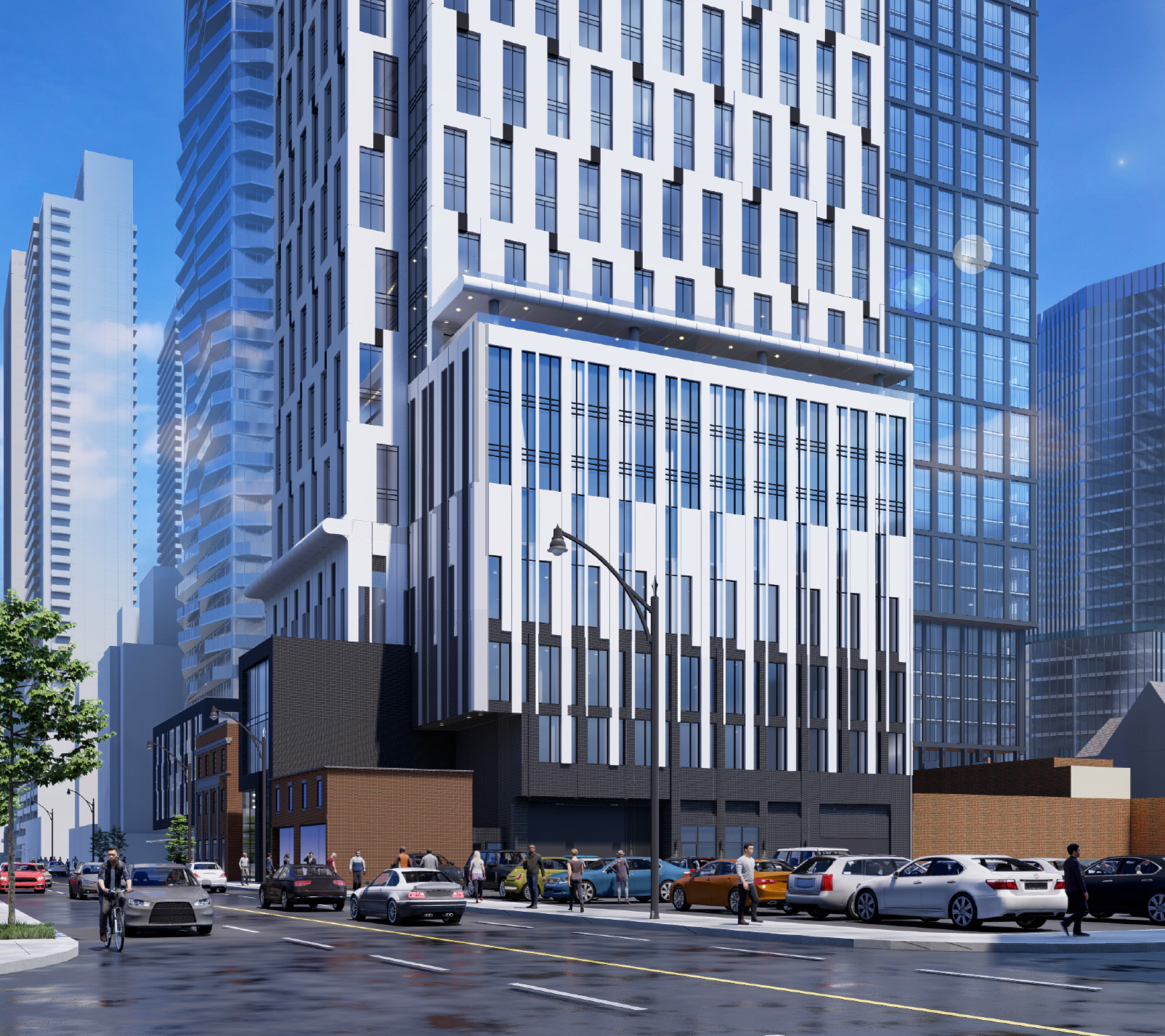 Looking east along Dundas towards 250 Church Street, designed by IBI Group for CentreCourt
You can learn more from our Database file for the project, linked below. If you'd like to, you can join in on the conversation in the associated Project Forum thread, or leave a comment in the space provided on this page.
* * *
UrbanToronto has a new way you can track projects through the planning process on a daily basis. Sign up for a free trial of our New Development Insider here.