In November, Capital Developments submitted a Zoning By-Law Amendment application to redevelop a challenging site where the Toronto neighbourhoods of Yorkville and Rosedale meet. If it gets the green light, the area could see a 30-storey condo tower whose sculpted shape takes cues from the surrounding context.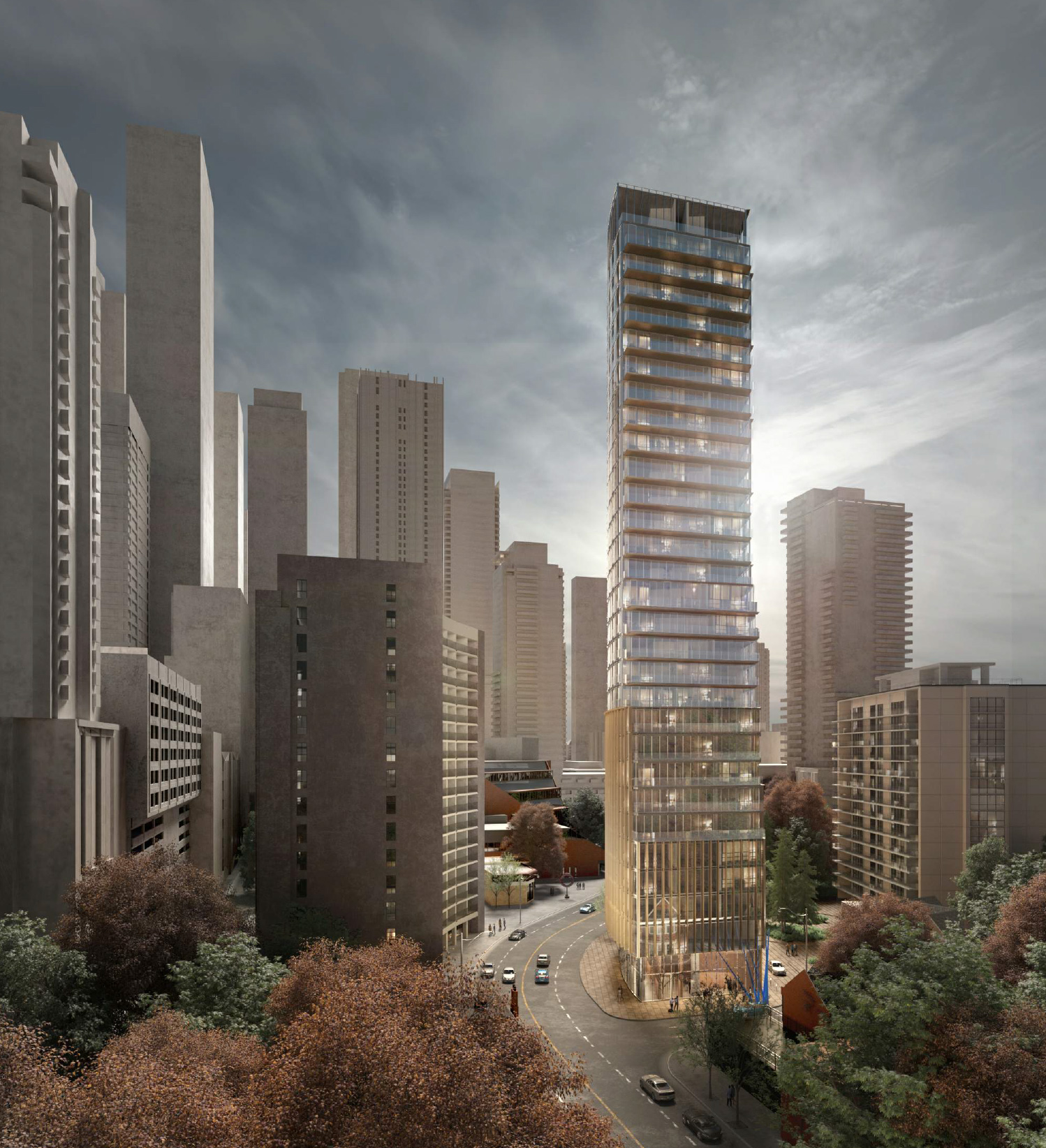 Rendering. View looking East from Church St. Image courtesy of Diamond and Schmitt Architects.
The broader context is the northeastern shoulders of the Bloor-Yorkville neighbourhood, a dynamic mixed-use community in Downtown Core. It's a hop, skip, and a jump to enviable transit options, a diversity of retail and amenities, offices, Canada's largest public reference library, and a network of parks and open spaces.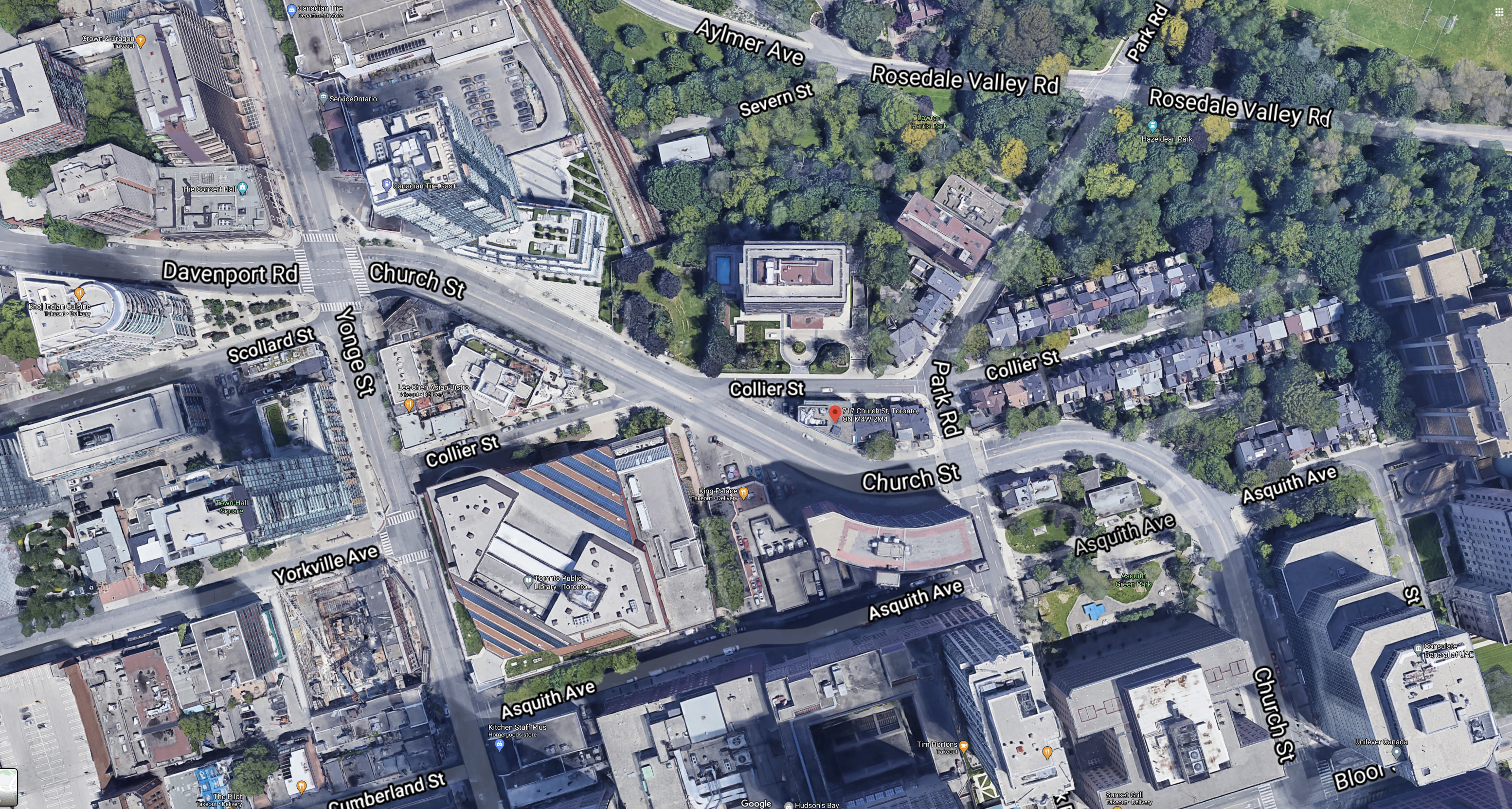 Aerial photo of Subject Site's surrounding context. Image courtesy of Googlemaps.
The site is triangular in shape, an 'island' lot bounded by Collier Street, Park Road, and a curving section of Church Street. It's currently home to a mix of house form buildings and a small office building. Walking distance to Bloor-Yonge subway station, the area has experienced rapid intensification in recent years, seeing a large cluster of new developments emerging and approved tower heights crescendoing at 85 storeys. The proposed building site is on a threshold bordering these peak highs and a mixture of high-, mid-rise, and low-rise residential and commercial buildings to the north and east.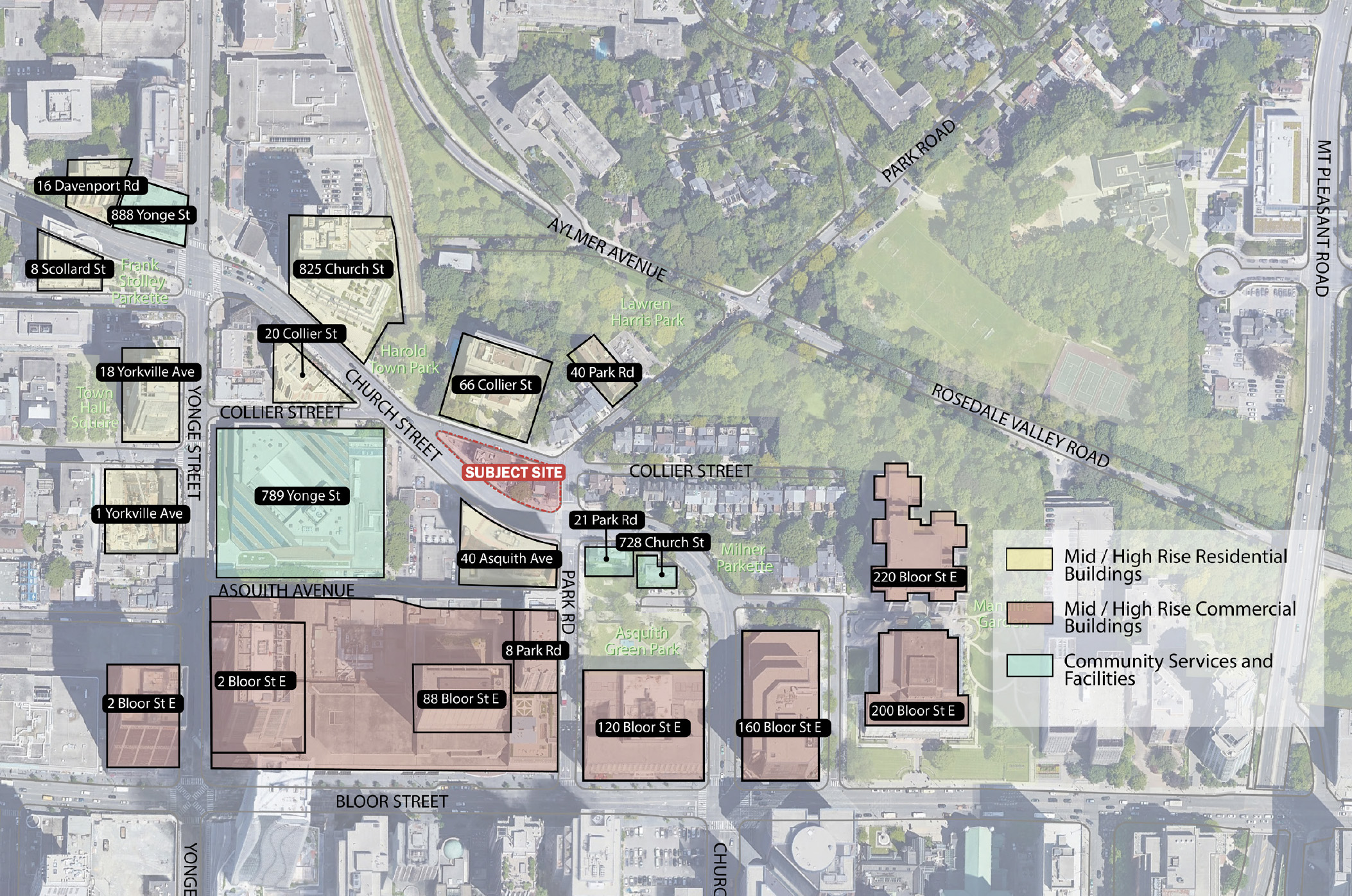 Existing development surrounding the Subject Site. While located next to a small low-rise neighbourhood, the Subject SIte is surrounded by mid-rise and tall buildings. Image courtesy of Urban Strategies Inc.
Proposed here is a 300 unit, 30-storey slim point residential tower designed by Toronto's Diamond Schmitt Architects. It features a twist on the typical flatiron building form; each of its façades is designed to respond to the differing context on each side. The building's massing includes a series of step-backs on the east to transition to the adjacent houses, a slender profile with cutbacks at the west end to maximize the at-grade park space, a curved façade on the south to align with the curved street and apartment block, and an equally articulated façade to the north. Vertical architectural fins wrap the lower elevations and provide visual interest.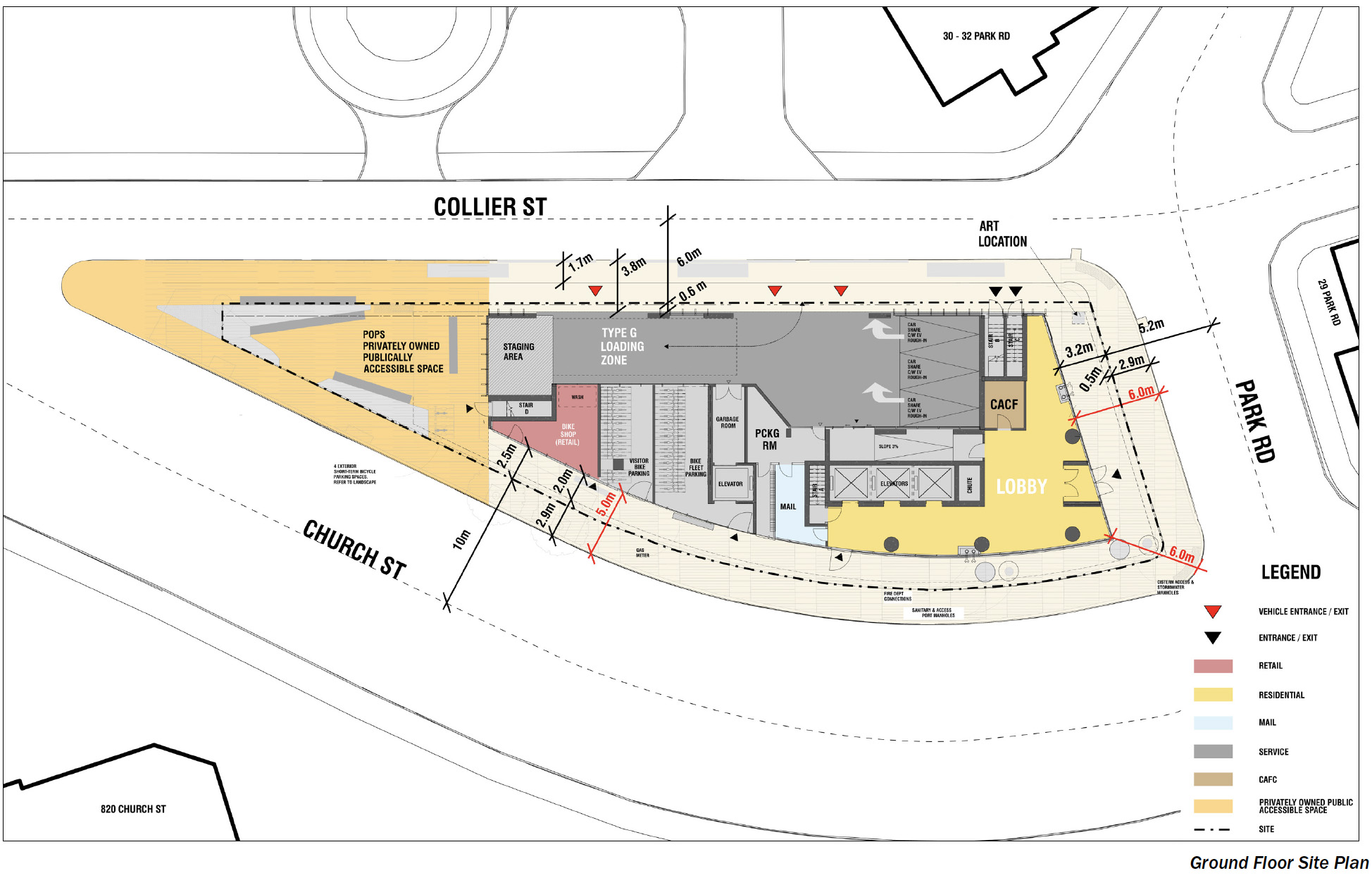 Ground Floor Site Plan. The Subject Site currently contains three individual buildings, with the municipal addresses 707, 709 and 717 Church St, 85, 89, 93 and 97 Collier St and 28 Park Rd. Image courtesy of Diamond and Schmitt Architects.
The building provides a mix of unit types: 10% three-bedroom, 24% two-bedroom, 52% one-bedroom, and 15% studio units. It brings a total Gross Floor Area of 19,656 m² (19,626 m² residential, 30 m² retail), contributing to an overall Floor Space Index of 20.81.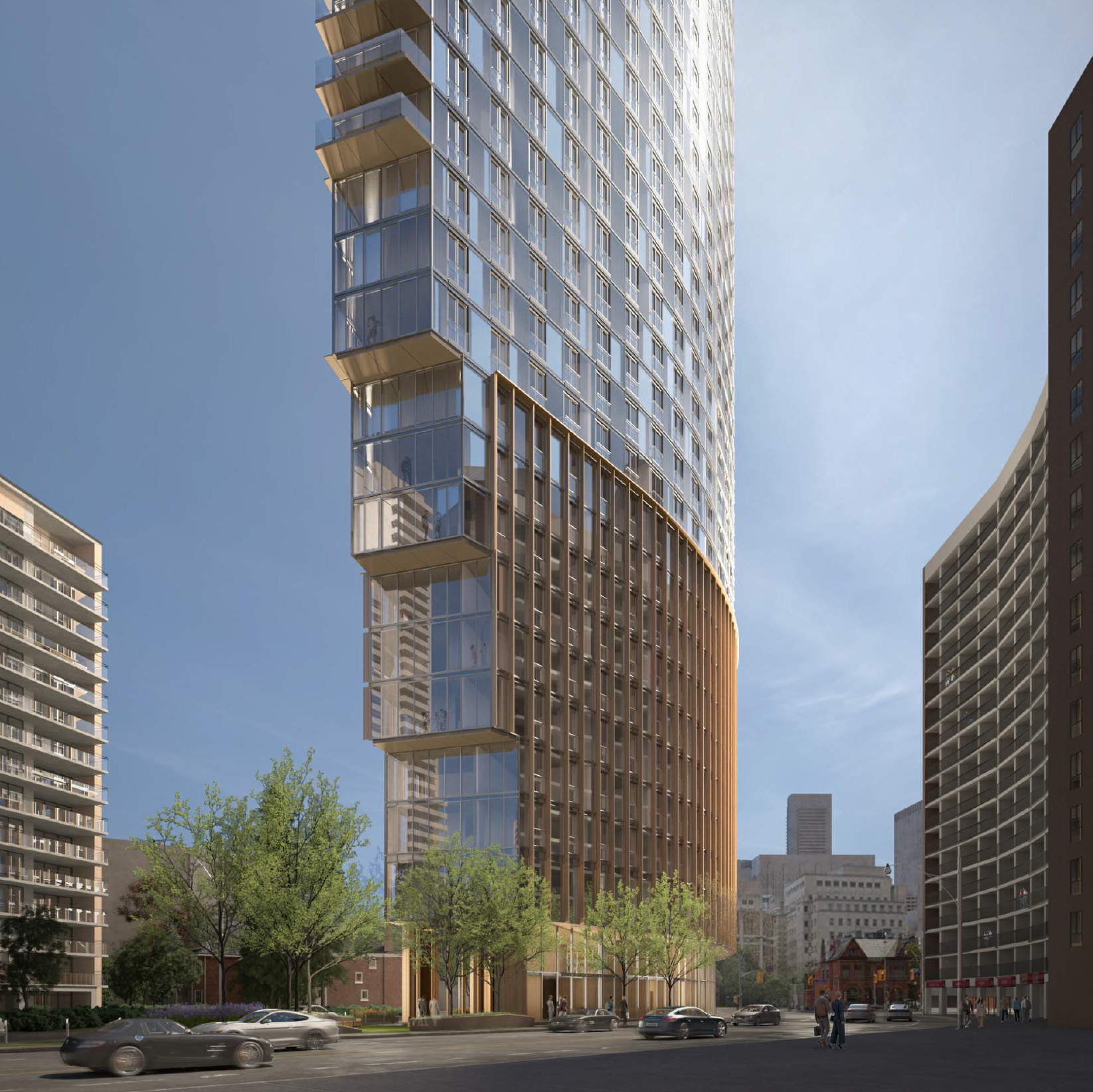 Rendering. Enlarged view looking East from Church St. Image courtesy of Diamond and Schmitt Architects.
The largely glazed, active ground floor is designed to create both physical and visual connections to its surroundings, facing onto Church Street and Park Road, presenting an open vehicular entrance and loading zone on Collier Street. Enhancing the public realm are wider adjacent sidewalks with planters leading to a benched POPS (Privately Owned Publicly accessible Space) at the western point.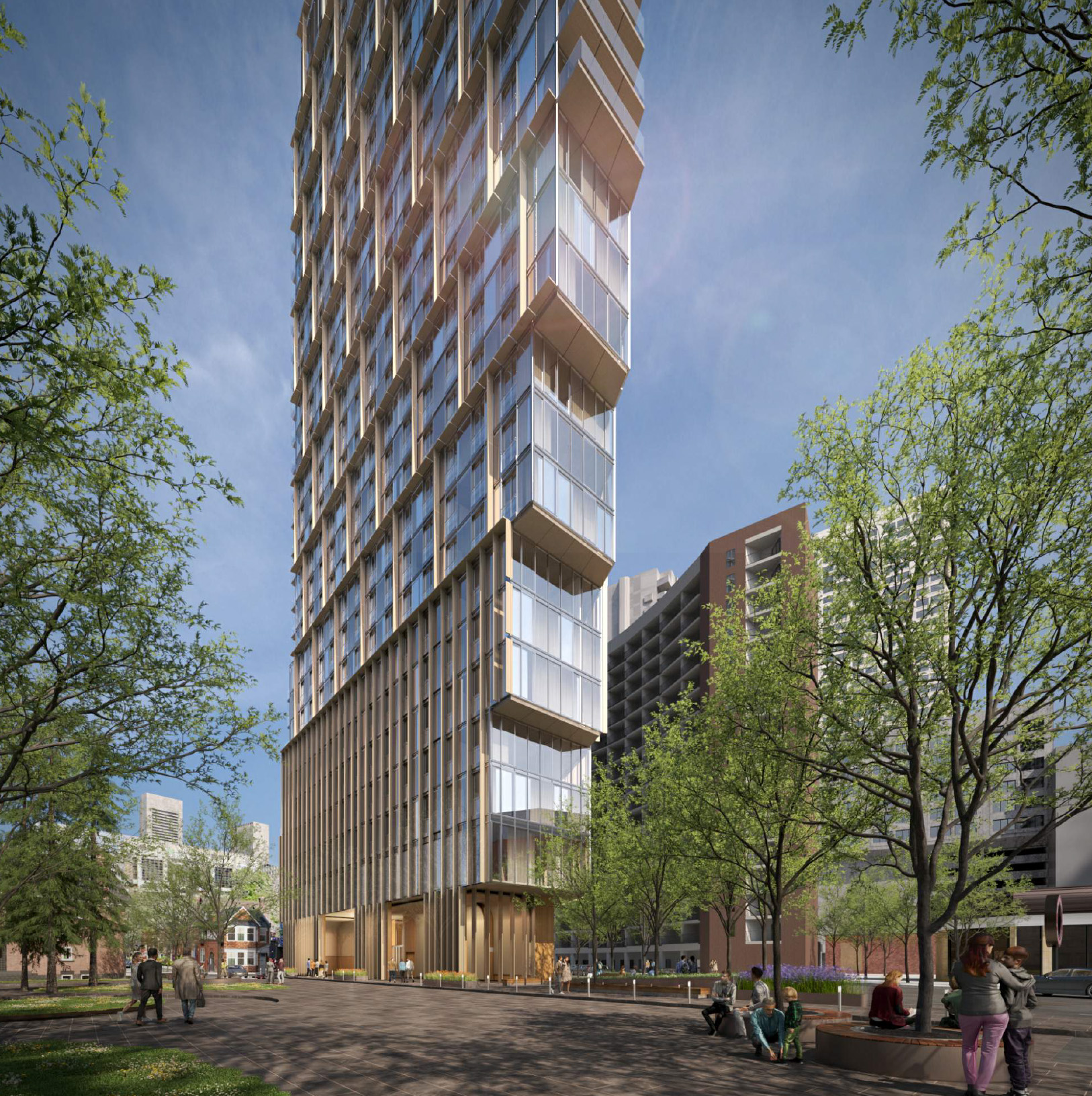 Rendering. View looking East from Collier St. Image courtesy of Diamond and Schmitt Architects.
The proposed development capitalizes on its exceptional GreenScore—walkability, bikeability, and transit proximity—by encouraging sustainable transportation and wellness. It eliminates private vehicle parking altogether, instead providing three carshare stalls and 320 bike spaces. It also features an onsite bike shop, a cycling fleet for residents, a fitness centre, and office-like facilities to make it easier to work from home. This is part of an aggressive Transportation Demand Management (TDM) strategy focused on sustainable transportation, and is intended to enhance the public realm of the neighbourhood.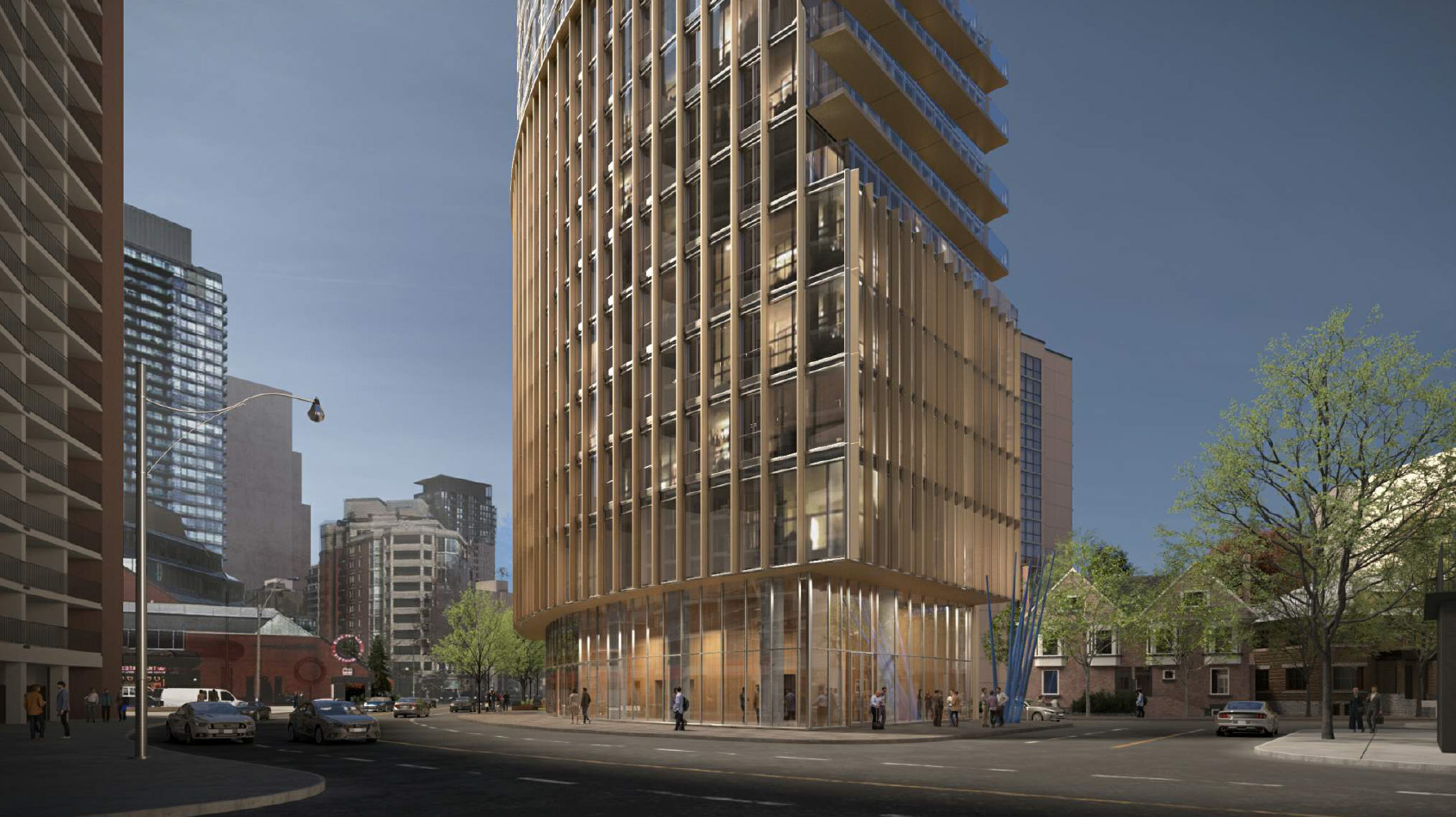 Rendering. View looking West from Church St. Image courtesy of Diamond and Schmitt Architects.
You can learn more from our Database file for the project, linked below. If you'd like to, you can join in on the conversation in the associated Project Forum thread, or leave a comment in the space provided on this page.
* * *
UrbanToronto has a new way you can track projects through the planning process on a daily basis. Sign up for a free trial of our New Development Insider here.