News dropped in the final days of 2020 about a plan to redevelop the Canada Square complex at Yonge and Eglinton in the heart of Midtown Toronto when Oxford Properties and partner CT REIT submitted a Zoning By-law Amendment application to the City seeking to redevelop the 9.2-acre 2180 Yonge site: five tall towers would come to one of Toronto's key intersections. Now, supporting documents accompanying the application are shedding light on the plan's finer details.
As covered in our initial article, the Urban Strategies-overseen masterplan is separated into precincts by a park, each precinct tasked to different architects for more visual variety, the northern one to Pelli Clarke Pelli, and the southern to Hariri Pontarini Architects. Adamson Associates Architects serves as Executive Architect across the master plan, which would be woven together with a public realm plan by landscape architects OJB.
North Precinct
This area of the site is to feature to tallest of the five towers, a mixed-use building rising 60 storeys above the southwest corner of Yonge Street and Eglinton Avenue West to a height of approximately 253.5 metres. The lone tower on the site designed by Pelli Clarke Pelli, this building would feature two floors of retail and 28 storeys of office space on the lower half of the tower, and 32 storeys of residential units above. This building would be constructed as the first phase of the community, and would immediately address the loss of office space from the proposed demolition of the existing Canada Square complex.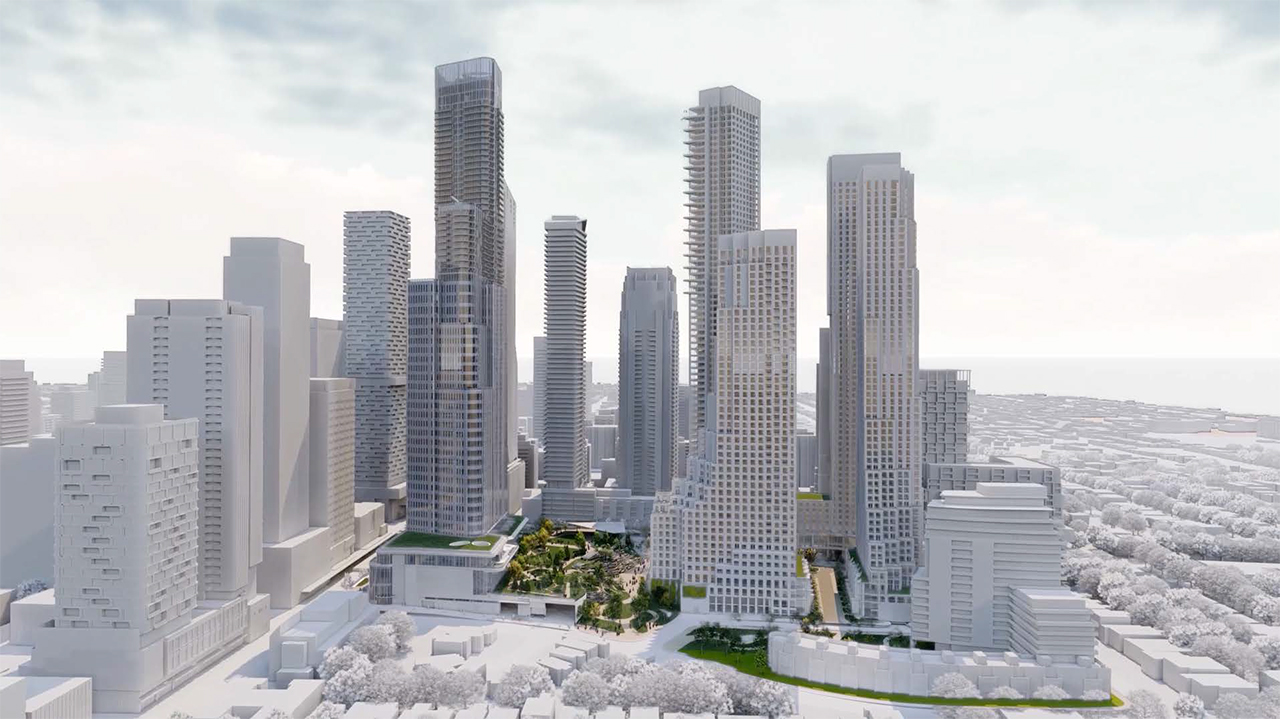 Looking east over 2180 Yonge, image via submission to City of Toronto
Park
Approximately 2 hectares—roughly half of the total site area—of open space would tie the two ends together. This includes 1,800 m² of parkland, with a new piazza at the corner of Yonge and Eglinton, a central community green space that would be built atop the existing Eglinton Station bus terminal, a mid-block open space providing a connection between Yonge Street and Duplex Avenue, and a new residential courtyard and a parkette along Berwick towards the south end of the site. Located between the first and second phase towers, a new community centre is planned to house daycare and recreation space.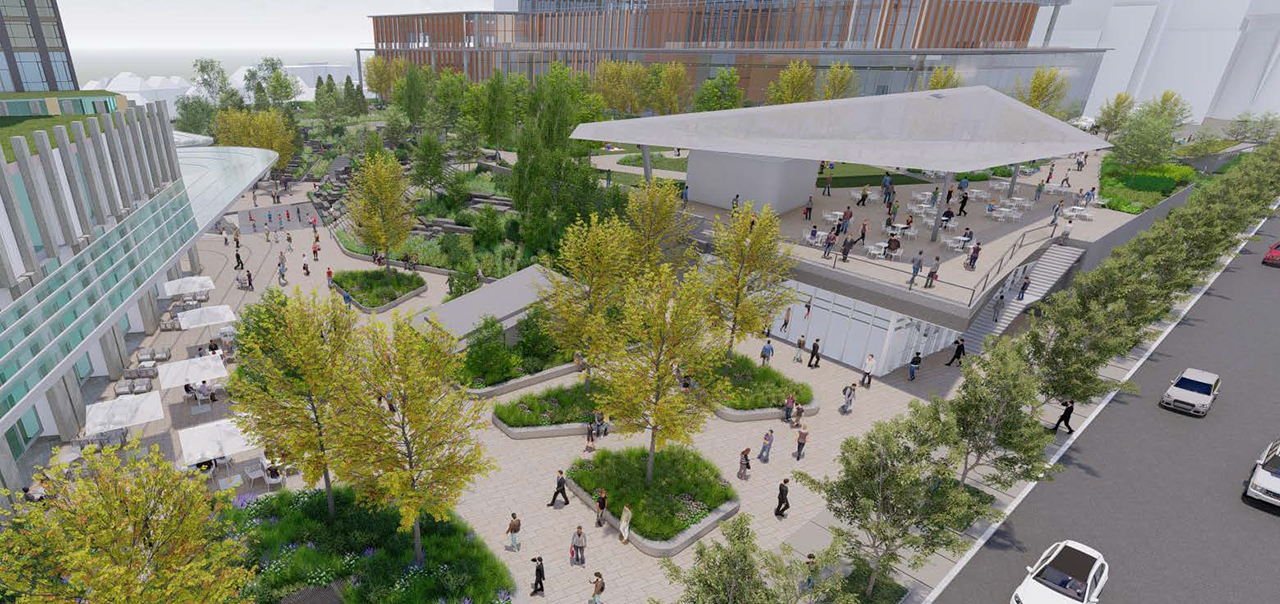 Public space at 2180 Yonge, image via submission to City of Toronto
South Precinct
The Hariri Pontarini Architects-designed south precinct includes the next tallest building in the plan: Tower 2. Siituated along Yonge Street, while this tower is to rise 70 storeys, with no tall office floors, its shorter residential floors would bring it to a height of 231.7 metres. South of Tower 2, above the corner of Yonge and Berwick, another 60-storey residential tower dubbed Tower 3 would rise 204.2 metres. To the west, the residential Towers 4 and 5 would reach heights of 55 storeys/184.3 metres and 45 storeys/154.3 metres. All four of these phase 2 towers would be organized around a central cul-de-sac that would be accessed via a new north/south street running between Berwick and Duplex avenues.

Towers 2 (R) and 3 (L) at 2180 Yonge, image via submission to City of Toronto
A total of 2,701 residential rental units are proposed across the site, including 45% units deemed family-friendly. The unit breakdown is currently planned at 282 studios, 1,194 one-bedrooms, 954 two-bedrooms, and 271 three-bedrooms. Though still early on in the planning and approvals process, the proposal is contemplating the inclusion of affordable housing options within the unit mix.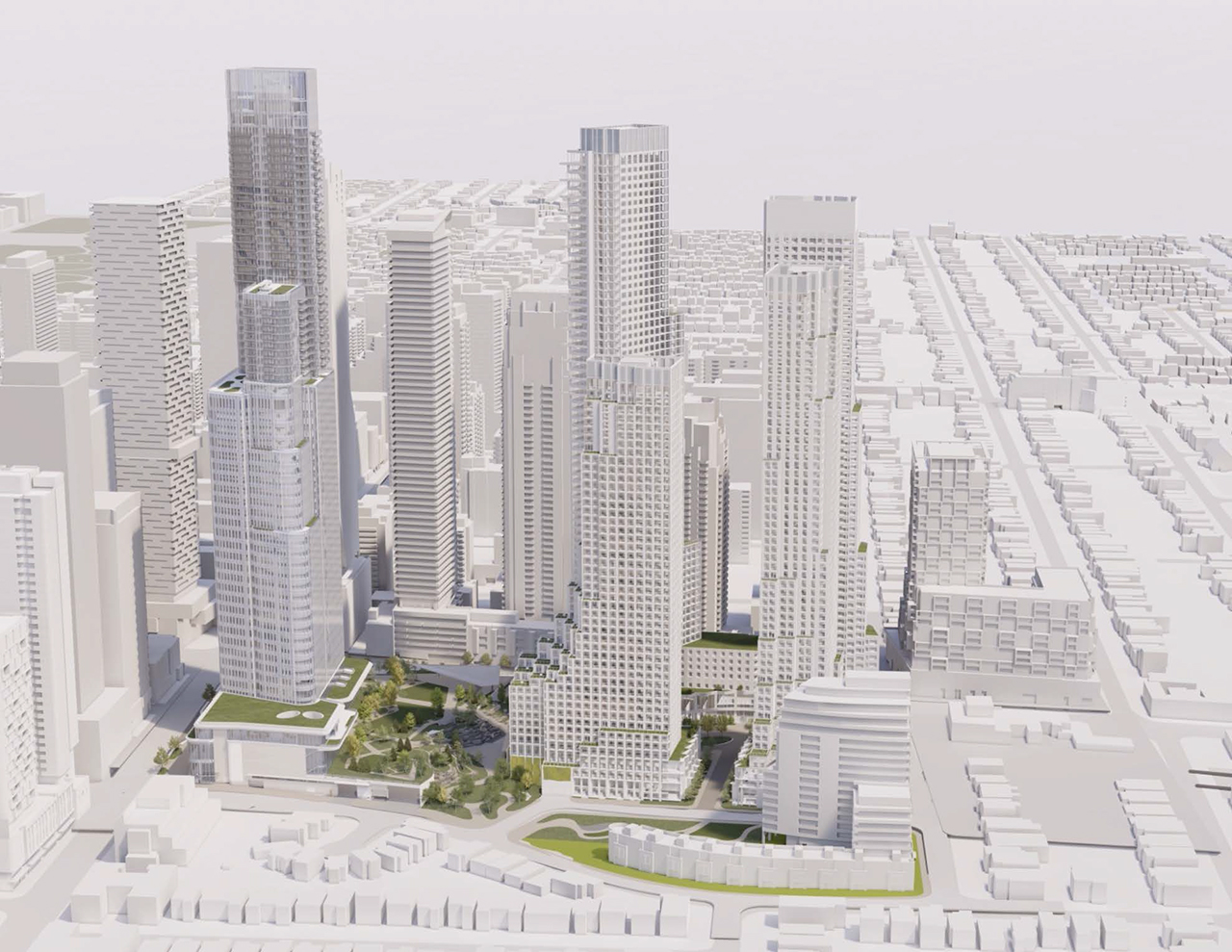 Looking east over 2180 Yonge, image via submission to City of Toronto
Tower 1 would have a three-level garage accessed from Duplex Avenue, to the north of the existing TTC bus terminal entrance. This garage is planned to house 375 parking spaces, with 128 resident spaces, 8 visitor spaces, 247 commercial spaces, and 2 car-share spaces. To the south, the four future residential towers would share a connected two-level underground garage accessed via the new street. This garage would house a combined 479 parking spaces, with 432 resident spaces, 41 visitor spaces, and 6 car-share spaces.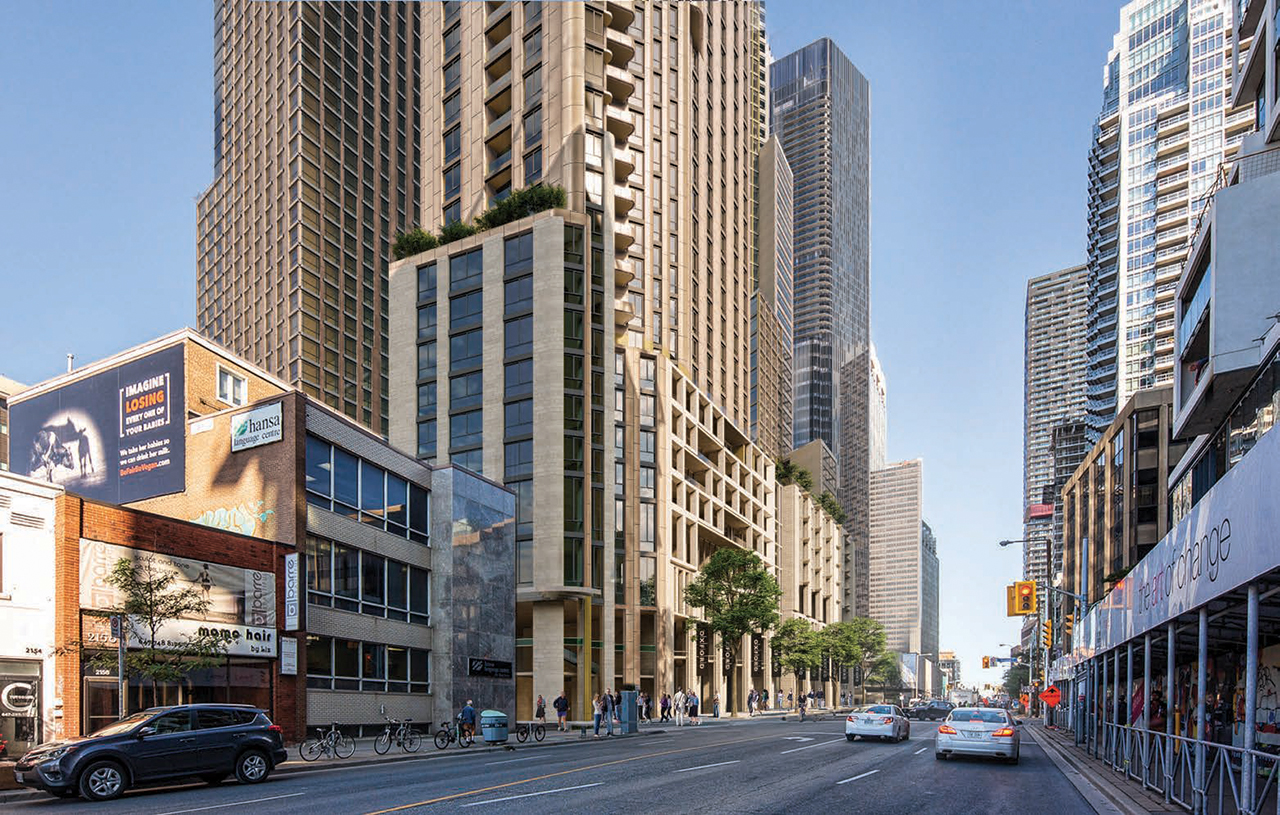 Looking north on Yonge Street to 2180 Yonge, image via submission to City of Toronto
Additional information and images can be found in our Database file for the project, linked below. Want to get involved in the discussion? Check out the associated Forum thread, or leave a comment in the space provided on this page.
* * *
UrbanToronto has a new way you can track projects through the planning process on a daily basis. Sign up for a free trial of our New Development Insider here.