Redevelopment is in full swing at a Downtown Toronto site bounded by Queen, Shuter, Mutual, and Dalhousie streets. Previously home to a surface parking lot of about a hectare in area, the 27-storey first phase IBI Group-designed condominium tower known as 88 North is complete, while construction is advancing on the next three 88 Queen East towers from St Thomas Developments. The new phases are to rise 27, 28, and 51 storeys with designs by Hariri Pontarini Architects and Architect of Record Turner Fleischer. The tall south tower is to be a condominium building for St Thomas, while the two central towers are to be rentals from Fitzrovia Real Estate.
Work on the three new towers has been ongoing since mid-December, 2019, when the remaining section of surface parking was closed to make way for construction. Shoring and excavation were well underway by the start of 2020, and when we last checked in on the project's status last May, the excavation had moved a few metres below grade, revealing both pile and lagging as well as caisson wall shoring systems to hold the surrounding earth back. Angled struts and the first row of tieback rock anchors were bracing the pit. Digging continued to a depth of four storeys, bottoming out in late 2020, and allowing the first pair of cranes to be installed.
Looking southeast over site of 88 Queen, image by Forum contributor brianyyz
Two more cranes have since followed to join in on the forming process for the underground garage, most recently with the installation of a fourth and final crane last week. The crane installation was carried out with the help of a mobile hydraulic crane parked on a closed stretch of Dalhousie Street.
Crane installation at 88 Queen, image by Forum contributor brianyyz
Forming of the underground levels will continue for another few months before the trio of new towers begin to surface. The pair of purpose-built rental towers will bring another 550 homes to the site upon their targeted completion in mid-2022, while over 530 units are to be built in the south condo tower, marketed simply as 88 Queen.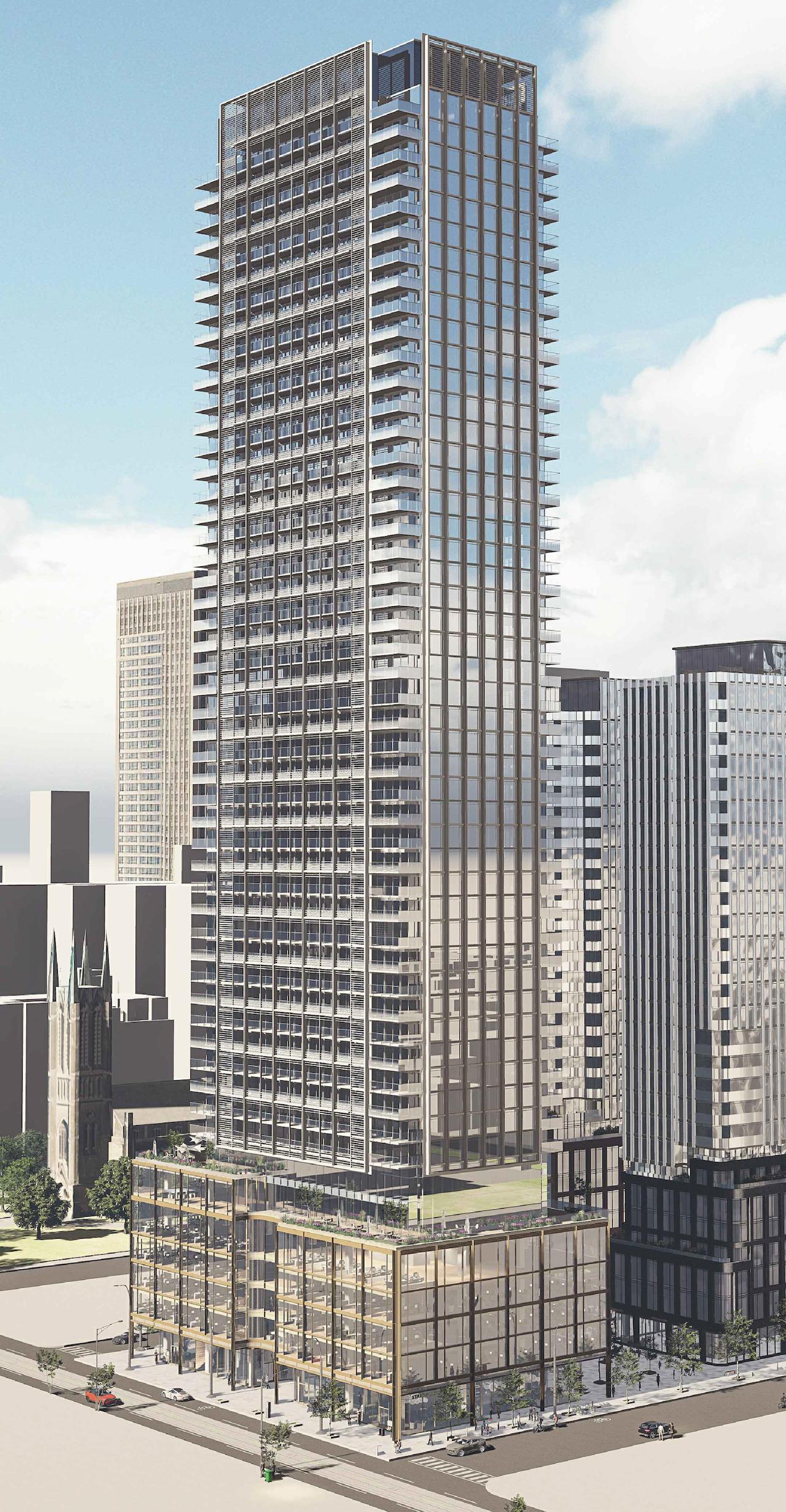 Condo tower at 88 Queen, image via submission to City of Toronto
Rental towers at 88 Queen, image via submission to City of Toronto
Meanwhile, as work advances on the next phases, a new parkette adjacent to the completed first phase has opened. Designed by acclaimed Montreal-based landscape architects Claude Cormier + Associés, the 962 m² public space is paved in a radial cobblestone pattern and features benches, plantings, and pathways meant to invite pedestrians into the site. The park is to connect with future public spaces in the new phases that will extend the park's design language to the site interior, connecting with pedestrian mews and public art installations.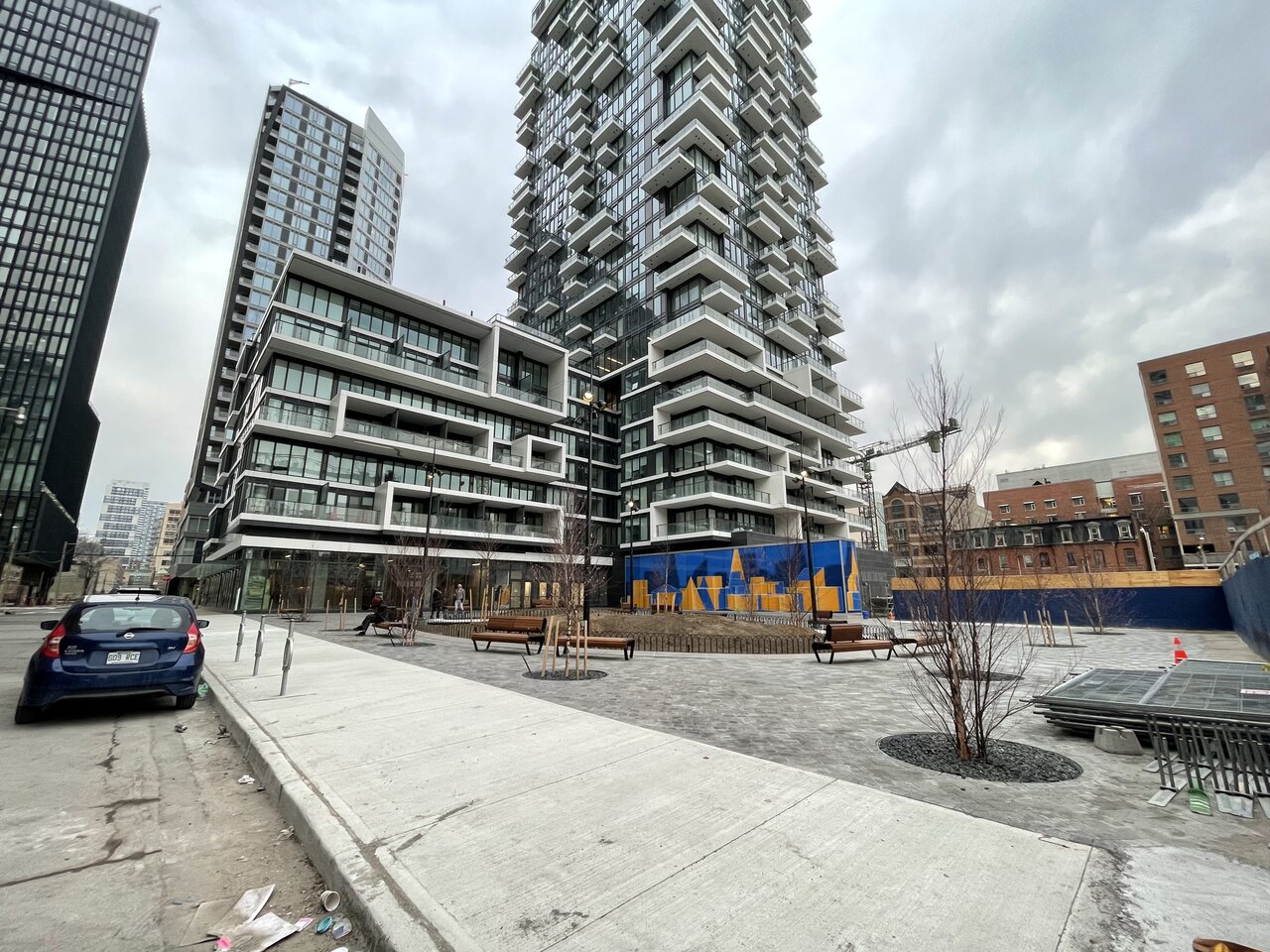 New park at 88 Queen, with completed 88 North in background, image by Forum contributor brianyyz
Additional information and images can be found in our Database file for the project, linked below. Want to get involved in the discussion? Check out the associated Forum thread, or leave a comment in the space provided on this page.
* * *
UrbanToronto has a new way you can track projects through the planning process on a daily basis. Sign up for a free trial of our New Development Insider here.