A recent application submitted to the City of Toronto is seeking a Zoning By-law Amendment to preserve and intensify a heritage property at 600 King West, at the northeast corner of King and Portland streets. Proposed by Wittington, the plan seeks to build an addition atop and behind an Edwardian Classical-style 4.5-storey former warehouse known as the Beatty Manufacturing Company building. Dating to 1900, it is listed on the Toronto Heritage Register and under Part V of the Ontario Heritage Act. Designed by ERA Architects—a firm specializing in heritage integration projects—the proposal would add another five storeys of space, including a new hotel occupying its uppermost levels.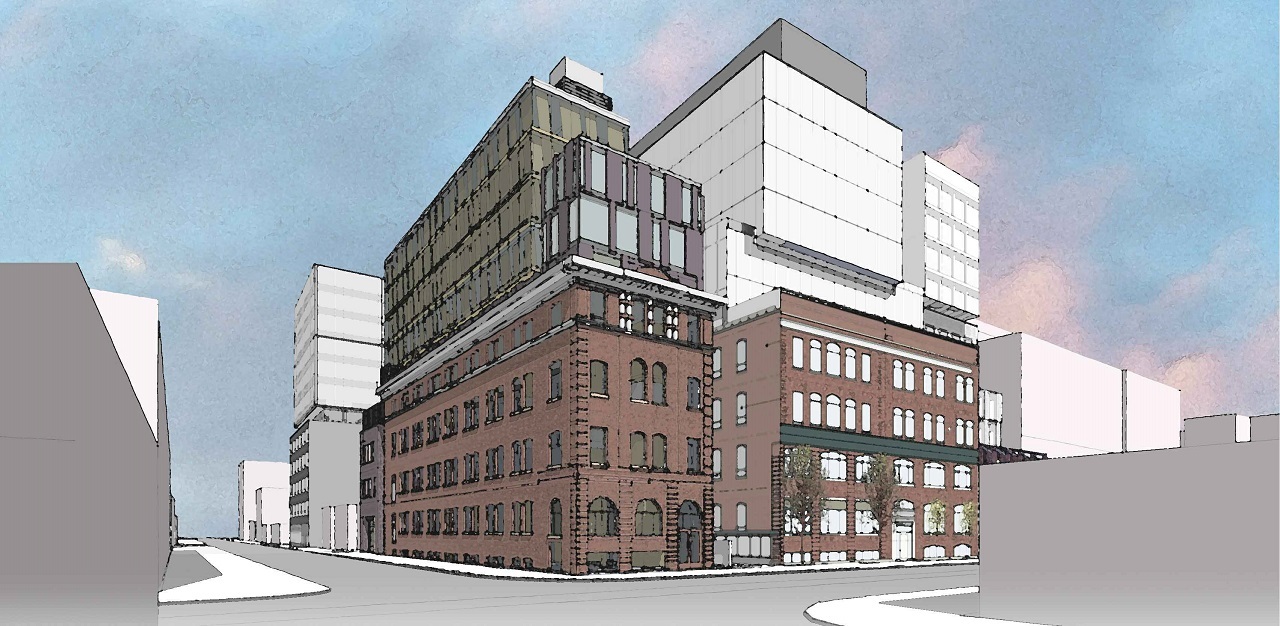 Looking northeast to 600 King West, image via submission to City of Toronto
The 5,339 m²/57,469 ft² addition would include 1,034 m² of commercial space, along with a 4,304 m² hotel that would have event and workspace as well as a guest gym, along with the suites. With the new levels to be constructed behind and atop the in-situ building retention, the structure's height would increase to 41.5 metres. While the majority of the building would live on, an existing one-storey rear outbuilding is proposed to be removed and replaced by a three-storey structure that infills the north end of the site.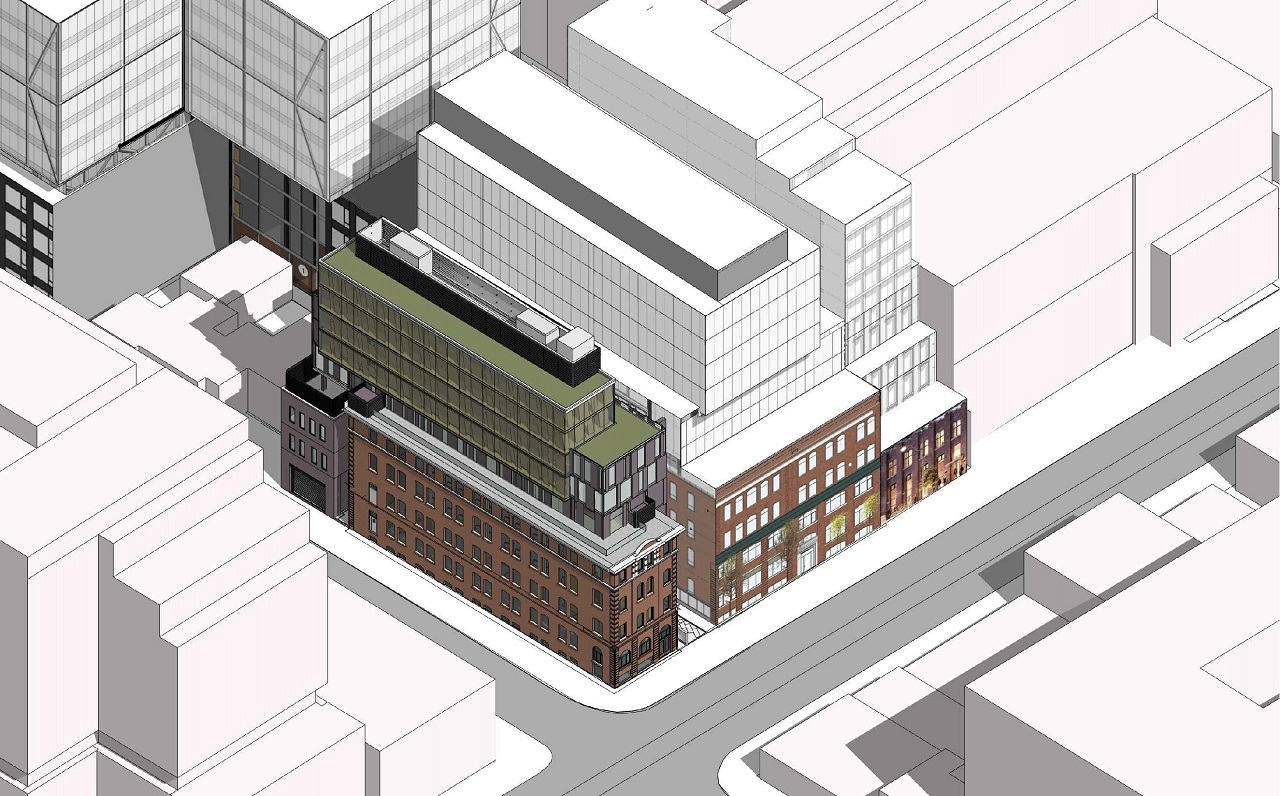 Looking northeast over 600 King West, image via submission to City of Toronto
The plan calls for the retention of the existing restaurant uses at the base of the building. A media and arts oriented private members club The Spoke Club, which operated in the building for 14 tears before closing for renovations on January 1, 2020, is having its floors entirely renovated to a design by Giannone Petricone Associates. They will include a new workspace and a lounge on the 2nd floor, a gym on the 3rd floor, a private dining room and servery on the 4th floor, a kitchen, lounge, conference room, and library on the 5th and 6th floors. The hotel will occupy levels 7 through 9. A trio of green roof spaces atop levels 5, 7, and 9 measure 35 m²/371 ft², 194 m²/2,089 ft², and 147 m²/1,582 ft², respectively.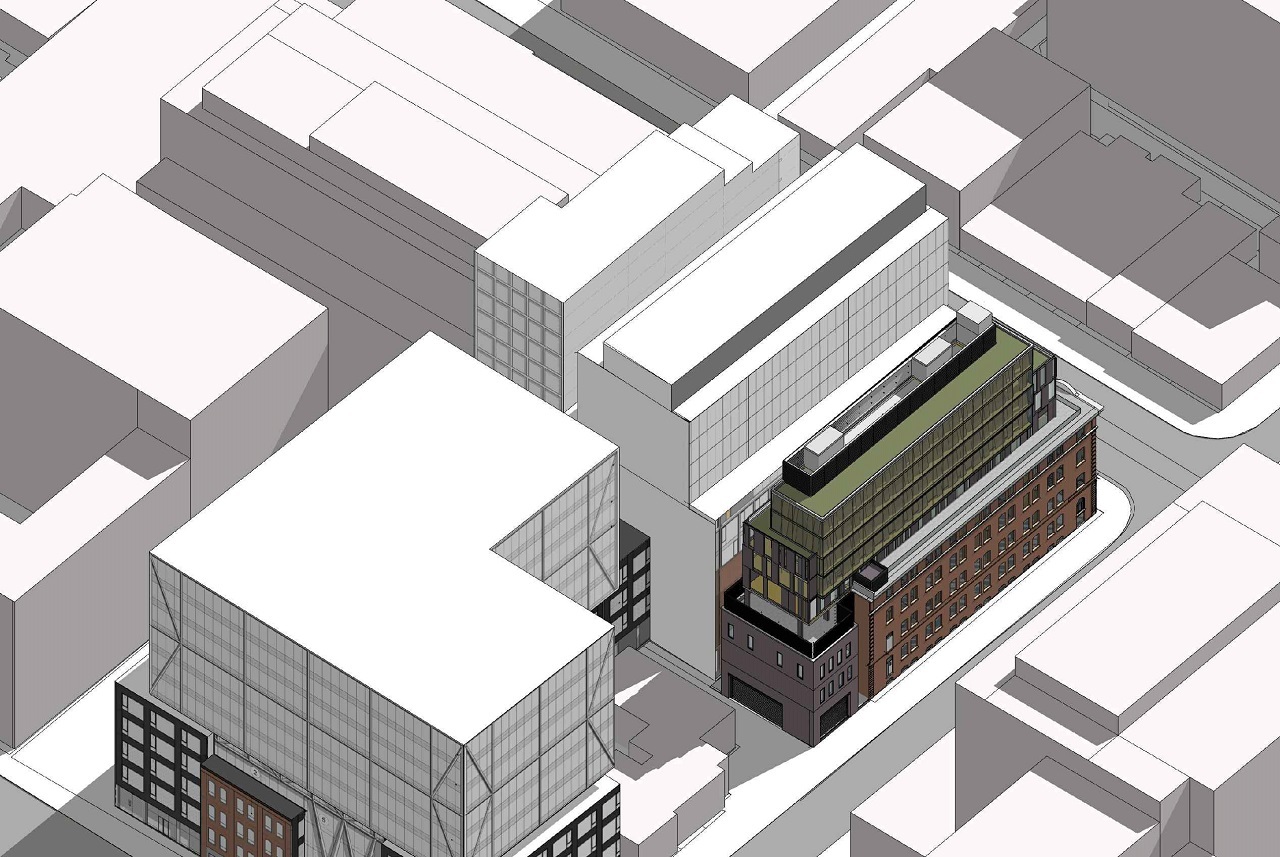 Looking southeast over 600 King West, image via submission to City of Toronto
Architectural plans detail how the base building would have its existing masonry restored, along with reinstated heritage-style windows and the wood cornice restored along the original roofline. Above, an intermediate section clad in metal panels with glazed openings would transition the heritage masonry below to an upper section consisting of a curtainwall glazing system framing timber.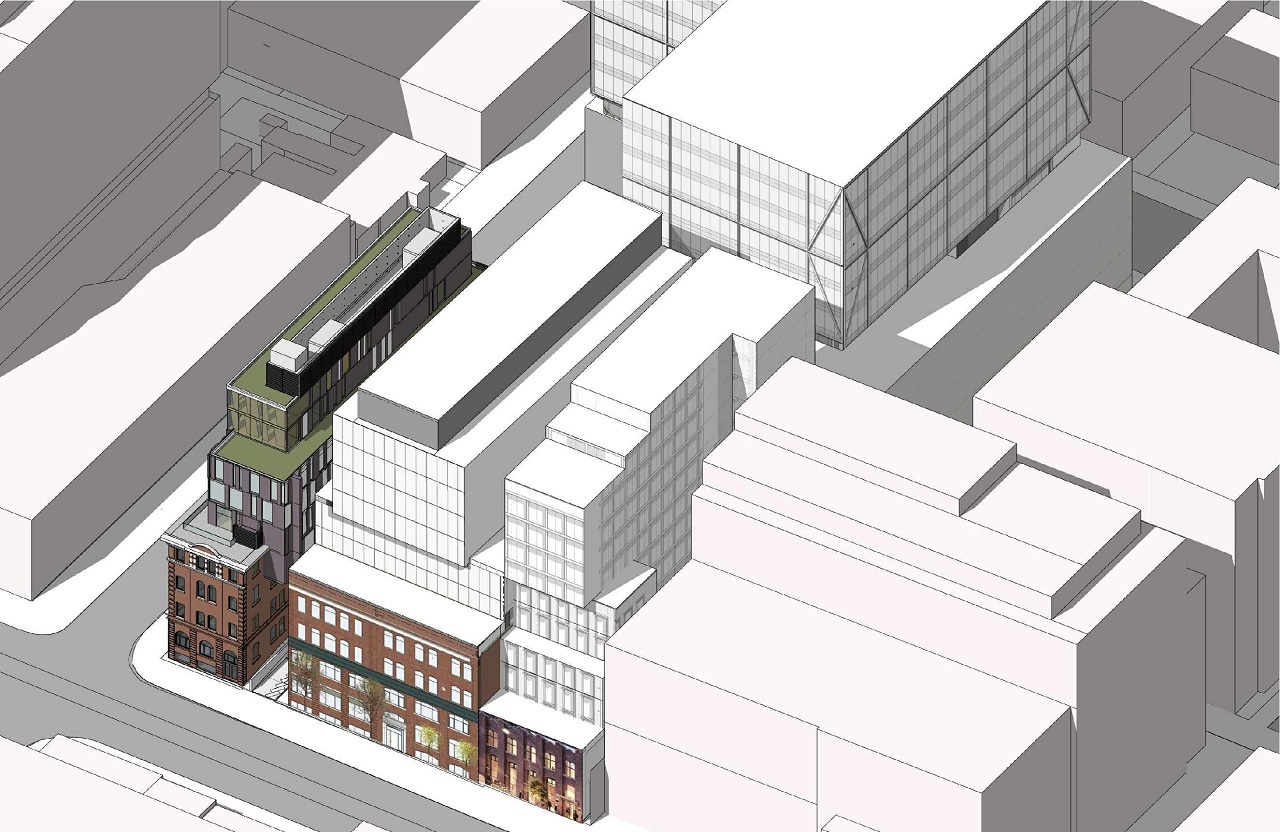 Looking northwest over 600 King West, image via submission to City of Toronto
The project is located in an evolving area of Toronto—the City Council-adopted King-Spadina Heritage Conservation District—which is not yet in force as it is under appeal at the Local Planning Appeal Tribunal. A number of other similarly-scaled projects in the area include a range of modern additions over heritage bases or behind facadectomies. The developers claim that the intensification projects breathe new life into the area while preserving the local character at street level.
Additional information and images can be found in our Database file for the project, linked below. Want to get involved in the discussion? Check out the associated Forum thread, or leave a comment in the space provided on this page.
* * *
UrbanToronto has a new way you can track projects through the planning process on a daily basis. Sign up for a free trial of our New Development Insider here.