Though there is a pandemic raging on, planning for a post-COVID future means that a number of new hotel properties are under construction across Toronto, gearing up to accommodate a return to normal following the relaxation of travel restrictions. Among the new hotels, the luxury boutique Ace Hotel will mark the 11th property—and first Canadian location—for the Los Angeles-headquartered hotel chain. While the 13-storey, Shim-Sutcliffe-designed building was originally targeted to open at the southwest corner of Camden and Brant Streets this year, opening has been postponed to a yet-to-be-announced date in 2021.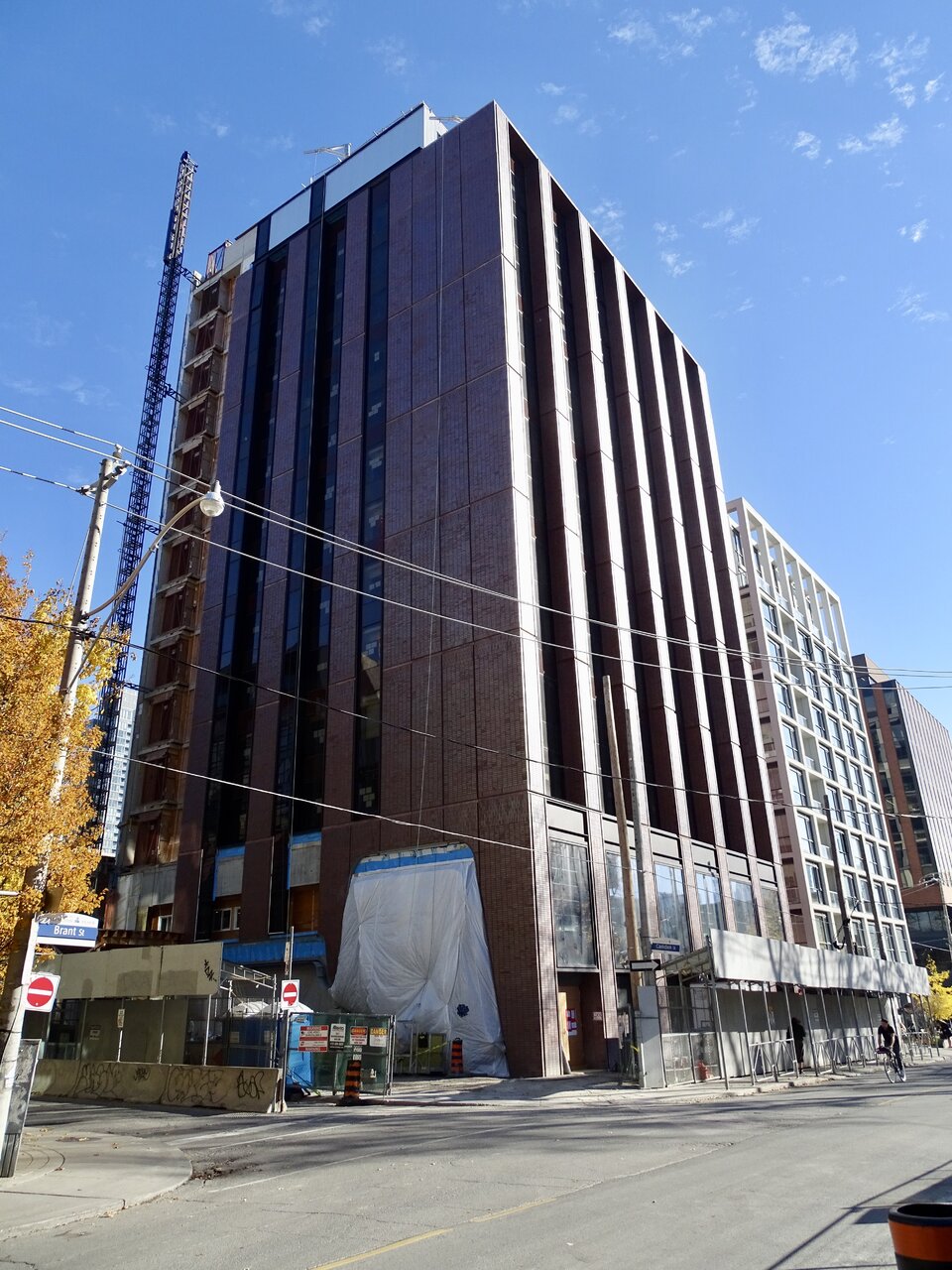 Looking southeast to the Ace Hotel Toronto, image by Forum contributor Red Mars
The hotel, developed by the team of Alterra Group of Companies, Zinc Developments, and Prowinko, started construction in late 2016, and topped out at its final 45-metre height in September, 2019, allowing the tower crane to come down that December. Cladding installation was first spotted in June, 2019, and the building now looks much like as promised in the renderings.
When we last checked in on construction in April, work was still on track for the announced late 2020 opening, though the situation has changed considerably since then. At that time, the building was largely enclosed in a mix of red brick-embedded precast concrete panels, dark-tinted low-iron vision glazing with low-e coating, and a combination of bronze-tinted vision glass and insulated, back-painted, and shadow-boxed spandrel glass.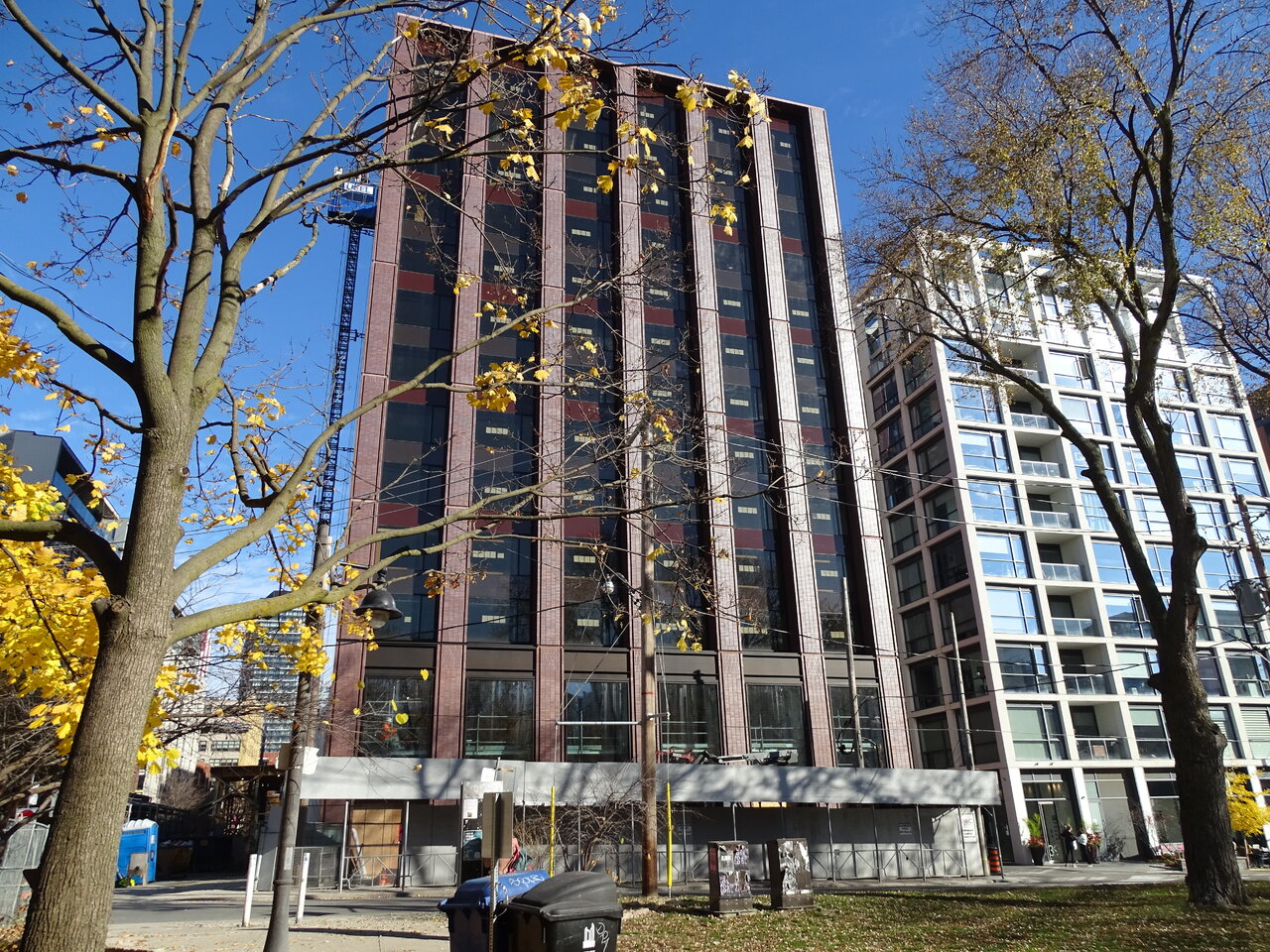 Looking east to the Ace Hotel Toronto, image by Forum contributor Red Mars
This modern spin on the area's red brick warehouse-style has further evolved in the months since, with the only significant areas still awaiting enclosure being a vertical strip on the tower's north elevation, currently occupied by a temporary construction hoist, while main entrance area glass is still to be completed as well. That area can be seen in the image below from mid-October before it was hidden behind tarps (in the image at the top of the story) to complete it.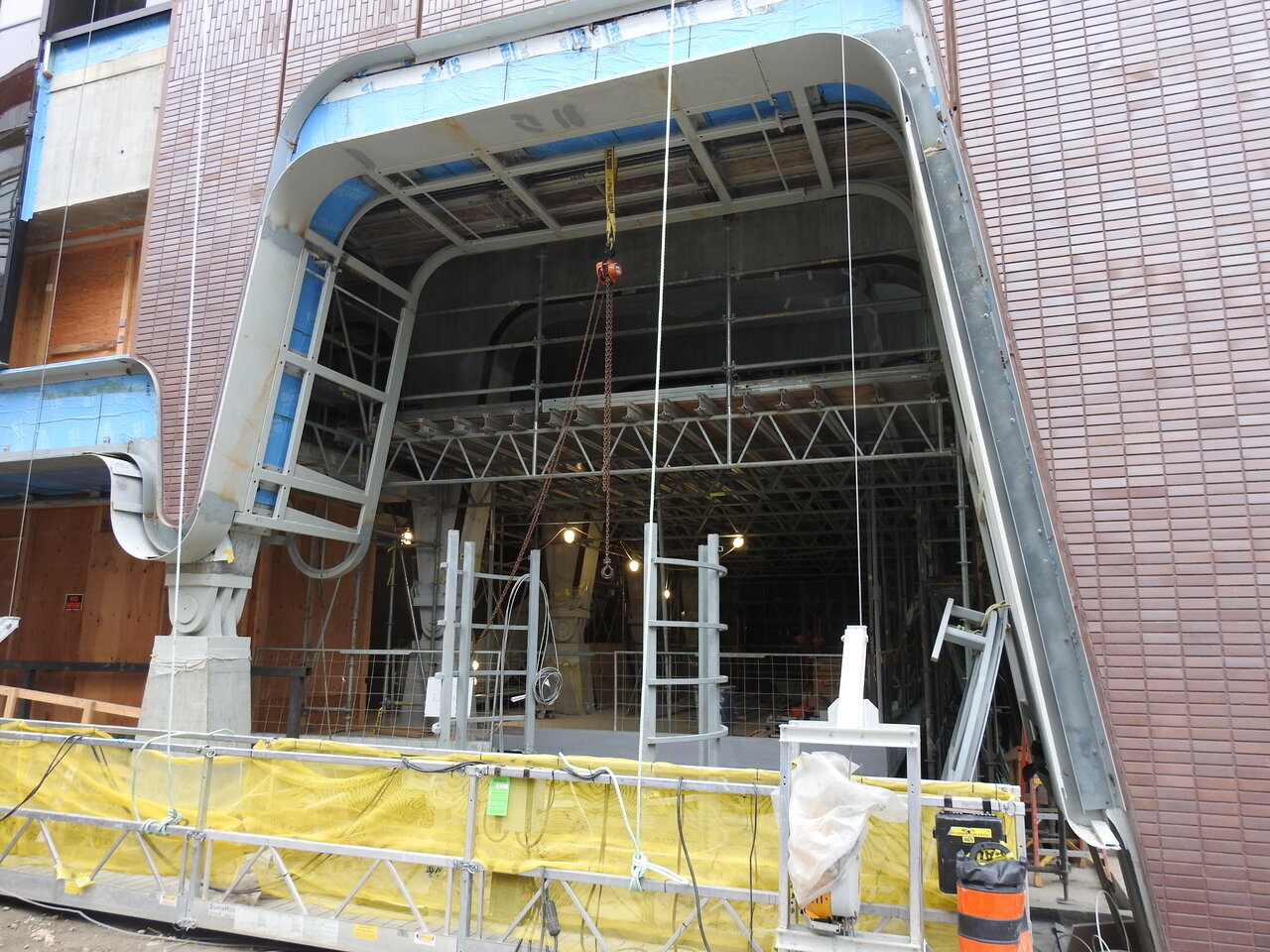 The main entrance area in October before being encased in tarps for completion, image by UT Forum contributor Red Mars
Other areas that have since been given finishes include the mechanical penthouse and rooftop bar area, where a white corrugated metal finish has been installed.
Upper levels at the Ace Hotel Toronto, image by Forum contributor Red Mars
The building will bring 130 luxury hotel suites to the neighbourhood upon opening next year.
Additional information and images can be found in our Database file for the project, linked below. Want to get involved in the discussion? Check out the associated Forum thread, or leave a comment below.
* * *
UrbanToronto has a new way you can track projects through the planning process on a daily basis. Sign up for a free trial of our New Development Insider here.