Included in the lengthy list of planning applications submitted to the City of Toronto in the final days of 2020, documents have now been posted for a condominium tower on King Street East just east of Sherbourne. The Zoning By-law Amendment application covers a land assembly at 234 through 250 King East, stretching from mid-block east of Sherbourne Street over to Princess Street. With multiple addresses tied to the proposal, the plan has been submitted under the convenience address of 236 King East.
Looking north on Princess Street to 236 King East, image via submission to City of Toronto
Proposed by Emblem Developments, the plans calls for an IBI Group-designed tower rising 40 storeys to a height of 132.85 metres, and containing a total gross floor area (GFA) of approximately 33,847 m², almost entirely dedicated to residential space, aside from 604.5 m² of retail space on the ground floor. A total of 488 condominium units are proposed, planned in a mix of 51 studios, 313 one-bedrooms, 74 two-bedrooms, and 50 three-bedrooms.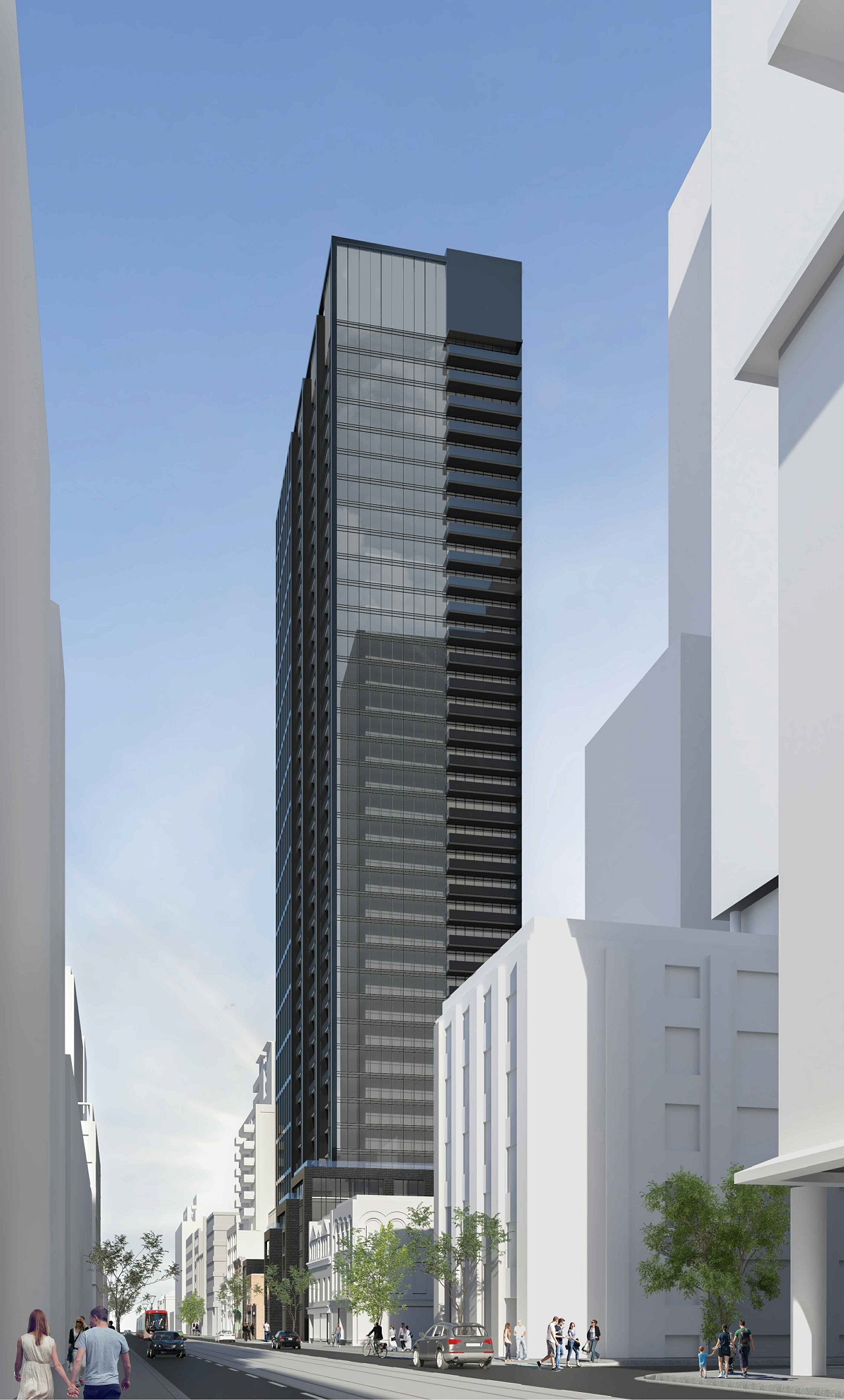 Looking west on King to 236 King East, image via submission to City of Toronto
The plan consists of a four-to-six-storey podium supporting a point tower above. The podium includes the heritage retention—overseen by specialists ERA Architects—of the front portions of the buildings at 234 and 236 King, along with those at 240 and 242 King. Between the two heritage retentions, a 1950s-built building would be demolished and replaced with a new three-storey volume designed to complement the retained heritage buildings to its east and west. Another new-build section at the east end of the site would feature the same charcoal-toned brick finishes, acting as a modern spin on the retained heritage.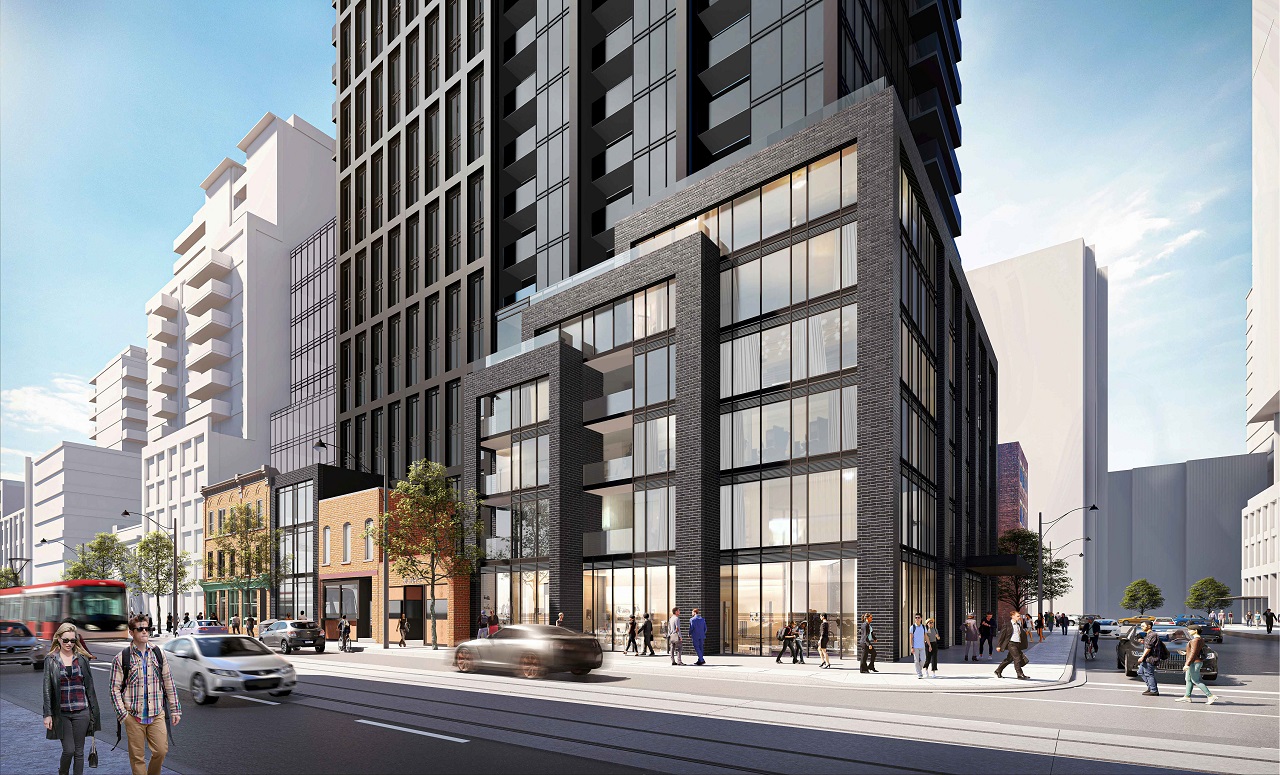 Looking northwest to podium at 236 King East, image via submission to City of Toronto
The tower above is finished in a mix of darkly hued materials. While a list of cladding materials will not be submitted to the City until the proposal reaches the Site Plan Approval stage, renderings indicate a mix consisting of tinted glazing, back-painted glass and metal spandrel panels, and a mix of projecting and inset balconies. The tower terminates in a mechanical penthouse defined by stepped terraces rising from west to east, with the highest point of this feature along the Princess Street frontage.
A three-level underground garage is proposed to house 113 parking spaces; 82 for residents and 31 for visitors or car-share. Offsetting the lack of parking relative to the number of units, the building is planned with 490 bicycle parking spaces, with 441 long-term and 49 resident and retail short-term spaces.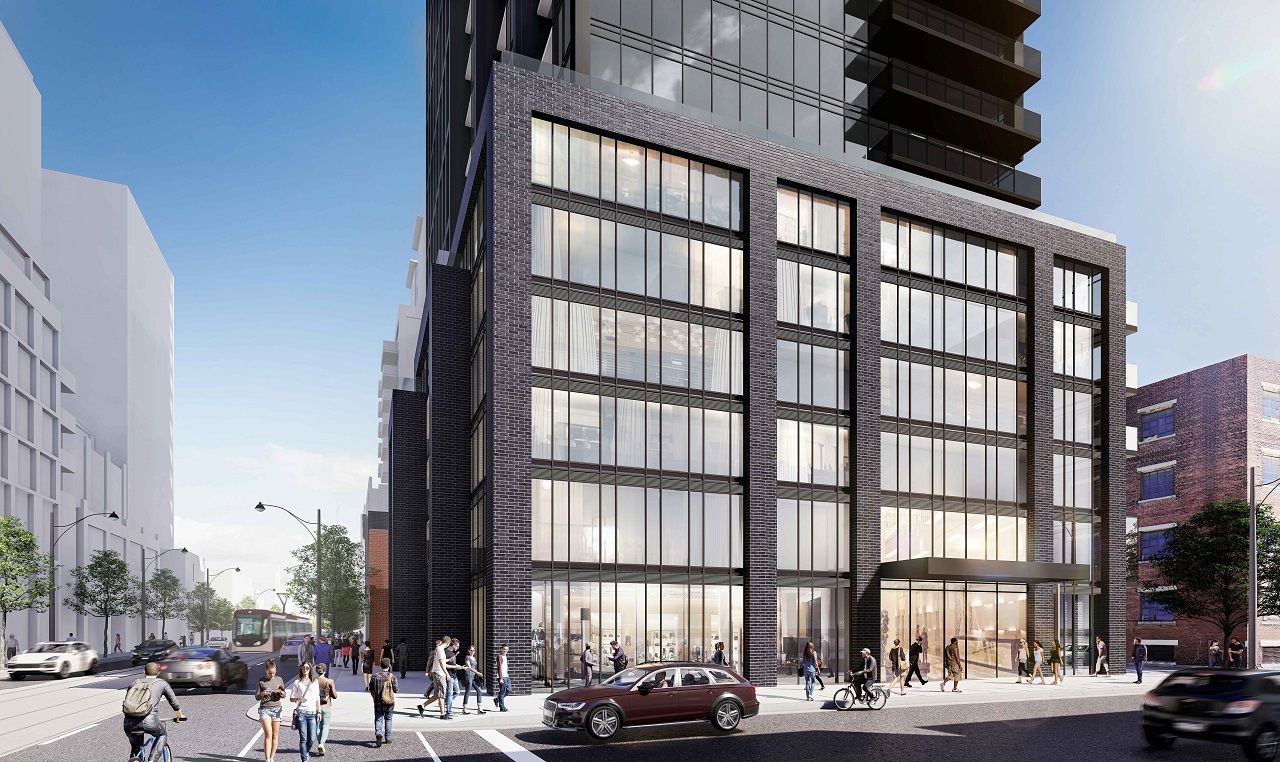 Looking west to podium at 236 King East, image via submission to City of Toronto
You can learn more from our Database file for the project, linked below. If you'd like to, you can join in on the conversation in the associated Project Forum thread, or leave a comment in the space provided on this page.
* * *
UrbanToronto has a new way you can track projects through the planning process on a daily basis. Sign up for a free trial of our New Development Insider here.