Inmino Developments has filed applications with the City of Toronto for Official Plan Amendment (OPA) and Zoning By-law Amendment (ZBA) to bring in a 32-storey mixed-use residential tower to an unremarkable site two blocks north of North York Centre subway station. The proposal which proposes an address of 5205 Yonge—on properties assembled from 5203 through 5215 Yonge and 11 Parkview—is on a stretch of Yonge that, after long debate, will see over the coming years roadway and streetscape improvements as part of the REimagining Yonge plan that City Council approved last week.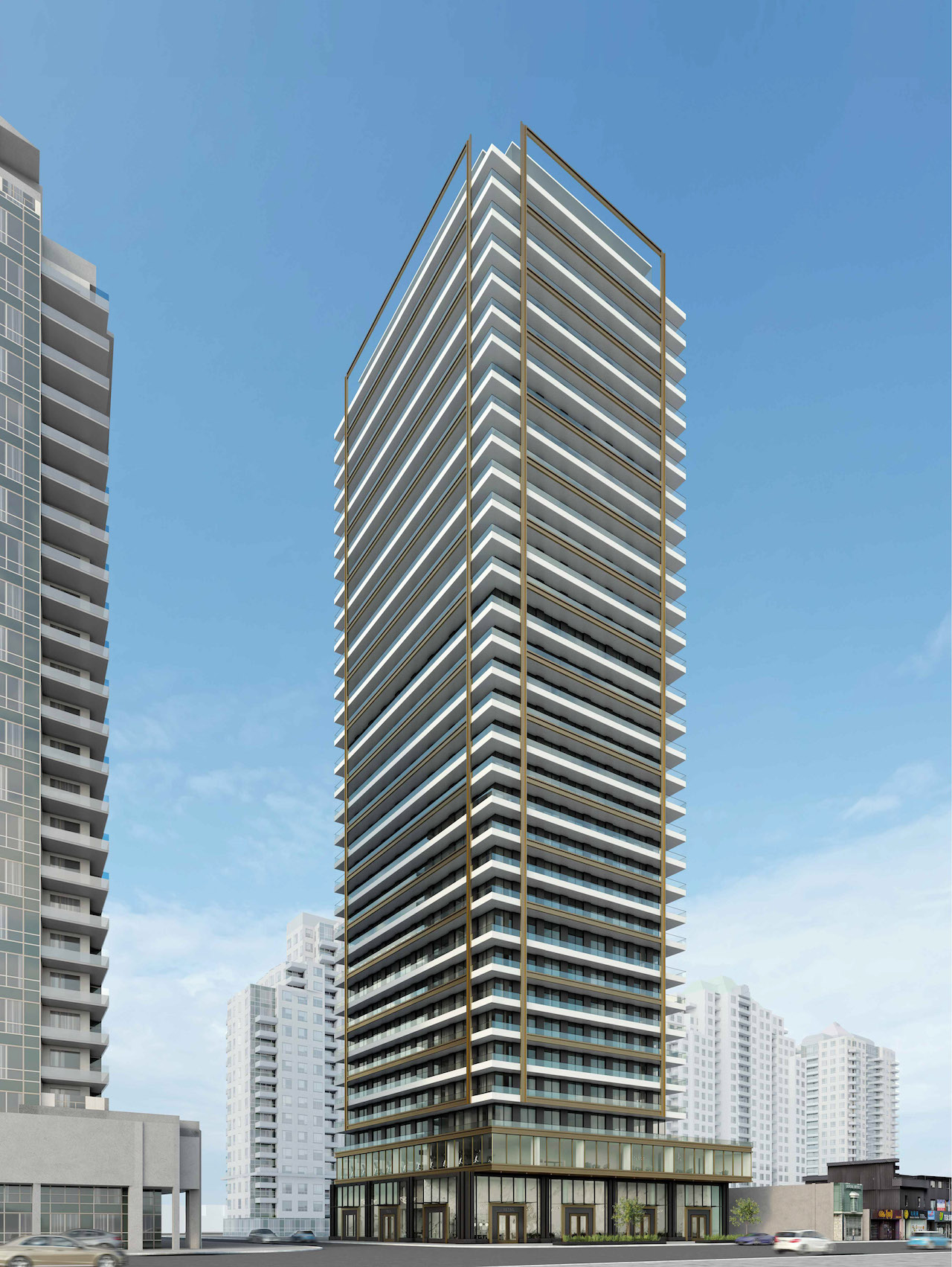 Looking southeast to 5205 Yonge, designed by IBI Group for Inmino Developments
The site is located on the east side of Yonge Street, south of Parkview Avenue, mid-point between Finch and Sheppard Avenues, and three blocks north of Mel Lastman Square. The high-density corridor of Yonge is a dynamic mixed-use environment. The site is bounded by mid- and high-rise residential and commercial buildings, existing, or approved and in development. To the east, beyond the Doris Avenue arterial road is a low-rise residential neighbourhood comprised predominantly of single detached dwellings.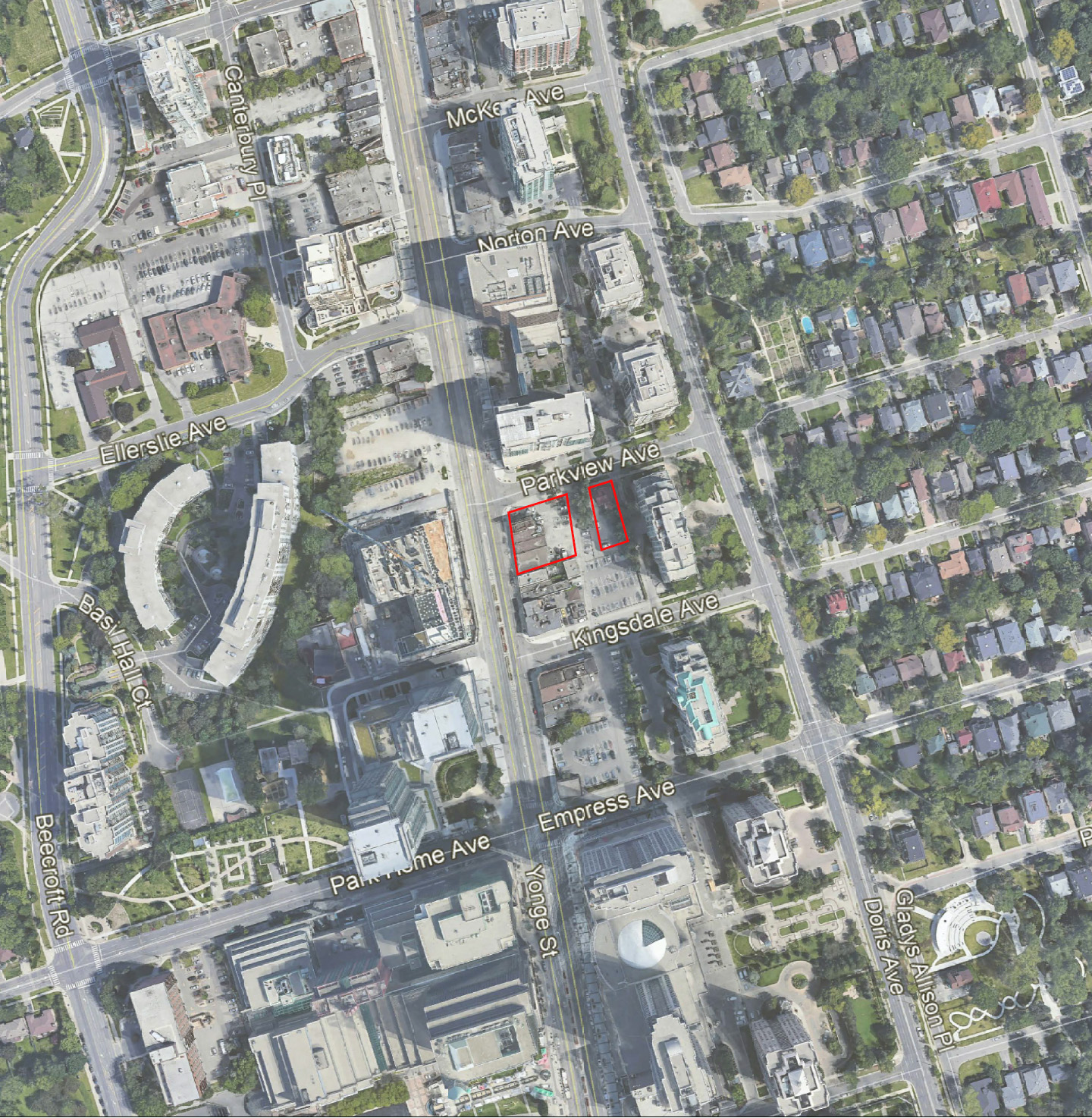 Aerial view indicating the 1,922 m2 subject site (red). The site is separated in two (Yonge St portion, 11 Parkview Ave) by a Green P parking lot and a lane. Image courtesy of Googlemaps.
The site comprises two parcels that are currently separated by a public/private lane and Green P parking lot. The parcel fronting Yonge Street is currently occupied by 2-storey retail uses—a convenience store with offices above, sushi and Korean BBQ restaurants, and a vacant portion—while parcel on Parkview Avenue has a single detached dwelling. Some of both parcels are currently used as surface parking.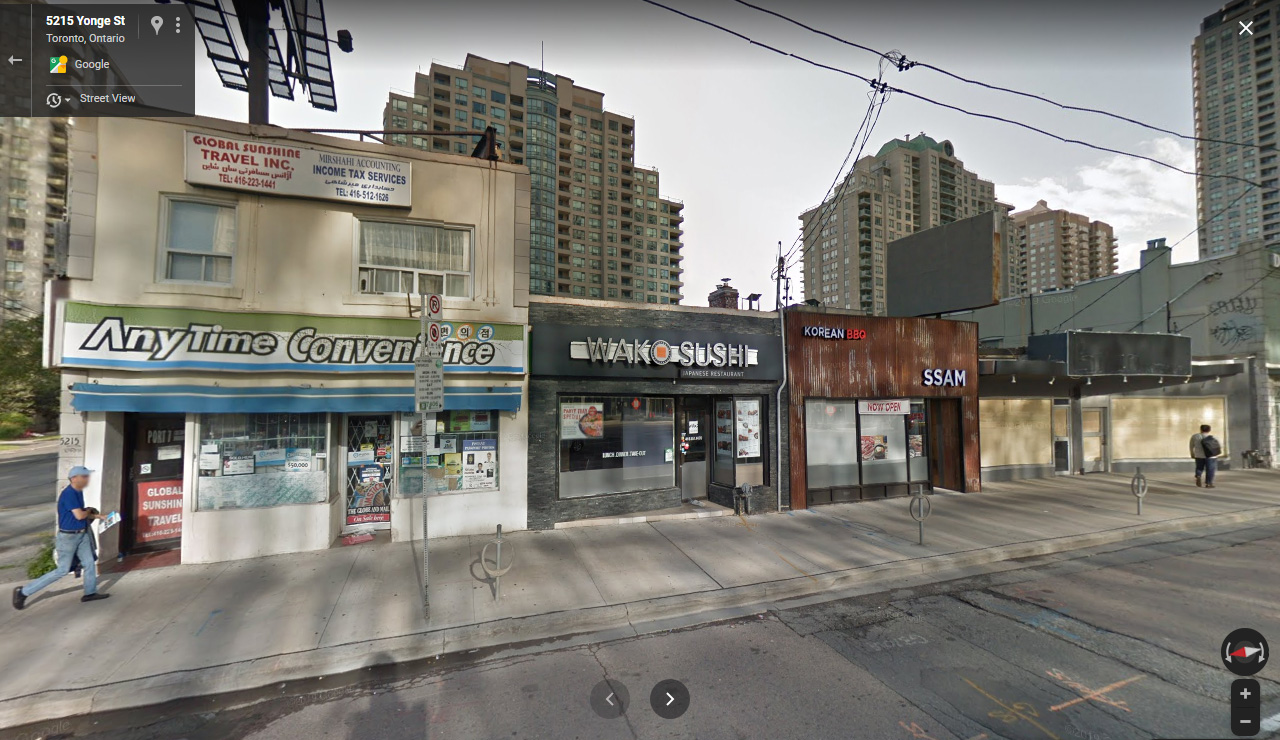 Photo of the existing site, which comprises the lands municipally known as 5203, 5205, 5211, 5213 and 5215 Yonge Street and 11 Parkview Avenue. Image courtesy of Googlemaps.
The proposal seeks to demolish the existing structures and build a 32-storey tower designed by IBI Group. Its 2-storey base/podium comprises a mix of residential, retail, and commercial uses. The project consists of 251 m² of first floor retail space and 19,877 m² of residential area for a total GFA of 20,128 m², equating to a Floor Space Index of 10.47 across the site.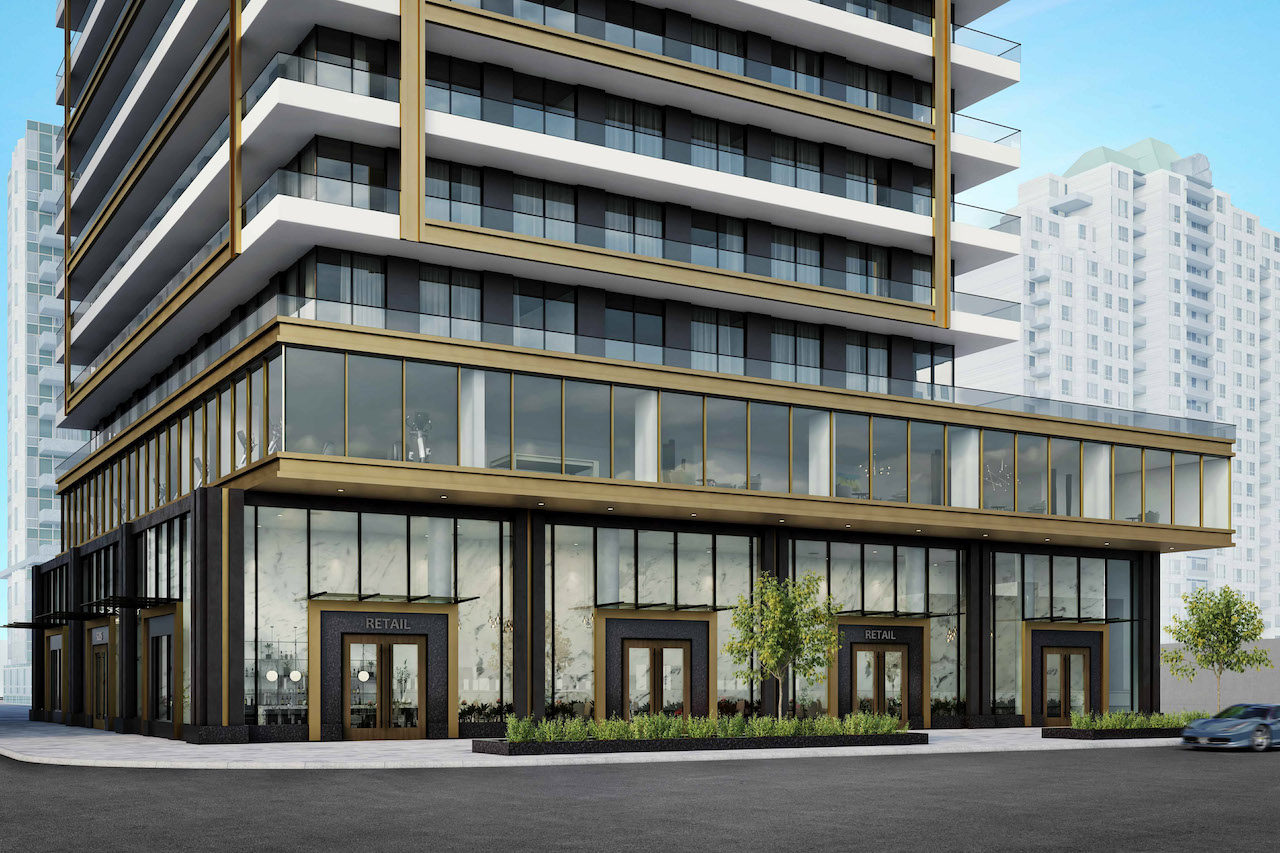 Looking southeast to the retail frontage at 5205 Yonge, designed by IBI Group for Inmino Developments
The ground floor boasts 6.9 metre-high ceilings, with retail space is located along the Yonge Street frontage, set back further than the overhanging balconies on upper levels in order to accommodate a 10 meter-wide sidewalk, while the Parkview Avenue frontage includes the residential lobby entrance. All back of house operations are contained and screened at the rear of the building, not visible from the public realm. The proposal includes 566 m² as a potential on-site parkland dedication, behind the tower on the 11 Parkview Avenue parcel, separated by the laneway.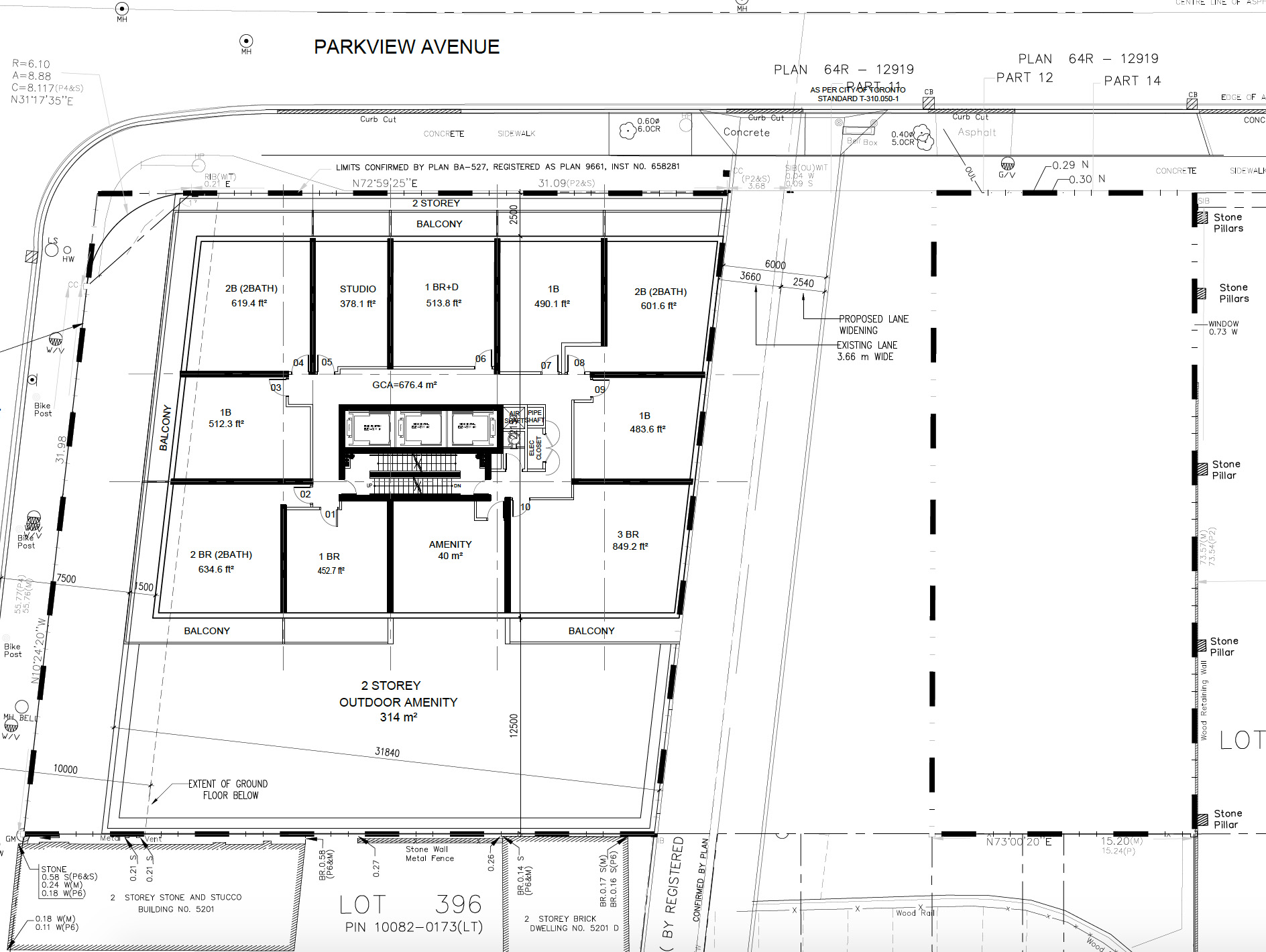 Third floor plan. The proposal includes over 500 m2 as potential on-site parkland dedication at the 11 Parkview Avenue portion of the subject site. Image courtesy of the architects, IBI Group.
The second floor of the building is given over to indoor amenity space (912 m²), and a total of 314 m² of outdoor amenity space is located on the third level at the southernmost portion of the podium roof. Above the podium, a parallelogram-shaped residential tower —floor plate of 676 m²— rises another 30 storeys, for a total height of 32. The 329 dwelling units surround a central elevator core, with a mix that includes 64% (bachelors/1bedroom/1+), 27% 2-bedroom, and 9% 3-bedroom.
The building's proposed material palette includes white and charcoal grey metal panel, glass, gold colour metal, with dark grey marble at the storefront and lobby surrounds.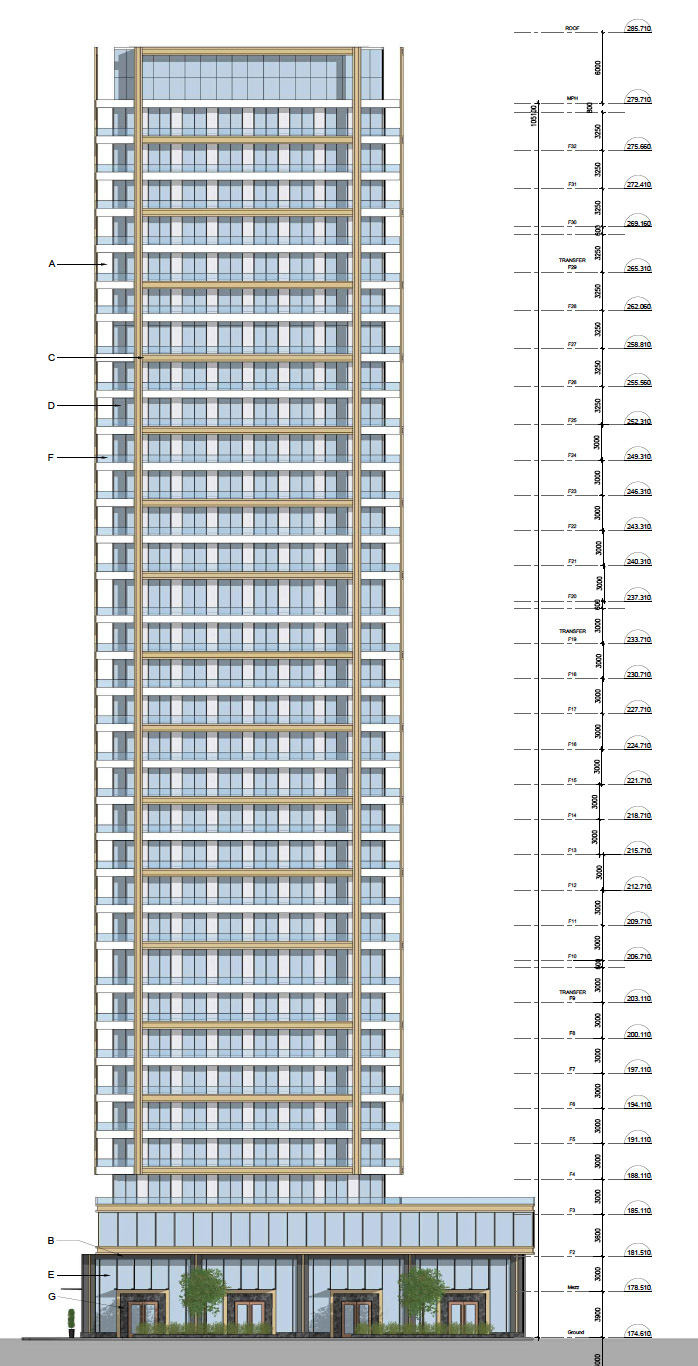 Rendered west elevation. Outdoor amenity space above the podium. Image courtesy of the architects, IBI Group.
Five levels of underground parking provide 132 parking spaces, and the mezzanine level provides 325 bicycle spots.
Additional information and images can be found in our Database file for the project, linked below. Want to get involved in the discussion? Check out the associated Forum thread, or leave a comment in the space provided on this page.
* * *
UrbanToronto has a new way you can track projects through the planning process on a daily basis. Sign up for a free trial of our New Development Insider here.