A Scarborough site that is home to low-rise commercial could see new life if a redevelopment proposal is approved by Toronto City Council. In late 2020, Wintrup Developments submitted an application to amend the Zoning By-law to allow an 11-storey mixed-use building with retail at 4415 Sheppard Avenue East, at the intersection with Brimley Road.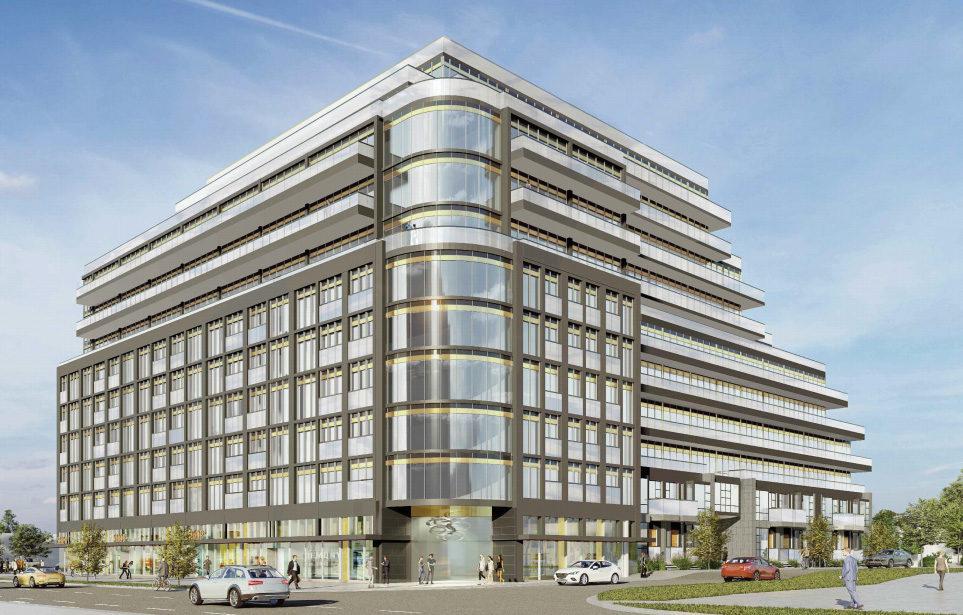 Rendering – North West corner at Sheppard East and Brimley Road.
The L-shaped subject site, at the crossing of two major arterial streets, is comprised of two parcels municipally known as 4415-4419 and 4421 Sheppard Avenue East. The lot contains a single storey commercial building, a two-storey detached dwelling converted for commercial use, and associated surface parking.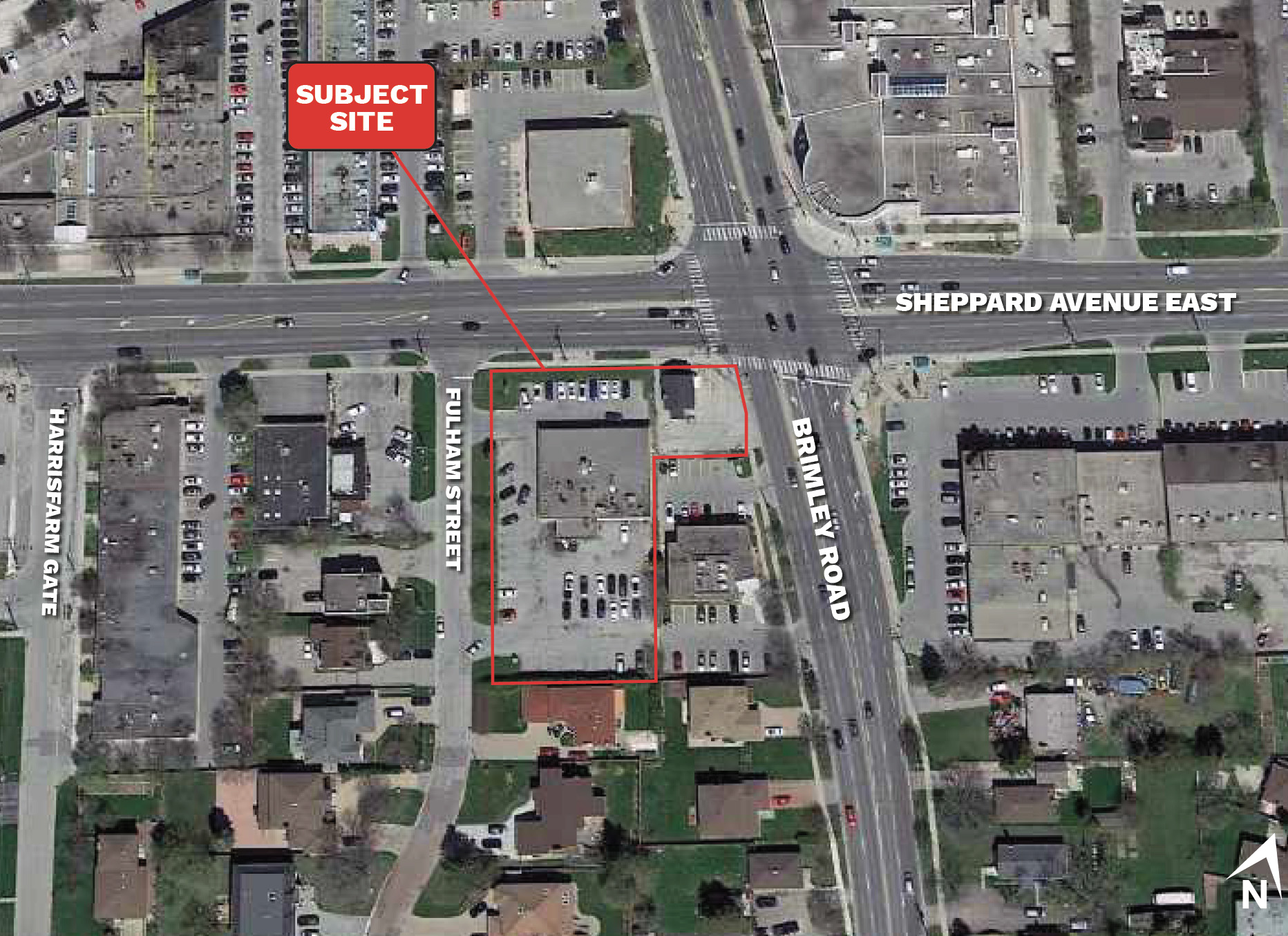 erial photo of subject site: frontages of 60m along Sheppard Avenue East, 22m along Brimley Road, and 77m along Fulham Street.
The developer is seeking approval to redevelop the site with an 11-storey mid-rise building, 32.5 metres high, with street-related retail uses fronting Sheppard Avenue East and Brimley Road and townhouse units fronting on quieter Fulham Street on its west side, with additional dwellings above.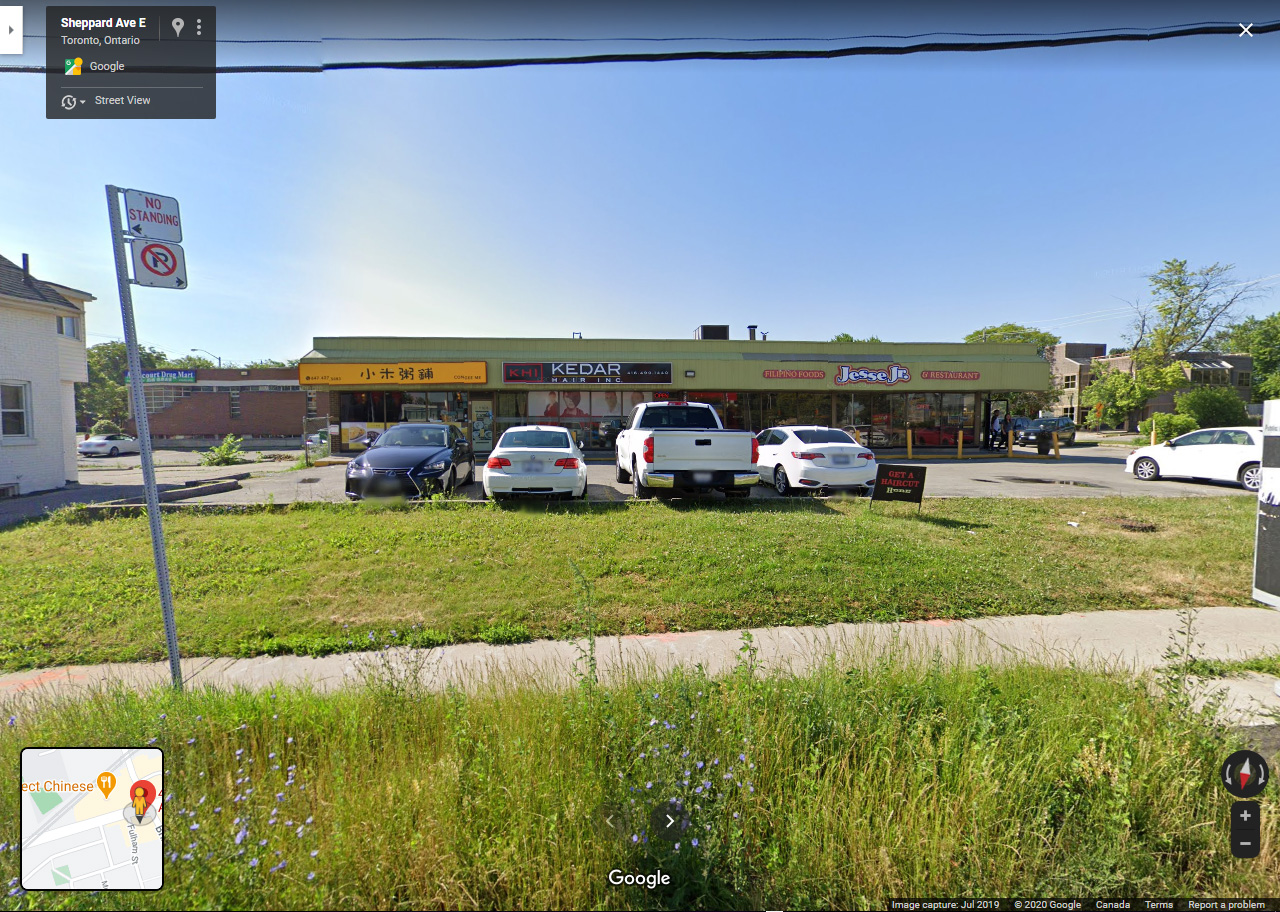 Photo of existing site. Image by Googlemaps.
The proposal, designed by IBI Group, calls for a total gross floor area of 19,642 m², including 18,932 m² of residential and 710 m² of retail, resulting in an overall density (FSI) of 5.7. A total of 243 residential units are proposed.
According to the Planning Rationale report submitted to the City for review, the new building responds to the current and evolving built form context of Sheppard—a commercial corridor characterized by low-rise commercial, industrial and retail uses—as an Avenue in Toronto planning parlance, and seeks to create an appropriate pedestrian realm. It also transitions down to the neighbourhoods to the south—composed of single-detached dwellings—and its design comprises numerous step backs to achieve this.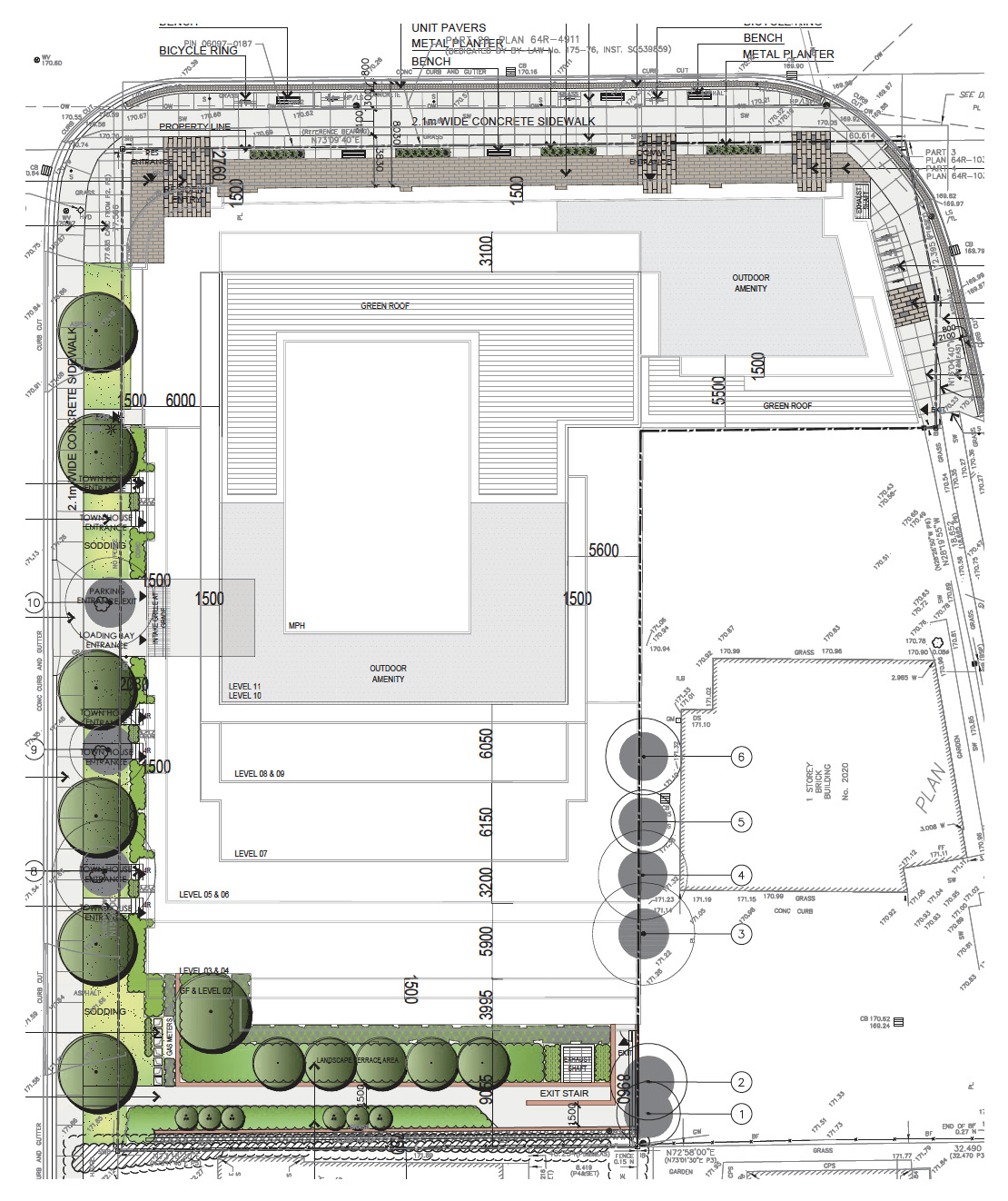 Site Plan. Various step backs –building terracing– are illustrated on the south. Image by Strybos Barron King Landscape Architecture
At the northeast corner is a retail unit and, and, at the northwest corner, the indoor amenity space and the residential lobby and lounge. The balance of the ground floor is comprised of enclosed service areas, an internalized loading area, at-grade parking areas, bicycle storage, and waste collection areas.
The design of the north elevation attempts to mitigate potential visual impacts on the public realm along Sheppard Avenue East. At Level 7 the building steps back 1.5 metres from the building face, and another 2.3 metres at Level 10.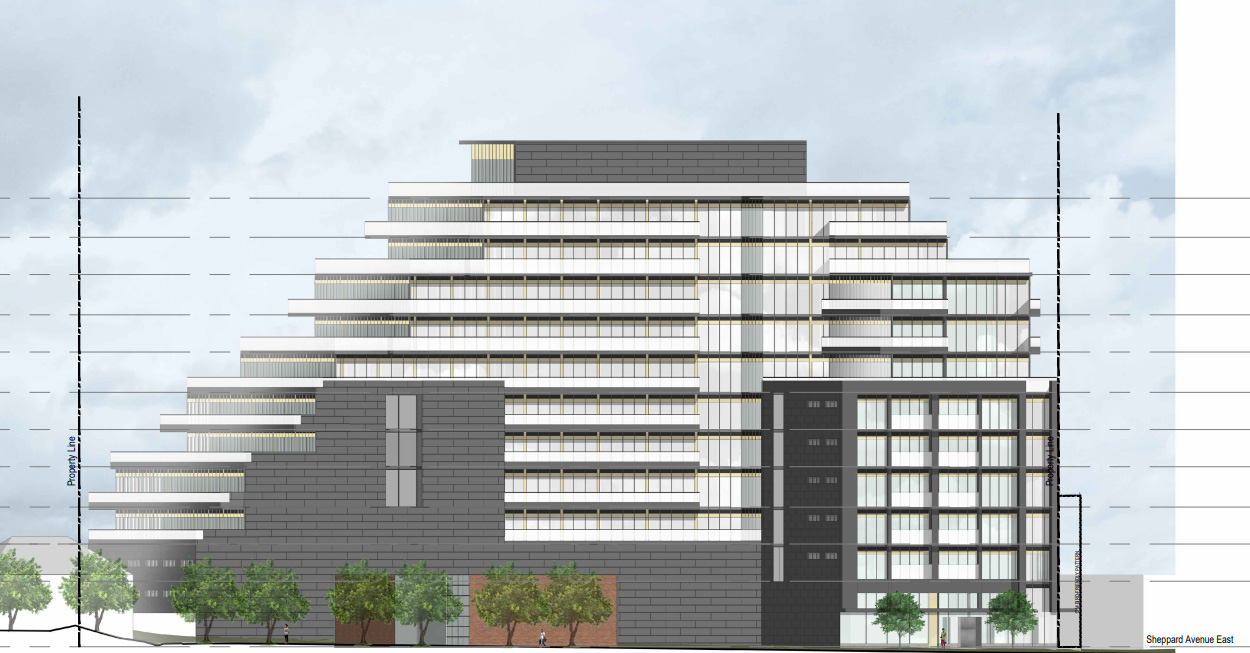 East Elevation. Image by IBI Group.
The south façade has been designed to provide a transition to the low-rise neighbourhoods to the south through incremental stepping of the building's profile. At Level 3, the building begins to terrace upwards and away from the neighbourhood.
Of the 243 units proposed, the breakdown includes 156 one-bedroom and one bedroom plus den units (64%), 85 two-bedroom and two-bedroom plus den units (35%), and 2 three-bedroom units (1%). Included within the mix are six 2-storey grade-related townhouse units fronting Fulham Street.
Indoor amenity areas located throughout the building include a gym at grade, meeting rooms and work-from-home spaces on Levels 2, 4, 5 and 6, and additional amenity space at Level 10, connecting to an outdoor amenity terrace. The mechanical penthouse level will also provide additional outdoor amenity space.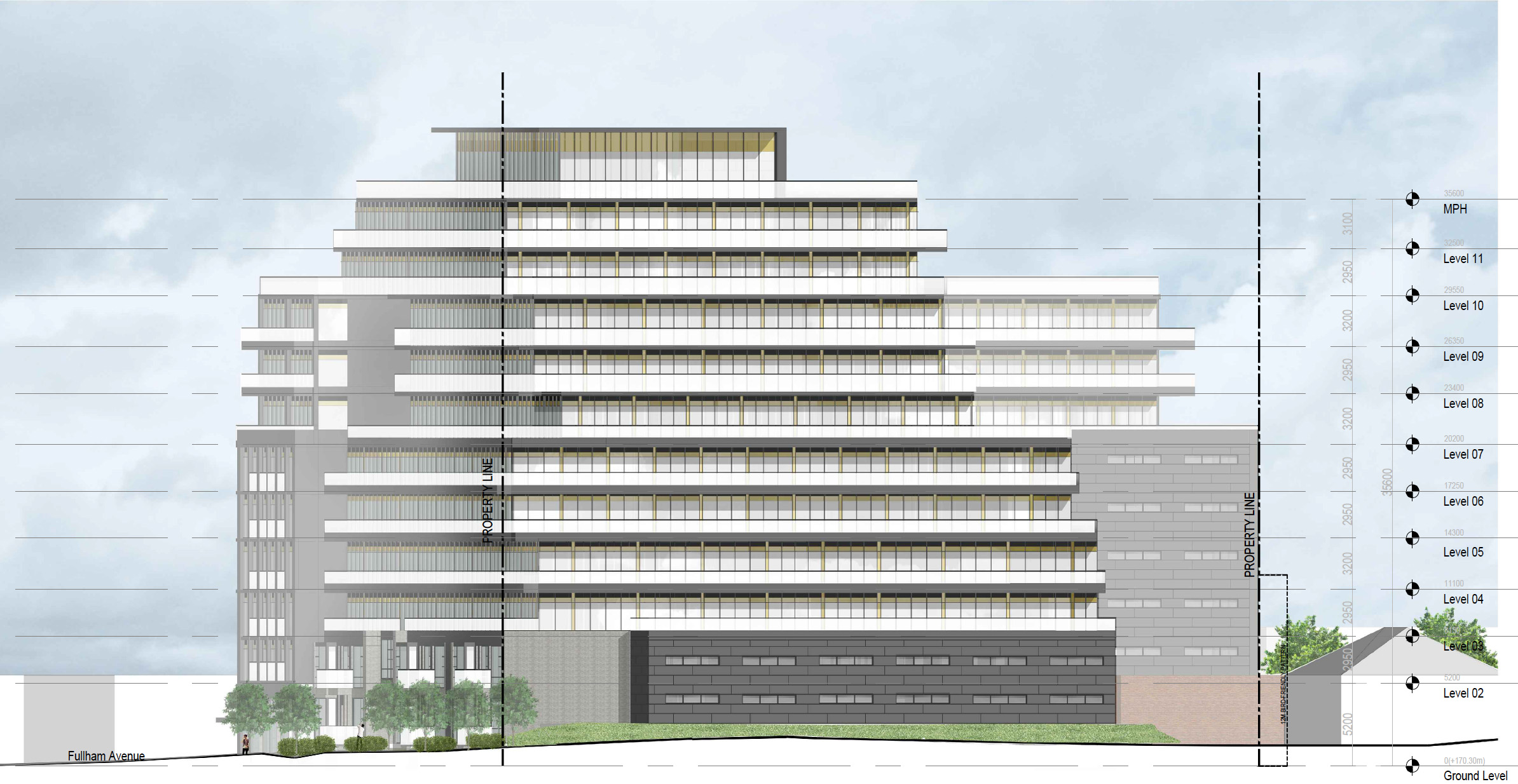 South Elevation. Image by IBI Group.
Parking needs will be served by two levels of underground and two levels of above-grade parking located internal to the building. The above-grade parking levels will be treated with a creative and sculptural approach that will complement the architectural expression of the base building. The development will provide a total of 183 bicycle parking spaces.
You can learn more from our Database file for the project, linked below. If you'd like to, you can join in on the conversation in the associated Project Forum thread, or leave a comment in the space provided on this page.
* * *
UrbanToronto has a new way you can track projects through the planning process on a daily basis. Sign up for a free trial of our New Development Insider here.